Chrissy DiPietro and Scott Haungs didn't expect to fall in love. When they first met, in fact, they hated each other.
But, as it turned out, embracing the unexpected would become a theme for the pair, who ended up going from sparring neighbors to newlyweds.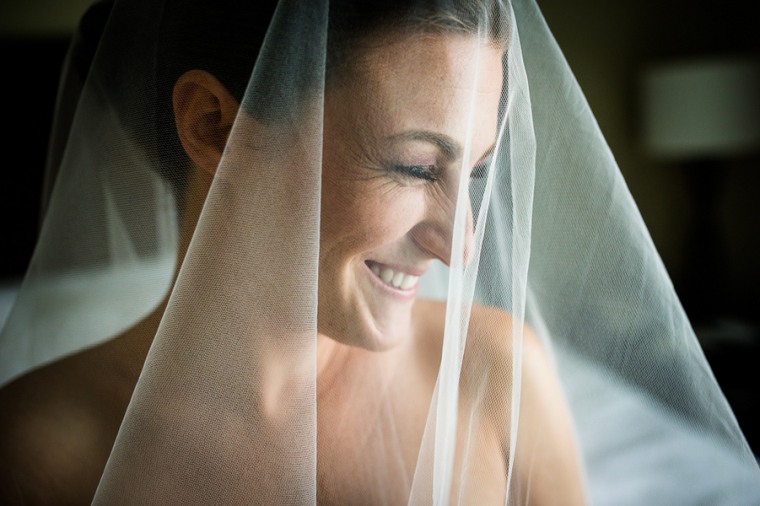 They met — and clashed —when Scott moved into the apartment beneath Chrissy's, and he and his buddies took over what she and her roommates believed was their roof deck (though it was technically communal).

"I thought he was weird," Chrissy explains, while Scott counters that, "The girls upstairs were hindering our ability to have fun."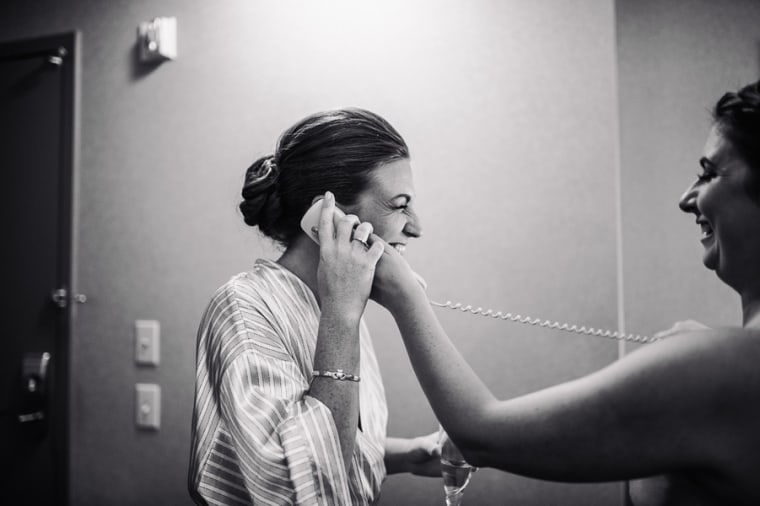 But, he soon figured, if you can't beat them, join them. So when he and his roommates went out dancing, they invited the girls along. Chrissy and Scott danced all night.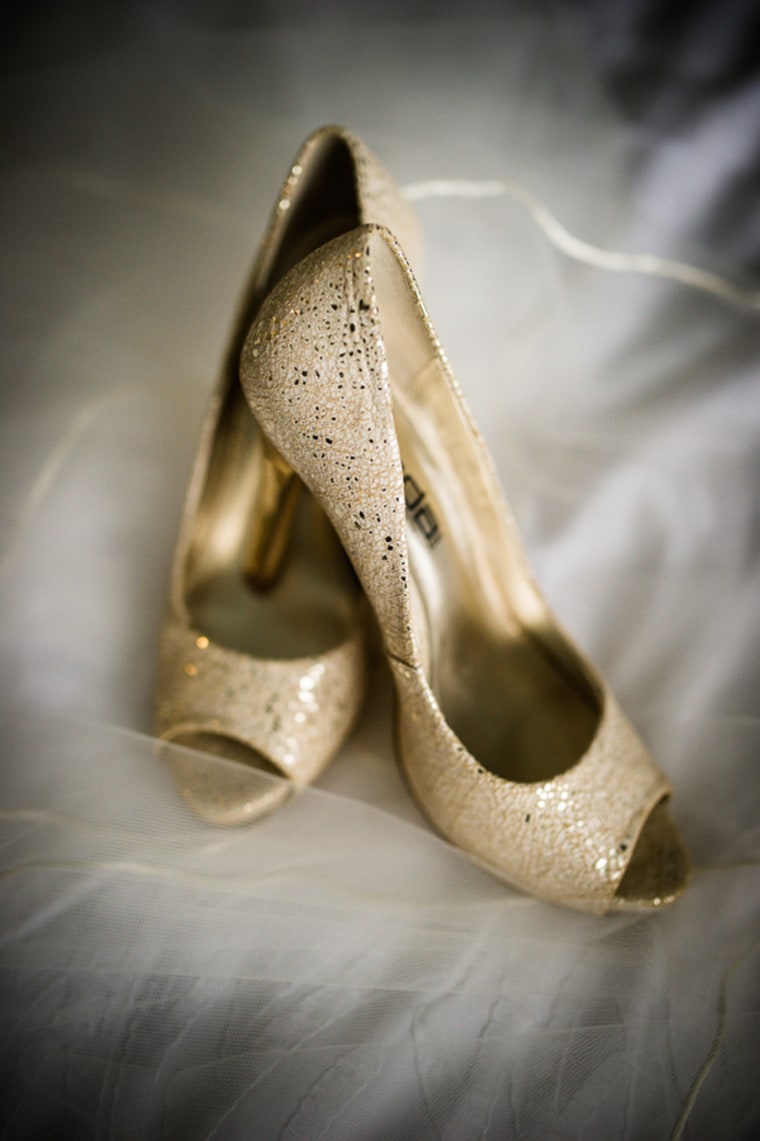 "We were the only two people on the dance floor the first night we went out," Chrissy remembers. That's when she changed her mind about him.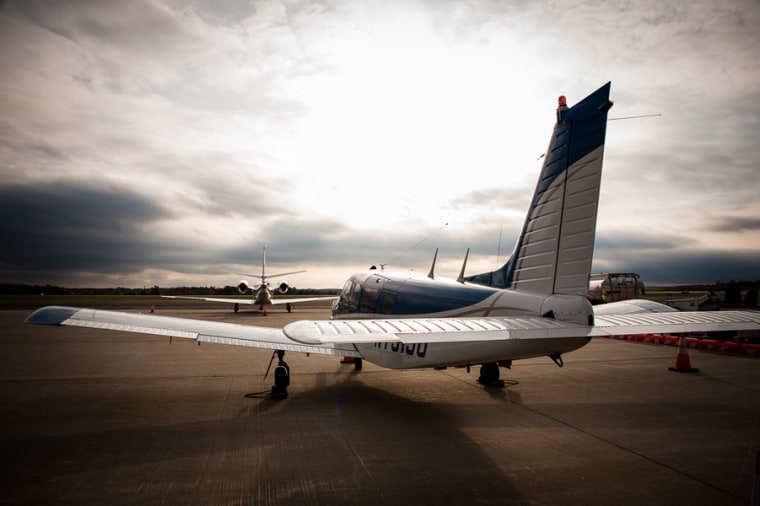 As for Scott, it was all the talk of travel that did it: "We'd both studied abroad in Europe, so we were talking about going crazy places around the world, experiencing places that no one else would even consider."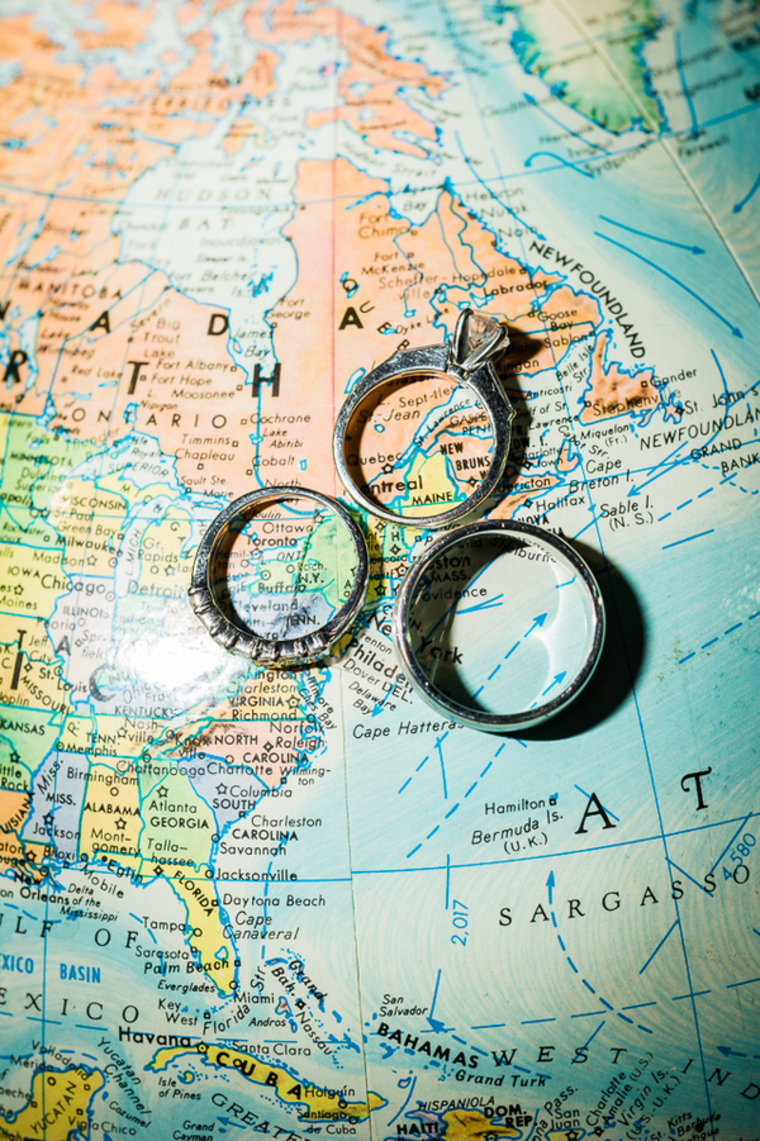 The couple's first date, a short flight away in Portland, Maine, sealed the deal. Scott was a certified pilot, and his best friend and future best man had two planes at his disposal: Why not?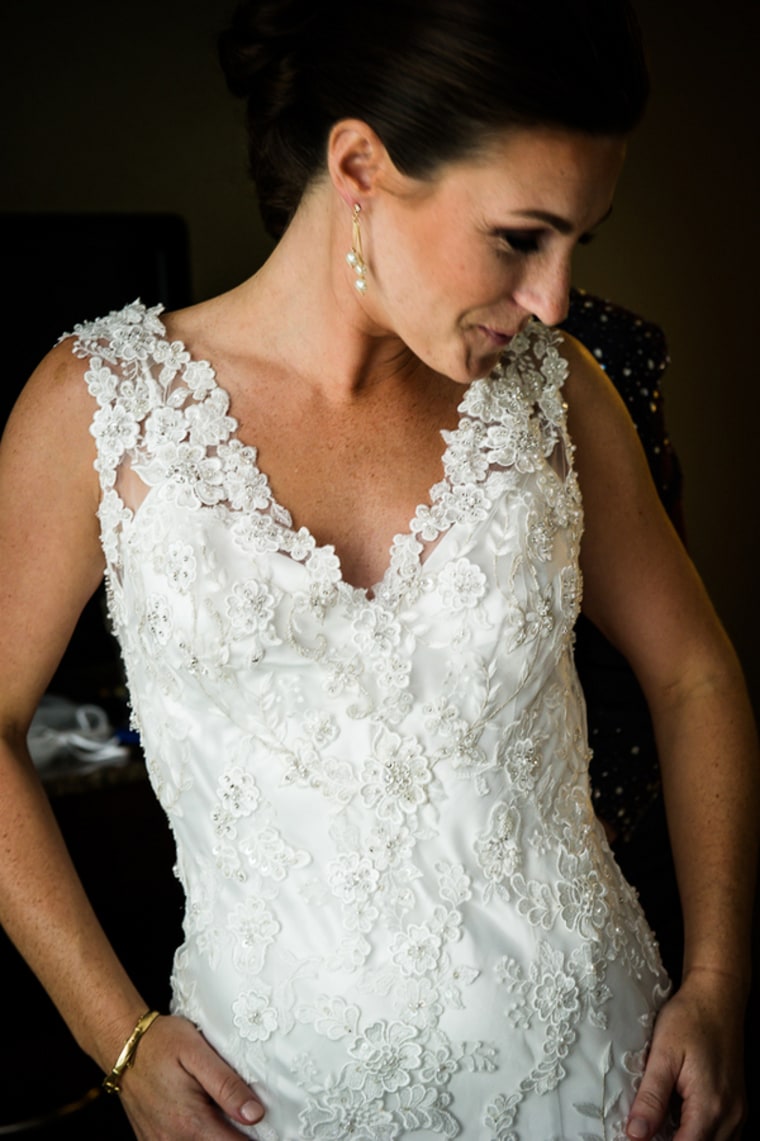 "We went with a bunch of our friends, but we were in our own plane, this tiny little two-seater," Chrissy says. "I was trusting my life to this dude."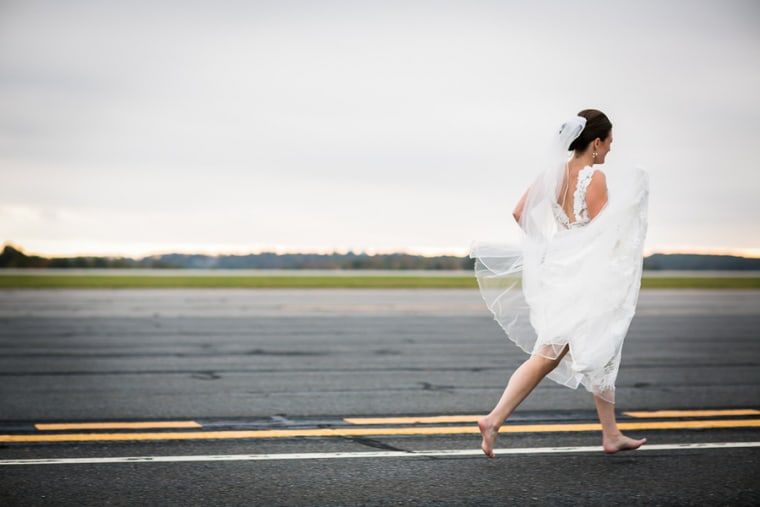 As it turned out, the plane's navigation was broken. "It was a night flight and we had to resort to a good old-fashioned map," Scott admits, though Chrissy had no idea he'd ever done it any other way.
"It was hook, line, and sinker after I flew her somewhere," Scott says.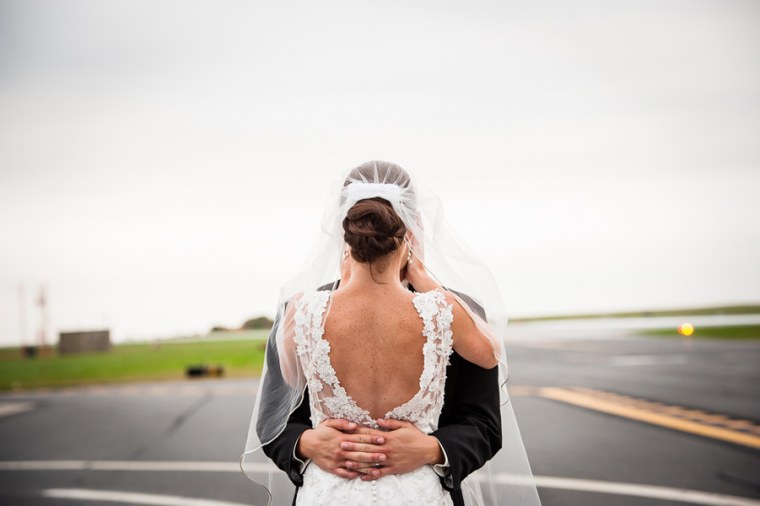 After dating for a year and a half and then living together for a year, they decided to look for a house, and moved in with Chrissy's parents for a few months during the process. That came in handy when it came time for Scott to ask Beth's parents for their permission to propose.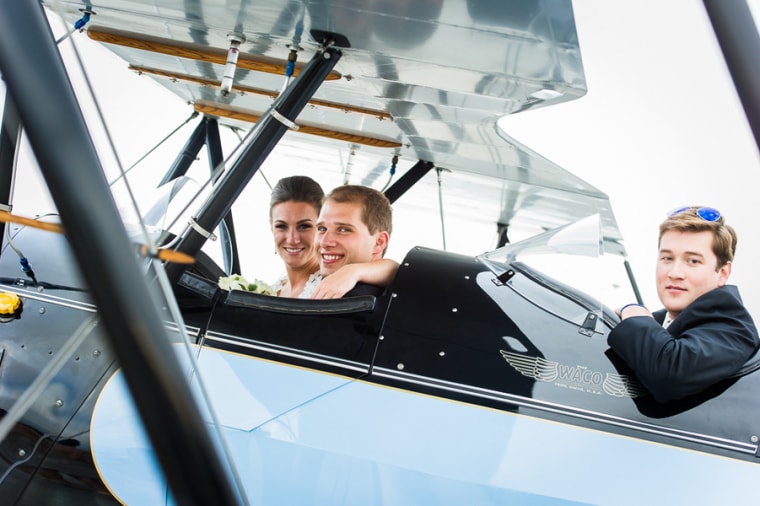 "I was in it for the long haul," he says. "I'd lived with her parents and done it all. It wasn't a hard decision for me."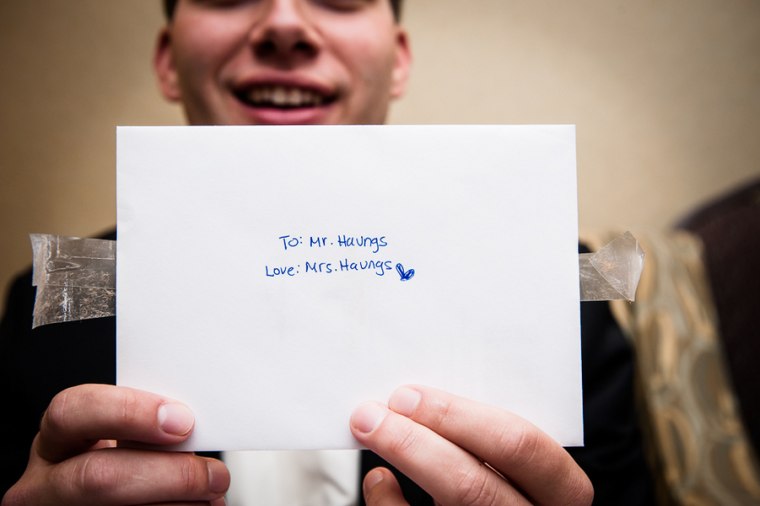 Chrissy thought a proposal was in the works, but Scott kept her guessing with numerous fake-outs, including giving her a ring box on their anniversary — with a pair of earrings inside. "I had to think of a way to throw her off my trail," he says.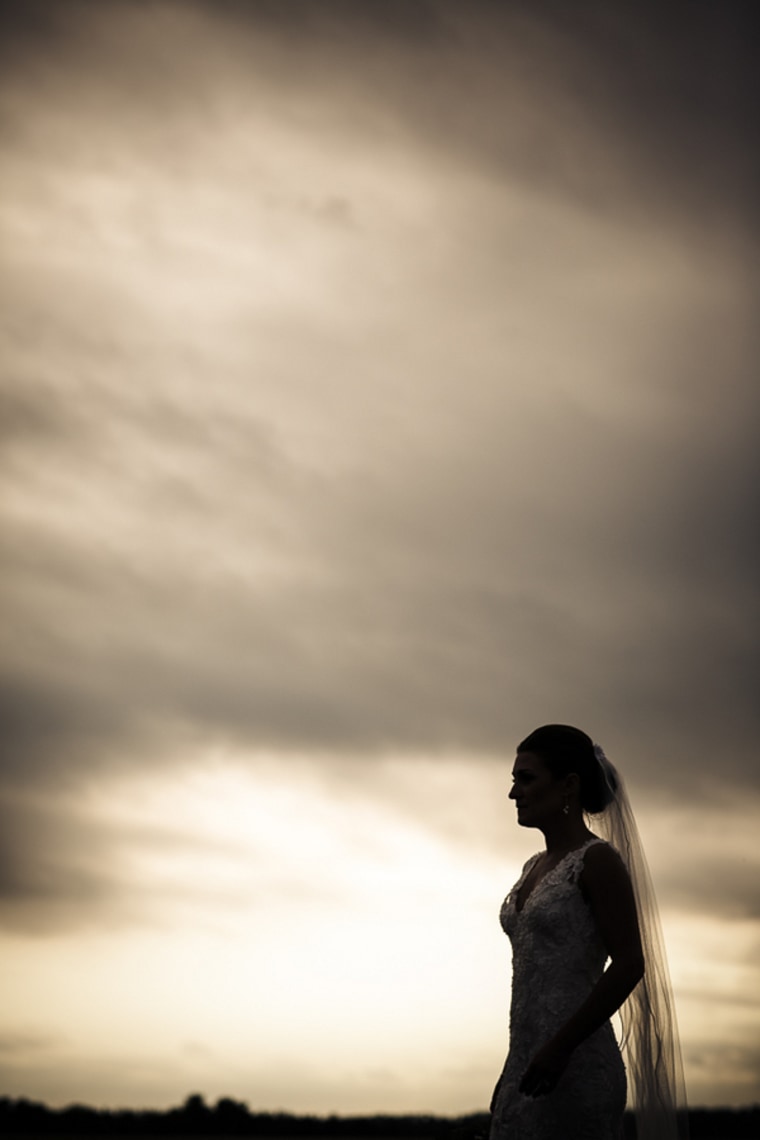 But, he had another trick up his sleeve.
"Then, we were walking down the street we'd lived on, all lit up with Christmas lights," Chrissy recalls. "And he bends down to tie his shoe, even though his shoe has no laces. So, that's when I got my second gift of the day."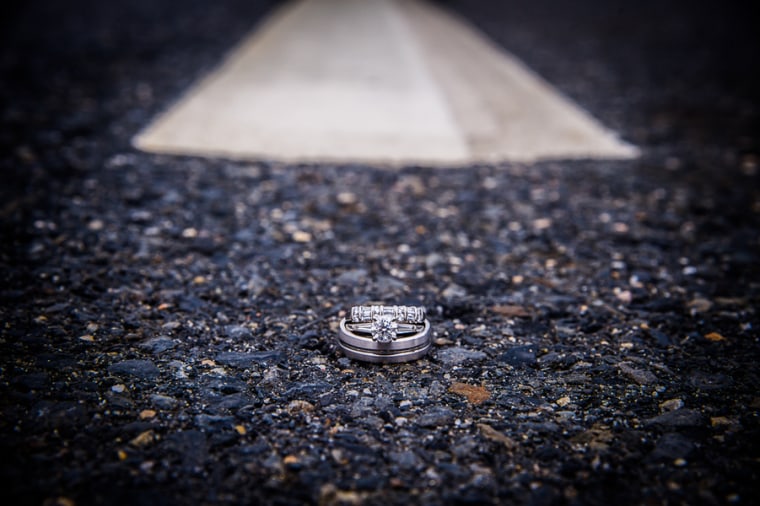 After he popped the question, they started looking at venues right away. Chrissy's father suggested the two jet-setters get married in an airport, and there was no doubt in their mind — that would be awesome.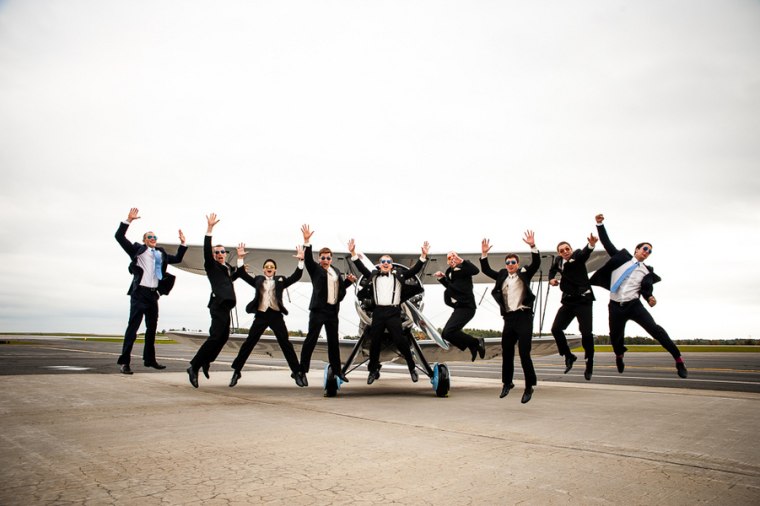 That's when they discovered Worcester Airport in Massachusetts, which wasn't offering commercial flights at the time and basically looked like a movie set — in fact, it actually had been a movie set for the 2010 film "Knight and Day."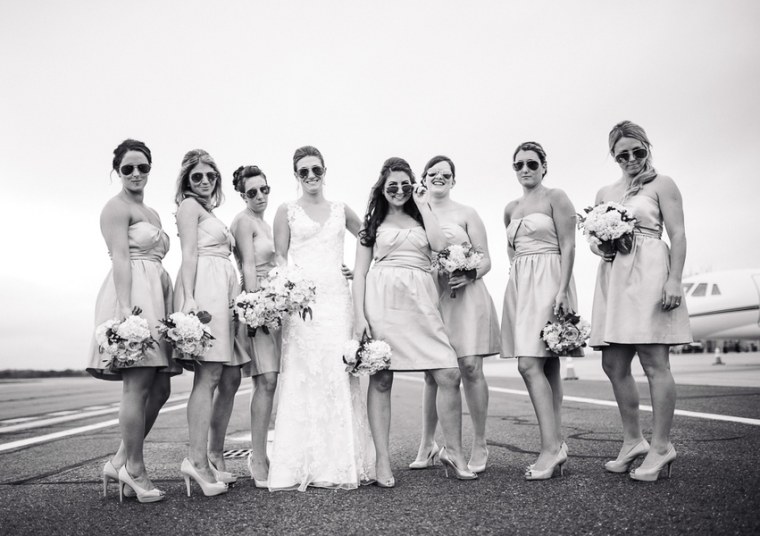 "We called them the next day. They'd never done a wedding, but they said 'yes,'" Chrissy remembers. "So we started planning blind."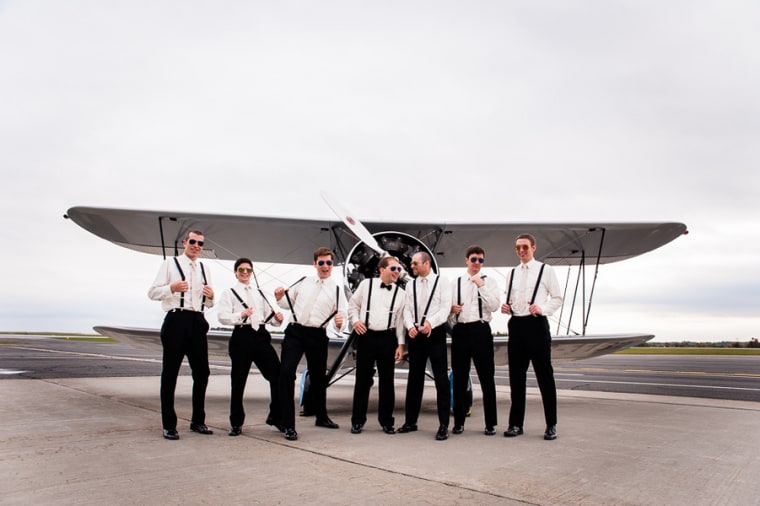 During the course of their planning, however, jetBlue airlines began to plan flights in and out of the small airport, which led to unexpected renovations. "Everything had been painted a hunter green and then one day I walked in and everything was bright blue... It was so stressful," Chrissy says. The airline started flying out of the airport a month after their wedding.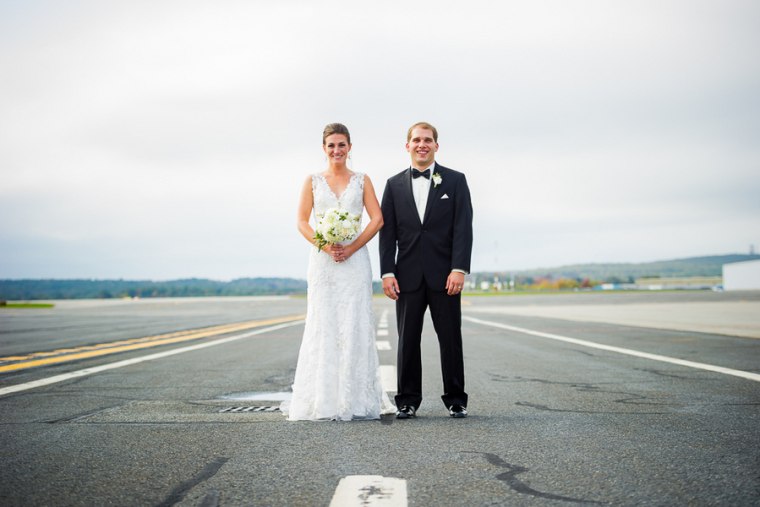 While their reception venue was essentially a "blank canvas," the couple went more traditional for the ceremony, held at the Our Lady of Mount Carmel church. "It was in an old, gorgeous cathedral," Chrissy says.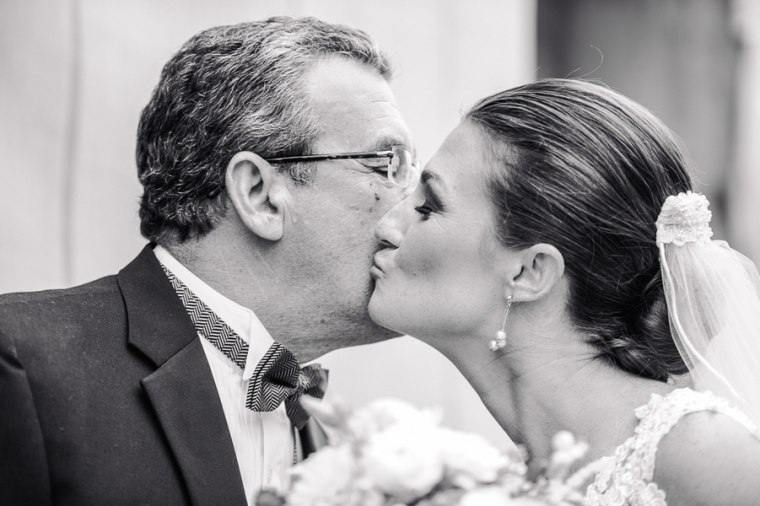 "We thought that was important: leave the ceremony to the traditions and just have fun at the reception."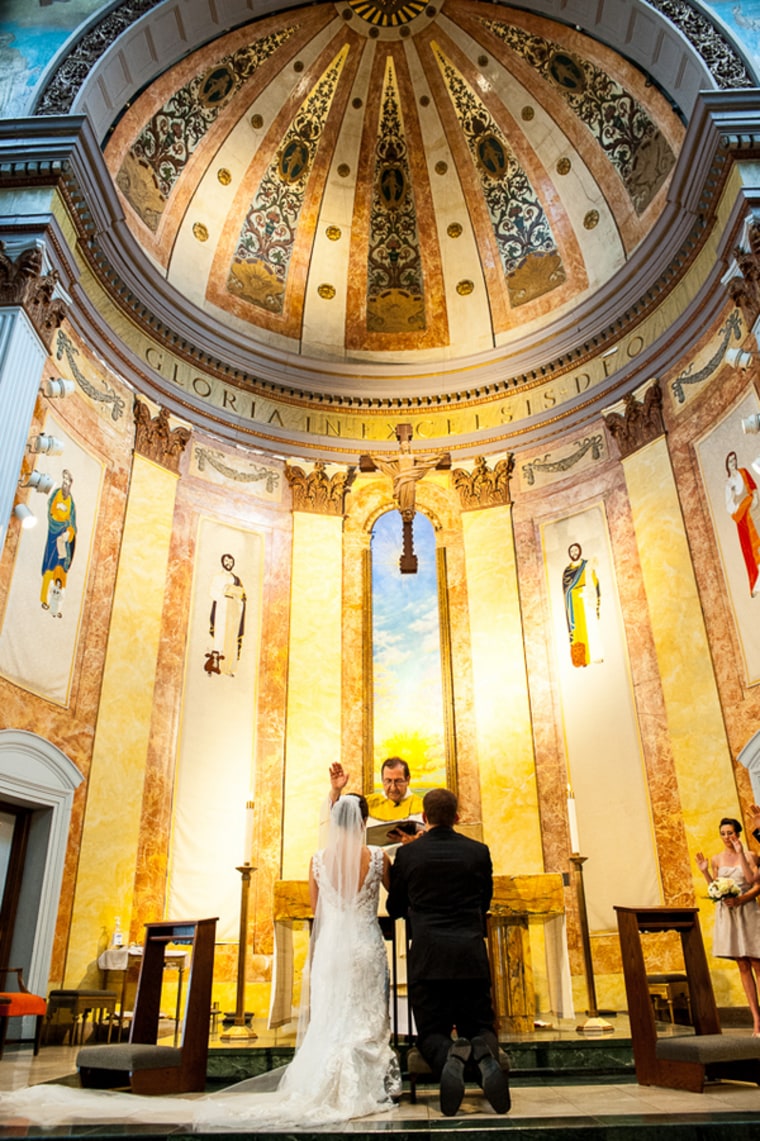 The airport theme spanned the whole wedding, from the couple's Save the Date postcards, to the boarding passes for wedding invites, baggage tags doubling as place cards, and airport codes for table numbers.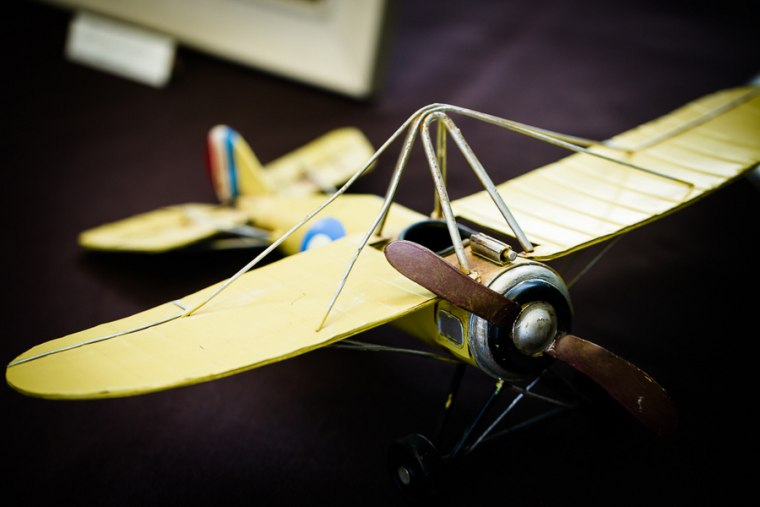 "Our bar was the ticket booth, so jetBlue is now working from our bar," Chrissy jokes.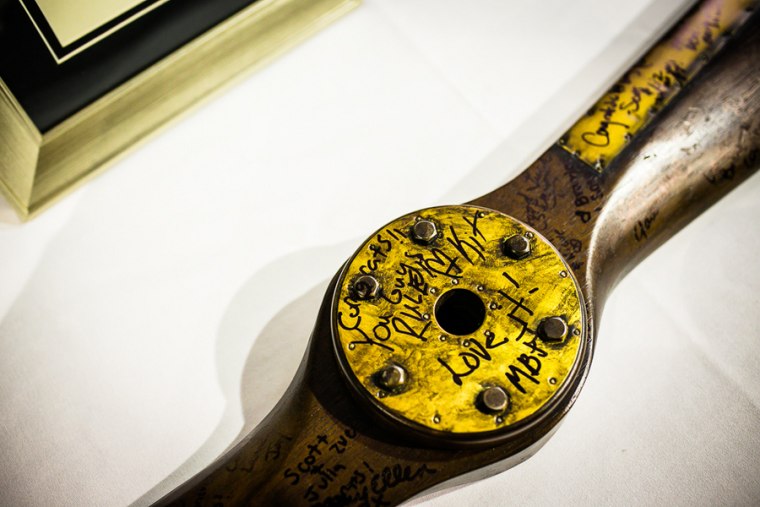 "For our formal photos, we hired a 1930s biplane. As our guest book, we had a six-foot wooden airplane propeller. The cocktail hour was on this balcony overlooking the first floor, before the gate area, and we had them leave the airport chairs in there. We had fun with it. It was important to create a unique, intimate setting out of a commercial area."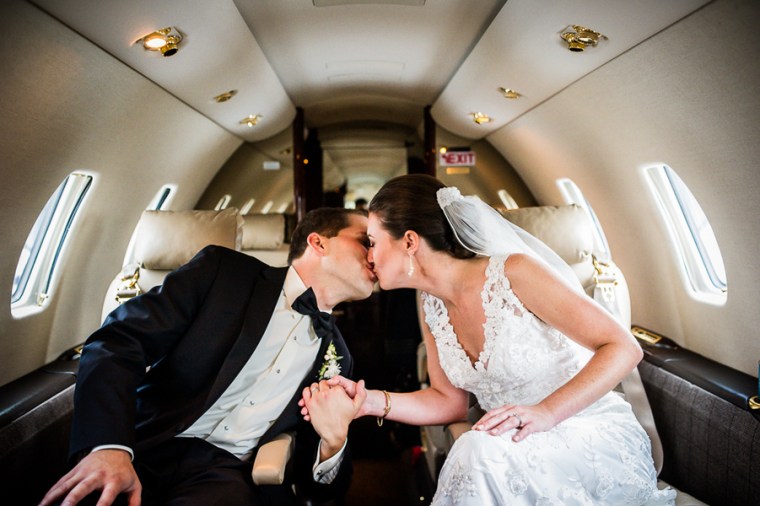 The wedding party rode down the airport's main escalators during their formal introduction, the groom wearing propeller cuff links (a gift from Chrissy) and the bride in her dream wedding gown.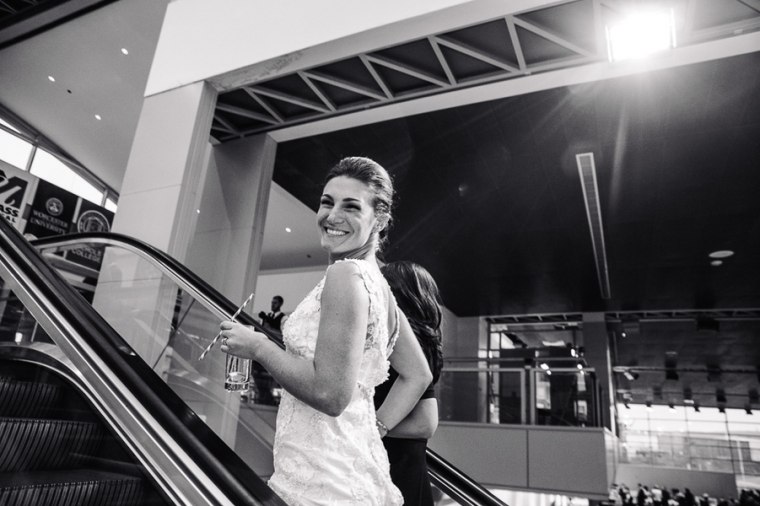 When she made it from the escalator into the airport proper, she was floored by what she saw. "I had no idea it was going to look as beautiful as it did," Chrissy says. "Even in my dreams — it was incredible." Their 245 guests — 200 of which were family — responded with equal enthusiasm.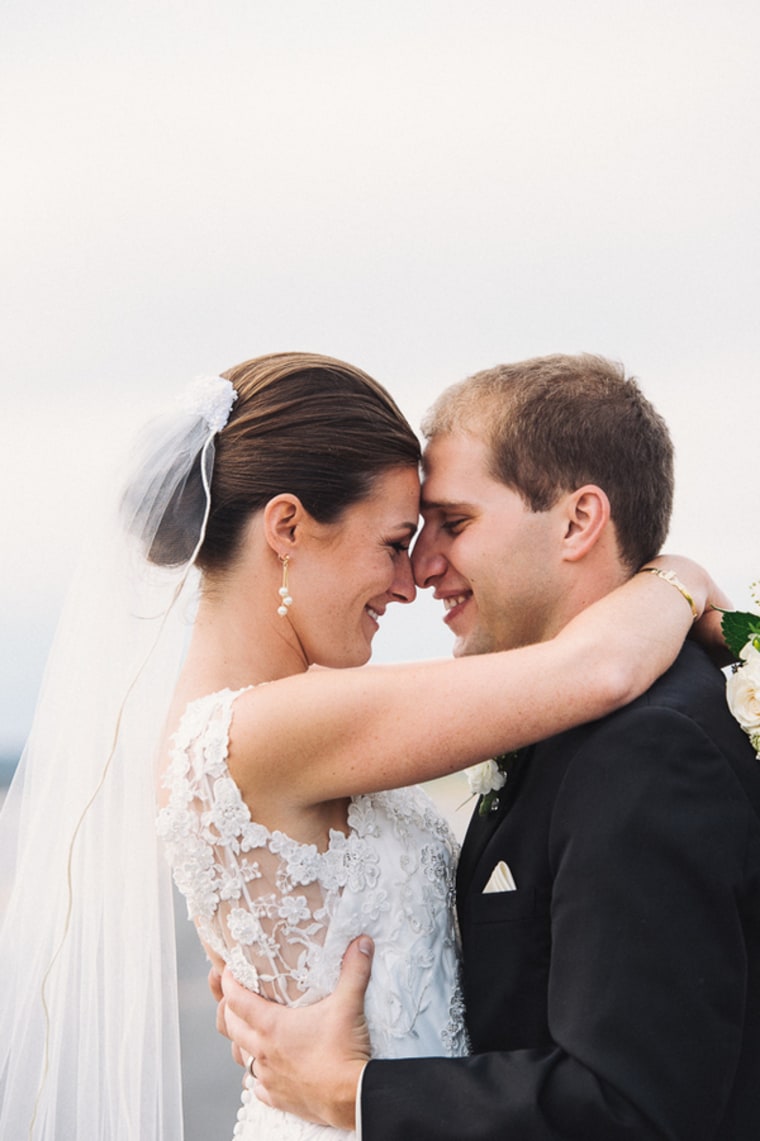 "The dance floor was full, full, full," Chrissy continued. "You couldn't move on it. It's going to sound disgusting, but people were drenched in sweat. People were up on the ticket booth, dancing on the bar."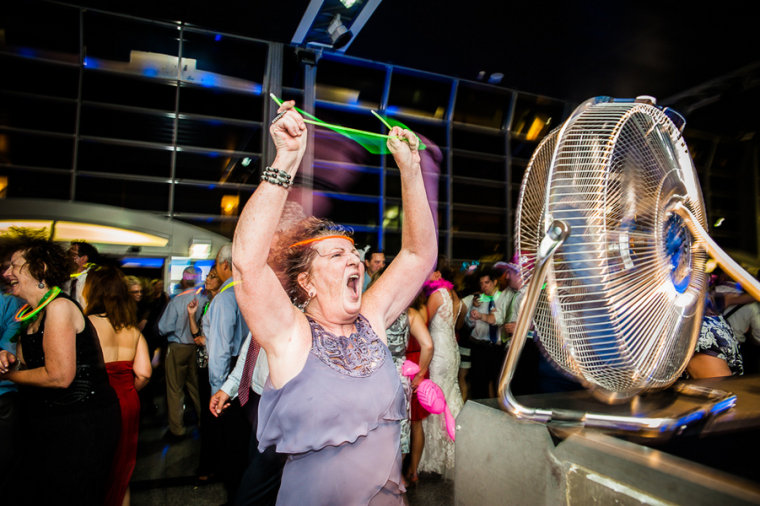 Chrissy and Scott supplied two bins worth of dollar store props for their guests to play around with, including leis, floppy hats, and funky glasses. For dancing fuel, the couple skipped cake and instead supplied apple cider doughnuts.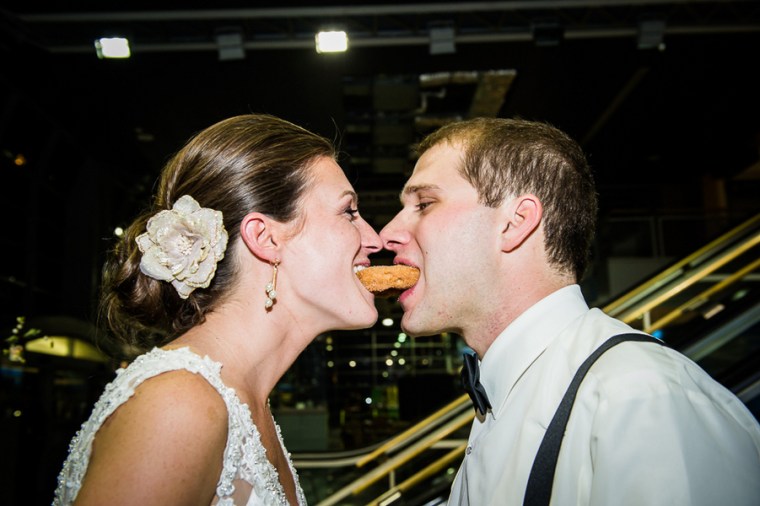 Perhaps because of how full-on the airport dance party turned out to be, the quiet moments were what stuck out most to the couple. Chrissy's favorite part was the formal photo session on the airport's runway. "We took photos for an hour and half and it felt like five minutes," she says. "It was a surreal experience."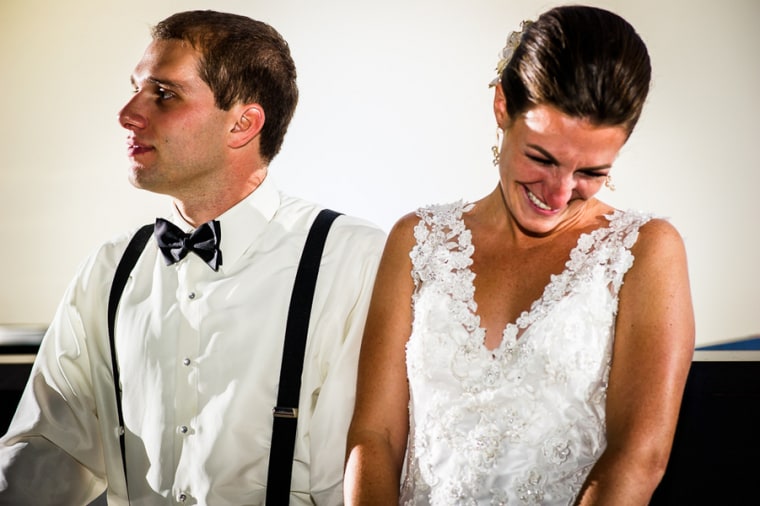 "We spent a lot of time reminding each other to just step back and enjoy the moment," Scott remembers. 
As for married life, the two are currently enjoying the end of what they refer to as their "wild first year." "We're planning trips all around the world," Chrissy says.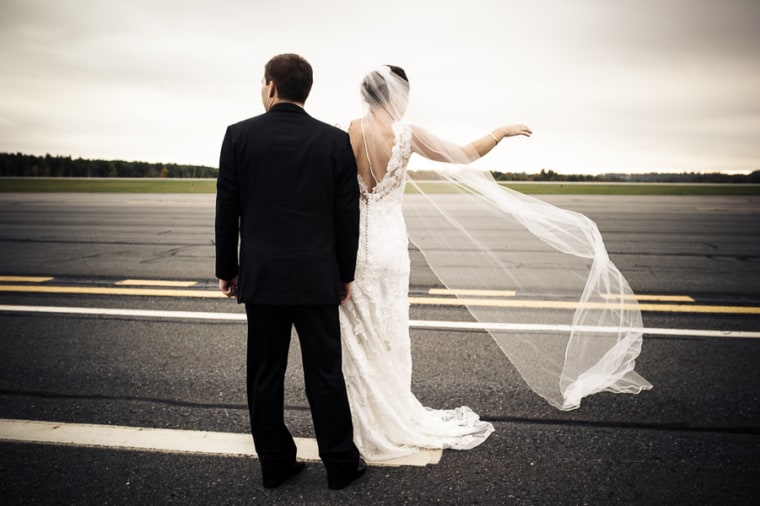 "We've got five trips planned and ready: Florida at Christmas, France and Switzerland at the end of January. Canada. And then, at the end of summer, we're going to take a last hurrah and go to Argentina and Chile." 

After that, the husband and wife plan on starting a family — and that's when the real adventure will begin.

All photos provided by Kristin Chalmers Photography. Want to submit a real wedding? Send us your story, your contact information, and a link to your photos here.
Check out more of TODAY's featured Real Weddings here.