Dan Lawless proposed marriage — black diamond ring and all — to his now-wife Stefanie on their first official date.
But the first-date proposal wasn't exactly a surprise. The two had met in Afghanistan, where Dan was a Chief Warrant Officer and Stefanie an enlistee, and a romantic relationship between their ranks had been entirely forbidden. A friendship, however, was permitted.

"There was something there, but it wasn't allowed to be there. It was fun because it had to be very subtle," Stefanie, 30, recalls. "We'd go to the chow with each other. Most of our conversations were via email, sitting in the same office, back and forth."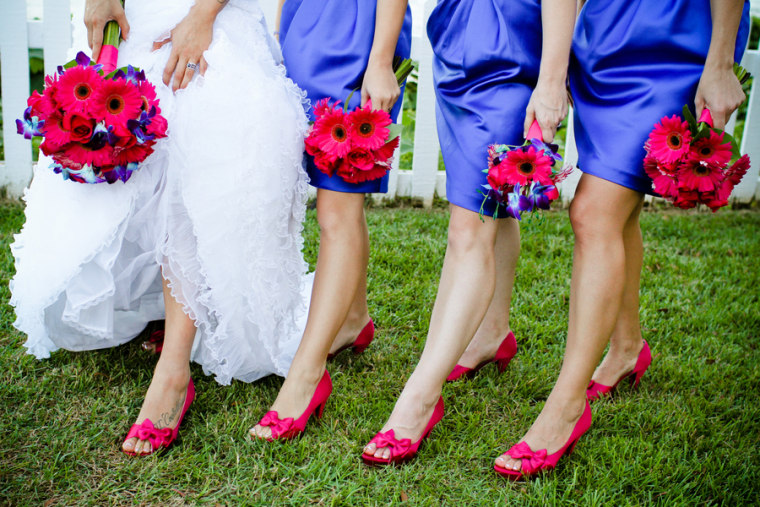 As far as who initiated flirting first, there's room for debate. "If you ask him, he'd say I initiated it," Stefanie acknowledges, "but he initiated it. We'd been flirting a little in email and I asked him for help on something and, I didn't realize, but I guess I was batting my eyelashes. He informed me that 'when female soldiers bat their eyelashes at me it gets them nowhere.' Well, obviously, the lashes helped a a little bit."
Eventually, there was even a trip to get pizza on the FOB. This, it turned out, was not a date.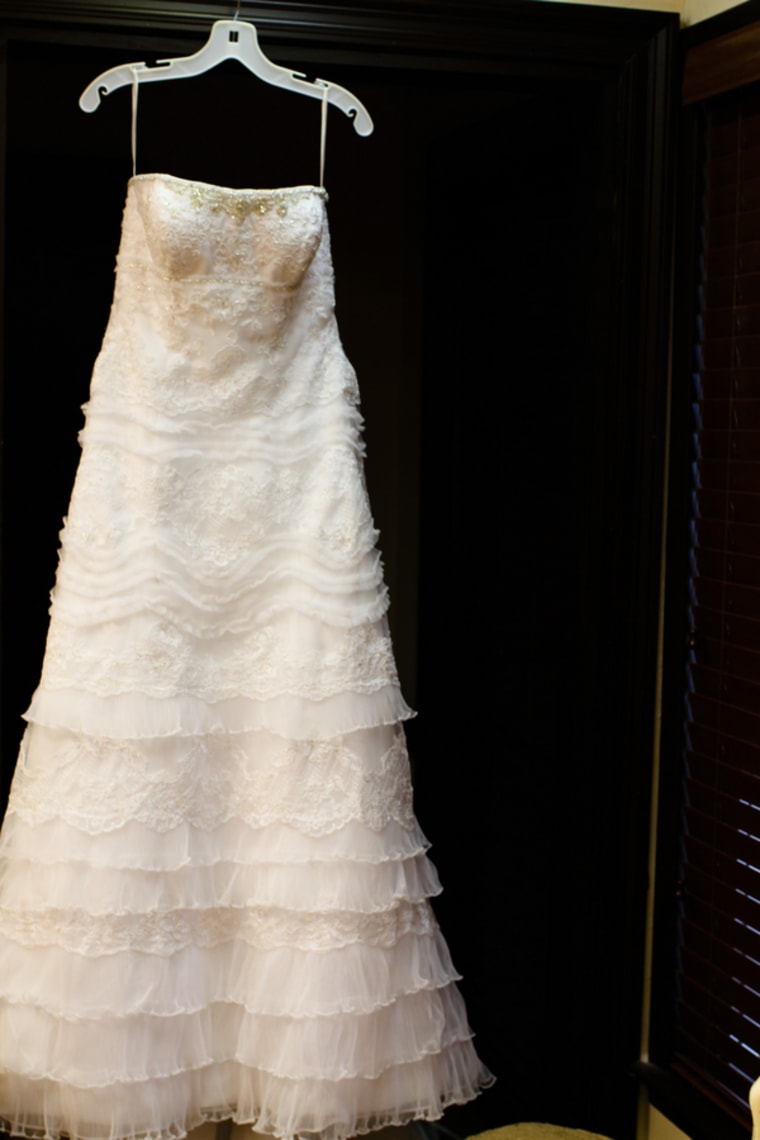 "I had a bet with a friend," Stefanie admitted, "would it be professional or would it be a date? We awkwardly had dinner and it was very professional. But I got a free pair of shoes out of it because I won the bet. And then, the very next day, he hit on me again in an email."
Stefanie can remember very clearly what drew her to Dan, 34, in the first place. "He was so driven and intelligent, but with a quirky, smart-ass attitude," she says. "Obviously, I found him very physically attractive, but he's the smartest person I've ever met. And he's so funny."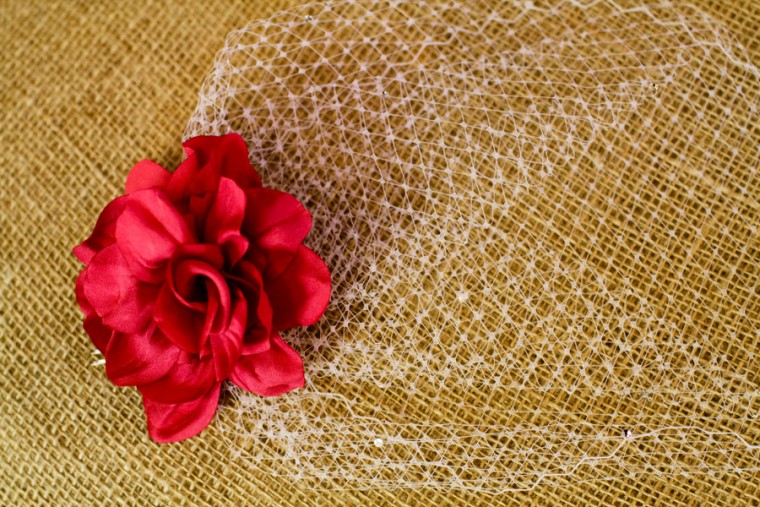 Stefanie submitted her own officer application in September of 2011. On March 1st of 2012, she officially became a Warrant Officer herself, and by the end of the day, she had herself a fiancé.
"I knew it was going to happen," she says. "Once I became an officer and we were allowed to date. With us both being in the army, we needed to get married so we can be stationed together."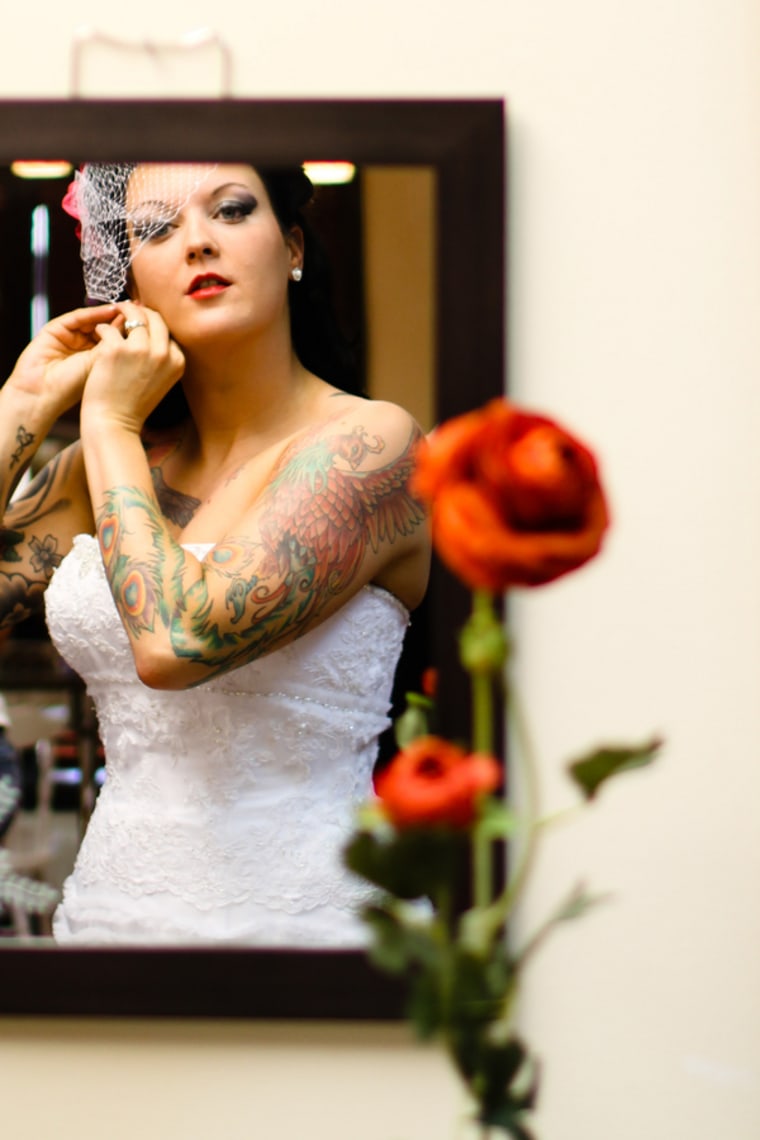 That didn't mean Dan didn't have a trick or two up his sleeve.
"We went to a hockey game together and when I get out of the car, he never got out," Stefanie says, of how the proposal began. As the self-professed most forgetful person she knows, she assumed she'd left something important in the car.
"So I got back in the car and he pulled the ring out," she says. "I can't tell you what happened during that hockey game because I spent the whole time staring at my finger."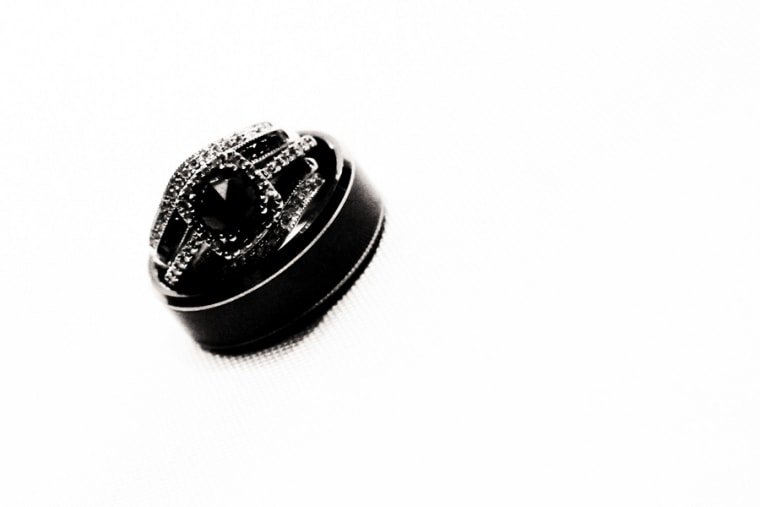 Six months later, on September 15th of last year, Dan Lawless and Stefanie Sipes were married in an intimate wedding with just 25 guests — they'd expected twice as many, but half had been called away on pre-deployment training at the last minute.
Their venue, Paul's on the Bay in Pensacola, Florida, turned out to be the best option for the wedding logistically, as the two were living at separate bases — he at Fort Polk in Louisiana and she at Fort Gordon in Georgia.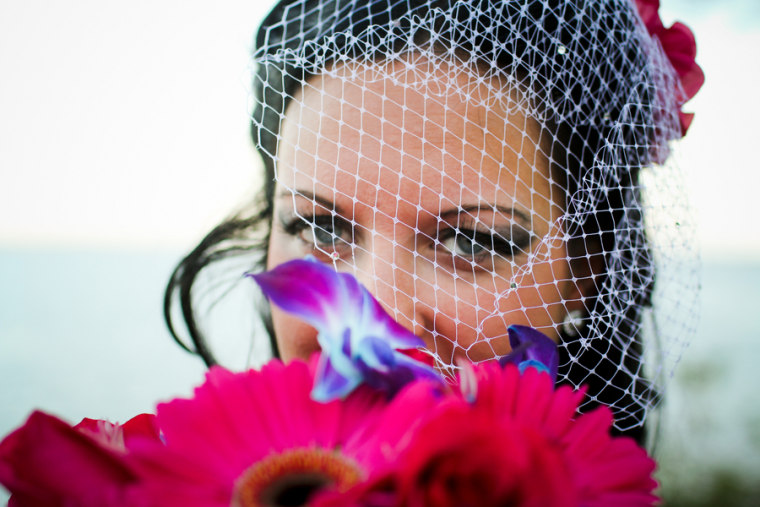 Pensacola was a seven and a half hour drive for both. "We'd go do wedding stuff all weekend," Stefanie remembered. "It was a nice way for us to be able to see each other."

Still, putting together a long-distance wedding took some serious help from Stefanie's sister and wedding planner, and some micro-managing via continual emails and phone calls. "I'm a control freak and I had every little detail planned," Stefanie admits. "My wedding planner was amazing and she found all the little pieces."
Those little pieces, it turned out, made for some unexpected touches, including wedding programs that doubled as fans, and a wooden sign hanging from the arch above where they said "I do" that read "I love the thought of you & me," a replica of which now hangs in the couple's bedroom.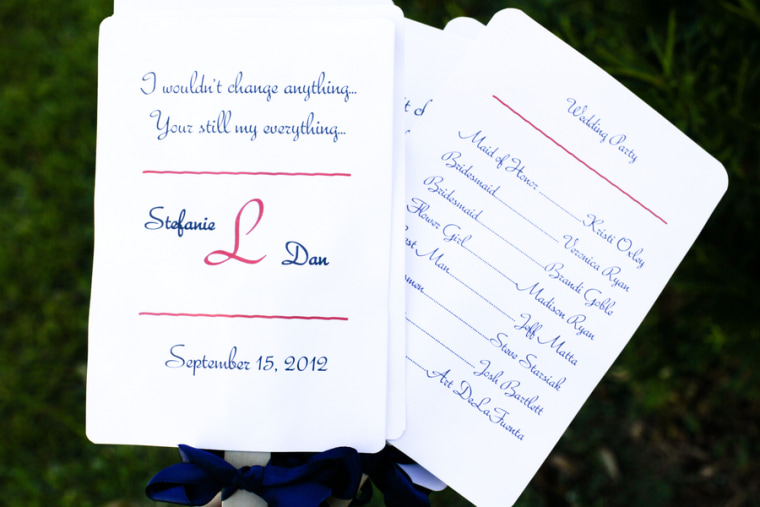 But the bride's favorite detail at her vintage-inspired, "backyard barbeque" of a wedding? Her custom-made cake topper. "Dan really wanted a bride and a groom on the cake, but all the brides are blonde and all the grooms in uniform are Lieutenants or Sergeants, not Warrant Officers," she says. "And I was like, 'I don't want any of this. I want a tattooed wedding topper.'"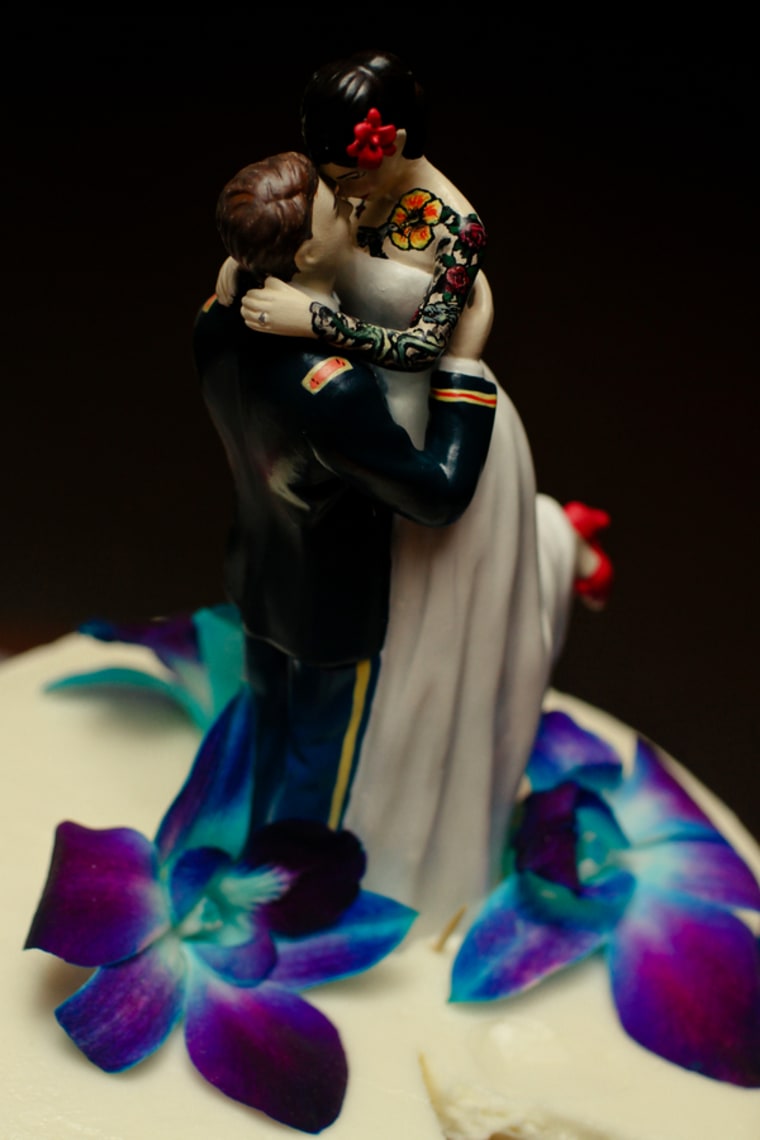 The wedding's setting, too, promised Stefanie the beach ceremony she'd always envisioned — the only snag being that Dan wanted to get married in uniform. "He even wanted me in my uniform!" she recalls. "I told him he was crazy."
Though a sandy wedding was out of the question, the bride walked down a short bridge that doubled as an aisle wearing a bright white, tiered strapless dress, and the two were married overlooking the beach.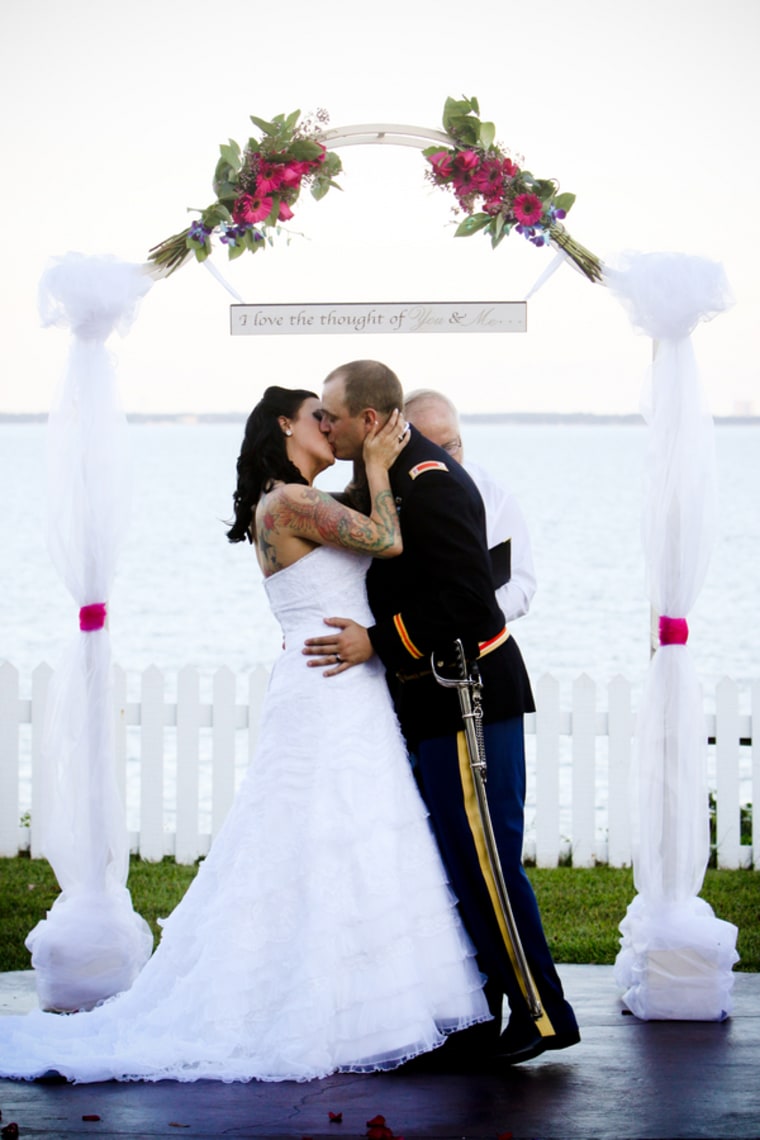 Though Stefanie says she was plagued by a variety of worries before the wedding, her husband found a funny way to soothe her.
"I was so stressed out before the wedding...I'm a huge control freak," she remembers. "I was stressed about the guests that couldn't come. What if everything fell through? And then the wedding started and I tripped walking down the aisle."
The tripping did not help Stefanie get into a zen place, but what did help were her husband's first words to her at the end of the aisle: "Wow, you're hot." Stefanie reacted with a giggle.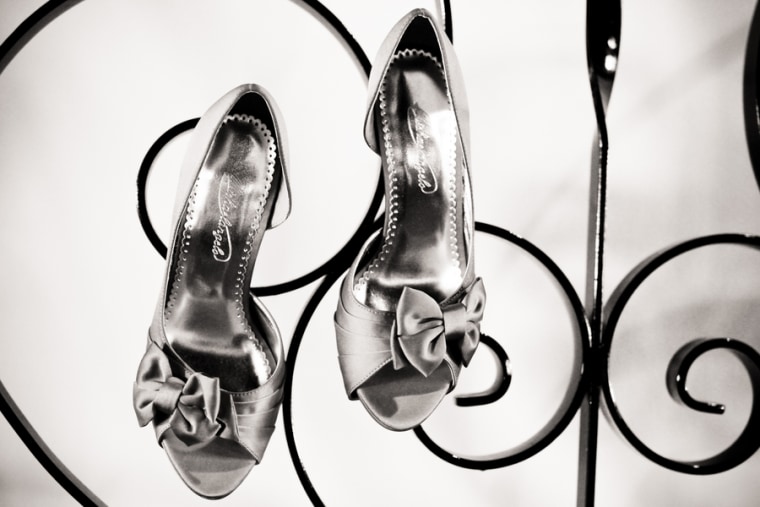 "And that was it," Stefanie says. "Everything was perfect. I was able to just let everything go."
The day's big highlight for Stefanie was when Dan borrowed the DJ's guitar and serenaded her: "That wasn't in the plans. The DJ happened to have a guitar there — Dan played and sang our wedding song, 'I'll Catch You' by the Get Up Kids."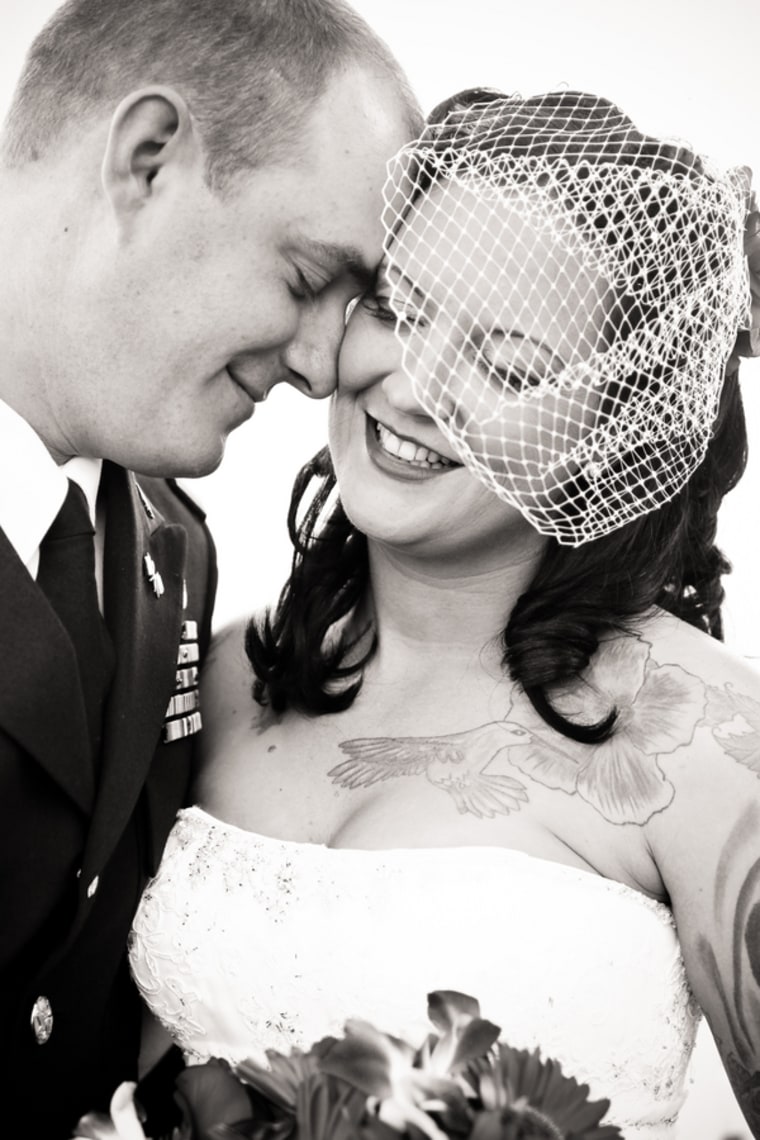 Dan's favorite part, Stefanie has no doubt, was the dessert, though the dessert itself — cupcakes and a little cake — had less to do with his enjoyment than the sword he used to cut it. "We did do the traditional, military cutting of the cake with a saber," she says. "He was so excited he got to carry a sword."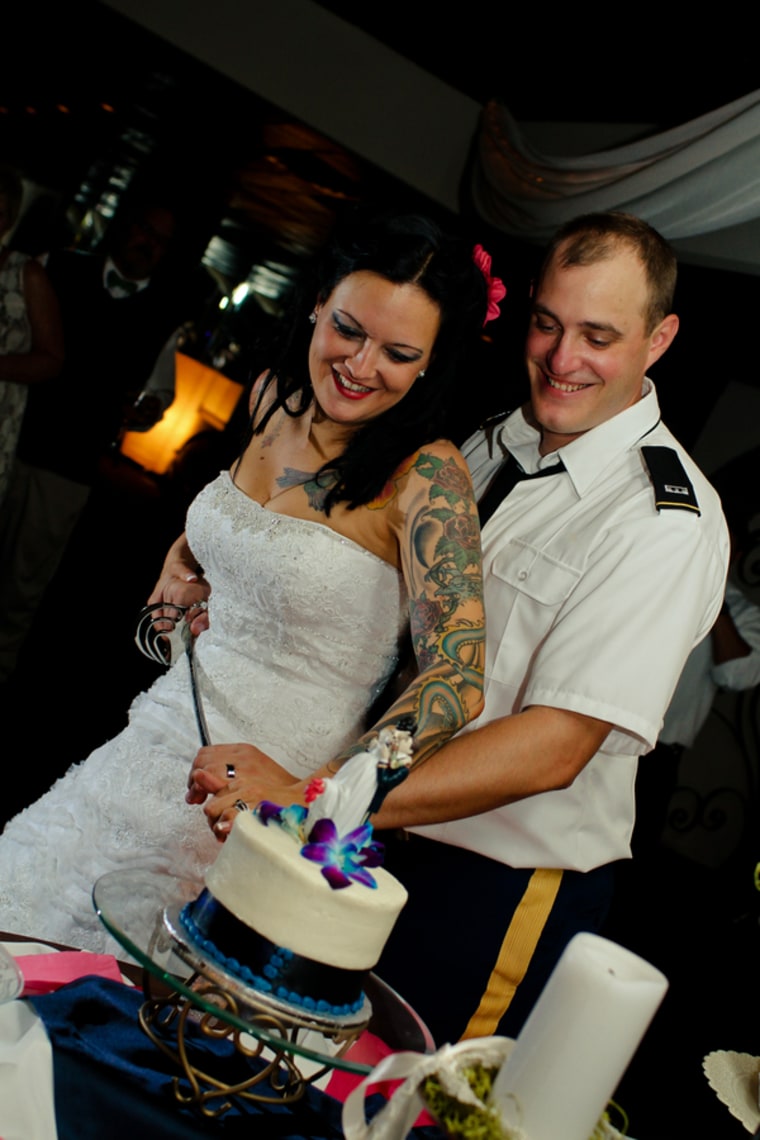 Since then, the couple have moved in together, though Dan has been deployed for the last six months. Stefanie is now in the process of turning their house into a home, and what better way than with new family?
"We've managed to accumulate four animals: two dogs and two rescue kitties," Stefanie says, as well as another new addition: a baby, soon to arrive: "We found out we were expecting in May."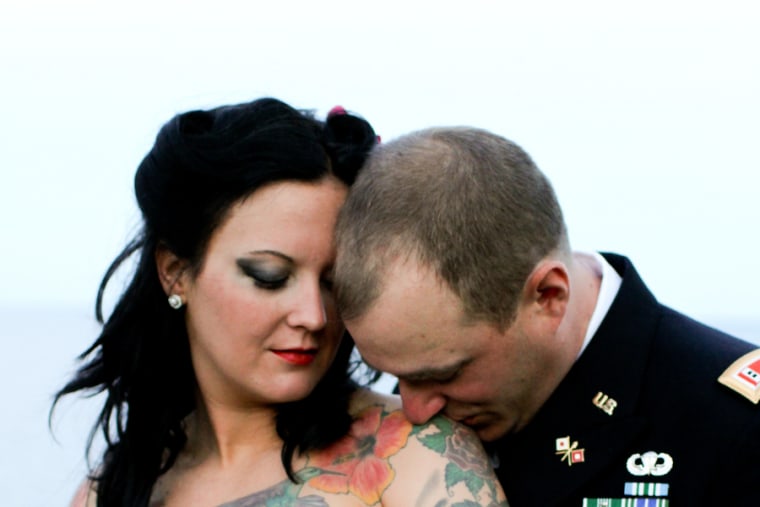 She is now eight and a half months pregnant, and Dan won't be home until February or March. But Stefanie, still working to make everything perfect for her husband, remains unfazed: "I've been keeping busy looking for 'meet my daddy' outfits for when he gets home."
All photos provided by Kate's Captures Photography. Want to submit a real wedding? Send us your story, your contact information, and a link to your photos here.