Annette Gabbedey has been a jeweler for decades and an artist for as long as she can remember. She creates intricate, delicate designs made of gold and precious stones. And she does all of it without having any fingers.

"I've always been gifted at doing anything with my hands," Gabbedey told TODAY.com, "which maybe is a little ironic."
The designer goldsmith, 48, has a studio showroom in the artists' haven of Frome, England, that features her jewelry and that of a select few others. Her earrings, necklaces, bracelets and rings burst with color from the Australian opals she curates with a passion.
"A lot of people think of them as white and insipid and just a little bit of color," Gabbedey says, "but when you see trays and trays of loose stones, the colors are just vibrant and completely every spectrum of the color range. They're just so inspiring for the designing side of things. Each stone really depicts to me what the design will be."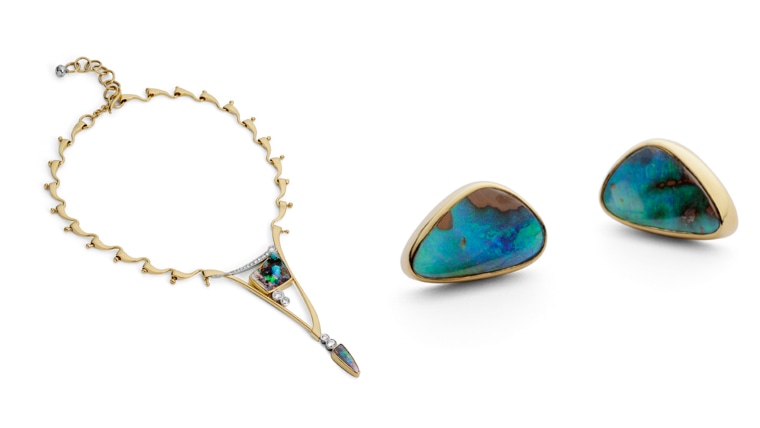 Her works use lots of yellow gold and rose gold, which "have a nice, warm tone against the opal," platinum, 18-karat gold and small diamonds.

Her workbench, where she's working on a new collection, includes a strap and vises to allow her to work on tiny pieces. Despite her lack of fingers, Gabbedey says, she always has been drawn to artistic endeavors, from sewing to metalwork, woodwork and cooking. When she was about 6, a local newspaper did a feature on her re-creations of Walt Disney characters, which she had drawn freehand.
Gabbedey says she never felt limited because of her hands. "I think because it was from birth for me it was just something I grew up with. There was never a time when we all sat down and talked about how to cope with something. Around 1, I began to run around and wreck the house, and I did it just as well as anyone else."
If anything, she says, it was difficult for her parents, because there wasn't as much understanding and support as there is now. They made sure she was mainstreamed in school. "It was a bit more scary … they quickly realized I would just get on with it, really, and find my own way. I remember my mom saying [that] I picked up a pin from the floor and handed it to her. She looked down and thought, 'Well, there's not really going to be a problem here, is there?'"
Gabbedey comes by her talents naturally. Her mother was a professional dressmaker, a grandmother was a milliner on Bond Street, and her grandfather was a cabinetmaker. "There's definitely a pattern of creativity within the family, and I was lucky enough to get it," she says. 
There were times when Gabbedey's parents wanted to help her but had to stop themselves and let her do things on her own. "They could have stepped in and it would have maybe held me back from learning for myself. I'm a bit stubborn — 'persistent' is one word for it, but my parents would definitely say I was stubborn."
She doesn't dwell on what sets her apart from other designers.
"Everyone is very different, and every challenge is very different," Gabbedey says. "Everybody has different types of challenges, anyway."