For Kelsey Fields and Christopher Starcher of Morgantown, West Virginia, it's OK if a little rain must fall — even if it means breaking out umbrellas, as they did for their homey bed-and-breakfast wedding in Pittsburgh.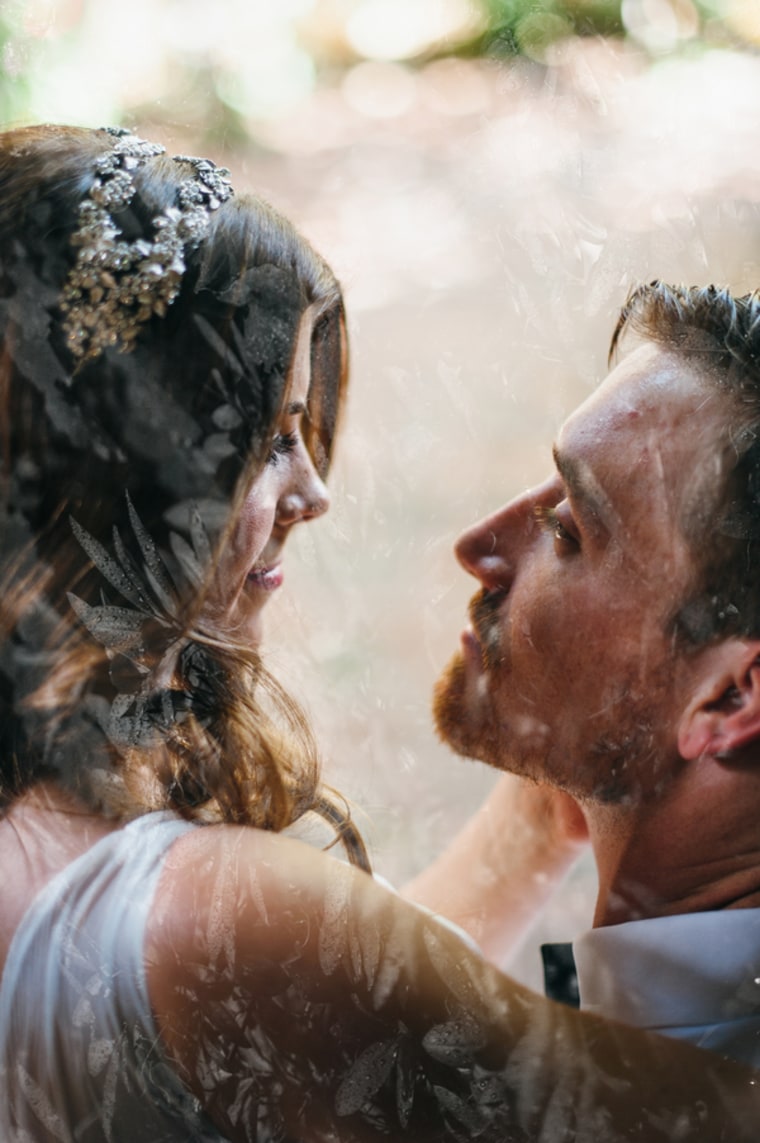 Fields, who works at a bank, and Starcher, a photographer, met about nine years ago while tailgating at West Virginia University football games. Fields told TODAY.com that her first impression of Starcher was that of "a complete goofball — definitely the class clown," adding that "he's the person that everybody wants to be around."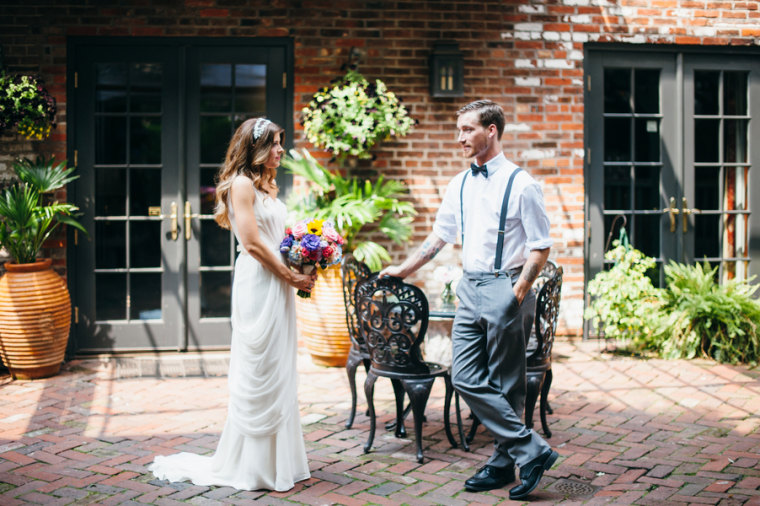 As for Starcher's initial take? "I thought she was pretty," he said.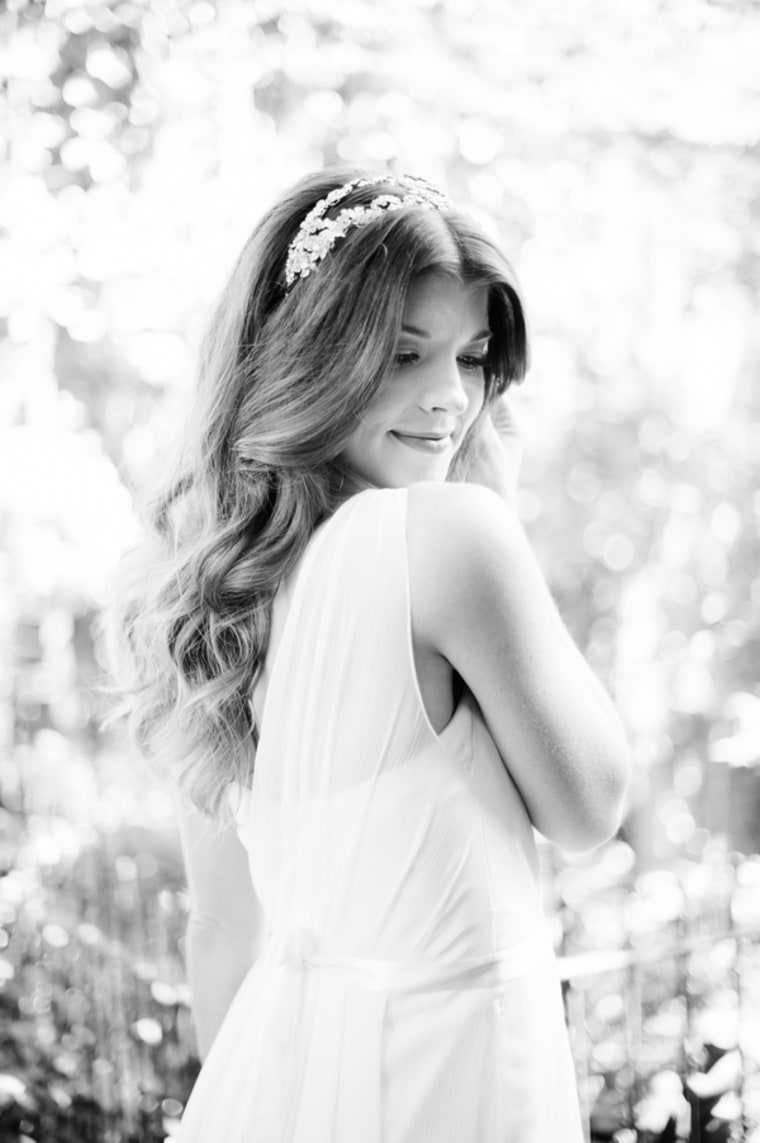 He wound up making the first move in 2009, asking for her phone number while the two were grabbing dinner among friends. After dating for four months, they took a break, but wound up back together in 2010, when their daughter Avery was born.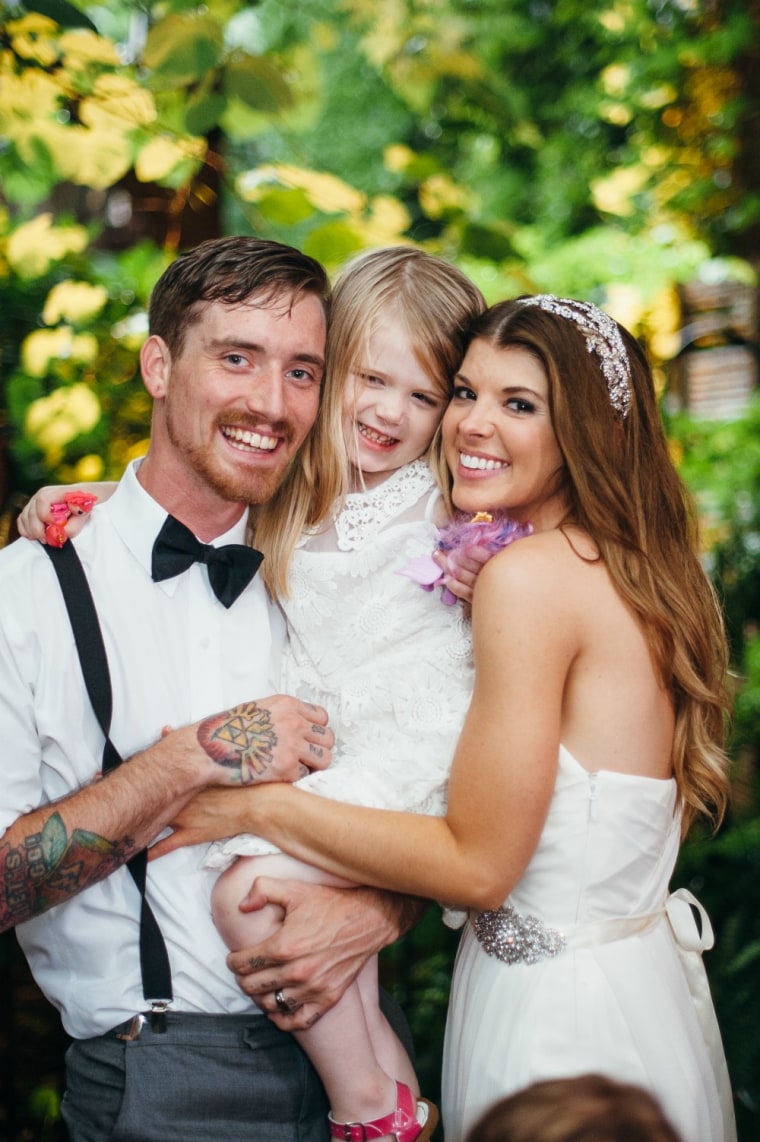 "It felt right, so we went with it," Starcher said. "There's more direction [this way]. Everything seems to have fallen in place. It's a lot easier now."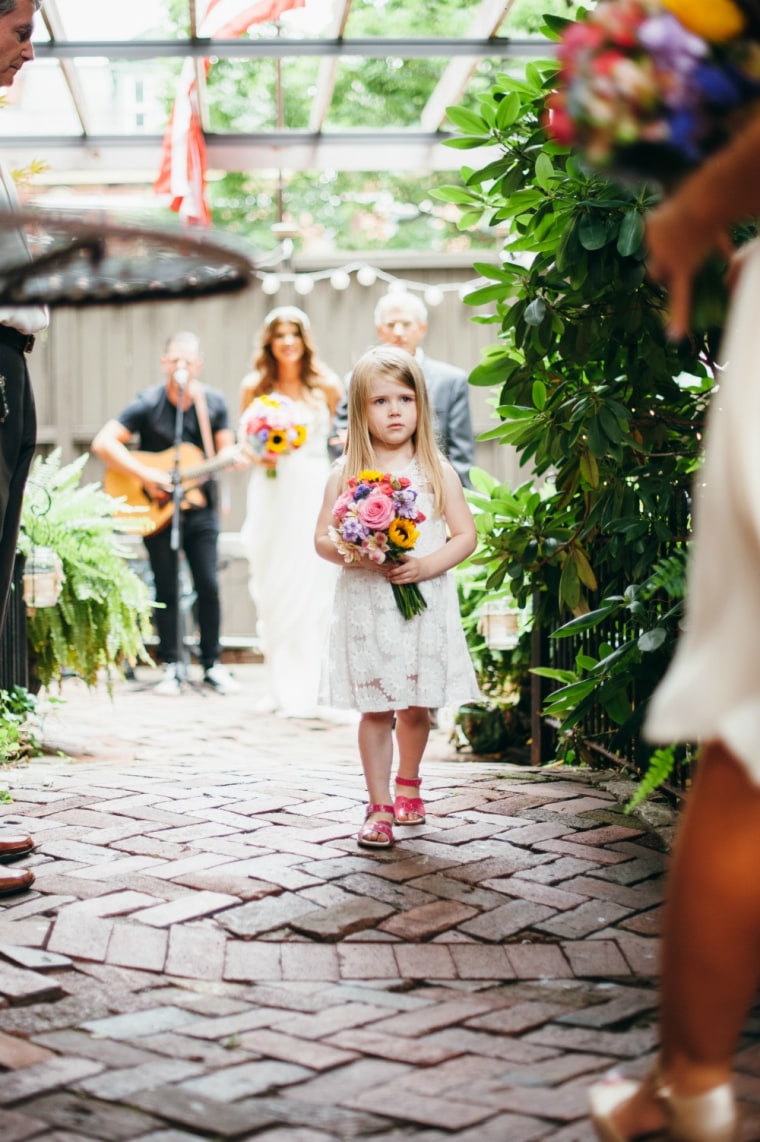 Added Fields, "We were young parents, just kind of struggling through life and figuring things out. I think our separating made us realize: You don't realize what you have until it's gone."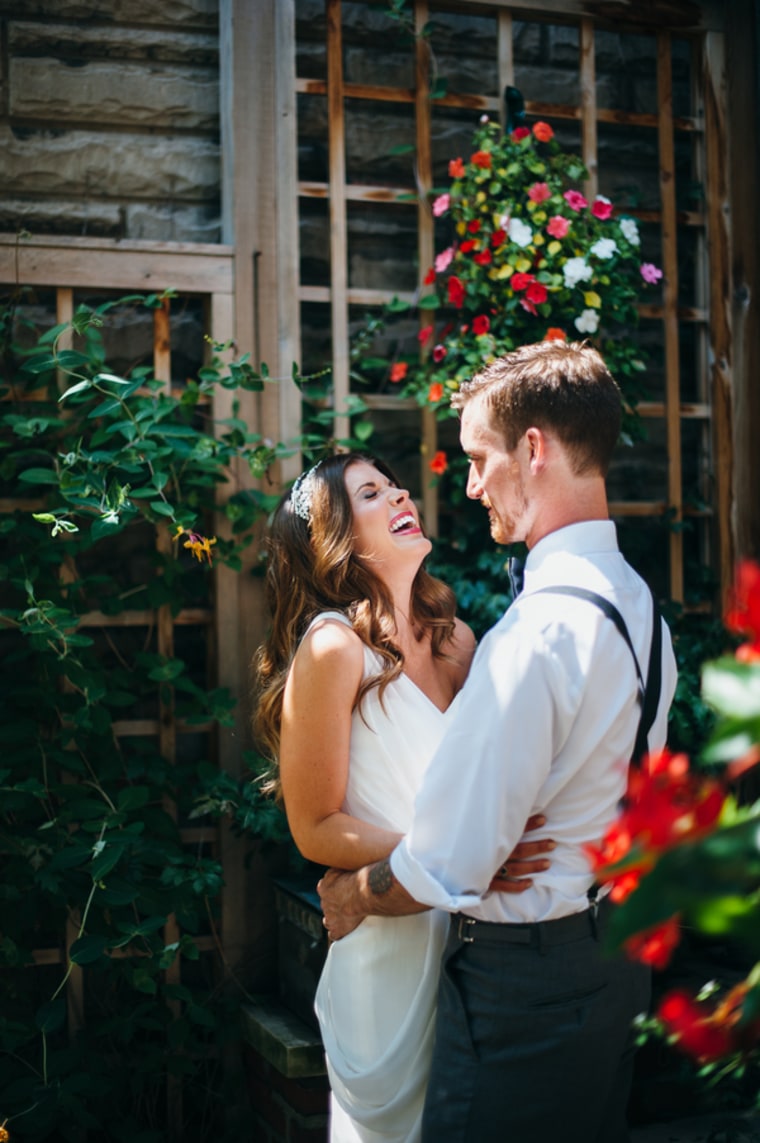 Last October, the couple took a trip to Lewisburg, West Virginia, where Starcher brought along a ring to which Fields had taken a liking. "We took pictures, and it was fall, so all the leaves looked nice," he recalled. "I set my camera up on this little tripod, with the timer and all that. I was running back and forth, trying to get the timer going, and posing. And at the end, I said, 'Wait, I got one more really good pose,' and I pulled the ring out."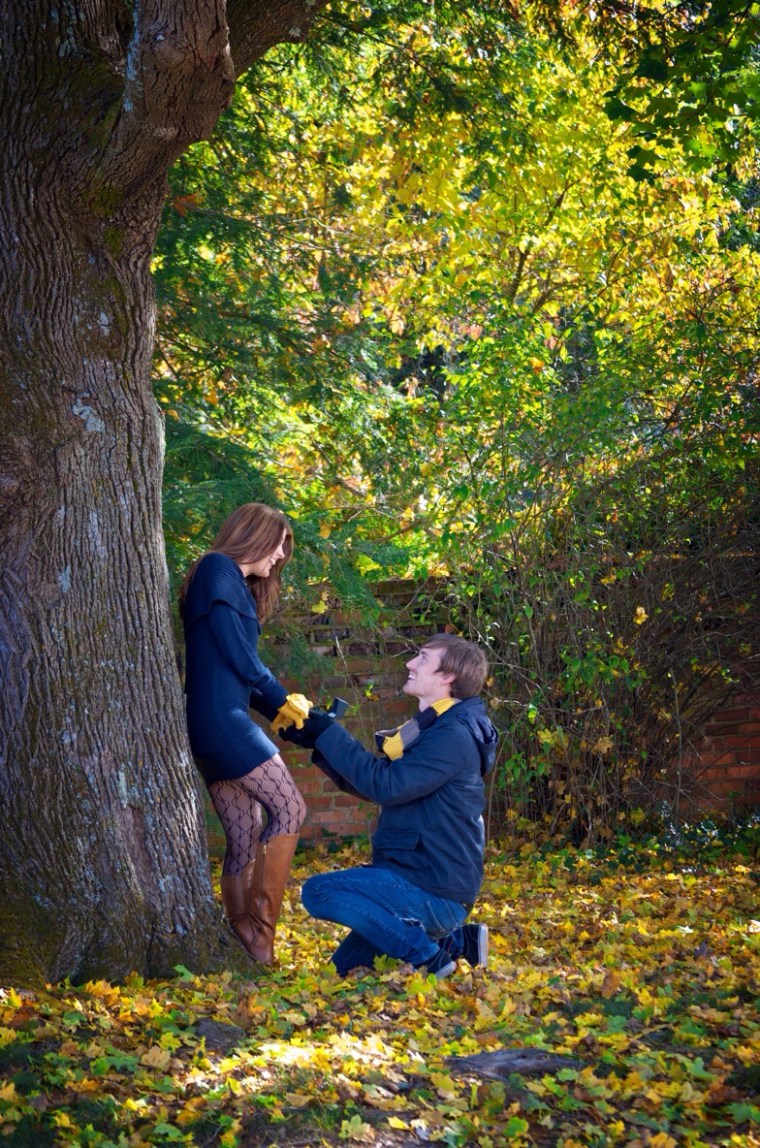 Fields said she was so surprised by the gesture, "I actually got down on my knee" to mirror his pose. "He said, 'You need to stand up!' I was really in shock. We both cried. It was a very special moment."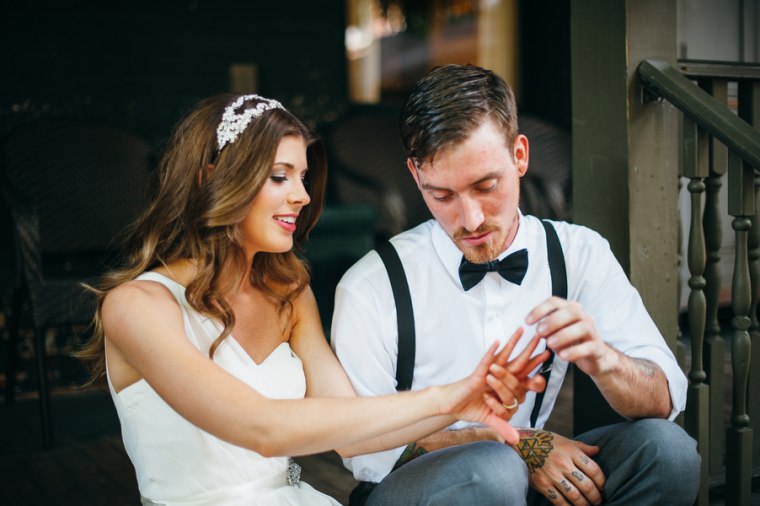 With the date set for Aug. 2, 2014, they invited 60 guests to their wedding and reception at the Morning Glory Inn bed-and-breakfast in Pittsburgh. "I wanted something that almost felt like a garden, with an antique and Victorian feel," Fields said. "We found this inn, and it was perfect. It was everything I had imagined."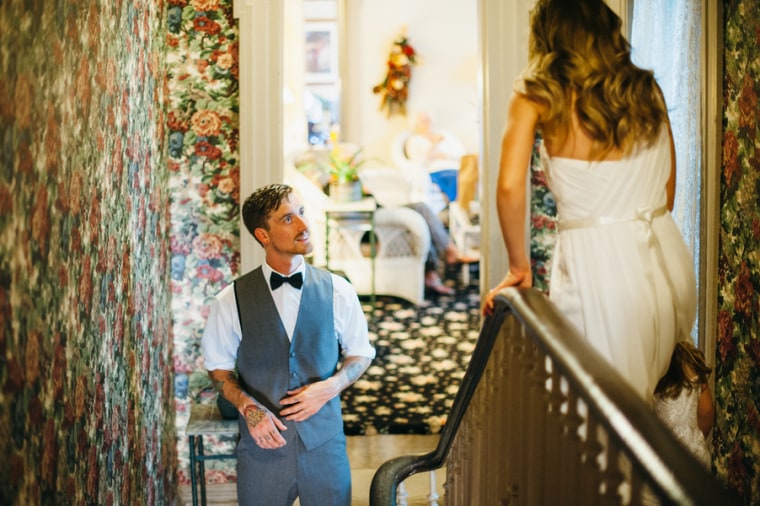 Amid the brick Victorian décor, Fields aimed for an "intimate, meaningful and laid-back" vibe. "I wanted everyone to feel welcome and completely at ease," Fields said. "The great thing about Morning Glory is that there's no waiting there. As soon as you show up, cocktails are served and hors d'oeuvres are served."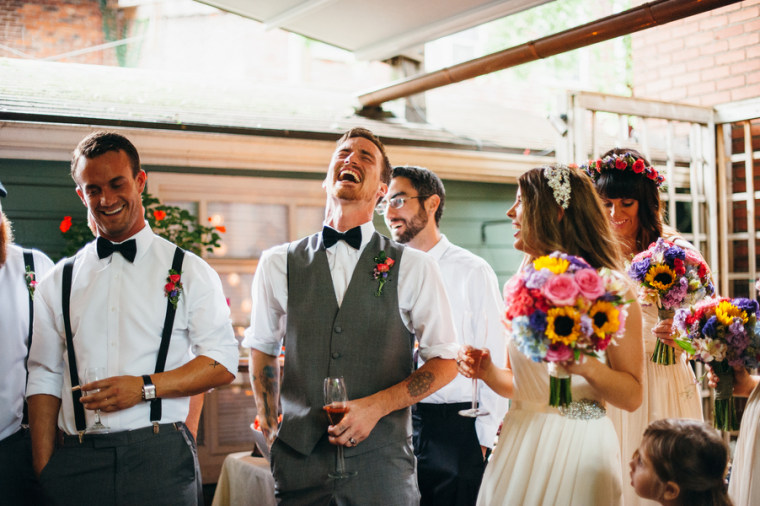 And once the ceremony began, Avery charmed guests while fulfilling her duties as a flower girl.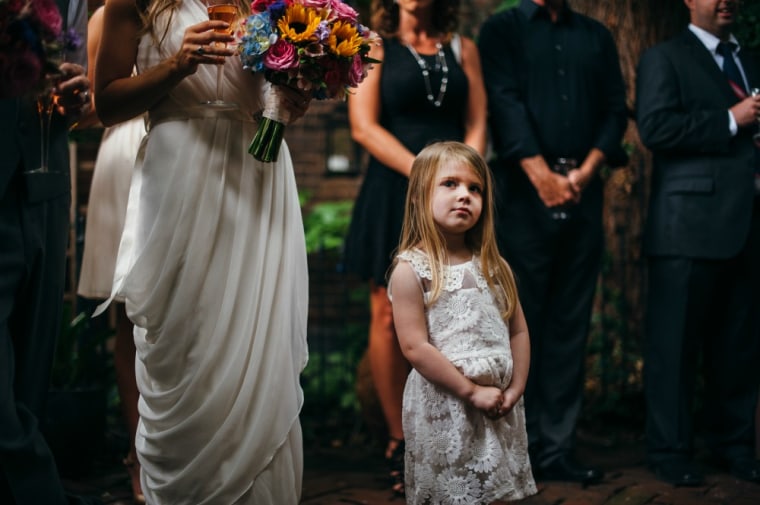 "My best friend's daughter was also a flower girl," Fields added. "They're very dear friends, so they did it together."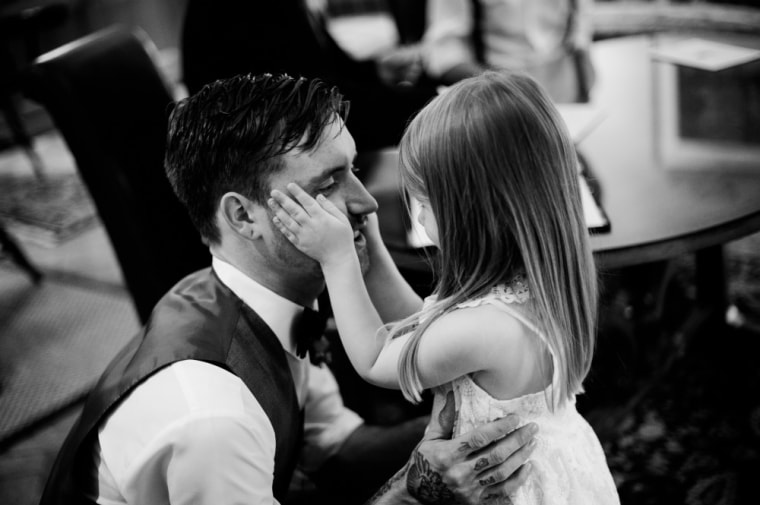 As Starcher watched his bride walk down the aisle, he said he felt "terrified," but for the right reasons. As a photographer, he's seen plenty of flubs and screw-ups at weddings, and he didn't want to be a klutz at his own ceremony.
"By the time she was walking down the aisle, I was pretty much in a blackout," he said, laughing. "My brother was my best man, and he ended up dropping the rings as he was handing them over, and all my anxiety went away. After that, I was good, but before that, I was a wreck."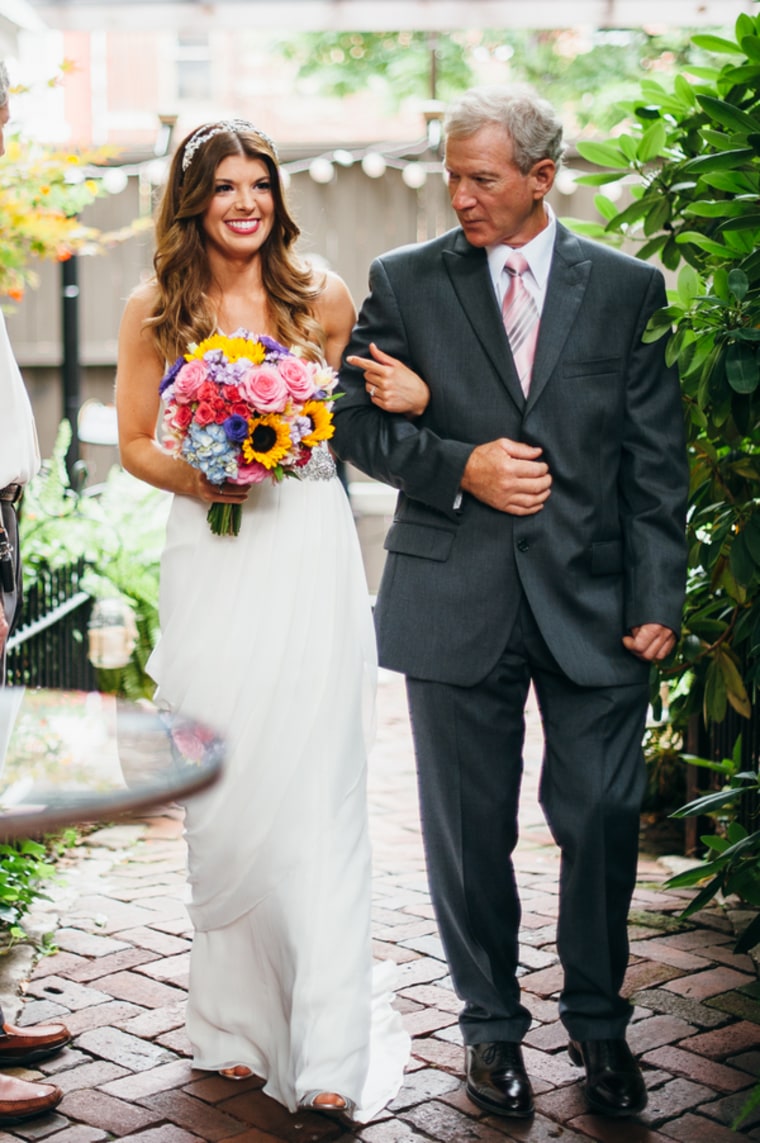 By Fields' side were her bridesmaids, who wore flower crowns.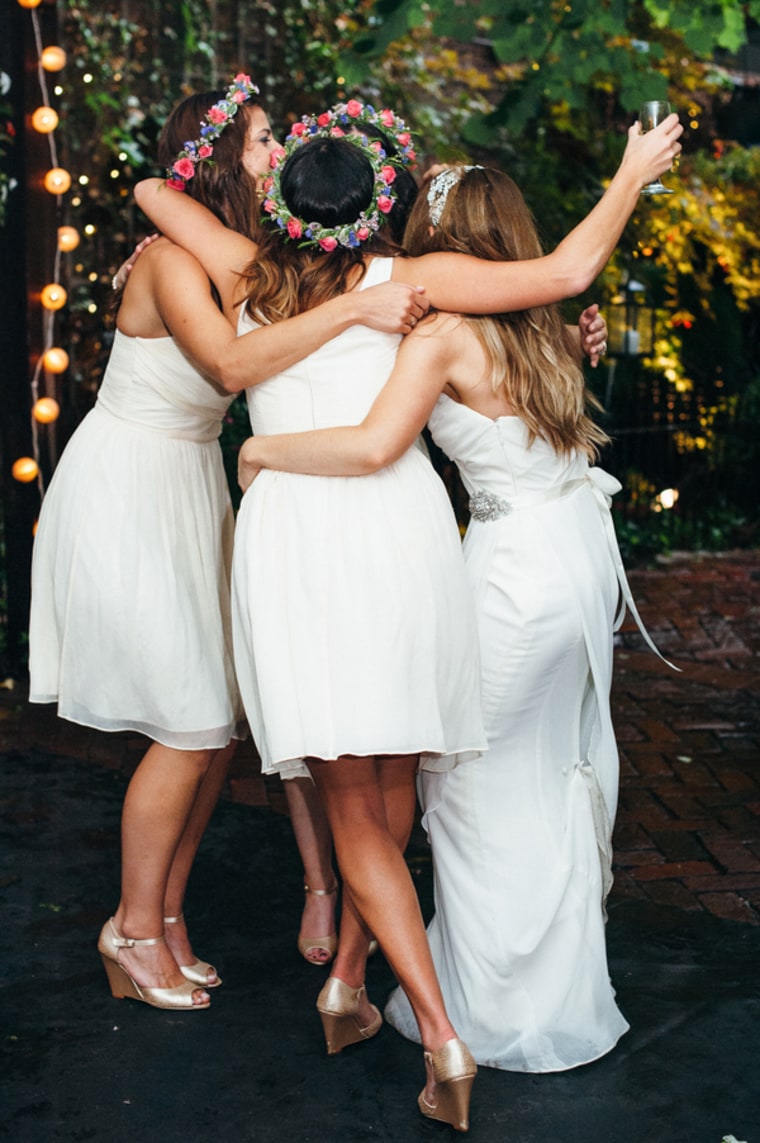 "That was something I was absolutely dying over," she added. "I knew I wanted to use fresh flowers for the crowns, so The Flower Studio in Pittsburgh made the crowns. They were so pretty, and they did a great job."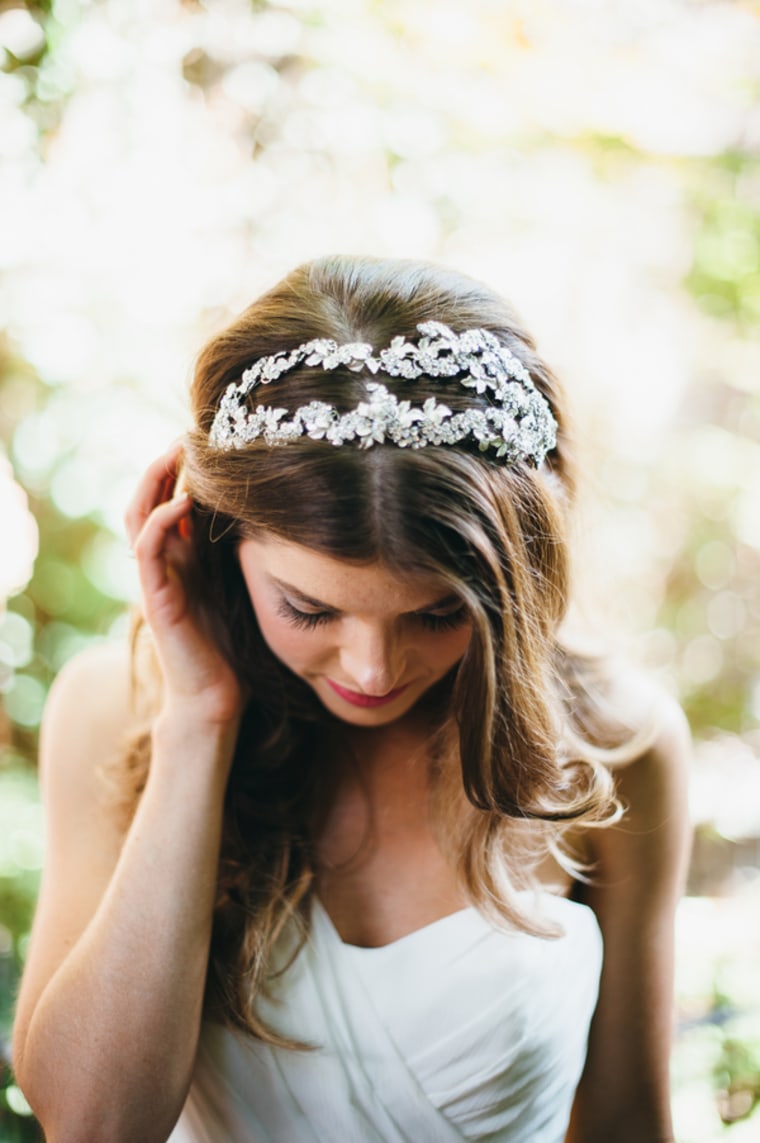 While The Beatles' "In My Life" played at the reception, they shared their first dance as husband and wife.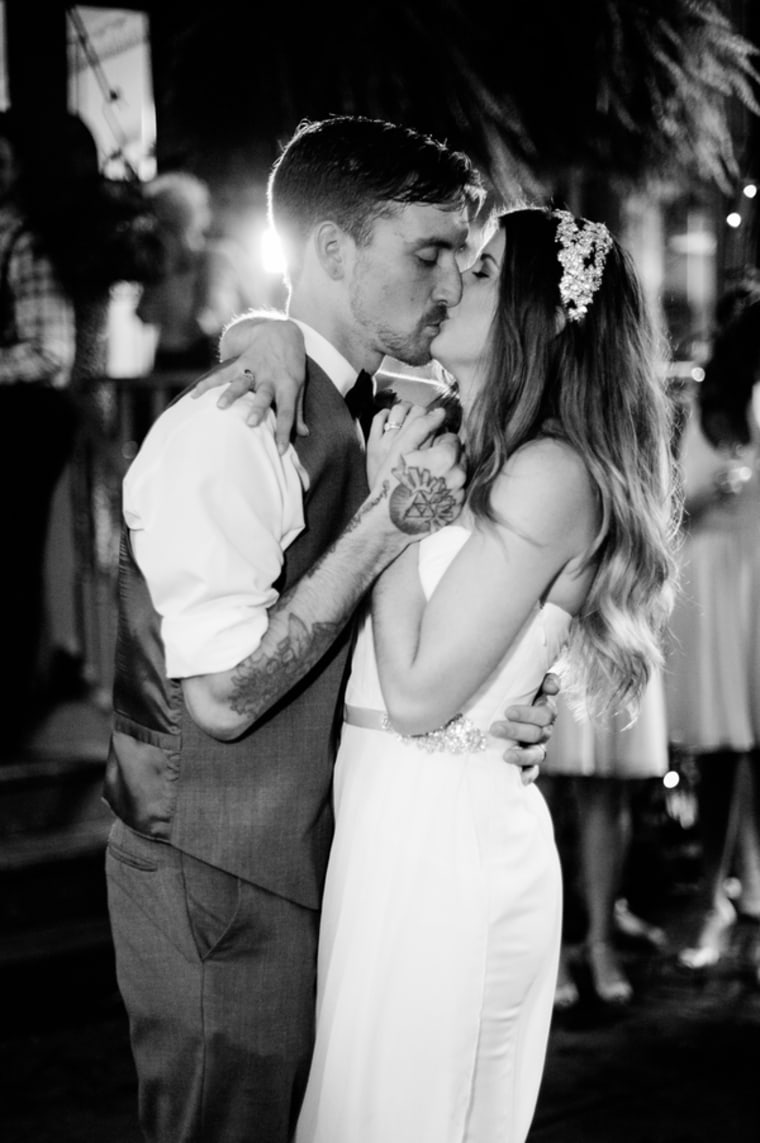 "That song is really, really symbolic and sentimental for our relationship, through the years," Fields said. "Years ago, when I heard that song, I told my sister, 'I'm going to be dancing to this song with Chris at our wedding,' because the lyrics just describe us to a T: 'In my life / I love you more.' It's perfect. Every time I heard it, I thought of him."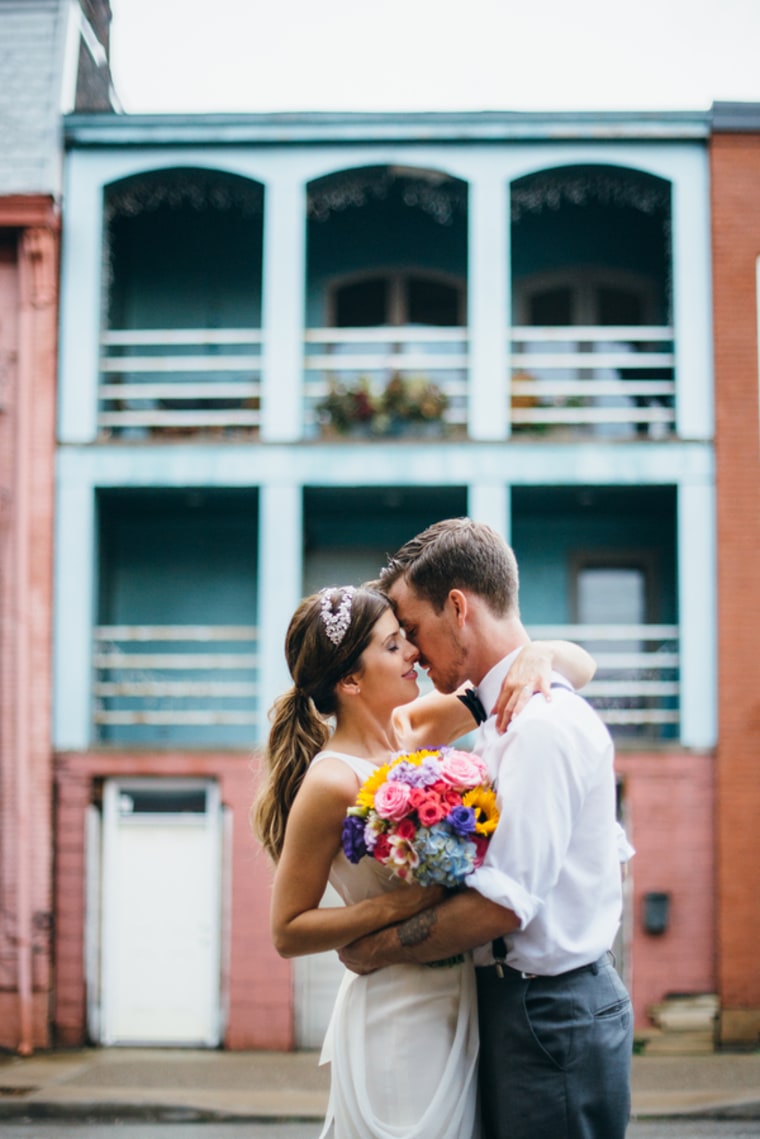 While rain at a wedding may be considered good luck, it isn't always convenient. Luckily for the bride and groom, the timing was rather accommodating.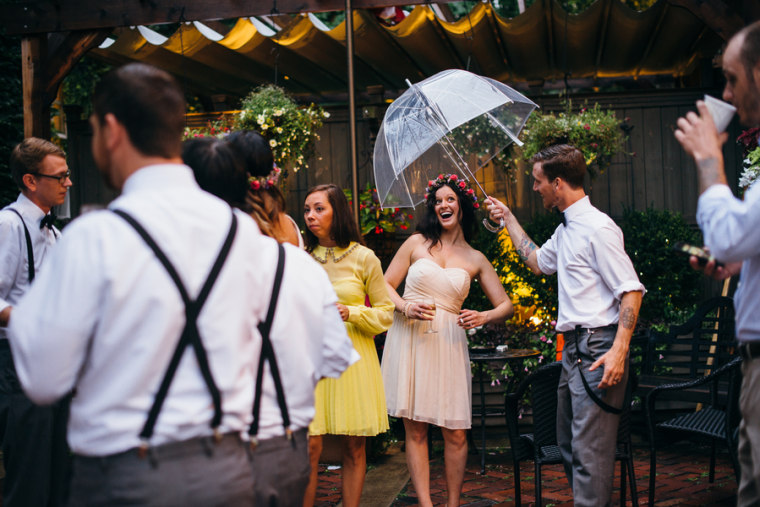 "Right after the ceremony ended and the [reception] began, the storm hit," Fields said. "The awnings covered the entire terrace and the garden, so, we were still able to be outside in the storm, which was great. We did have to bring umbrellas to stay outside, but it was indoor and outdoor. But the rain actually added to [the ambiance]; it was really nice."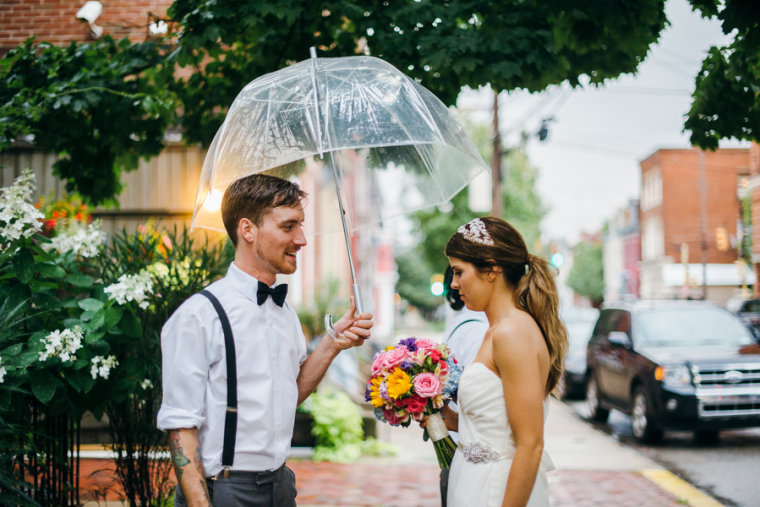 Even in the best of relationships can get a bit stormy at times, but the wedding weather was appropriate for a couple that has endured ups and downs.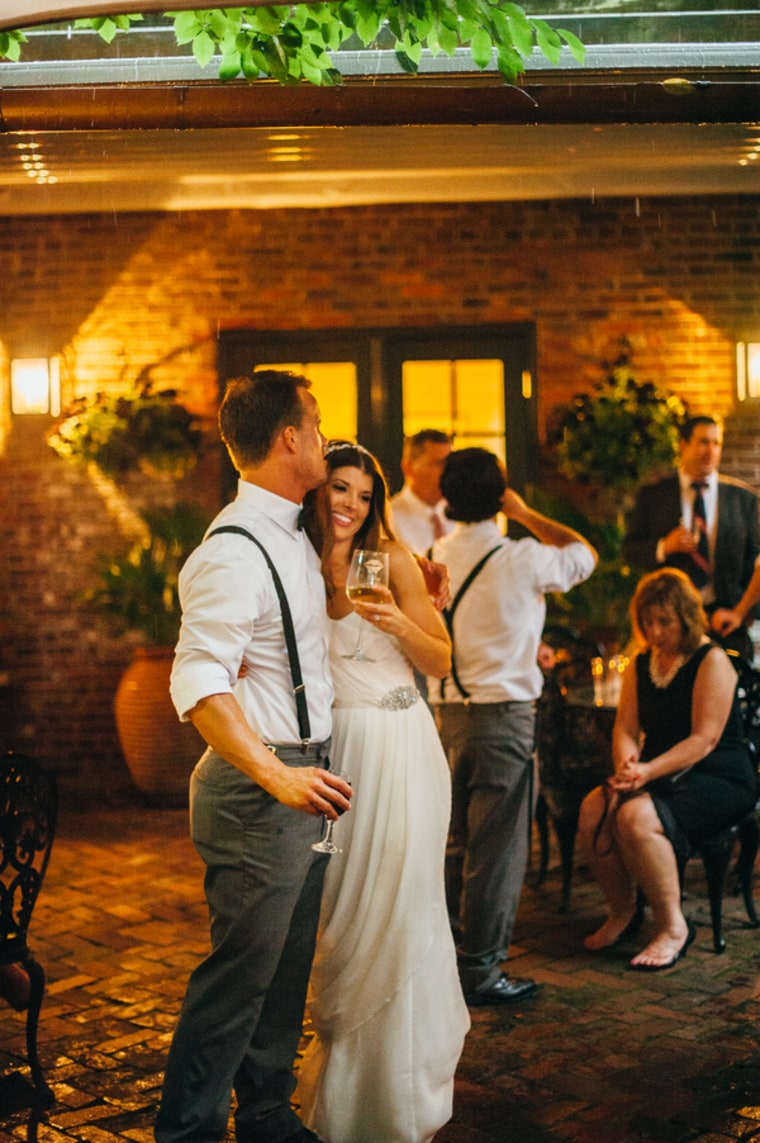 "Christopher and I have been through a lot through the years," she added, "but we're exactly where I want to be."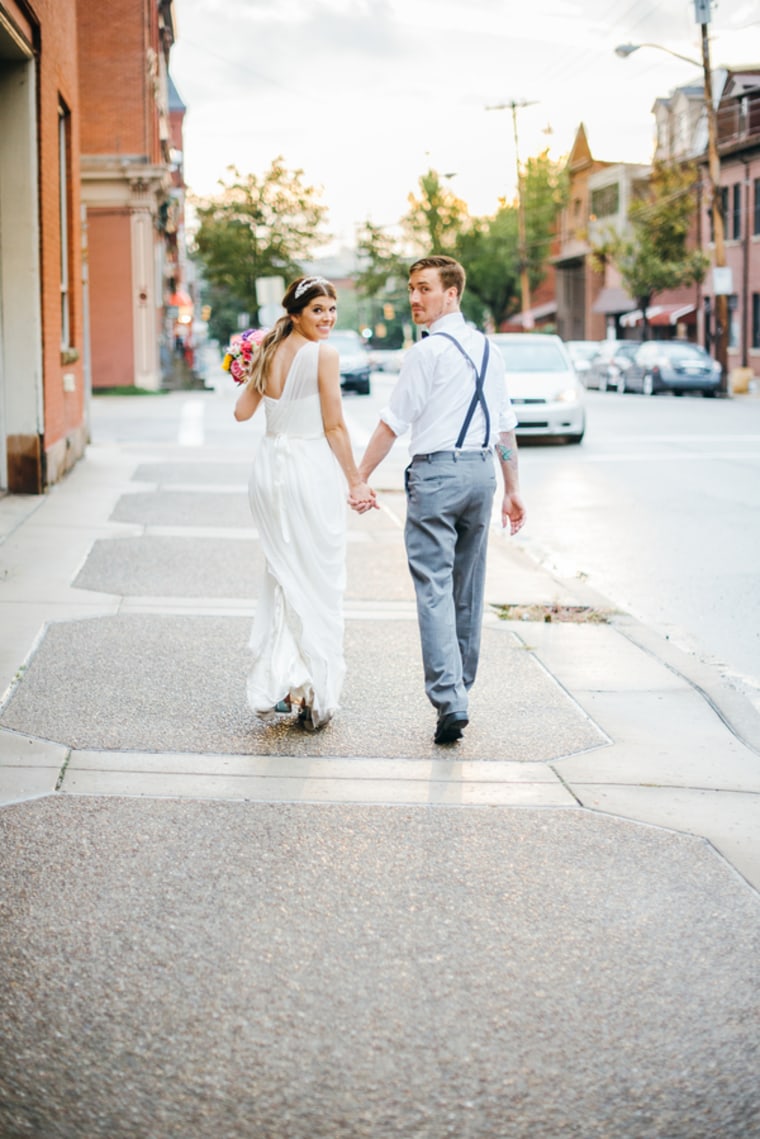 For Kelsey Fields and Christopher Starcher of Morgantown, West Virginia, it's OK if a little rain must fall – even if it means breaking out umbrellas.
All photos, except for Christopher Starcher's engagement photo, provided byVeronica Varos Photography. Check out more TODAY real weddings here. Follow TODAY.com writer Chris Serico on Twitter.