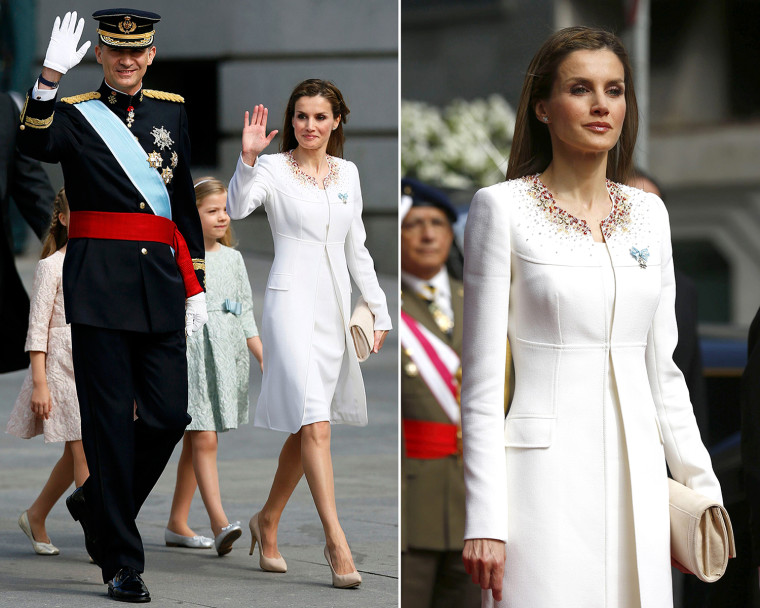 Queen Letizia has been the subject of much style buzz, with the New York Times even suggesting the Spanish royal may single-handedly boost the country's fashion industry. 
The former reporter, 41, has us hooked too, and we're anxiously awaiting the queen's wardrobe choices during her royal summer tour. Letizia's understated elegance has yet to disappoint, most recently displaying a series of sleek monochromatic suiting combinations in neutrals and pastels. Learn how to master the royal look (on a commoner's budget):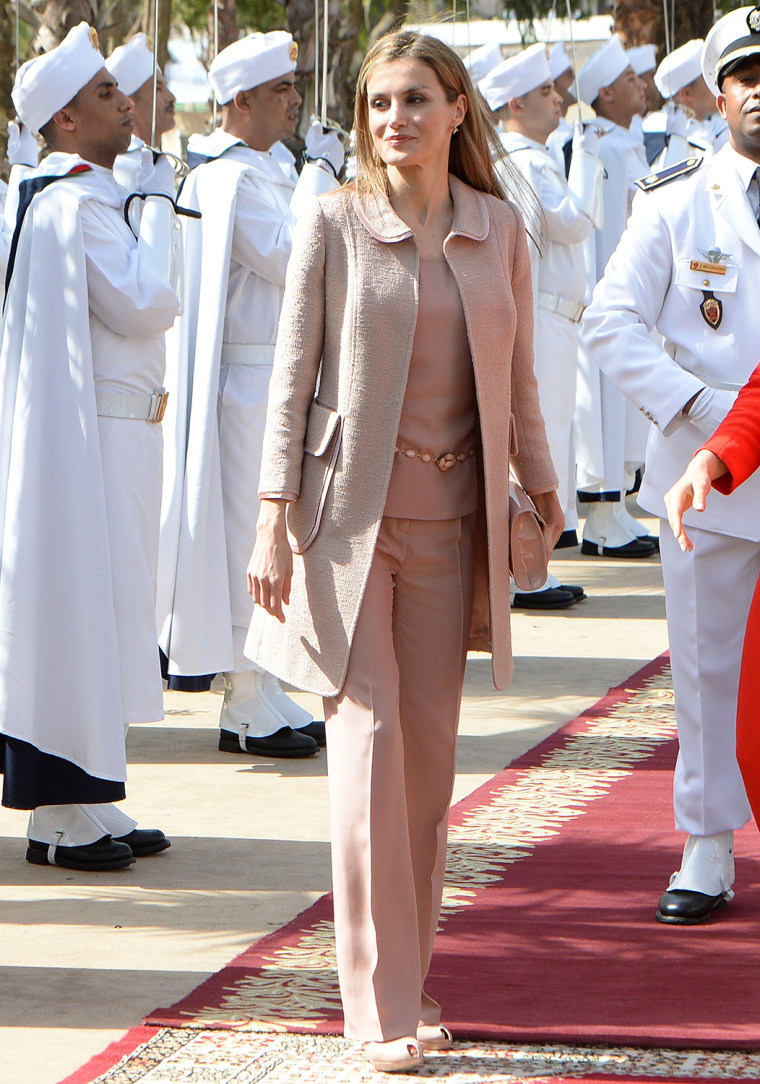 Royal blush
We absolutely adore the queen's pale rose-colored suiting, and think the versatile tone can easily carry us into the fall.

Long jumpsuit with sheer details, $79.90, zara.com
Blazer with draped lapel, 99.90, zara.com
Light wool straight trousers, $59.90, zara.com
Polka dot silk top, 79.90, zara.com
Furry coat, $169, zara.com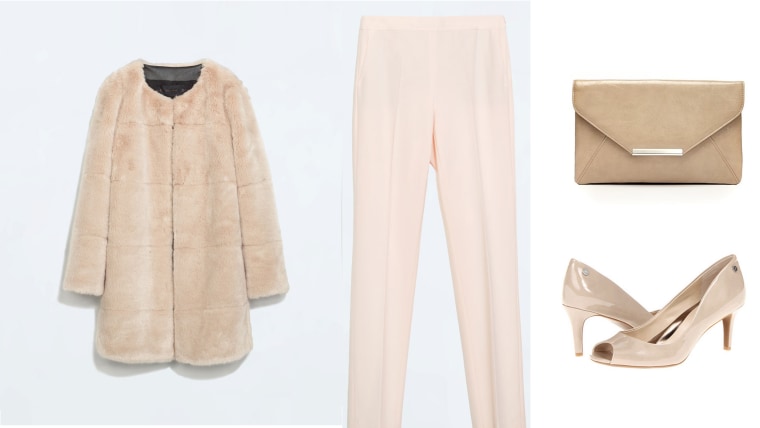 Imagine our delight when we discovered Zara's nude collection, a one-stop-shop for everything soft pink. All items are made to mix-and-match. Pair the one-piece pant suit with a blazer or try the silk long-sleeve top with their wide-legged pant. Toss on the boxy fur coat as the weather chills to keep this style wearable into the chillier months ahead.
Style&co. clutch, $26.98, macys.com
Our next stop was the accessories department, where we found this steal of a deal in a simple clutch at Macy's.
Calvin Klein Kasia heels, $79, zappos.com
Peep-toe pumps are always a must, we like the price and simplicity from Calvin Klein. They also go nicely with most of the Queen's inspiring neutral palette.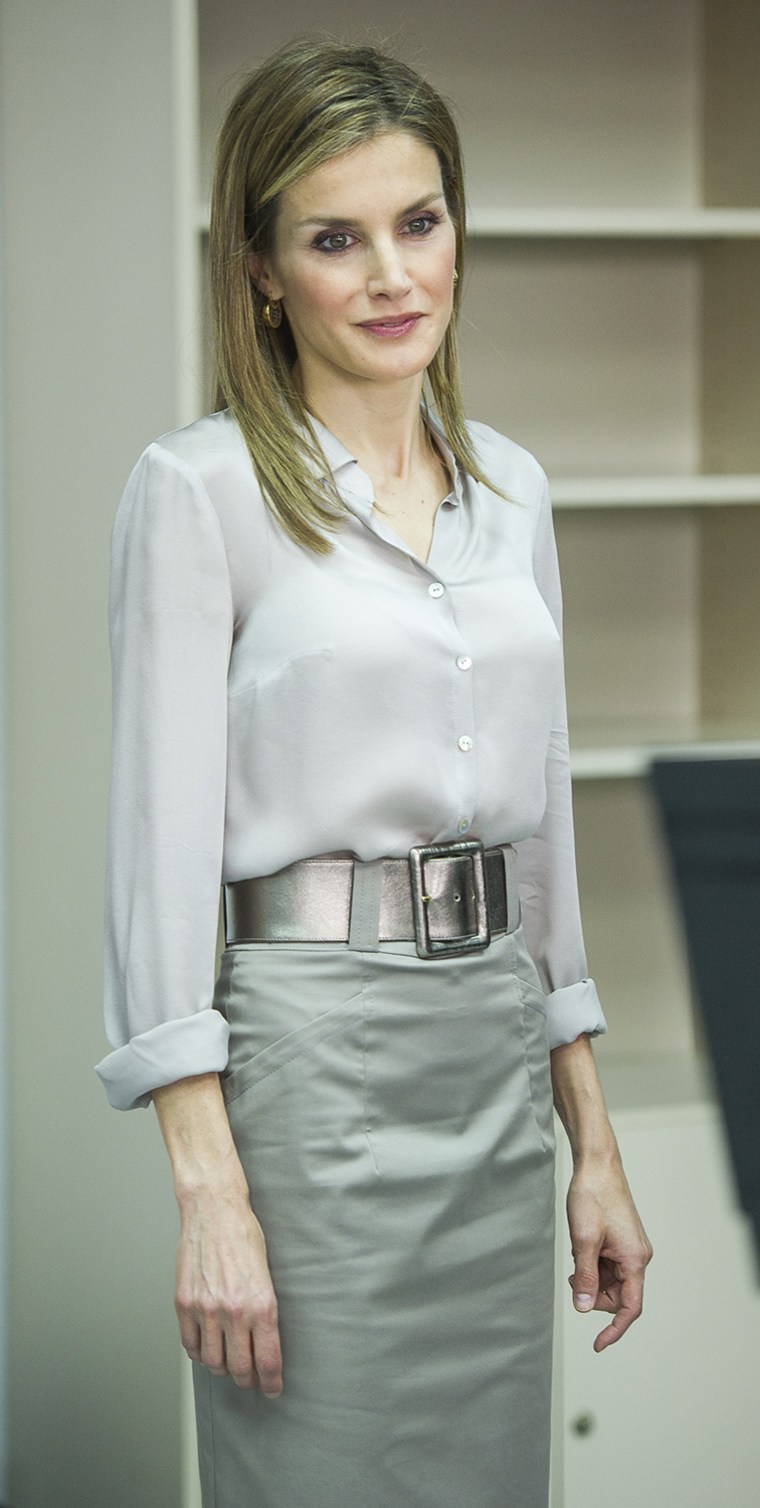 Metallic modern
Letizia's gunmetal ensemble is perfect for a day at the office. Polished, without being too revealing.

Telegraph pencil skirt in super 120s wool, $138, jcrew.com
J. Crew is a reliable stomping ground for suiting basics. This light grey heather grey is an excellent year-round option at a length we are comfortable spending the day in.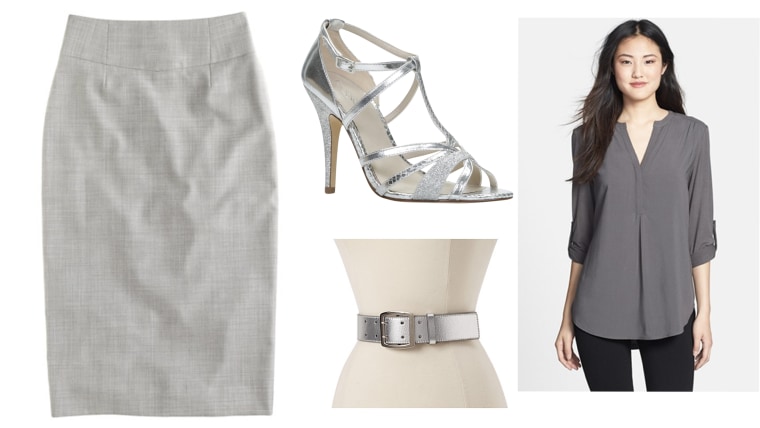 Pleione mixed media tunic, $37.90, nordstrom.com
Pleione's tunic blouse in grey pavement looks great tucked-in. But to get more bang for our tunic, we might also try the top untucked over a pair of our favorite jeans. If the royals are recycling their favorite items, we will too. 

Lodis accessories pebbled metallic belt, $34.99, 6pm.com
Belts add a bit of dimension, allowing for a more forgiving waistline. A thicker belt adds to the slendering effect which completes a high-waisted look.
Cariseto sandal, $29.99, aldo.com
We usually prefer a lower heel height but this strappy sandal by Aldo looks sophisticated with a longer hemline. Just make sure you aren't doing too much walking.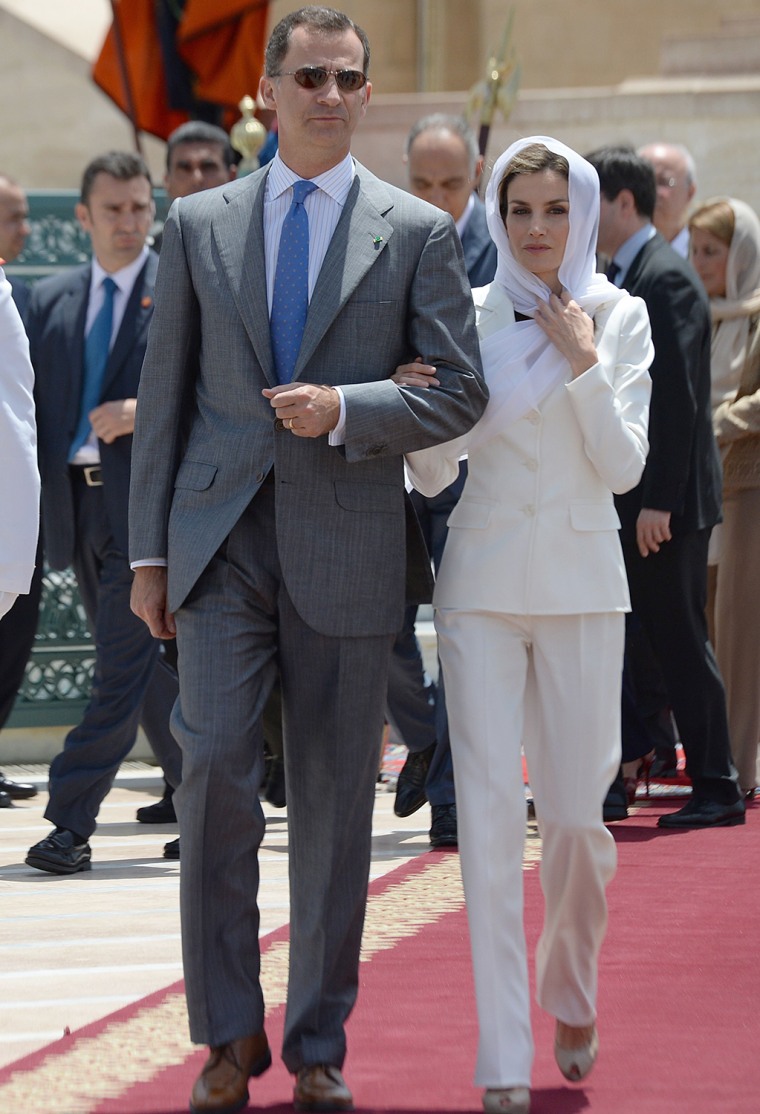 Crisp whites
A solid white outfit is timeless and oh so chic! Letizia looks like an old Hollywood film star walking arm-and-arm with her king.

Tuxedo jacket in white, $49.95, hm.com
Wide-leg pants in white, $34.95, hm.com
Ruffled blouse in black, $29.95, hm.com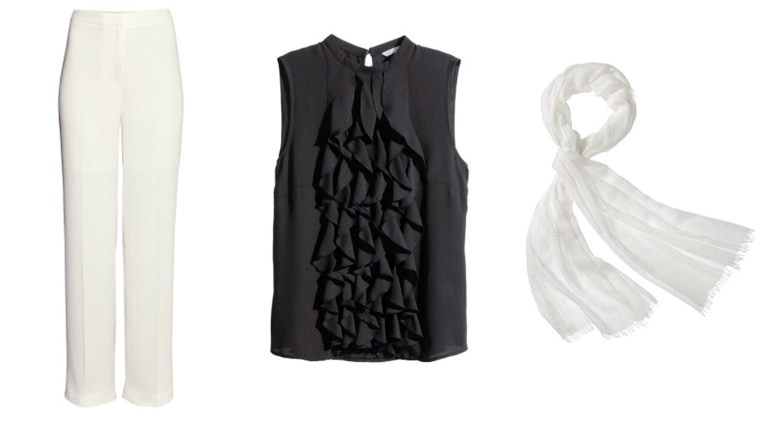 A crisp white shawl-collared blazer and breezy pant combo is a breath of fresh air. We've paired a simple black sleeveless blouse underneath as a light-weight summer cami- option. The higher neckline keeps the look conservative.
Merona solid fashion scarf, $7.48, target.com
A white airy scarf adds a touch of glamour. Not sure you want to wear it around your head? We think it will look just as stunning tied loosely at the neck.
Calvin Klein Kasia heels, $79, zappos.com
In the shoe-department, we are following the royals lead with the next day out on the town for our neutral Calvin Klein pumps.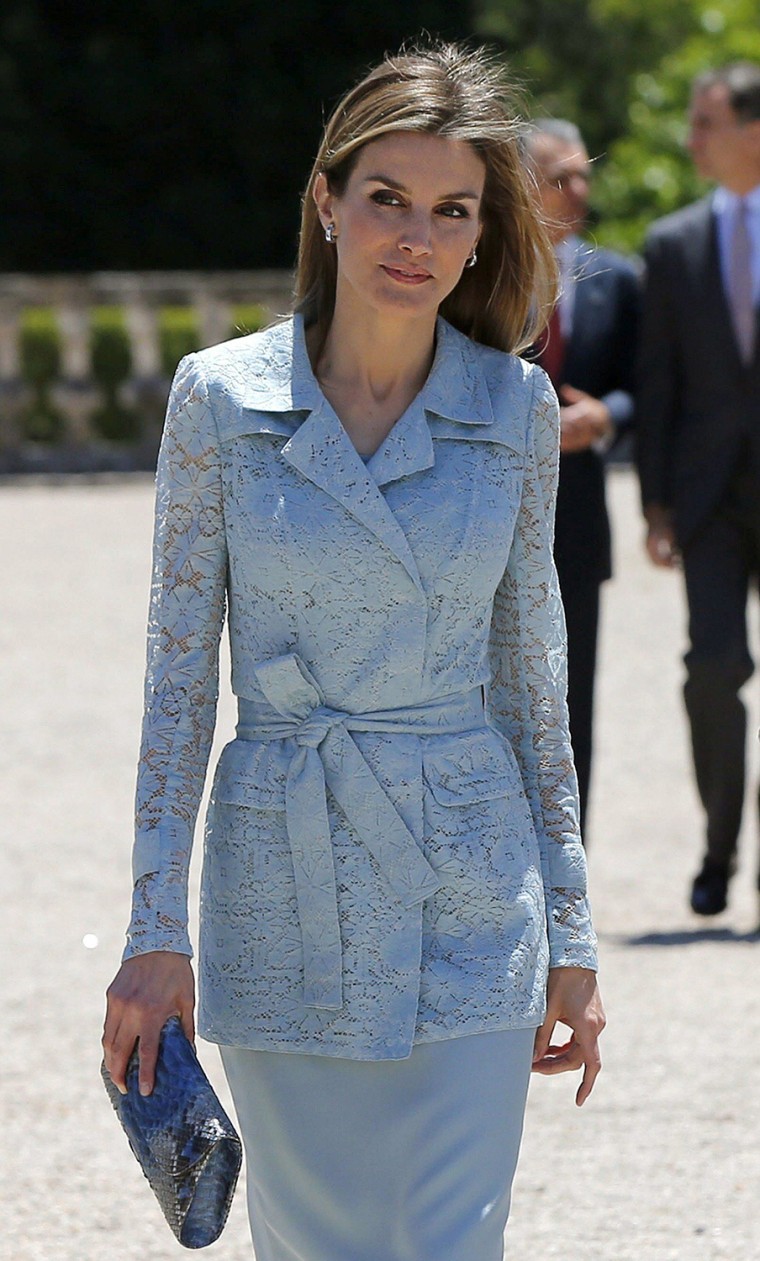 Baby blues
The queen is a royal vision in this baby blue ensemble. We love the soft pastel color and the cool summer lace.

Textured cutout back dress, $89,50, loft.com
A minty shift from Ann Taylor Loft is simple and straight to the stylish point.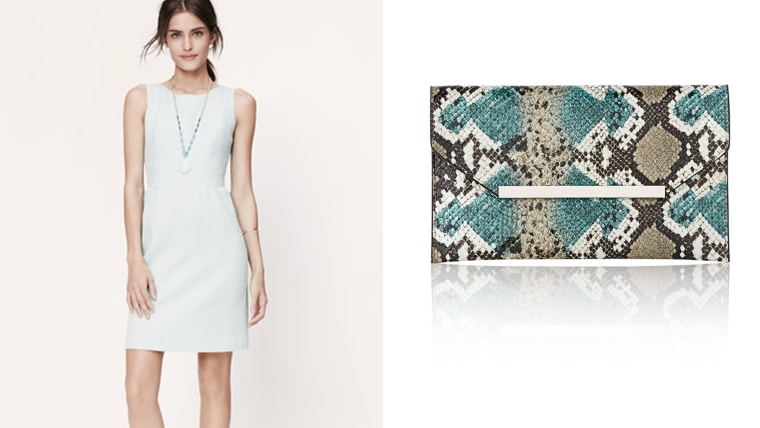 OL style one button blazer, $46, chicnova.com
OL's color-blocked lace jacket is a spin on the queen's look that works well dressed up or paired down with casual separates.
Snakeskin print clutch, $44.95, thelimited.com
The Limited's faux exotic clutch is an edgy compliment to the soft lace look.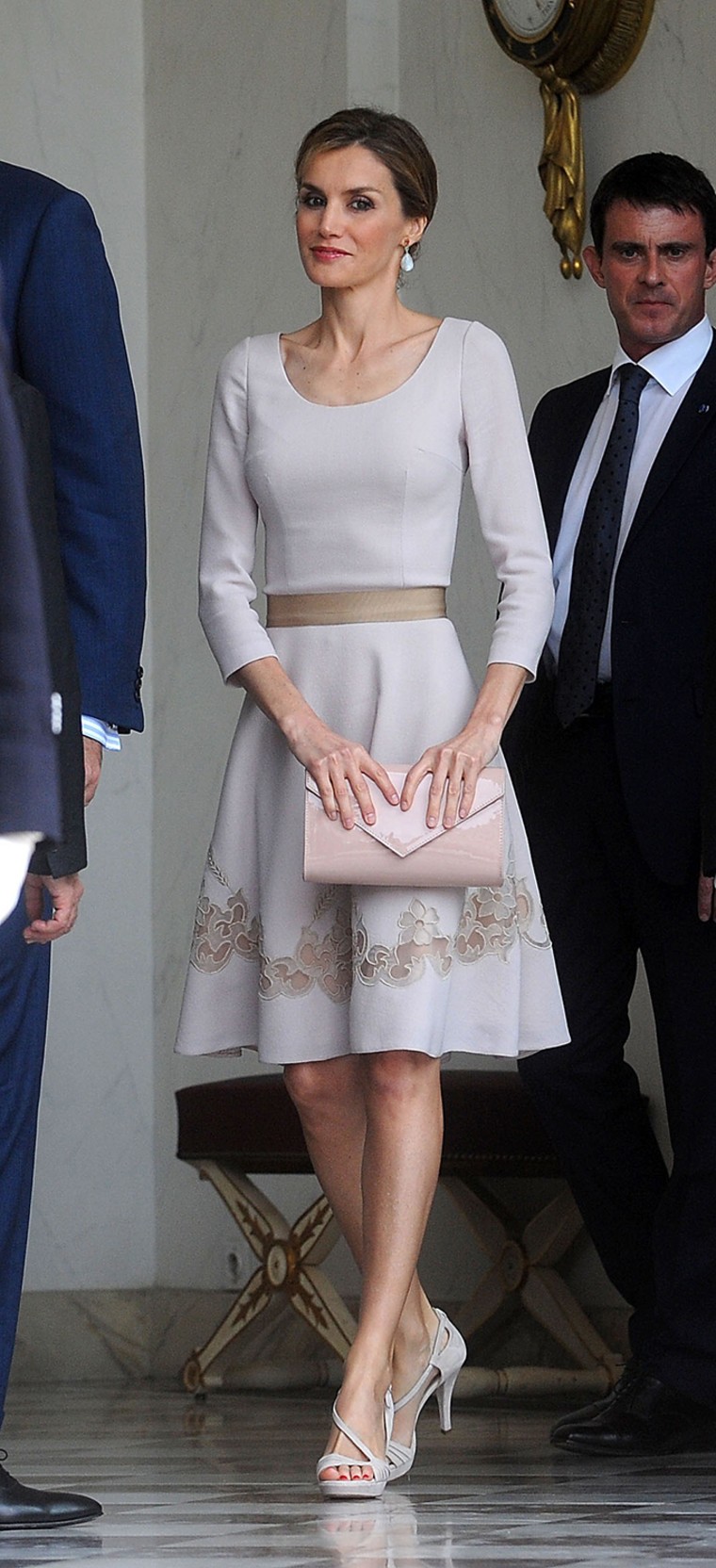 Natural beauty
Letizia loves her neutrals, and she looks great wearing them. Last week she was spotted in Paris wearing a nude-colored applique dress with slicked back hair.

Lace a-line dress $80, topshop.com
Topshop's short-sleeved applique dress adds a bit of breathing room during these balmy summer days. The fitted waist keeps the look from being too boxy.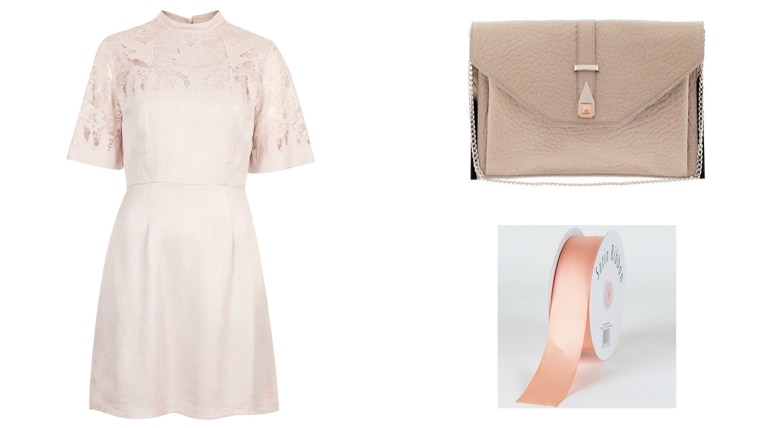 BB Crafts ribbon, $9, bbcrafts.com
Why spend an arm-and-a-leg on an a designer option when this inexpensive and peach satin ribbon does the trick? You only need a small amount to tie around your waistline to complete this look. Simply knot loosely in the back and let a small portion hang down.
Danielle Nicole piper clutch, $68, piperlime.com
A clutch that's also a shoulder bag? Sign me up! We love dual function accessories and the minimal aesthetic on Piperlime's leather option tells us it can carry us through from day-to-night.
Spain's Queen Letizia is known for her feminine, polished and sophisticated style. Take a look at our favorite outfits.