You may love Pyrex, but we're willing to bet you don't love it this much.
While most people are content cooking with the vintage-looking dishes or recalling a grandmother's dishes, there are people who are so dedicated to the cookware brand that they've gotten the patterns tattooed onto their bodies. Many are collectors, but nearly all consider Pyrex a connection to sweet family memories.
"I've collected vintage Pyrex for probably about eight or more years," Tairyn Phillips, 33, told TODAY Style. "This is one of my favorite patterns called woodland, and I was looking at a bowl I had one day and I was like, 'That would make the cutest armband tattoo.'"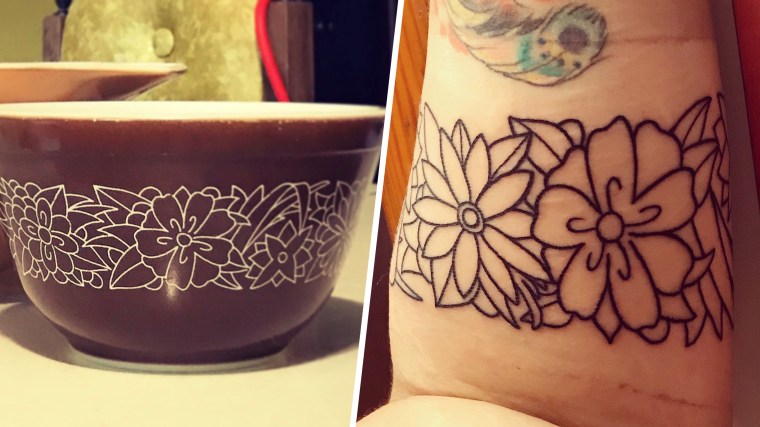 Phillips who owns a paint-your-own pottery studio in Albany, New York, got the tattoo in June 2018, but she's loved the brand even longer.
"I've collected vintage Pyrex for probably about eight or more years," said Phillips. "I actually got a friendship mixing bowl from my grandmother."
Becky Matheson, a 36-year-old tattoo artist from Halifax, Nova Scotia, Canada, told TODAY that she also got her love of Pyrex from her grandparents. As a tattoo artist, Matheson says she even keeps some Pyrex on display in her studio since "it makes people happy to see things that remind them of loved ones."
"Pyrex is so special to me because of the nostalgia factor," said Matheson. "I started my collection by receiving a couple of pieces passed down from grandparents or my parents."
Brittnee Coomer, a social media manager and vintage housewares collector in Denver, loves Pyrex so much that her husband, Casey Coomer, was inspired to get a tattoo of some vintage bowls.
"My husband found my first pink gooseberry bowl right when I had started collecting Pyrex," Coomer told TODAY. "We were so excited, as these are ... from the 1950s and this color-pattern combo is highly sought after.
"This tattoo is special to me, because it reminds me of the fun (my husband and I) have together," she continued. "He also wanted something to make him think of me."
Jennifer Wood, 30, from Durham, North Carolina, started collecting Pyrex when she was in college "because it was cheap and pretty." But as she continued collecting the pieces, she realized they held a greater meaning to her.
"I had saved my grandma's pink gooseberry Cinderella bowls from the donate pile when I was about 12," Wood told TODAY. "When my hubs and I moved into our current home with its massive built-ins in the kitchen, I got really serious about my collection."
Wood isn't the only one in her family with a Pyrex tattoo. Just like the Coomers, her husband got one, too.
"My hubs and I have matching Pyrex tattoos," said Wood. "I love the art of the design on Pyrex. It's me."
So while some think of Pyrex as an outdated kitchen style, to others, it's a trendy tattoo style that's a symbol of family memories.