TODAY is throwing the wedding of a lifetime!
In honor of the March release of "My Big Fat Greek Wedding 2," we've partnered with our sister company, Universal Pictures, to throw one "big fat" celebration. And last Friday, we announced the winning couple — Kaitlin Roseman and John West!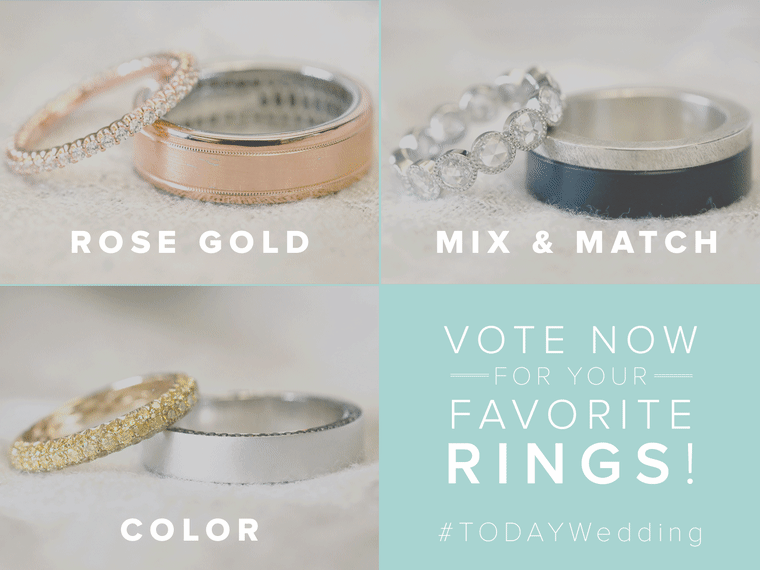 RELATED: 18 unique engagement rings for the modern bride-to-be
As promised, YOU get to decide every aspect of their wedding — from the dresses, to the favors, to the cake, to the flowers and more.
And today we are … choosing the rings (and the bridesmaid dresses)!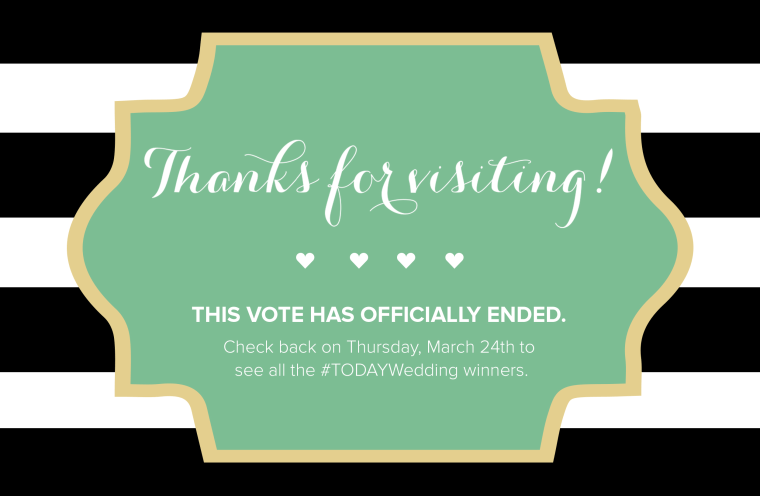 "Right now is a great time to get married because there are more wedding band choices than ever," said Keija Minor, editor-in-chief of BRIDES magazine. "Couples want personalization in every aspect of their wedding, including their wedding bands, which is why we're seeing so many options."
RELATED: Dress the bridal party! Vote for your favorite dress to win TODAY's Wedding
Take a look at the three pairs of contenders — chosen by Minor — and cast a vote for your favorite. And be sure to tune in on March 24 to watch the wedding and see all the winners!
1. Rose gold
Bride: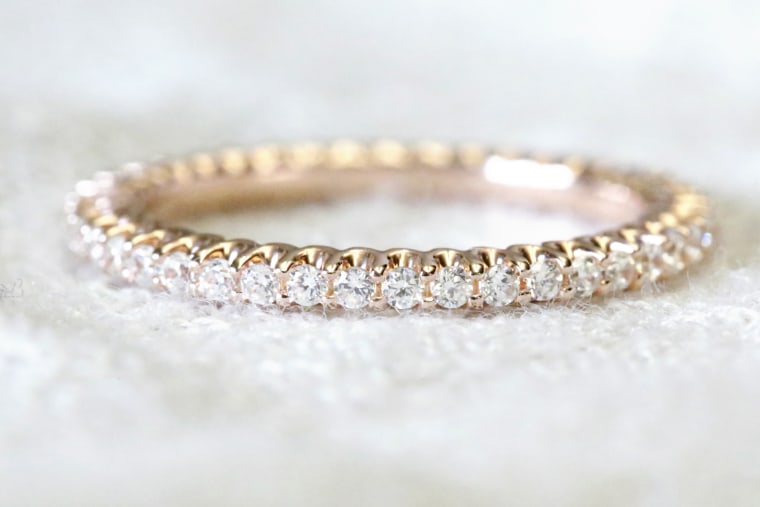 Forget yellow and white gold, it's time to look at the world through rose-colored glasses. This hot color trend, which started in ready-to-wear fashion, has made its way into weddings.
ArtCarved created this elegant design for any bride seeking something truly unique. As Minor pointed out, rose gold bands are also a great option "because they look amazing on all skin tones." This gorgeous, classic ring has round diamonds all the way around with a shared prong set.
Groom: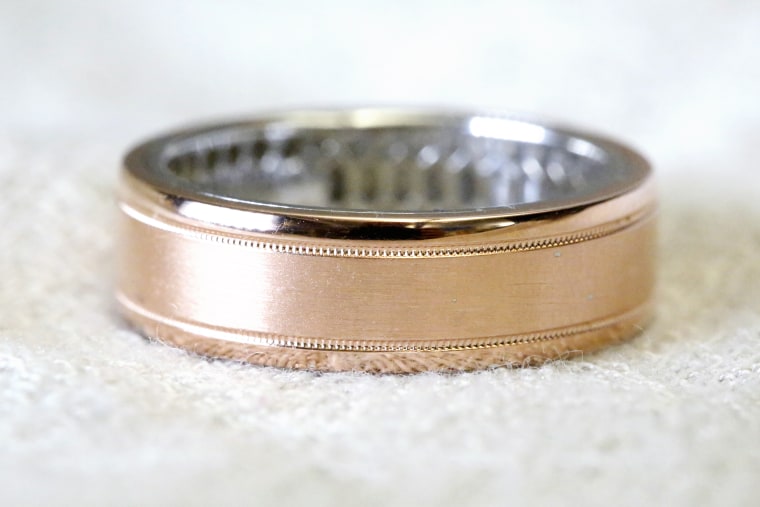 "Once we started seeing rose gold seep into men's wedding bands, we knew the trend made it," Minor told TODAY over email. So for the groom, she chose this classic design by ArtCarved.
This solid, rose gold band is a fresh take on the traditional style — and also a perfect complement to the bride's eternity band.
RELATED: 'My Big Fat Greek Wedding 2' stars reunite and reminisce on TODAY
2. Mix and match
Bride: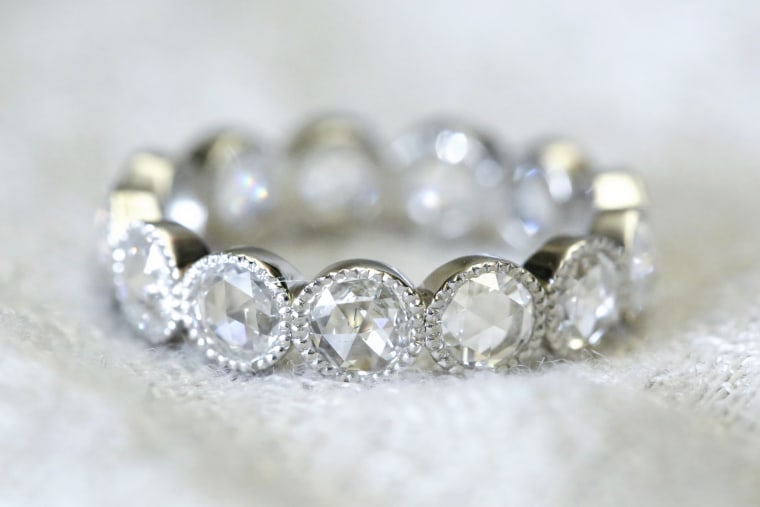 "They say opposites attract," Minor told TODAY, "and based on one of this year's biggest trends we are seeing at BRIDES, we agree!" Many couples want to express their own personality styles in their wedding rings.
Taking this into account, Minor selected a special "his and hers" set for the bride and groom.
For the bride, she chose this TWO by London vintage-inspired ring. This design is feminine, romantic and features a platinum eternity band with 1.85 carats of beautifully-cut rose diamonds.
Groom:
Todd Reed at Greenwich Jewelers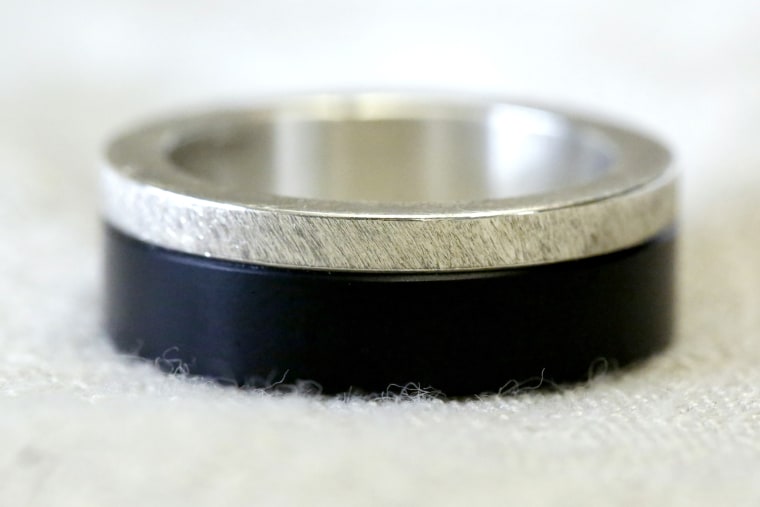 For the groom, Minor went with a subtle edginess — choosing a simple, yet very masculine design by Todd Reed at Greenwich Jewelers. This band features black jade and sterling silver, and provides the perfect amount of contrast to the bride's more traditional ring.
RELATED: See the wedding dress and tux options for our lucky bride and groom
3. Color
Bride: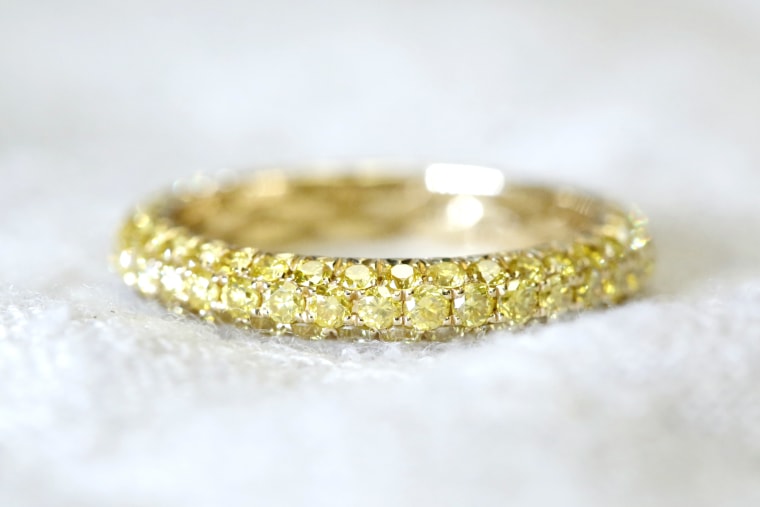 "Color is also huge in bands right now," Minor said. "It's an easy way to update a traditional band with an unexpected twist." She also told TODAY that brides are not shying away from the "full spectrum of the rainbow."
To follow suit, Minor chose an eye-catching, 1-carat wedding ring by Henri Daussi. The design features a yellow diamond and a gold eternity band – a stunning combination of colors!
Groom: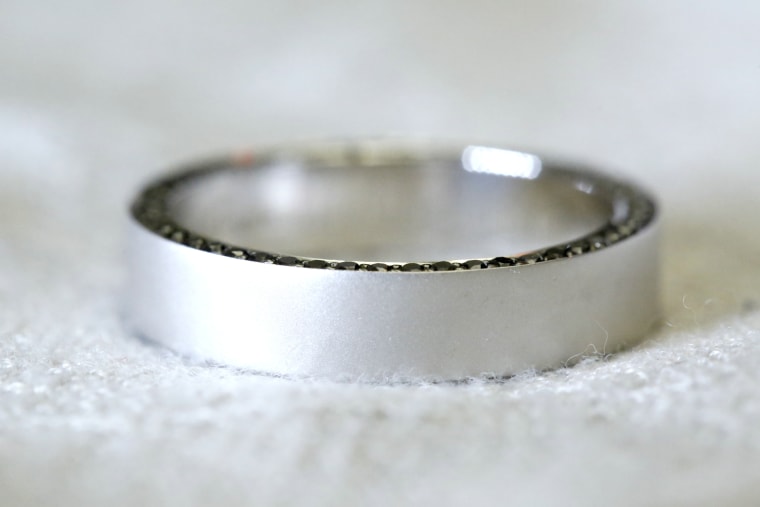 The bride's ring is all about color, but for the groom, Minor decided to stick with a striking, yet simple design by Henri Daussi.
"This band has black diamonds that are subtly set on the outer rim on both sides of the band," Minor told TODAY. She said this gives "the illusion of a classic band with some extra personality."
Love looking at gorgeous wedding rings? We have many more ideas at Pinterest.com/TODAYShow.