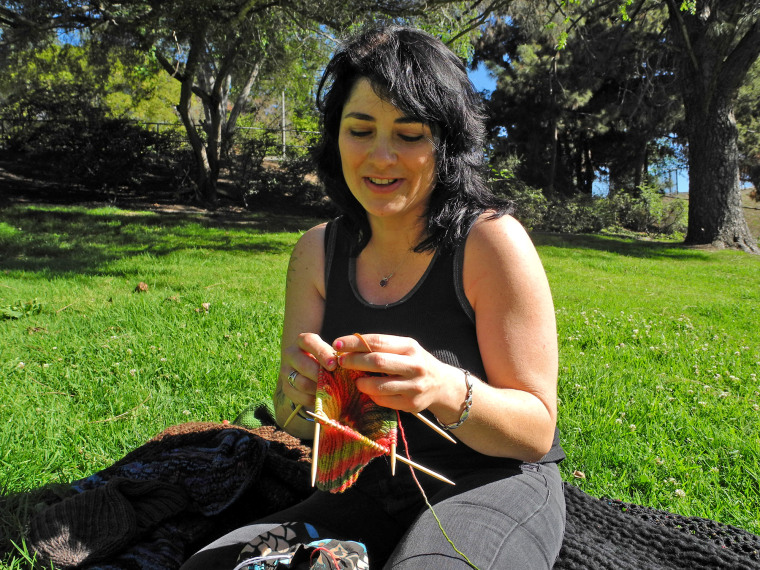 At the end of 2008, the unthinkable happened to C.J. Arabia. Her mother — the healthy one who lived on baked chicken and broccoli and who wouldn't let her kids use a microwave — was diagnosed with advanced ovarian cancer and given three months to live.
To ease her through grueling chemotherapy, Arabia's mother took up knitting. When she passed away at 59, Arabia's brothers gave her their mother's leftover yarn to keep, though she had never knitted before. But she absolutely knew that was the yarn's purpose. "I stared at it in the corner," she said. "It's weird how a bag of yarn can give you so many feelings."
So after several months of waiting to start and when YouTube tutorials didn't do the trick, she took a local knitting class in Los Angeles and has "kind of been knitting excessively ever since."
There have been hats, scarves, masks for dogs, mittens — anything that strikes her fancy — and she doesn't follow patterns when making her artwork. The 44-year-old has documented herself knitting everywhere from the Grand Sumo Tournament in Japan to castles in Europe. Her designs are whimsical (a "Clockwork Orange" ski mask), intricate (multicolored hooded capes) and practical (soft, knitted bookmarks). She has given herself carpal tunnel syndrome from all of the knitting, or maybe it was the purling.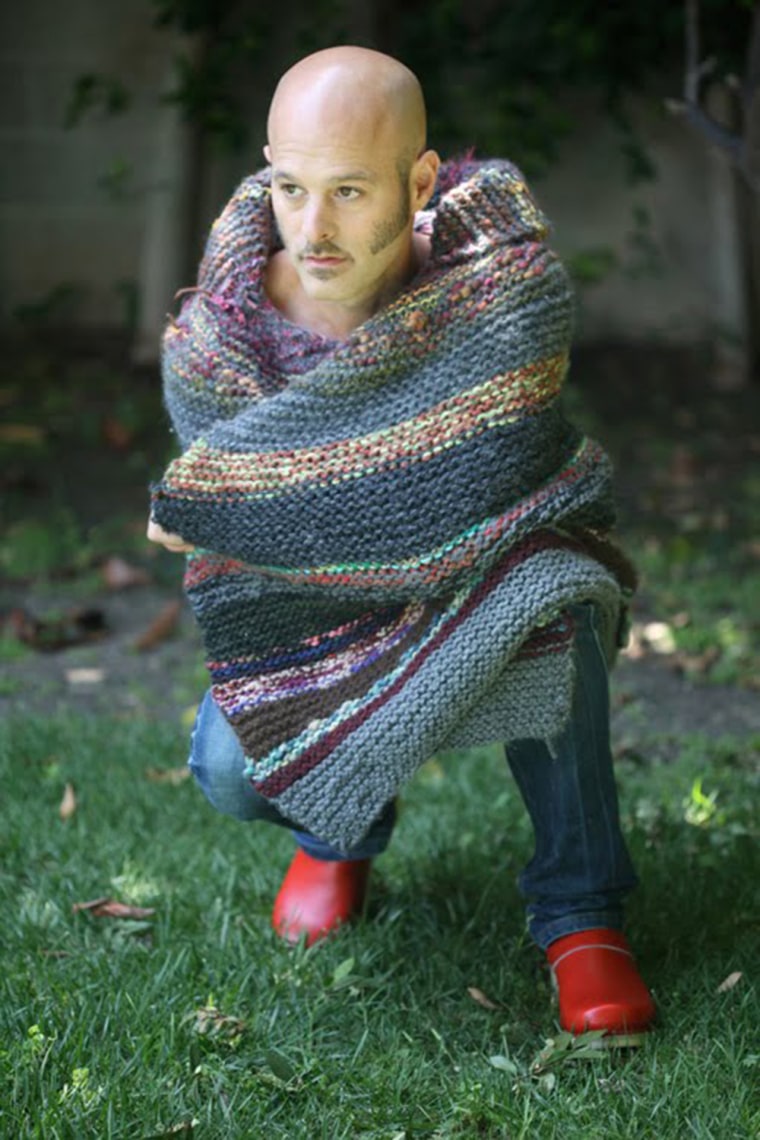 But most of all, she has healed her grieving heart. "For me, knitting is like a meditation. It almost takes me out of my head when I can be sad or stressed or anxious … it helps so much." 
She read somewhere that knitting and meditation light up the same parts of the brain, and though she had always had trouble meditating, she finds that "knitting is a way to just kind of float. You're floating with the waves, just bobbing up and down. That's how the stitches are for me. That's all you can think about."

Arabia's family and friends have been the beneficiaries of her habit — "If you know me, you have something knitted from me."
She gives away almost everything she makes. "People tell me I should sell my stuff — and occasionally I do — but I give the vast majority away," Arabia said. "For one, nobody wants to pay what a hand-knitted item, made with really good natural fibers, is actually worth."
Yarn is purchased anywhere from $36 a ball to $60 a ball and up through her travels, though her favorite store is Knitty City on Manhattan's Upper West Side, which she calls her "Vatican."
"Going into a yarn store for me is like kids walking into a toy store," Arabia said, adding, "I smell the yarns, sometimes I smell the sheep or llama or alpaca or hay. The more natural the fiber, it has little bits of dirt and hay. To me, they're lucky and I leave them in."
No scrap is wasted — she will use colorful odds and ends to create vibrant designs. And knitting has become so natural that Arabia doesn't have to see what she's doing. "I can feel in the dark if I have made a mistake," she said. "I can go back and fix the mistake without looking."
She does have a following in certain Hollywood circles. Her boyfriend is film and television actor Mather Zickel (of "Rachel Getting Married" and recently Showtime's "Masters of Sex.") A longtime friend is Janeane Garofalo. She has other famous friends, not that she'll drop any names. "I live in L.A.," she said, "it's just my friends happen to be celebrities."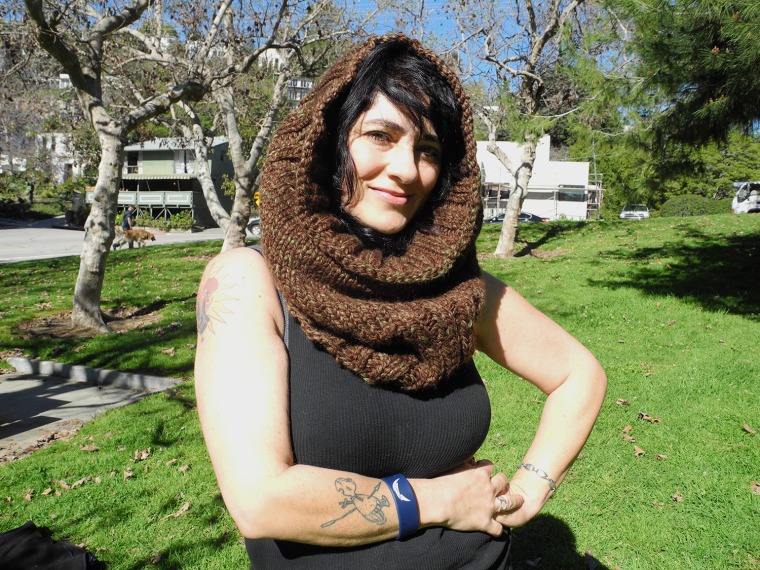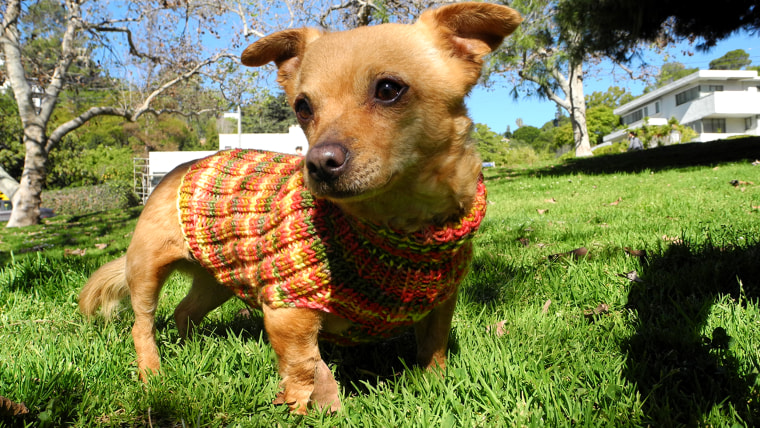 While Arabia is a Web engineer by day, she has turned knitting into a way to give back and help others. She has knitted with residents at a local nursing home, many of whom speak languages other than English. "What they all spoke was knitting," she said. "I could help them with their stitches and it didn't matter what they spoke."
In addition, she visits area cancer patients and knits for them. "I can't cure cancer," she said. "I can't cure the pain that my mom was going through. But I can make someone who is suffering a hat and talk to them about colors for a day."
She creates blankets and beds for shelter cats and dogs through SnugglesProject.org. And she'll teach anyone who wants to learn how to knit — as long as they show up on time.
"People come up to me when I'm knitting in public and ask me about it. They tell me stories of their grandmas who taught them to knit but they haven't done it since they were a kid but always think of getting back into it.
"I always encourage them to get back into it and tell them how I learned," she said. "It's always a good idea to get back into knitting, and it's never too late."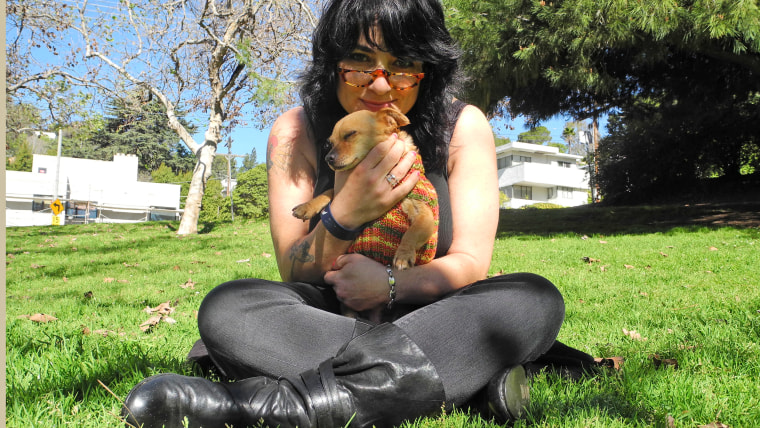 But really, Arabia said, her "knititation" has been therapeutic.
"It can be an escape from sadness, anxiety, fear, or just beating yourself up in your own head, or rehearsing and re-rehearsing old conversations and situations," she said. "These are things my brain does sometimes, and I'm so grateful to my mom and to all the knitters who have come and gone before for passing this down through the generations. It's such a beautiful craft."