The controversial yellow Protein World ads that garnered international attention in April for asking "Are you beach body ready?" have landed across the pond in New York City.
Not surprisingly, New Yorkers are taking things just as seriously as their London counterparts and giving the ads a far from warm welcome to the Big Apple.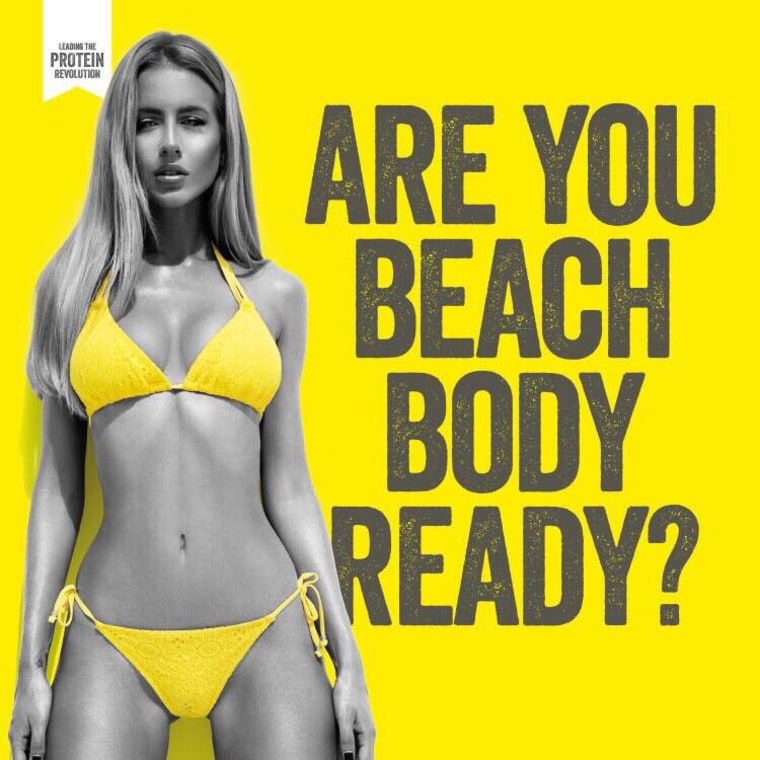 New Yorkers unhappy with the bold weight-loss ads, which have taken over billboards and line entire subway cars, include two feminist groups, Redstockings and National Women's Liberation. They're leading the charge against the ad campaign by distributing stickers that read "This Oppresses Women" and placing them over the signs.
"These advertisements are not just offending or insulting us, but oppressing us by creating a hugely pervasive climate of sexualizing women — especially in New York City, where the ads are as loud as the male street harassers," Adrielle Munger, an activitist with Redstockings, told TODAY.com. "Their ads are just another addition to the barrage of oppressive media and advertisements that create a climate of harassment towards women and our bodies."
Munger first saw the advertisements in May and has seen an uptick in demand for the stickers (which were recently revived from the group's first campaign in 1969) ever since.
When Katya Powder, a music teacher in New York City, saw the advertisement at a subway station, her first inclination was to post a picture on Instagram to express her discontent.
"I just took the subway to Union Square and was assaulted by a skinny woman in a bikini," Powder told TODAY.com. "They've made that level of skinny look healthy and attainable, but it's just not that attainable."
Powder says her main problem with the campaign is the level of exposure these images have by being displayed publicly.
"It's one thing to have an ad in a magazine, but to be in a subway and take a mode of transportation that everyone has to take and be assaulted by bright yellow is too much," she said. "People shouldn't be made to feel that this is the only way to look to be beach body ready."
Powder has since posted her photo to Facebook and received an array of comments from friends who also disapprove.
When the advertisements launched in London earlier this year, a Change.org petition received over 70,000 signatures demanding that they be removed. Those who found the advertisements offensive also organized a protest in the city's Hyde park.
The backlash really erupted on social media, where people expressed their sentiments with the hashtags #BeachBodyNotSorry and #everybodysready. A mock campaign emerged as a play on the advertisements, featuring models of all shapes and sizes instead.
Reaction to the campaign landed global attention and prompted the U.K.'s Advertising Standards Authority to ban the images this past spring after the organization received nearly 400 complaints. However, after months of deliberation, the authority decided on Wednesday that the advertisements do not objectify women — though the group still stands by its ban.
"Although we understood the claim, 'Are you beach body ready?' invited readers to think about their figures, we did not consider the image of the model would shame women who had different body shapes into believing they needed to take a slimming supplement to feel confident wearing swimwear in public. For that reason, we concluded the ad was not irresponsible," wrote the U.K.'s Advertising Standards Authority in a publicly released assessment.
While New Yorkers have been quick to deface the advertisements and decry them, the ads have yet to be officially banned in the U.S. However, a Change.org petition launched in the U.S. on July 2 urging the MTA to take the ads down.