A South Carolina high school principal is coming under intense scrutiny after telling female students they shouldn't wear legging unless they are a size two or zero.
Heather Taylor, the principal of Stratford High School, made the controversial remarks on Wednesday during a discussion about dress code with ninth-and-10th-grade students. NBC affiliate WCBD News 2 received an audio recording of Taylor's comments.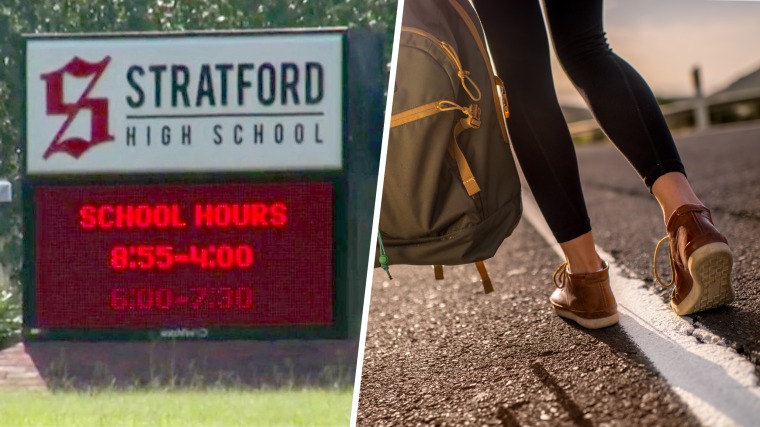 "I've told you this before, I'm going to tell you this now, unless you are a size zero or two and you wear something like that, even though you're not fat, you look fat," Taylor is heard saying.
Taylor released a statement on Thursday that she didn't mean to "hurt or offend" the students.
"Yesterday and this morning, I met with each class of the Stratford High School student body," she said in the statement. "I addressed a comment made during a 10th grade assembly and shared from my heart that my intention was not to hurt or offend any of my students in any way. I assured them all that I am one of their biggest fans and invested in their success. After speaking with our students and receiving their support, I am confident that, together, we are ready to move forward and have a wonderful year."
Still, students and parents alike have said they are outraged and surprised over Principal Taylor's initial rhetoric. The dress code on the school's website says "leggings, tights, yoga pants and spandex must be worn under clothing that cover to mid-thigh" but there are no specifications about size.
"Disappointed, disgusted and disheartened that such a comment had been made to impressionable young women and men by someone they should be able to look up to…" wrote one person on the school's Facebook community page.
"I'm not a size zero," said Allison Veazey, a student at Stratford High School," and I kind of felt targeted because of my size."