Ahead of the 40th anniversary of Princess Diana's wedding to Prince Charles, the designer of her fairy-tale wedding dress is opening up to TODAY about how he kept the elaborate gown a secret.
"The press would go through our (waste) bins looking for any scrap of fabric," David Emanuel said. "So we were naughty — we put some pale pink in, pale lemon. Of course, the next day, the press (says), 'The Emanuels are doing a pale pink wedding dress.' It's kind of fun, but they took it terribly seriously."
Emanuel, who designed the iconic dress with his then-wife, Elizabeth Emanuel, also said that they kept the dress locked in a safe when they weren't in their studio. But the safe was so large — after all, it had to fit a record-setting 25-foot-long train — that when it arrived, it couldn't fit through the front door.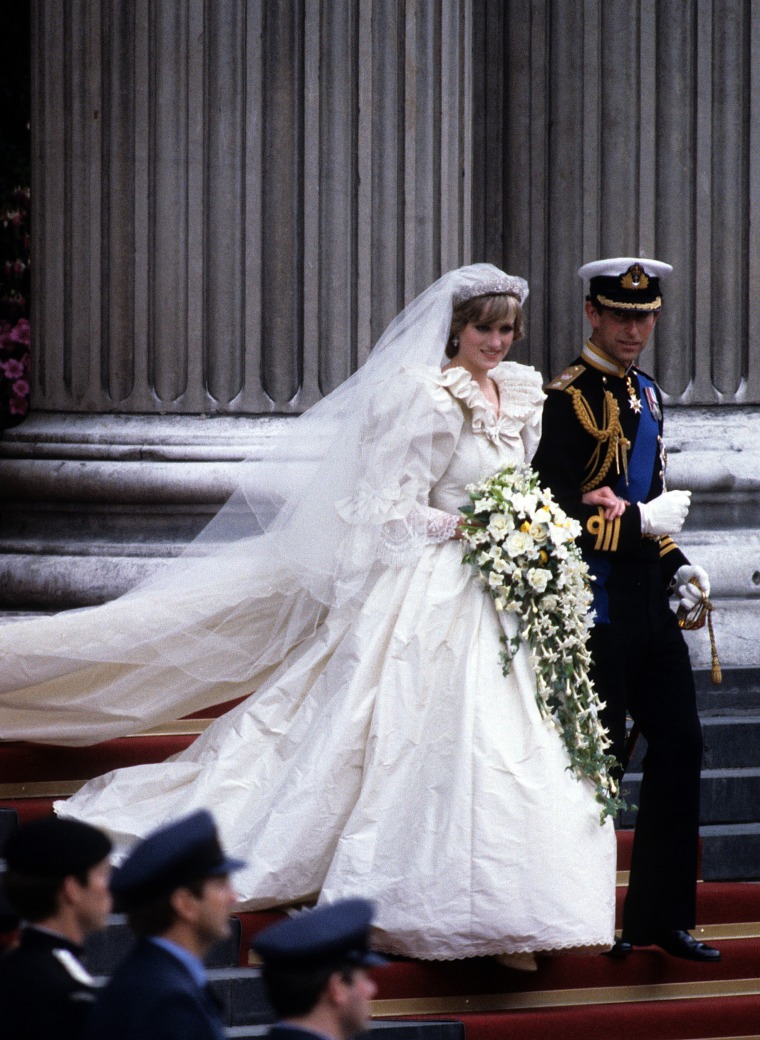 "They had to hire a crane," Emanuel said. "They had to take out the window, sail it into the building. So every night when we worked on the gown, we had this huge safe, and then we locked it up, because we kept on thinking that if anybody should break in — even though we had security guards — they couldn't break into the safe. It was quite a procedure."
This month marks the 40th anniversary of Princess Diana's 1981 wedding to the Prince of Wales. The dress, which had previously been turned over to their sons, Princes William and Harry, is currently on display at Kensington Palace, as part of an exhibit called "Royal Style in the Making" that's open to the public.
The Emanuels had already designed a few pieces for Princess Diana when they got the call about making her wedding dress, a moment Emanuel described as "huge excitement."
"Out of the blue she rang the studio and asked, would we do the honor of making her wedding gown?" he said. "Can you imagine!"
From the moment Buckingham Palace announced that the Emanuels were the designers, the paparazzi were everywhere, he recalled.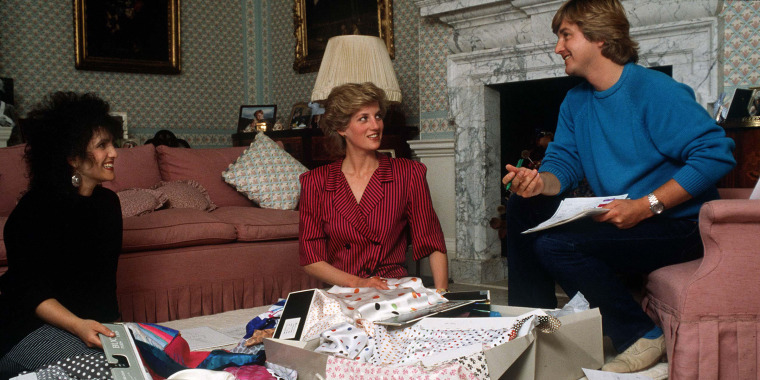 "They were on the rooftops, on my studio, looking with huge lenses," he said. "So I had to rush around quickly and get some roller blinds and put the roller blinds up and they stayed down until the wedding day. It was all kind of crazy but wonderful. Exciting."
And working with the future Princess of Wales was a "delight," he added.
"She was great and had a great sense of humor," Emanuel said, describing her as "very straightforward" and having "mischievous eyes."
"All the way through, from day one, right at the beginning, she was kind, she was sweet, and she always wrote a handwritten note to say thank you so much," he said.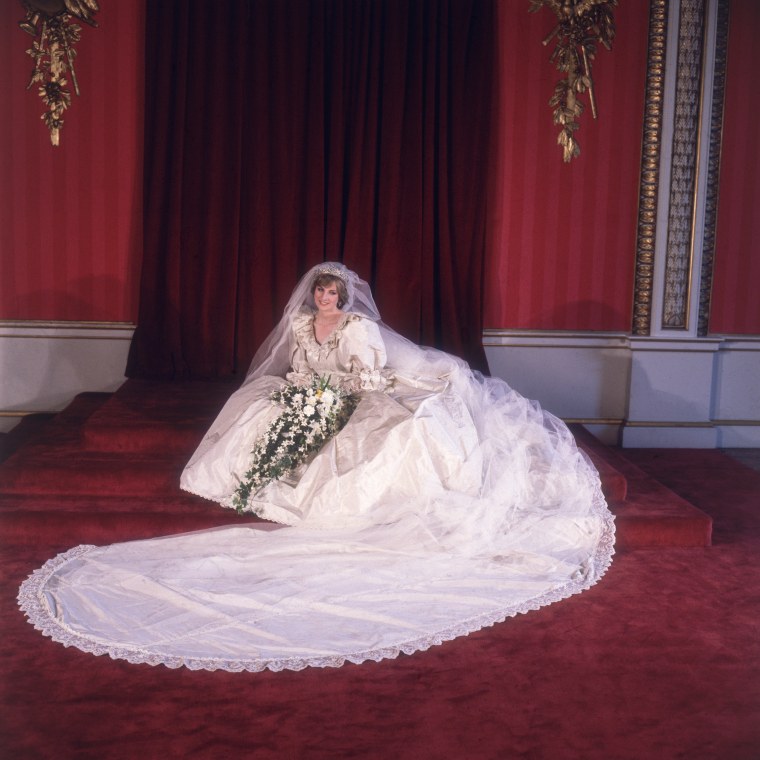 Emanuel said the actual process of designing the dress was a "collaboration."
"If you have ever visited St. Paul's Cathedral, it is a vast and beautiful building, and if you did a quiet, little, low-key, unassuming gown, it wouldn't have worked," he said. "It had to be triumphant. It had to be spectacular. But at the end of the day, as a couture client, it had to suit the client."
The voluminous silk taffeta dress with puffed sleeves was famously adorned with thousands of mother- of-pearl sequins and antique lace that once belonged to Queen Mary, Prince Charles' great-grandmother, with an elaborate train that became the longest worn by any British royal bride.
"Elizabeth and I did our research," Emanuel said. "We found out the largest royal train was twenty foot. I remember giggling to Diana and saying, 'Oh gosh, we've got to beat that!' And she said, 'Oh, OK, shall we make it 23 foot? Shall we make it 25?' We arrived at 25 foot!"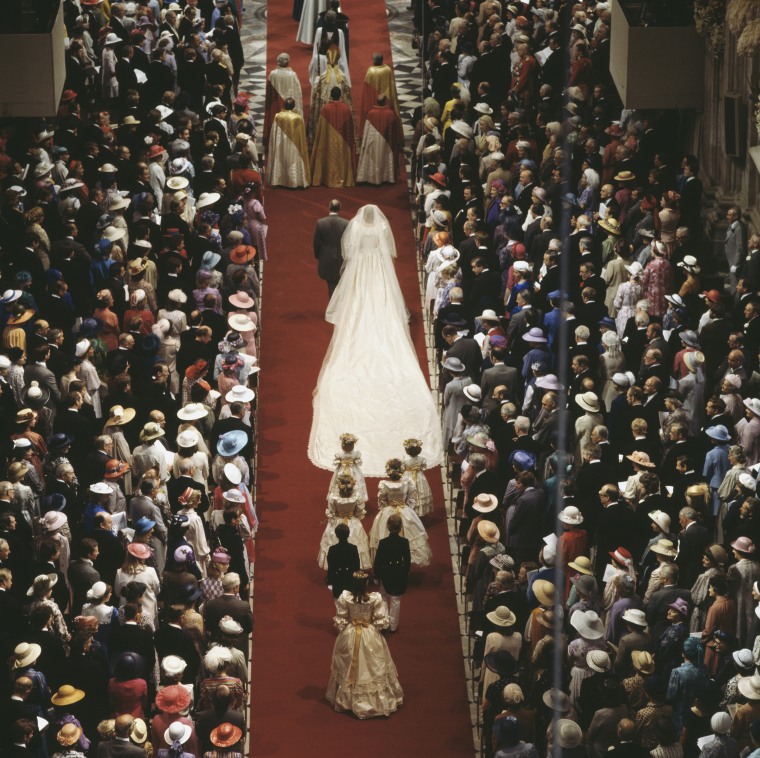 And on the wedding day, he recalled stuffing the massive dress into a carriage the princess and her father were riding in, and then helping smooth the fabric once she emerged.
"I was the last person to talk to her before she walked down the aisle, which is kind of extraordinary," he said.
The late princess, who died in a car accident in 1997, would have turned 60 years old earlier this month. To commemorate the birthday, Prince Harry and Prince William came together at Kensington Palace to unveil a statue of their mother, which will be on permanent display there.
"She touched everybody," Emanuel said. "You know why? Because she was genuine. Because she truly loved. ... She definitely didn't want to go down as a fashion icon. She wanted to go down as somebody caring about the work she did, which she did brilliantly, I think."