After evaluating more than 1,300 new products, Prevention editors narrowed them down to 105 finalists by analyzing ingredients, claims, and technology. Shampoos and conditioners were shipped off to Bria Research Labs, where their shine and detangling powers were put to the test, while a panel of dermatologists had 200 patients test the skin-care finalists, evaluating the results using Visia machines. 
Finally, editors weighed in and 25 readers were recruited via Facebook to try the finalists. The end result: products that will make your daily regimen more effective than ever. 
Haircare
Shampoo: Living Proof PHD

Hats off to the brains behind Living Proof. They created a new molecule that forms a superhero-like invisible shield around each strand, keeping dirt and oil away so hair stays cleaner, longer. That means fewer lather, rinse, repeat sessions each week and eliminates the dryness, flatness, and general lack of oomph that can come from over-washing. Volume, softness, and smoothness also get the extended treatment. Maybe a perfect (or two, or three) hair day really isn't too much to ask for. ($24; livingproof.com)

Conditioner: Neutrogena Triple Repair, Garnier Fructis Damage Eraser Fortifying Conditioner
Don't make us choose! Both target hair that's seen its fair share of damage, but with slightly different ingredients playing starring roles. Plant proteins, active fruit concentrates, and natural fats help Garnier reconstruct hair strands from the inside out and fortify against future damage ($4, garnierusa.com). Neutrogena uses proteins as well, but also peptides that attach themselves to particularly damaged parts of your hair's cuticle, delivering conditioning where you really need it. Our lab tests showed that both were equally effective at boosting shine and reducing tangles, too ($7, neutrogena.com).

Dry Shampoo: Philip Kingsley One More Day
Sometimes hair is just a little too oily to get away with. But washing everyday can strip away the natural oils that keep hair hydrated and actually increase oil production. Talk about a vicious cycle. So keep this dry shampoo at the ready. It soaks up excess oil, giving hair a just-washed look minus the water. While others leave hair feeling stiff, this one, with compounds that also cleanse and soothe the scalp, leaves hair fresh, airy, and soft. ($25, philipkingsley.com)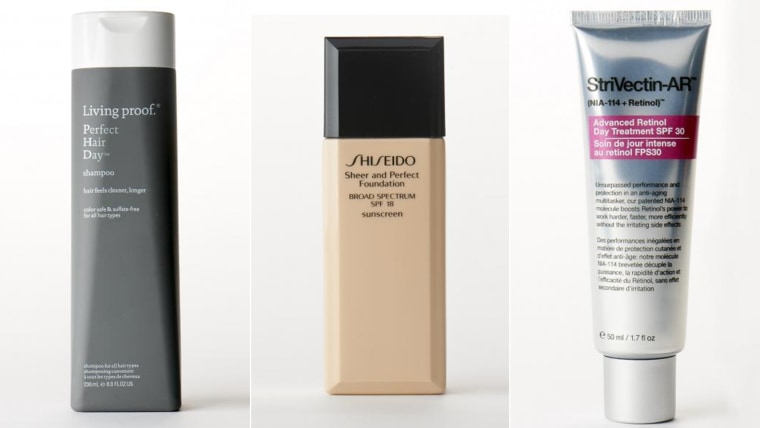 Body
Body Wash: Olay Sensitive
Even the delicate flowers among us can use this one: It's free of irritating additives. It's also packed with deep-penetrating moisturizers, leaving skin clean but nourished, and produced a nice, rich lather. ($6, olay.com)

Body Lotion: St. Ives Naturally Soothing Oatmeal & Shea Butter Fresh Hydration Lotion
Skin gets thinner and drier with age, so daily moisturizing is a must. But you've got better things to do than hang out and wait (and wait) for your moisturizer to sink in before you get dressed. This pick, with natural nourishers like oatmeal and glycerin, solves that problem by absorbing almost instantly. Testers reported that it left skin feeling soft and hydrated. Bonus points for easy application via the continuous-spray bottle — no more excuses for scaly legs. ($7, drugstore.com)

Skincare
Day Cream: StriVectin-AR Advanced Retinol Day Treatment SPF 30
Retinol's not just for nighttime anymore. The gold-standard anti-aging ingredient (which increases skin cell turnover and collagen production) can leave skin sensitive to the sun, but when it's combined with broad spectrum SPF, you can take years off your face around the clock. In addition to reducing the appearance of wrinkles on testers, this lightweight cream provides UV protection without leaving a white residue. "It just goes on like a good moisturizer should, absorbing quickly with no oily film or whiteness," says dermatologist Howard Sobel, MD. ($99, strivectin.com)

Night Cream: RoC Multi Correxion 5 in 1 Restoring Night Cream
Scientists spent seven years studying more than 1,000 molecules to find the one that would become the key to this multitasking dream cream. Dubbed Hexinol technology, the hero ingredient they discovered helps repair the damage that years of sun exposure, pollution, and stress can do to skin. We love the rich but quick absorbing texture, while testers saw improvements in brown spots, wrinkles, and pore size, says Mary Lupo, MD, dermatologist. ($29, rocskincare.com)

Eye Cream: Dr. Andrew Weil for Origins Mega-Bright Dark Circle Minimizer
There's a potent mix of ingredients in this little pot. Rosa roxburghii, a wild rose native to Asia, fights environmental damage that can trigger dark circles and discoloration; molasses offers peptides that rebuild the delicate skin structure around the eye; and then there's Japanese ume, "a natural antibiotic that protects against free radical damage and may slow down the aging process," says dermatologist Marina Peredo, MD. Together, they helped diminish tester's fine lines and dark circles. ($41, origins.com)

Makeup
Powder Foundation: Almay Smart Shade Loose Powder
Like the most flattering Instagram filter for your face, in foundation form. "This was a clear winner," says dermatologist Ranella Hirsch, MD. A soft-focus effect blurs imperfections to give the appearance of a flawless face. Testers reported smooth application coverage that masked imperfections and perfected tone without feeling heavy. "It gave me a glow that made me feel like I looked younger," raved one. ($12, almay.com) 

Concealer: Japonesque Velvet Touch
Testing concealers can make you feel like Goldilocks: Some are too thin to cover the discolorations that come with age; others are so thick that they feel like spackle. But this one, with it creamy texture, is just right. It blends well, providing substantial coverage without caking, flaking, or settling into fine lines later in the day. "It looked so natural but still covered the blue-ish hue under my eyes," reported one tester. ($20, ulta.com)

Lip Color: Maybelline New York Color Sensational Color Elixir
Think of it as a lipstick, gloss, and balm, all rolled into one little tube. The color is saturated, vibrant, and lipstick-caliber. The shiny finish is especially good for older lips: they lose volume as we age, and light-reflecting gloss gives them the appearance of fullness, no actual filler necessary. ($9, maybelline.com)

Mascara: Physicians Formula Organic Wear 100% Natural Origin CC Curl + Care
This mascara doesn't need harsh chemicals, preservatives, or parabens to get the job done. "I loved the smudge-proof wear and how it lengthened and thickened my lashes without clumping or irritation," said one tester. And while it stays put all day long, it may be the easiest mascara we've ever taken off. ($10; physiciansformula.com)

For more award-winning products, visit Prevention.com for the full list.