It's been 25 years since "Pretty Woman" was released in theaters and TODAY is celebrating the milestone by reuniting the star-studded cast. But we couldn't let this anniversary pass without visiting the store from our favorite scene, when Julia Roberts' character Vivian Ward is shunned from a boutique because she doesn't look like she can afford it, only to have her shell out serious cash at another store.
"Big mistake," Ward tells the boutique employees the next day. "Big. Huge."
We caught up with the team at the Beverly Hills store Boulmiche and asked them to spill their fun memories of filming a movie that wasn't a big mistake for the independent retailer.
While the luxurious store has moved to a new location and replaced its blue signage with orange awnings since filming "Pretty Woman," the management remains the same — and they are much more friendly than the movie portrays.
Jasmine Afcharieh inherited the shop from her family and runs the business with the help of her best friend, Tisa Bana, who acts as manager. The movie magic all began when folks from the studio stopped in to request a stack of the store's shopping bags — and the rest was history. Those bags were ultimately used to shoot extras on the street walking behind Roberts as she re-enters the store after getting snubbed on her first attempt.
So what was it like to be a part of one of the most successful rom-com blockbusters? Afcharieh remembered that the team was on the edge of their seats hoping to get a glimpse of hot shot Richard Gere. On the day of shooting, they discovered a beautiful, young actress fairly new to the Hollywood scene.
"It was so funny because I had just seen 'Mystic Pizza,' which I loved of course," Afcharieh said of Roberts breakout role. "But we were really hoping to see Gere! Everyone wanted to meet him."
Filming those two short scenes took an entire day, forcing the shop to close on a weekend. Thankfully, the team happily obliged. While the cast and crew mostly kept to themselves that day, Roberts paid a personal visit to the store years after the film's release.
"I was working at the shop about five years after the film came out. Julia walked in all smiles and introduced herself before showing her friend our collections in sign language," Afcharieh said. She remembers the star chatting with the staff and sharing a few laughs about taping the famous scene before going on her way. According to Afcharieh, she looked stunning and was talkative and friendly to everyone around her. As luck would have it, Roberts wound up dating a close friend of Afcharieh's not long after. (The relationship didn't last. Roberts is married to cinematographer Daniel Moder, with whom she has three kids).
Julia wasn't the only one to take a walk down memory lane. Dey Young, the actress who played the snobby store clerk, also visited the ladies of Boulmiche.
"She was very friendly with this great bohemian style. Needless to say, we shared a few laughs," said Bana. "It was so funny because I had someone stop in not long before and think I was the actual character from the film. They asked me if I was the mean sales girl!"
Other than the air of pretension portrayed in their store, Afcharieh and Bana say the shopping scenes on Rodeo were pretty accurate for the time.
"Everyone in the late '80s / early '90s would dress the part. What you wore would constitute who you were, including wealth and sophistication. Nowadays, nobody dresses up just to walk down Rodeo. Back then it was all suits and matching bags. We called it the 'Dynasty' days, but now you can wear a sundress," Bana said.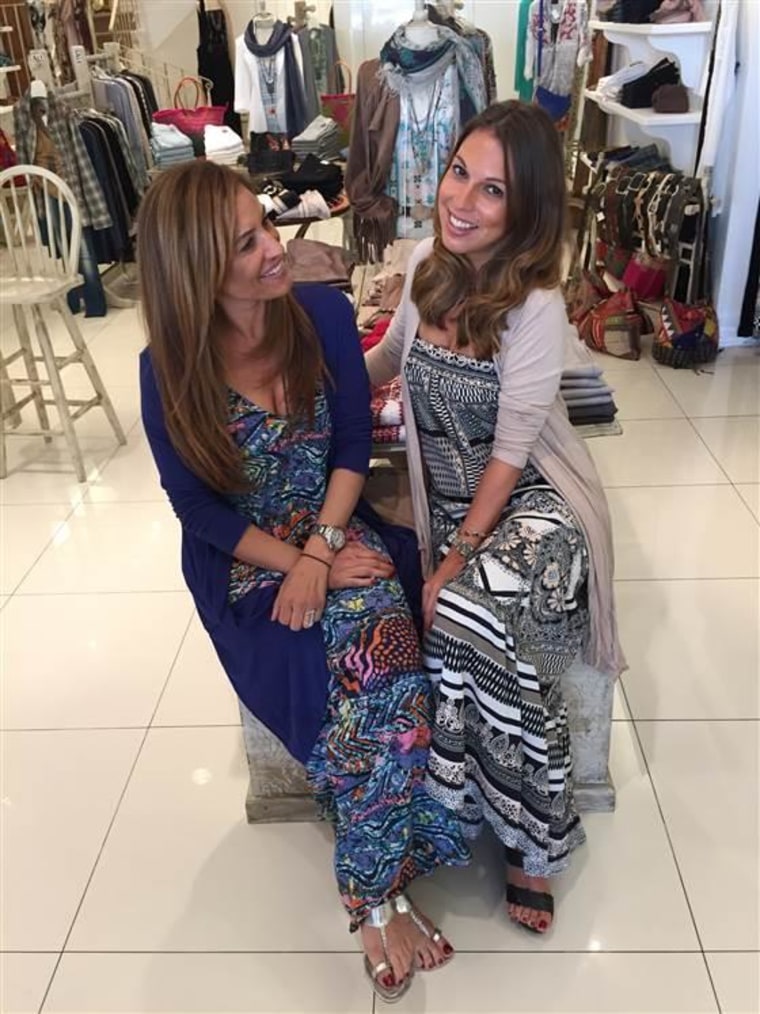 While both ladies admittedly love the early '90s and have Roy Orbison's "Oh, Pretty Woman" on their store playlist (a song that causes the entire team to start singing along whenever it's on), the styles they now carry reflect a modern attitude. While still described as "Euro-chic," the styles are more casual, featuring printed maxi dresses, layered necklaces, fringed suede handbags and more. All are items they feel the Vivian Ward character of today would love to wear — or rub in a snobby sales girl's face.
Follow Mary Peffer on Twitter and Instagram @marypeffer.