You can do everything in this swimsuit … except swim!
Alisha Din, 22, found this out the hard way when she bought a bikini from online retailer Pretty Little Thing.
Din, who lives in Swansea in the United Kingdom, recently bought a teal, two-piece swimsuit to wear on vacation in Greece next month. She decided to try it out at her local spa first, and quickly learned the bikini wasn't actually water-safe.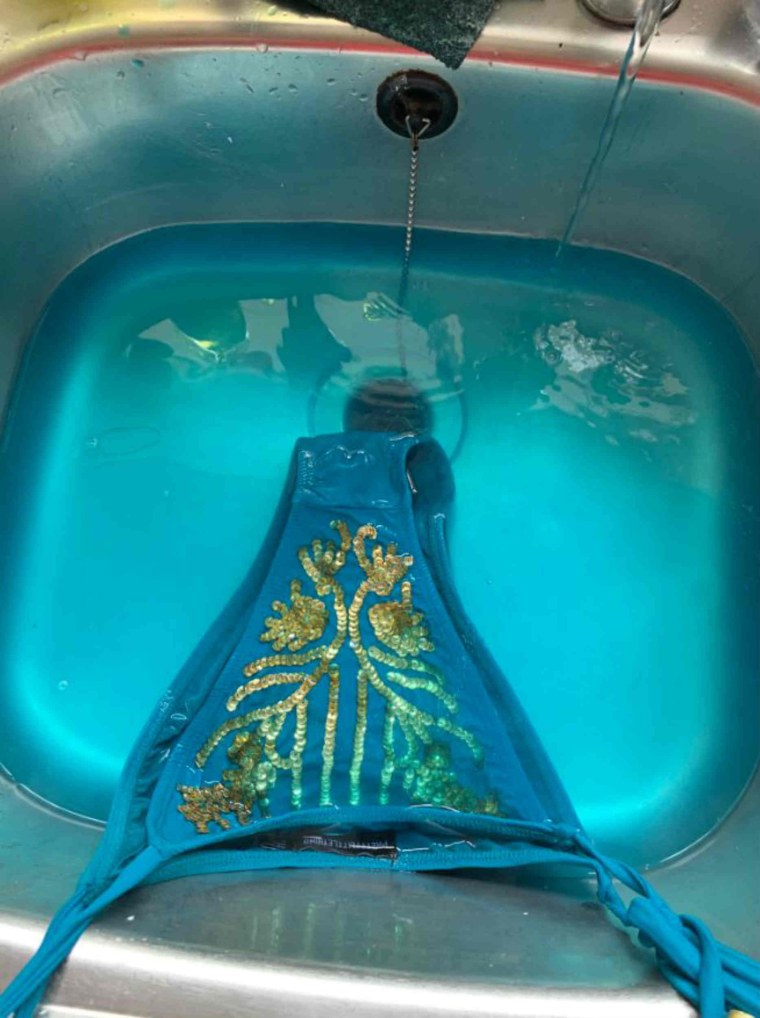 "I wore it in the shower originally, just before you enter the sauna, and the dye literally just started coming out of it," Din told TODAY Style. "It completely stained my hand and everywhere, like, around the bikini as well a sort of bright blue."
Din spent £50, or about $64, on the bikini, which she views as an unacceptable price for a product that leaks dye when it comes into contact with water.
"I've bought Calvin Klein swimsuits for like £60, and the quality doesn't really compare," she said.
Din later wrote to Pretty Little Thing to complain.
"I love the bikini. I just don't know how to stop the dye from running everywhere when it's in water," she wrote in a private message to the company. "Just doesn't seem normal to me."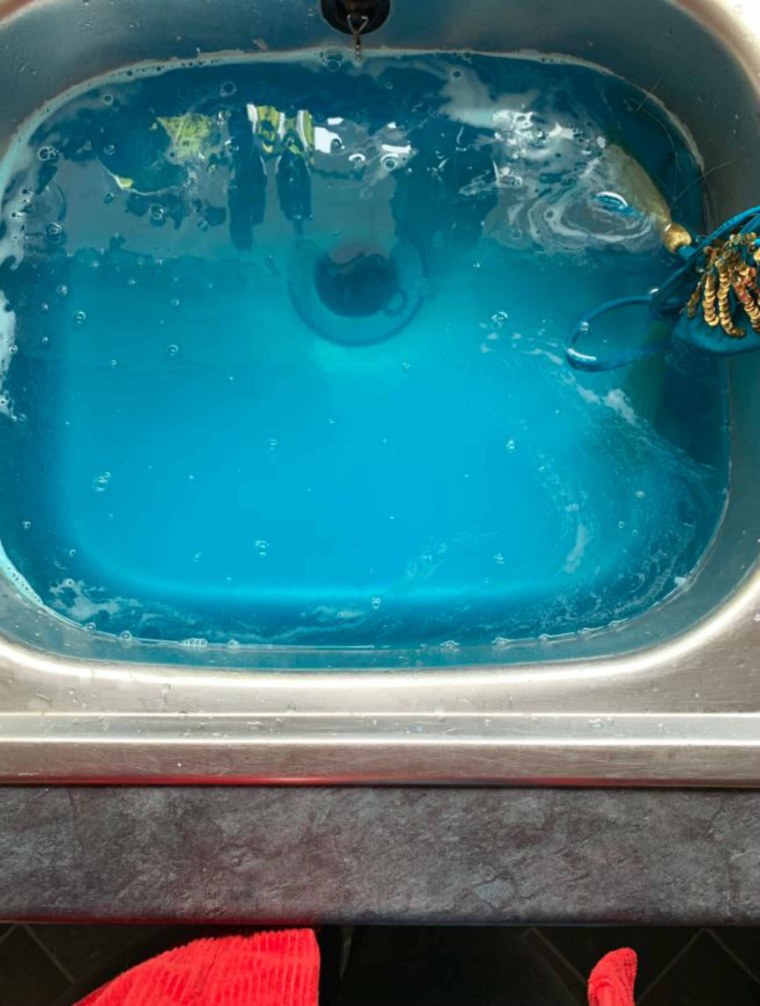 "Great to hear that you love the bikini but on the website it does say that the set shouldn't be worn in water and the color may transfer," a customer service representative, Hakim, replied in a screenshot that Din later shared on Twitter.
In a statement to TODAY, Pretty Little Thing confirmed that some of the swimsuits on the site are not meant for swimming, and that this is noted in product descriptions.
"PrettyLittleThing does advise customers on the styles which we do not recommend be worn for swimming," spokesperson Amy Simon said in an email. "These are highlighted as 'pool side posing' only and are designed for day/evening wear holiday dressing/pool side posing. If customers are unsure, our customer service team are available to advise further on which styles cannot be worn for swimming."
It's true that according to the online product description, the blue bikini that Din bought was meant for "poolside posing only."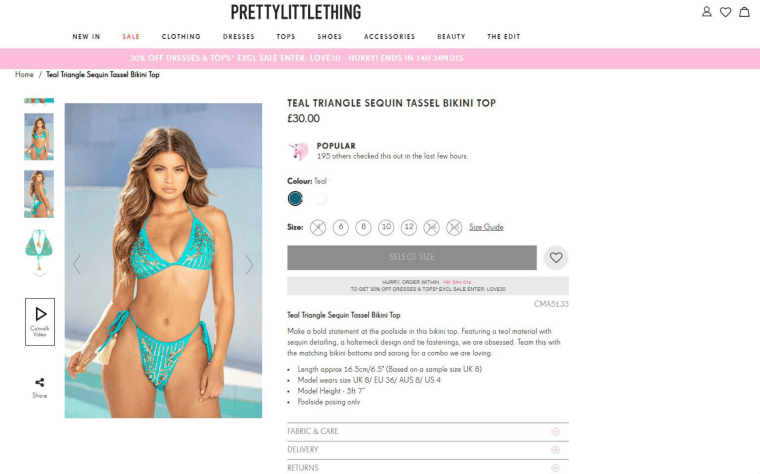 Much of the swimwear on the site also comes with the disclaimer, "Please note: due to fabric used, color may transfer."
But in Din's eyes, this is deceptive marketing.
"The more I thought about it, the more I thought that 'poolside posing' isn't really the correct terminology to say that the item isn't water safe," Din told TODAY. "I don't think that's making the consumer aware. So I decided to tweet it just to make other people aware."
She shared photos of the swimsuit bleeding blue dye on Twitter, along with a warning to other shoppers.
Her tweet soon went viral, racking up more than 100,000 likes and retweets.
People couldn't get over the idea of a bathing suit that's not safe for water. As one Twitter user pointed out, "even if it's for 'poolside posing,' how are you supposed to be able to wash it?"
After Din's tweet went viral, Pretty Little Thing refunded her for the bikini and offered her a 40% discount for a future purchase, which she says she doesn't plan on using.
For Din, this swimsuit disaster highlights the wastefulness of fast fashion, and how some retailers sell poor-quality items that only last one wear — if that.
"I think it just adds to the whole fast-fashion thing of, you are literally wearing this product once, not even for its correct function, but just to pretend you're swimming in a picture and then just throw it away," she said. "And that's incredibly sad that they're taking people's money to do that."