Bikini bodies come in all shapes and sizes — and Sports Illustrated has (finally) noticed!
For the first time in history, a plus-size model will grace the pages of Sports Illustrated Swimsuit Edition in an ad for online retailer Swimsuits for All. Size-16 model Ashley Graham stars in the #CurvesinBikinis campaign and certainly stays on-theme when it comes to sexy.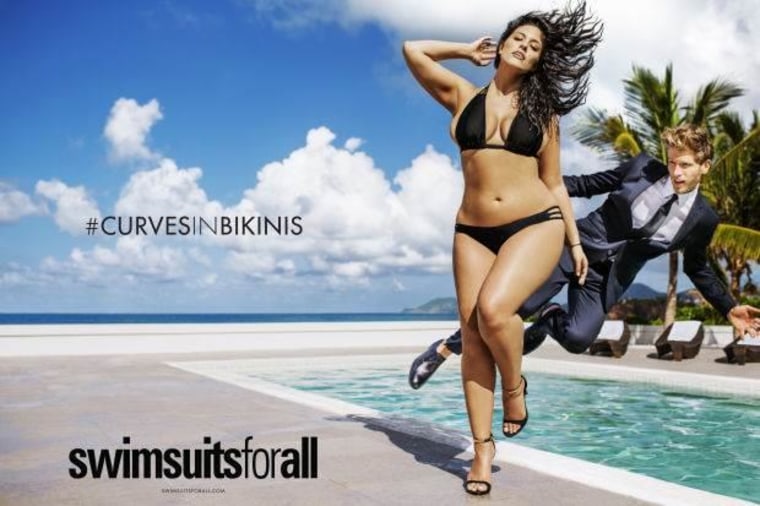 Flipping her hair poolside in a curve-hugging, black string bikini, Graham is shown making a man swoon — to the point of falling into the pool.
"I know my curves are sexy and I want everyone else to know that theirs are, too. There is no reason to hide and every reason to flaunt," said Graham in a press release. "The world is ready for more curves in bikinis."
The 27-year-old model, whose resume includes appearances in Harper's Bazaar, Glamour and Vogue, is a vocal advocate for featuring bodies of all sizes. In a recent interview, she slammed the media for having a skewed perspective on women's bodies.
"Jennifer Lawrence is the media's poster girl for curves — she's tiny," Graham said to Net-a-Porter's The Edit.
Swimsuits for All CEO Moshe Laniado agrees with Graham's stance and recognizes a new direction in the industry. "Tastes and body types change over time, and curves have never been more in," he said. "There is no better way to celebrate and show off than by donning a bikini. When the #CurvesinBikinis ad in Sports Illustrated is released, the world will be watching, and they'll like what they see."
As the campaign's steamy video proves, plenty of men already do (and have for ages).
"Finally, the industry is recognizing what many of us have always known," Graham said in an interview with Fashion Times. "Curves are sexy."
To correspond with the ads, the swimwear brand is launching a social media campaign with the tag #CurvesinBikinis.