One of the vendors on international shopping website AliExpress is causing a stir with its advertisements for plus-size leggings.
The pants are sold on the eBay-like website by a company called "Herry He's Store," and they retail for $9.81 to $10.80. Though they range in size from 3XL to 5XL, the promotional photos show them being worn by a slim model whose entire lower body has been squeezed into just one leg of the pants. At best, the decision not to use a plus-size model is a questionable one by the manufacturer, who appears to be located in Wenzhou, Zhejiang, China.
RELATED: Topshop drops unrealistically thin mannequins after angry Facebook complaint
As the photos went viral on Reddit, some commenters claimed that the pictures were offensive and insensitive, while others cracked jokes at the sheer ridiculousness of the whole situation ("Sweet, finally a pair of yoga pants where a girl can fit all 4 of her legs into it," wrote ThisIsReLLiK, while myne suggested that the pants were intended "for the conjoined mermaid.")
RELATED: Why Instagram banned #curvy
But what's perhaps most strange about the entire thing is that the seller did have the time and money to locate and include another model with the correct proportions. A plus-size model is shown wearing the pants properly, but the photos of her are located farther down in the posting.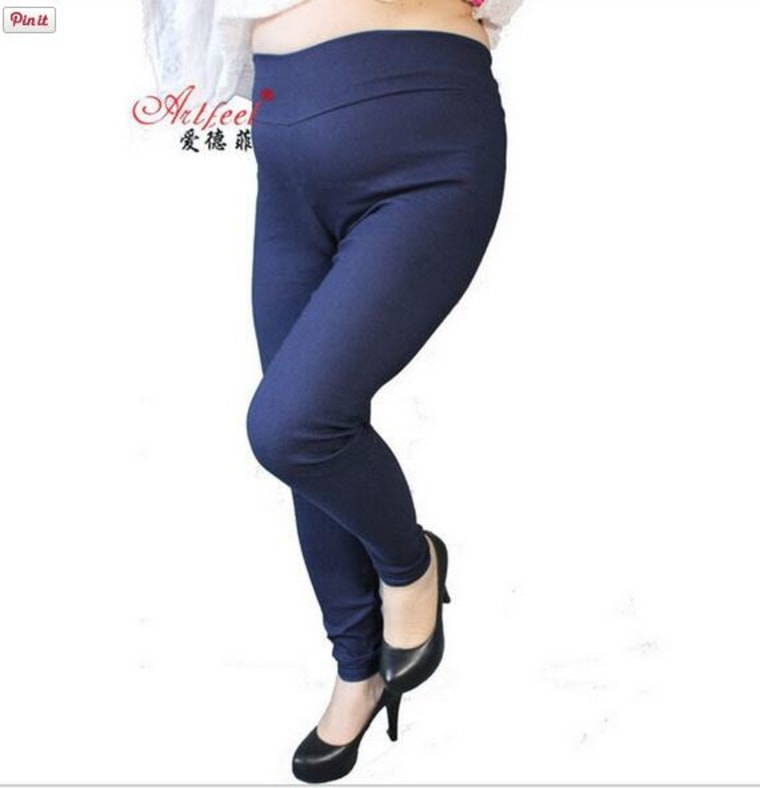 We're really not sure this is the best way to advertise to potential plus-size consumers.