A controversial ad campaign that sparked backlash across the internet has returned — but this time, it's getting a body-positive twist.
Three years have past since advertisements from Protein World, a weight-loss supplement company, popped up on billboards and subway cars in New York City and London.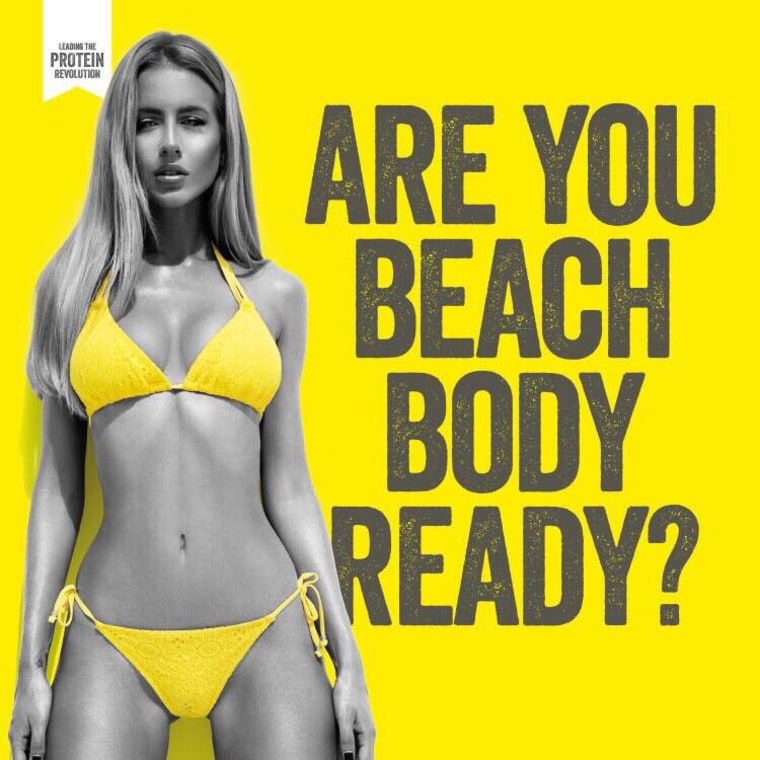 The bright yellow promotions featured a thin, bikini-clad woman posing next to the bold, block-lettered words, "Are you beach body ready?" Many publicly denounced the campaign, saying the ads are oppressive and promote an unrealistic body standard for women.
Fast forward to 2018 and Navabi, a plus-size fashion brand based in the U.K. and Germany, hasn't forgotten about Protein World's disputed ads. In fact, the company's marketing team had them in mind when brainstorming for its new campaign.
"Me and two of my colleagues were just sitting around one day and were like, 'Remember that ad?'" Bethany Rutter, who works in social media and marketing for Navabi, told TODAY Style. "It's something that really stayed with people. It was a really troubling example of something that happens all the time, but it's the most explicit version of it that people had seen."
Navabi's latest campaign, which launched as billboards in London last week along with the website beachbodyready2018.com, feature the same audacious yellow backdrop — but this time, three curvy women are posing in swimsuits, smiling and laughing with each other. "We're beach body ready," the ad reads in a similar bold text. Beneath it, another tagline says, "Three years on: a little reminder."
It's an obvious callback to Protein World's 2015 ads. (Protein World did not return TODAY Style's request for comment.) And Rutter said she's been so pleased with the public's feedback so far — "People saying it's just a relief seeing women with bodies like mine!" — but even more so, she's glad the campaign was able call out just how often we consume media that sustains potentially harmful body standards.
"People want you to say, 'Oh yeah, the world has come so far, and we're so much more accepting of different body types.' But I think in lots of ways, we see stuff like this all the time still," she said.
Rutter herself stars in Navabi's campaign along with Lauren Tallulah Smeets, a fashion brand manager, and Stephanie Yeboah, a blogger and consultant. None of them are professional models. Rutter said the experience was quite weird at first.
"To drive around London in van with an enormous billboard of you in a bikini on it and watching people react to it is a really strange experience," she recalled. "But it was good, and it felt like a really good way of confronting any insecurity I might have. But it was a really exposing thing."
At the end of the day, Rutter was just excited to be apart of a movement that aims to instill confidence in women of all shapes and sizes.
"As a plus-size woman who works at Navabi, what has always been really important to me is not just that we make clothes for plus-size women, but that we have a positive contribution to making useful and good media, and representation for plus-size women," she said. "Just improving the way plus-size women see and feel about themselves."