Going into the high-profile wedding of royal sister Philippa "Pippa" Middleton to financier James Matthews on Saturday, we had a lot of burning questions.
The most important one being, of course, what would she wear? A women like Pippa does not simply pluck a dress off the rack at David's Bridal, however lovely it may be.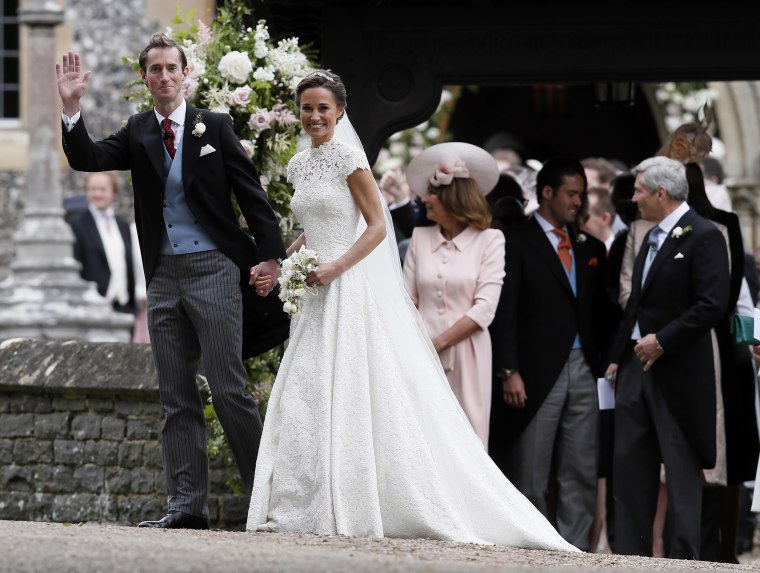 Our answer: A custom gown by British designer Giles Deacon. Because why say yes to the dress when you can create one from top to train? "I was thrilled to work with Pippa on her wedding dress," Deacon said in a statement, indicating that the bride had a hands-on role in her dress design.
Here's what to look for as you swoon over the photos from Saturday's event at St. Mark's Church in Englefield, U.K. "The dress is constructed with a cap sleeve, high neckline and featured a corseted bodice with draping to the front and a heart-shaped detail at the back," said Deacon. "The bespoke silk cotton lace was hand appliquéd to create an illusion of the dress having 'no seams.'
"The lace bodice is embroidered with pearl detailing over an organza and tulle underskirt, which has layer upon layer to enable a floor-sweeping movement."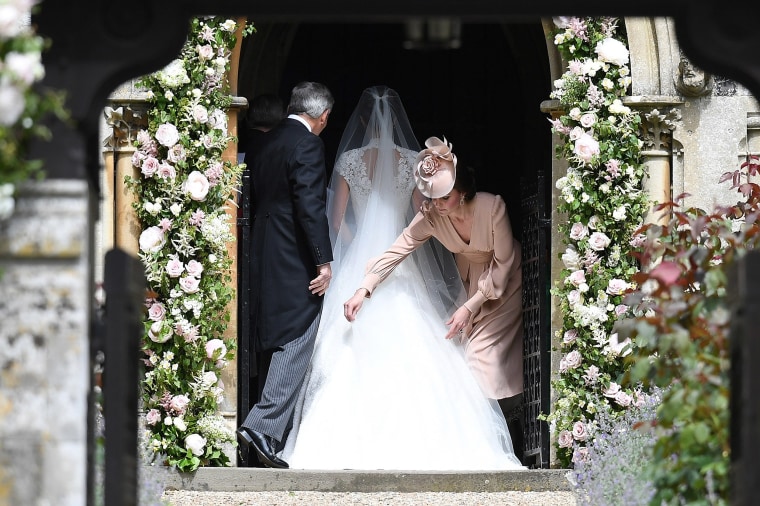 "It's a privilege to show the craftsmanship that my team produces in London and a real testament to Pippa's support of British fashion," Deacon added. Sir, if we may be so bold as to say so, you did your country proud.
Pippa also wore a custom-made veil by milliner Stephen Jones that included "fine tulle with a dégradé of embroidered pearls," per the release. Pippa's maidenhair Fern tiara with matching hairpiece was handmade by Robinson Pelham, and her ivory satin heels were Manolo Blahnik.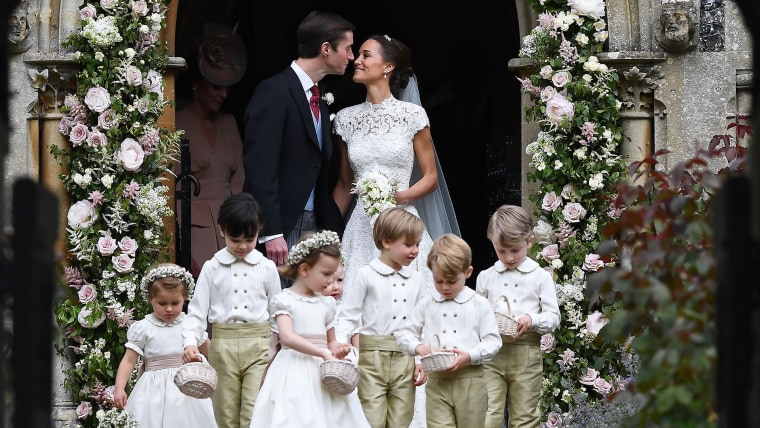 As a sassy teenage Shakespeare might have said ... the lady doth slayed.
And her big sister, the Duchess of Cambridge, was there to make sure it was perfectly fluffed for every photo op.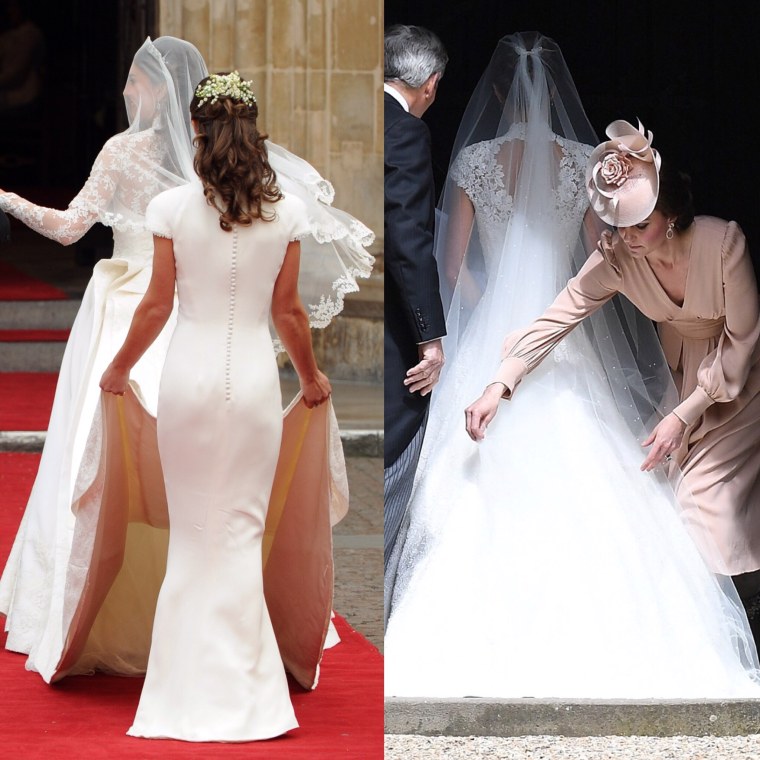 While this is Pippa's big day, it would be rude not to mention Duchess Kate's lovely pink dress — created by Alexander McQueen designer Sarah Burton, the same designer behind the her 2011 wedding gown and Pippa's stunning, form-fitting bridesmaid gown that caught the world's attention (and possibly stole the show) at the royal wedding. "[The attention] was completely unexpected," she told Matt Lauer in 2014. "You know, I think the plan was not really for it to be a significant dress. Really just to sort of blend in with the train."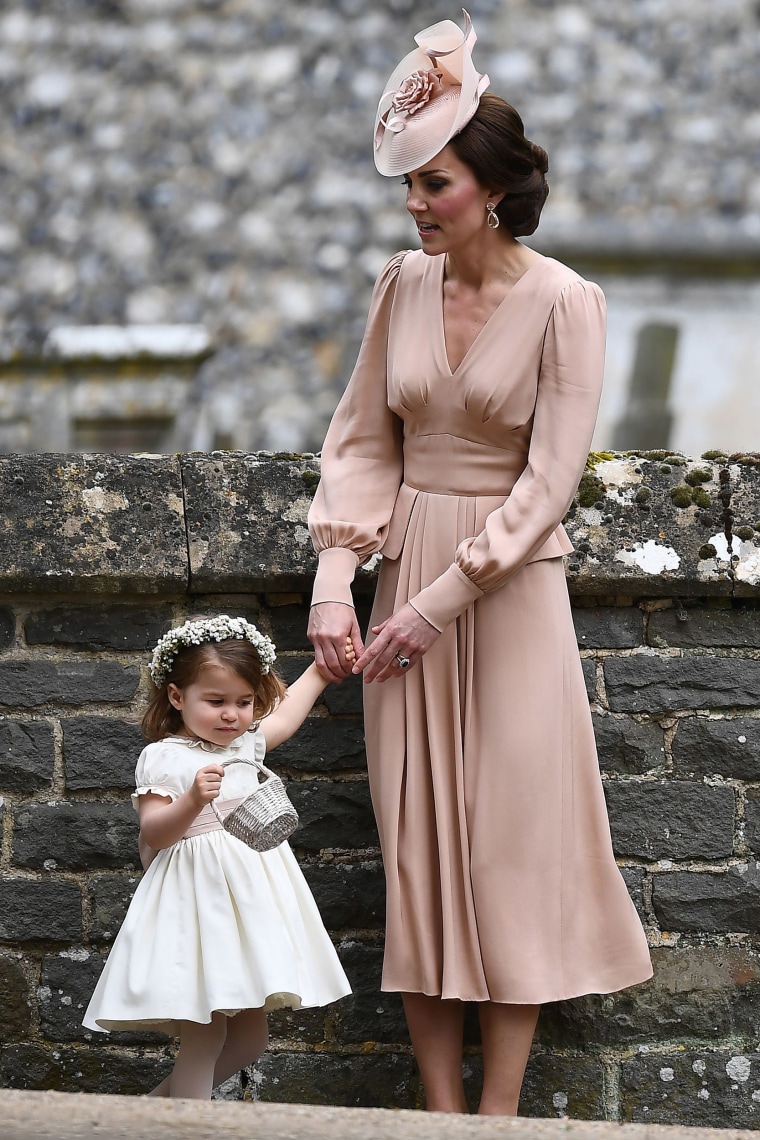 As for Princess Charlotte, we're still waiting on the details as to where she got that adorable flower crown.
RELATED:
Pippa Middleton's wedding: Which dress will get the yes?