Pink is a role model in so many ways, and we're especially impressed by her ability to stay true to herself and stand against all forms of bullying. Here are just a few of the many reasons why she's a 2017 TODAY Style Hero.
When Pink accepted the Video Vanguard Award with an inspiring message about self-love at this year's MTV Video Music Awards, viewers responded with two enthusiastic thumbs up.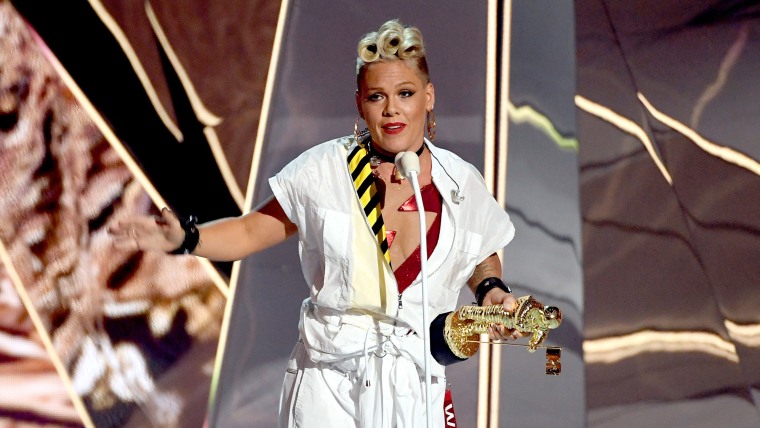 But longtime fans of the "What About Us" singer, 37, know she's always urged us to embrace ourselves just as we are — fabulous flaws and all. Let's take a look back at the singer's always on-point messages about the need to recognize "more kinds of beauty" — especially our own.
'Fat and happy' is A-OK.
The rebellious rocker revealed that she feels confident at any weight during a September 2015 interview with Food & Wine magazine. After opening up about her rigorous workout regimen on tour —which burns off calories galore — the vegetarian singer revealed she doesn't alter her food intake when the tour ends.
"I don't change my eating when I get home," she said. "So everyone always asks me, 'What are you going to do after?' And I say, 'Get really fat and happy.'"
A big 'So What' to 'squishy.'
Months before, Pink shared a similar self-love message in the caption of a pic with daughter Willow Sage. Wrote Pink: "Willow said to me the other day whilst grabbing my belly — "mama-why r u so squishy?' And I said..'b/cuz I'm happy baby.'"
Pink shames the body-shamers.
Pink got stern with online body-shamers who criticized her body after she appeared at a cancer benefit in April 2015. Pink shot back that she was there to support a physician friend who was receiving an award for her cancer work, "But unfortunately, my weight seems much more important to some of you."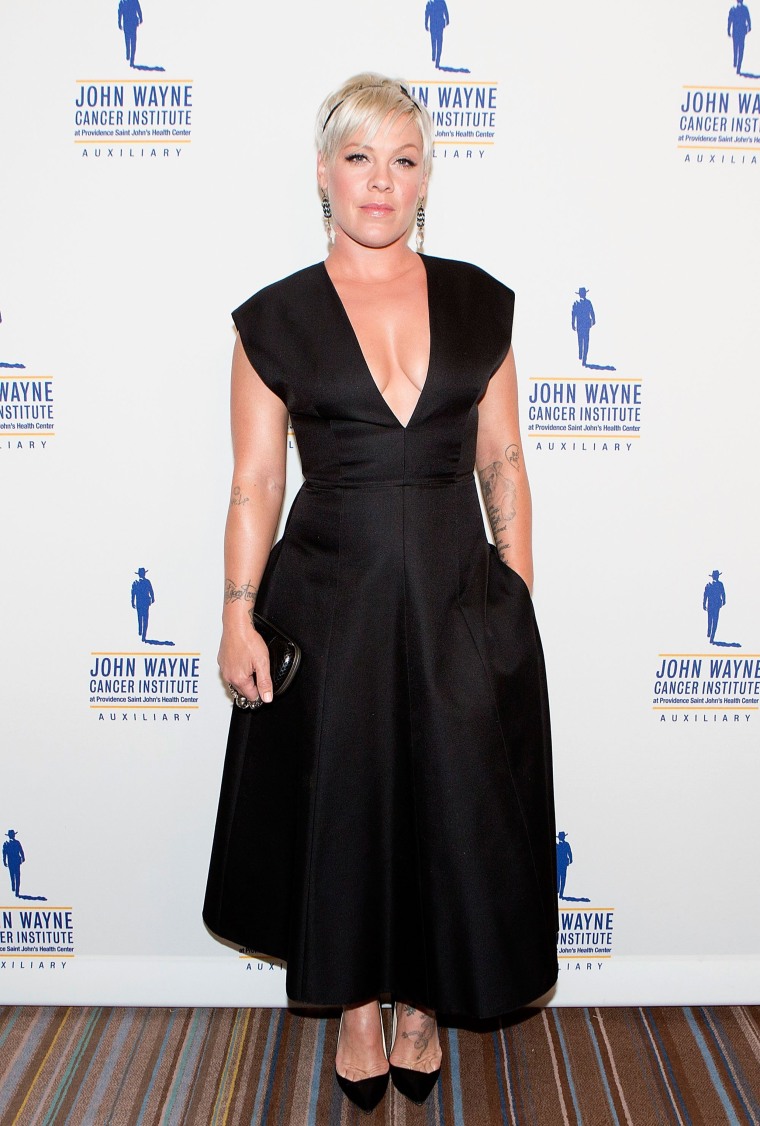 "While I admit that the dress didn't photograph as well as it did in my kitchen, I will also admit that I felt very pretty. In fact, I feel beautiful," she continued.
And shames them again!
In an May 2015 interview with Entertainment Tonight, the singer called the body-shamers what they are: bullies. "I don't take well to bullying. I never have. I'm not a person that will be bullied. I'm not a person that will stand by watching other people bullied," she said.
"My life is full, I like food a lot and I really like to cook. I like to live. I find joy in that, and we're doing all right in the Hart household."
Post-baby weight is 'normal.'
Earlier this year, Pink scoffed at the notion that she was supposed to have dropped pounds immediately after giving birth to son, Jameson, last December. By February 2017, she was back in the gym prepping for her upcoming tour and sharing a selfie with her trainer.
"Day 1!!!!!!!! Lets do this @msjeanettejenkins (week 6 post baby and I haven't lost ANY WEIGHT YET!!!!) yaye me!!!!! I'm normal!" she gleefully wrote in the caption.
'Stay off the scale, ladies.'
Two months later, Pink doubled down on her body-positive message when she revealed her height and weight in the caption of another gym pic: 5'3" and 160 pounds.
"By 'regular standards' that makes me obese. I know I'm not at my goal or anywhere near it after Baby 2 but dammit I don't feel obese," she wrote. "The only thing I'm feeling is myself. Stay off that scale ladies!"
On behalf of women everywhere, we thank you, Pink!