It's almost Valentine's Day, which means defining your devotion to your sweetheart — no pressure or anything. Trying to find the perfect gift to express how you feel on an arbitrary day can feel stressful at best and totally forced at worst.
We say, take a breather and keep it simple. Here's a breakdown of foolproof gifts that will fit any stage of your relationship.
0-3 months | Share a favorite book
If one were to rank romantic gestures, gifting a favorite book would only be surpassed by the epic mixtape (RIP). It says, "I think you're intelligent and we might just look at the world through a similar lens." Swoon! Yet, it also doesn't feel too forward if the relationship is new. Remember to inscribe the cover with a personal note expressing why you think they might like it. It'll make great conversations for many dates to come.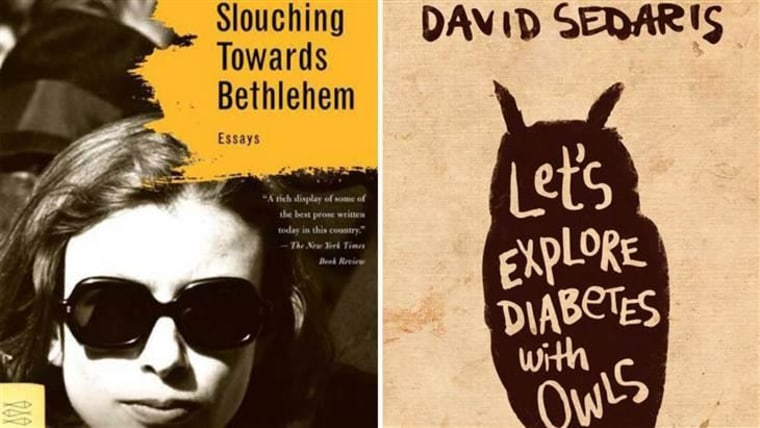 For her: A timeless classic from a female icon who is still making headlines.
Joan Didion, Slouching Towards Bethlehem, $49.32, amazon.com
For him: Insightful, witty and just a good time overall, he'll appreciate your sense humor if you gift him this book of personal essays.
David Sedaris, Let's Explore Diabetes with Owls, $19.15, amazon.com
3-6 months | Get creative on the classics
A romantic dinner and a bouquet of roses are still acceptable romantic gestures, albeit a little cliché. So we explored ways to spruce up the old standbys to make them feel fresh.
For her: We know plant life isn't groundbreaking, but it does become more thoughtful if you take a unique approach. Try gifting flowers that aren't red roses or the dreaded carnation. We like white tea and cabbage roses in a wooden planter box. For extra points, tie on a favorite photo of the two of you as the card.
Bianca Grace, $98, oliveandcoco.com
For him: We've never met a guy who doesn't love to eat. Cooking your man a meal on Valentine's Day is thoughtful, intimate and saves the hassle of fighting the crowds. Not a master chef? Never fear, Plated is here! The online service preps the recipe and ingredients to be delivered straight to your doorstep so you can whip up a fancy, farm-to-table meal in the comfort of your home.
Plated, approximately $12 per plate, plated.com
6-12 months | Tear up the town
Couples that build a foundation of similar interests are not only ideal mates, but also great friends. Doing something fun and interactive is always a good idea.
For her: Plan a wine-tasting trip together and hire a car for the day so you don't have to worry about driving. Don't drink? Opt for a local comedy show instead.
For him: Buy tickets to a sporting event or concert you'll both enjoy! It's a guaranteed fun-filled night out.
1 year | Cozy up
Pamper each other with luxurious versions of bathroom essentials.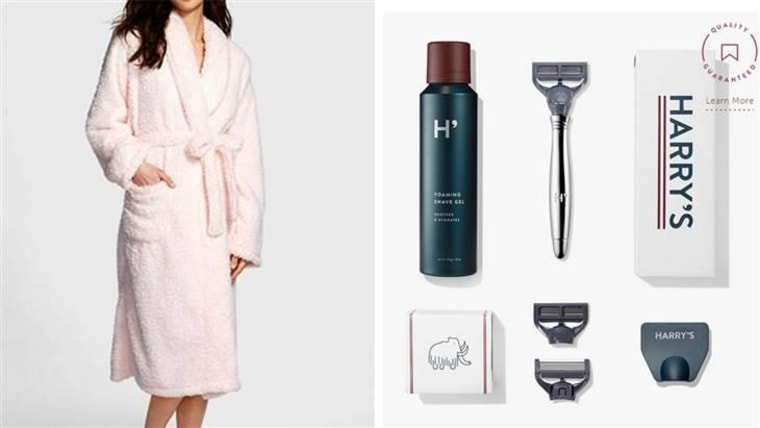 For her: She already has a drawer at your house and you've bought her a second hairdryer on the Amazon Prime account you share. But a scrumptious bathrobe says, "I want to spend every lazy Sunday with you." This chenille robe is so cozy, she'll be happy to let you bogart the remote — at least for a little while.
Giraffe at Home Chenille Robe, $98, Nordstrom.com
For him: Movember is long over and your man is back on his shaving game. We love the sleek, modern design and affordable price point of Harry's hip and trendy shaving kits. Buy him a yearlong shave plan delivered right to his door and he'll think of you every morning.
Auto-Refill Shave Set, $107, harrys.com
2+ years | Get active
After a couple of years into a relationship, you're no longer staring into each other's eyes as entertainment. The good news is, you're sharing more of your life together. Coordinate with your partner and decide to start a new healthy and active hobby together. Why not hiking? We love the iconic boots Reese Witherspoon sports in the film "Wild" and would happily dip our toes into the re-released style.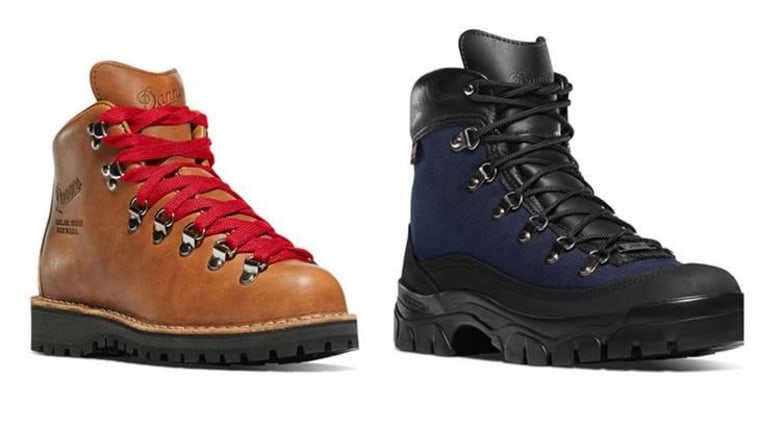 For her: Mountain Light Cascade boot, $310, danner.com
For him: Crater Rim Light 6" blue boot, $300, danner.com