Since she was a young girl, Aniya Wolf has eschewed girly clothes like skirts and dresses and anything pink or floral, instead finding that what's comfortable for her is menswear.
So when it came time to get ready for her high school prom on May 6, she got cleaned up with a fresh haircut and got decked out in the new black men's suit she picked out with her mom. "I felt really beautiful, or handsome or androgynous," the 17-year-old told TODAY. "I felt great. I looked great."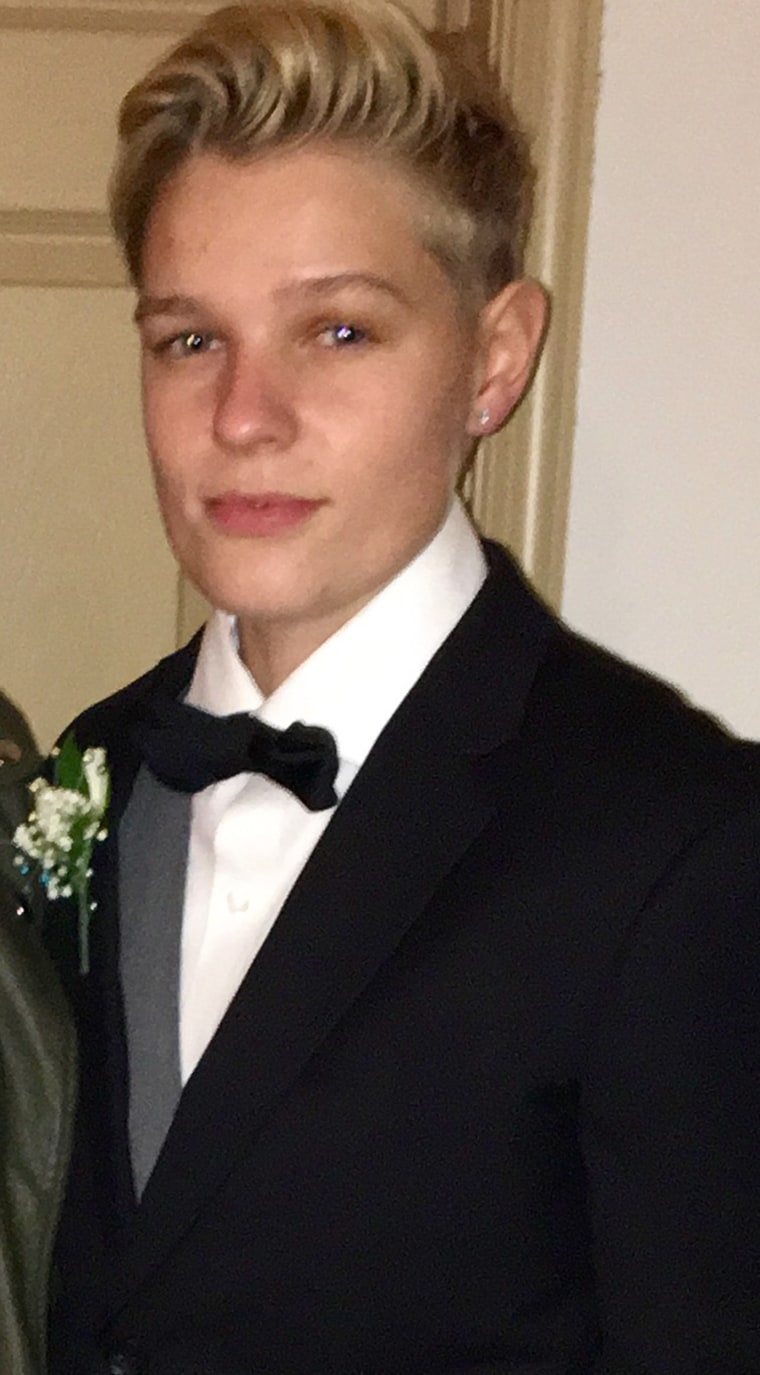 But she and her mother said they learned from the Catholic high school hours before the dance that she wouldn't be allowed to attend the junior-senior prom if she wore a suit because it was against the dress code.
RELATED: What's 'prom 'propriate'? School outlines dress code in controversial video
Wolf, a junior who attends Bishop McDevitt High School in Harrisburg, Pennsylvania, tried to go anyway because her date, Kristi Cannon, is a senior and wanted to spend her last prom with her best friend.
While classmates and parents cheered as Wolf entered the hotel lobby and told her how good she looked last Friday night, Wolf said she was pulled out of the ticket line and told by the principal that she needed to leave, though she wasn't given a reason.
RELATED: Student with special needs is crowned prom king — with 37 dates
"I felt humiliated, getting kicked out of prom," Wolf told TODAY. "I wasn't going to hurt anybody with a suit."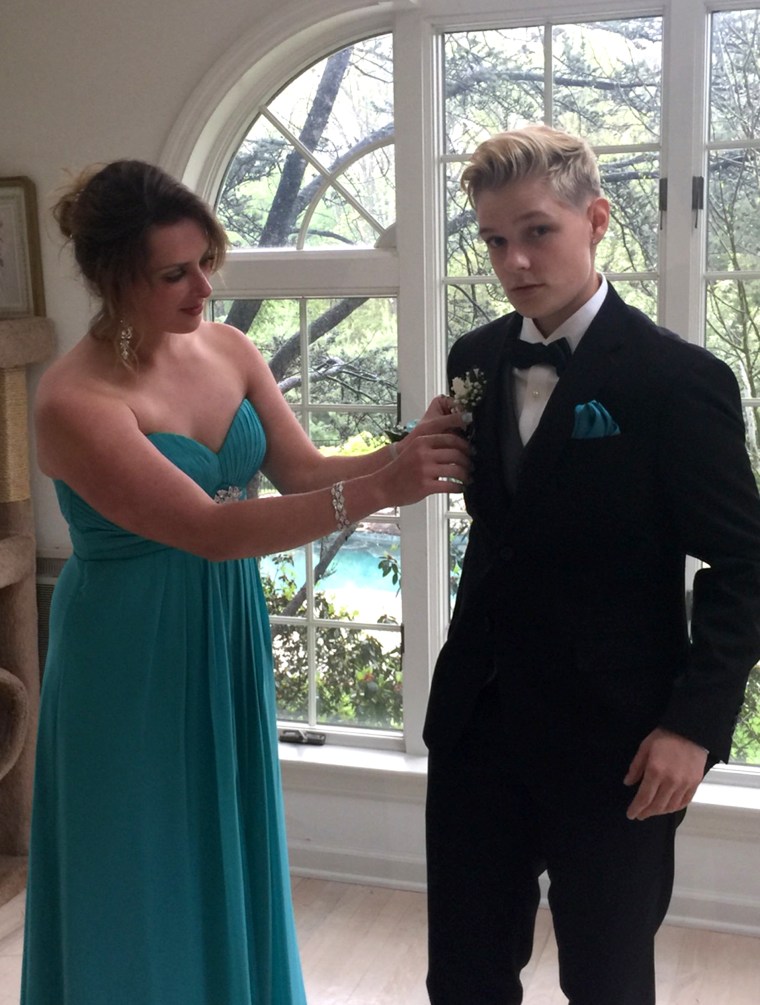 Though sad to miss the prom, she didn't want any trouble and left. "I was taking the high road," she said.
Wolf — who wears pants to school (and wore them to a homecoming dance without a problem) — and her mother, Carolyn Wolf, feel that she was singled out because she is gay.
RELATED: Teen scammed buying prom dress online urges other to look out
"It is an attack on my sexual orientation," the teenager said. "It's saying, 'We don't want you in our prom. You're a freak of nature.'"
"I feel very hurt by that," she added. "I think God accepts me for me."
The principal did not return a message to TODAY on Wednesday.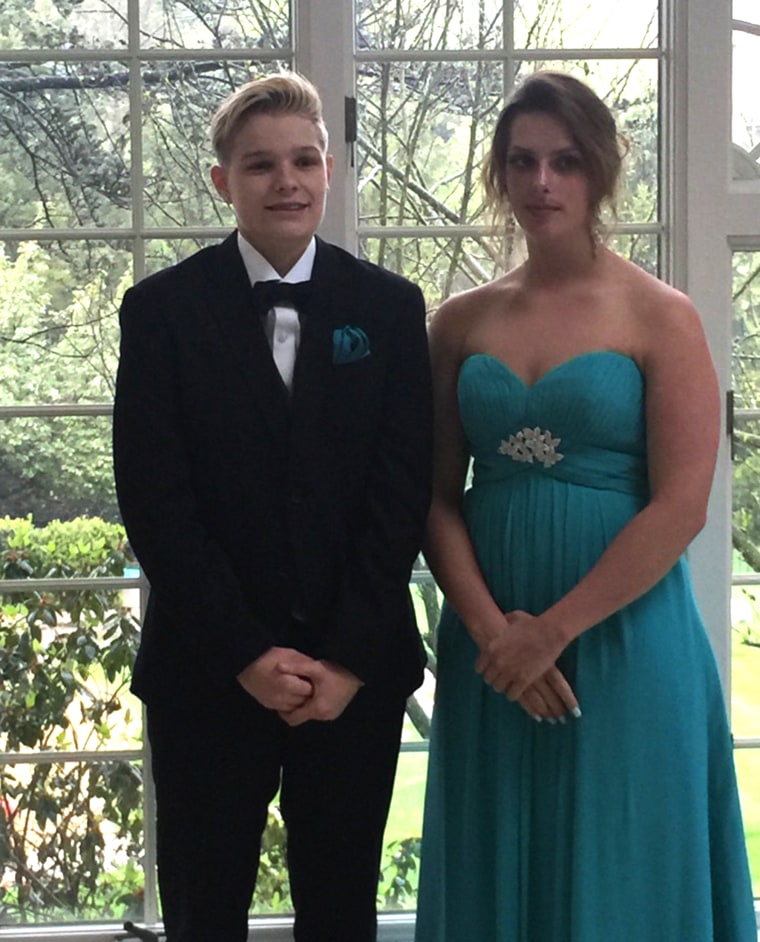 The issue of girls wearing suits to the prom has come up before. Last year, a Louisiana girl, Claudetteia Love, won the right to wear a tux instead of a dress to prom.
Aniya Wolf and her mother feel the dress code was vague because it never said girls couldn't wear suits. The dress code stressed modesty for girls, with no bare midriffs or plunging necklines, they said.
"To be honest, I feel 150 percent discriminated against by the administration," Wolf said. "Girls wearing those tight dresses showing cleavage, they got in. I don't think they can pick and choose what rules they enforce."
The day after the prom, a statement about prom attire was posted on the school's website.
"Without question, we love, respect and cherish all of our students," it began. "The dress code for the prom specified girls must wear formal dresses. It also stated that students who failed to follow the dress code would not be admitted."
RELATED: A bittersweet 'sisterhood': Girls honor late friend by wearing her prom dress
But that's where the interpretations seem to differ.
Carolyn Wolf said she signed a form several weeks ago that included a dress code that said in part: "Dresses are to be formal."
"When I signed it, it didn't occur to me that it would be a problem," she said. "She's had a wonderful experience at the school."
They didn't realize until the day of the prom that the school required girls to wear gowns.
At about 1 p.m. on Friday, Carolyn Wolf said she received a call from the assistant principal, who said she heard that her daughter would be wearing a suit or tux, "and if that was the case then she wasn't going to be admitted because it violated the dress code." Wolf said the school then emailed her a slightly different version of the dress code.
RELATED: Ultimate prom dress! Gina Rodriguez offers fan Golden Globes gown
"I think anybody could read those policies and find that it's not crystal clear that suits are not allowed for girls," said Wolf, who is a lawyer.
In a last-ditch attempt, she met with the principal Friday afternoon.
"She said to me, 'Aniya has a woman's body so she should be in a dress,'" Wolf said. "I said, 'I can't put a dress on her any more than I could put a dress on any of my sons.' That's not who she is."
Since the incident, Aniya Wolf has found great support at school, with students offering to wear pants on Monday in solidarity.
And she and her prom date were invited to attend a prom later this month at a public high school. But she's not feeling any love from her school.
RELATED: Mom experiences the prom she never got to attend — thanks to her son
"If they cherished me, they would have let me in with my fellow classmates," Aniya Wolf said.
Feeling hurt and rejected, she said: "I feel like an apology is owed."
Carolyn Wolf, who also feels an apology is in order, along with a change in the dress code, is proud of her daughter. "She likes herself," she said. "She's never pretended to be anything else and she's willing to go out there to support that."
TODAY.com contributor Lisa A. Flam is a news and lifestyles reporter in New York. Follow her on Twitter and Facebook.