We know that babies can't walk, of course, but we insist on putting them in tiny shoes because they're just so dang adorable. A teeny little loafer or an itty-bitty sandal is enough to send any kid-lover into frenzied cooing — and don't even get us started on those mini sneakers. But one company is taking baby shoes to a whole new level and some parents are not into it.
The Pennsylvania-based company, Pee Wee Pumps, started selling high-heeled shoes for infants in 2014 touting that "they're just like mom's favorite pair of pumps only in a miniature size."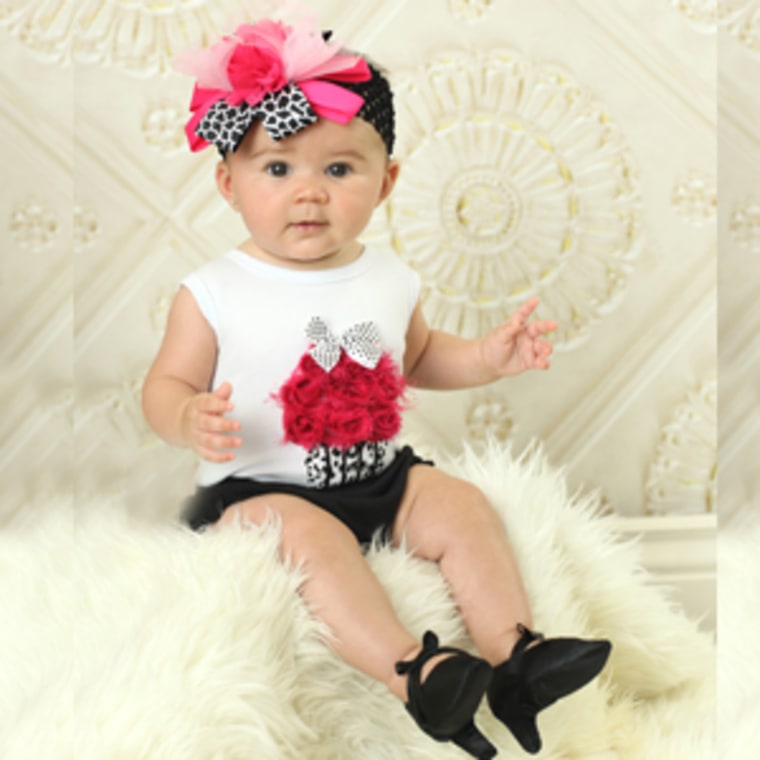 The shoes, which retail for $10, come in a variety of colors (including leopard and zebra print) and cutesy names, like "Diva" or "Pretty in Pink."
The brand recently came under fire after a U.K.-based watch group posted about the product. The article received tons of comments from concerned parents, with reactions ranging from "Is this a joke?" to worries about sexualization of children or the physical effect on small, developing feet.
One parent even addressed the assumption that all girls would want heels, writing, "Mom doesn't have a favorite pair of pumps. I have a favorite pair of hiking boots." Touche!
Pee Wee Pumps founder Michele Holbrook was quick to respond to concerns that the shoes may be unsafe telling TODAY, "The shoes are actually made of cotton. They're a soft-soled shoe ... they're actually nothing more than a slipper."
She also explained that the heel collapses so that there's no danger to the baby's foot. The company only makes them for babies younger than 6 months old because they're not intended to be worn by any child of walking age.
As for claims that the shoes sexualize infants, Holbrook said, "You put too much thought into it and yes it's going to become an issue, but truly in the grand scheme of things, when it all boils down to it, it's just a photo prop."
RELATED: Ice-T's baby daughter rocks with blinged-out headbands and high heels
She continued to say that the intention was never to offend or upset anyone — so her hope is that people take a step back and get a good laugh from it.
While the backlash has been strong, other parents say they understand Holbrook's initial intention. "They are absolutely adorable," wrote one reviewer on Amazon. "They are made very well and the case they came in added to it."
RELATED: Biker babies? Kids clothing line gives full-sleeve tattoos to toddlers
So whether you love the shoes or hate them — you're not alone.