Paris Fashion Week is planning to make its grand return this September, at a time when many event organizers are wrestling with the question of whether it's safe to hold in-person events amid the coronavirus pandemic.
The Fédération de la Haute Couture et de la Mode, the group behind what is arguably the hottest ticket in the fashion world, confirmed it will host in-person fashion shows this fall. The semi-annual Paris Fashion Week is typically a time for designers to show off their latest ready-to-wear collections for the following season.
"The Fédération de la Haute Couture et de la Mode confirms the holding of Womenswear Paris Fashion Week," the group said in a statement on Wednesday. "It will take place from Monday, September 28th to Tuesday, October 6th and will comply for its implementation to the recommendations of public authorities."
No additional details were provided about what measures will be taken to ensure models and attendees are kept safe. Designers have previously rented a variety of spaces, ranging from outdoor catwalks to cozy bars, to show off their newest collections.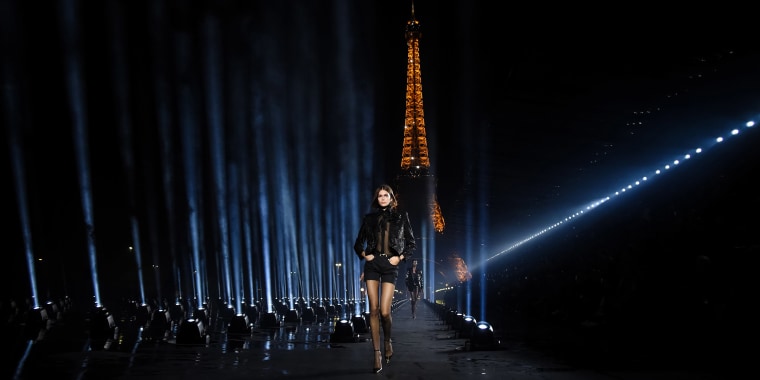 With social distancing guidelines in place, designers could also be forced to limit their guest lists and choices of venue, instead of packing A-list celebrities and top fashion editors together as per usual.
The decision comes as life in France is starting to get back to normal after a 104-day coronavirus shutdown. The Eiffel Tower reopened to visitors on Wednesday. Another famous landmark, The Louvre, is set to open on July 6.
France banned large public gatherings in late February to help stop the spread of coronavirus. The country has reported 191,543 cases throughout the pandemic, according to the latest update. The data shows that the shutdown worked. On Tuesday, new cases dipped below 100, marking another milestone.
While the city is ready to come roaring back, it's unclear whether some of the usual Paris Fashion Week crowd will want to travel — or if they'll be allowed. The European Union is reportedly considering a ban on visitors from the United States, where the virus still isn't under control.
Thankfully, Paris Fashion Week will also include a digital component.
While nothing can truly replace the buzz of attending a fashion show in person, many designers have hosted online events during the pandemic. Several designers showed off their collections at London's digital men's Fashion Week. From July 6 to 8, the Fédération de la Haute Couture will host Paris's haute couture Fashion Week, rolling out a series of videos showing the latest from French fashion houses.
Some brands are also embracing the opportunity to innovate.
Burberry also outlined plans to host a "phygital" show this September, coupling a small, physical event with a digital experience.