Are you in a cold sweat attempting to wrap a mountain of gifts before Christmas? For the quickest and easiest ways to wrap a gift, turn to the Japanese art of origami and furoshiki — and use fewer supplies to boot! We love these three methods that are faster, easier and even eco-friendly.
How to wrap a gift in just 15 seconds:
We were inspired by an expert gift wrapper at the Takashimaya Department Store in Japan who had us — and millions of others — mesmerized with this speed-wrapping technique.
When we usually wrap gifts, we center it on the paper but this technique turns tradition on its head by starting on a diagonal edge of your gift wrap.
If you didn't catch the method, we have you covered. The prep takes a few extra seconds, but it's pretty easy. Ready to try it? There's no time like the present!
What you'll need:
Gift wrap
Scotch tape
Scissors
What you'll do:
1. Cut wrapping paper so you're able to wrap the gift with a 2-inch overhang. Paper should cover both sides of the package's height.
2. Position the narrow side of your box diagonally across the sheet of wrapping paper.
3. Lift the edge of your paper to meet the upper corner of the gift.
4. This creates a triangle. Crease section onto gift and pull corner upward, flush onto the box's edge.
5. A new edge is created. Once again push paper onto gift and pull corner up once more.
6. Flip present over and tape edge.
7. Two new edges are created on the narrowest side of your box. Fold the triangle of paper down like the top of an envelope. Tape to secure.
How to wrap a gift with fabric:
Gorgeous, eco-friendly gift wrap is just seconds away. We love the simplicity and sustainability of this wrapping technique called furoshiki. Grab some pretty fabric scraps, napkins or even a dish towel; just make sure the fabric is relatively thin. Remember: It doesn't have to be perfect! There's so much charm in the rustic nature of this wrapping technique.
What you'll need:
Napkins, towels or thin fabric scraps
Optional: ribbon, twine or twigs to decorate
What you'll do:
1. Place your gift in the center of a thin dish towel, napkin or fabric scrap. This works best with square and rectangular cuts.
2. Fold towel around the box in one direction.
3. Fold the towel around the box in the opposite direction. You'll want to create a clean seam on the edge of your box, so tuck the fabric in to create a straight edge.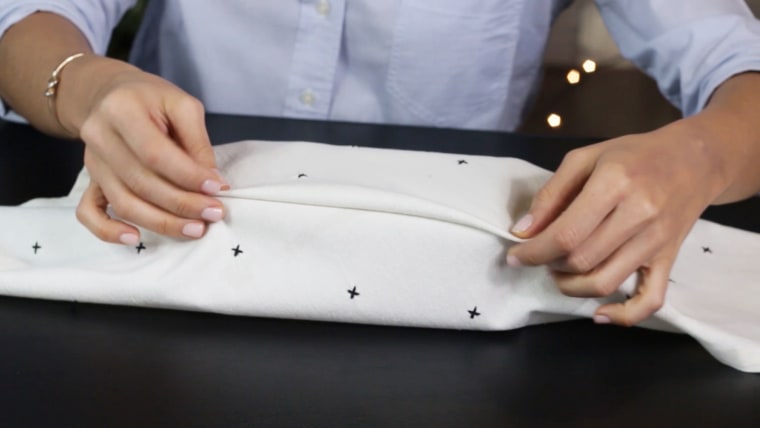 4. Tuck the edges in and fold the fabric, resting it on top of the box. Repeat on the other side.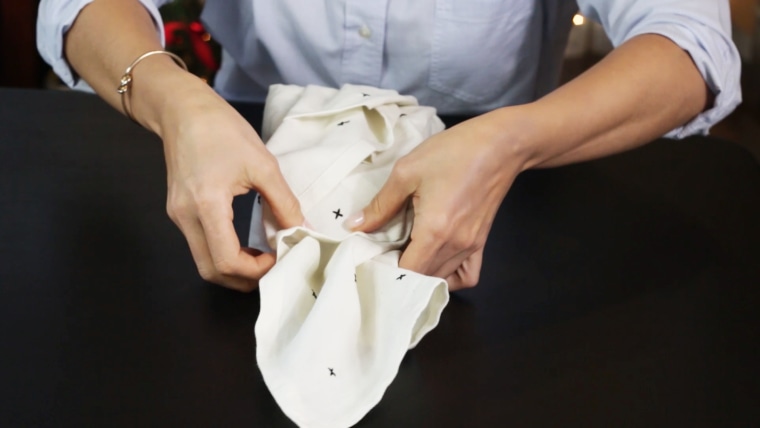 5. Tie a double knot.
6. Be creative and accessorize with twine, twigs or ribbon.
How to tackle those awkward-to-wrap gifts:
You're humming right along wrapping books and boxes ... but then you stop dead in your tracks when faced with an oddly-shaped gift. Footballs, children's toys and even wine can be puzzling. Fret not! It's so easy to make a custom gift bag with any wrapping paper you have lying around.
What you'll need:
Gift wrap
Tape
Optional: ribbon, small ornaments, etc.
What you'll do:
1. Cut enough gift wrap to cover the item, then add an extra inch.
2. Fold the paper in half and fold the other side so it overlaps by a half inch. Tape the edge down.
3. Fold the bottom edge up, make sure the width is enough to compensate for the width of the item you'll be placing inside the bag.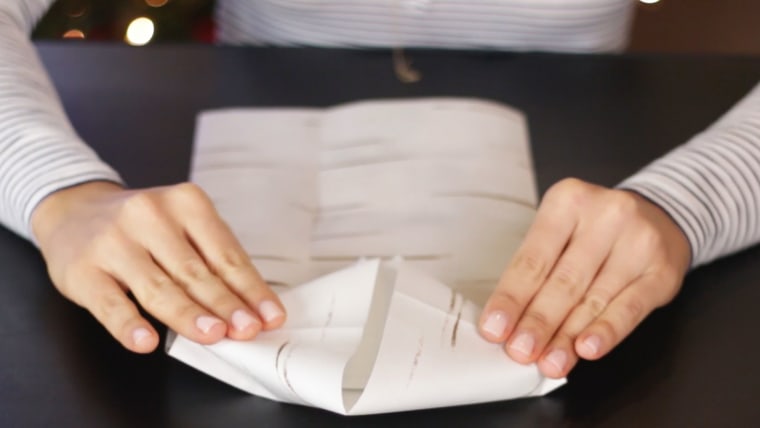 4. Flatten the corners to make two triangles.
5. Next, fold the opposite edges to the middle and secure with tape.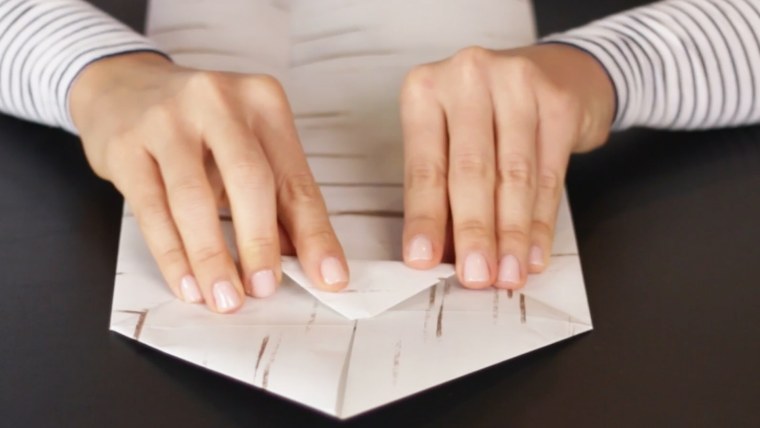 6. Fluff your bag open and place your gift inside.
7. Close the bag and decorate with string, ribbons or ornaments.
How's that for a bag of tricks? Do you have any gift-wrapping tricks? Tell us on Facebook, Twitter and Instagram.