The unwritten red carpet rule that says actresses need a new dress for every event is officially out of style.
Padma Lakshmi proved the days of one-and-done fashion are over — at least for her — when she wore a stunning repeat gown to the 70th Primetime Emmys Monday night.
The "Top Chef" host hit the evening's gold carpet in a floor-length, hand-detailed crimson design from J. Mendel — complete with cutouts and an thigh-high slit on the side.
"I'm excited to wear this beautiful @j_mendel gown (again)," she wrote alongside a series of pre-show photos and brief clip she shared on Instagram. "The first time was to the (Vogue India) Women of the Year awards last October in Mumbai. "
Though her hair, makeup and accessories were different for the two events, otherwise, there was no change to the dress, and it was just as eye-catching now as it was then.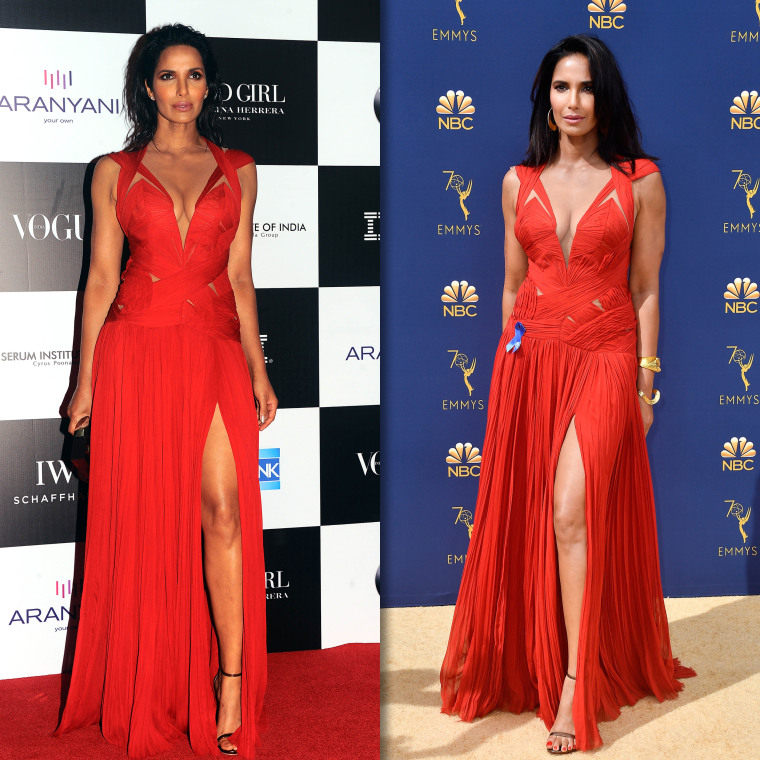 "I think we should stop sending the message to young women and girls that we all have these endless closets of couture we're never allowed to wear more than once," the host wrote on Instagram.
"It seems wasteful not to enjoy these dresses. The hours that it takes, the artisans' labor and the gorgeous fabrics all deserve to be worn again and treasured."
And there's another reason the 48-year-old mom of one finds red carpet do-overs to be good idea — they already fit. In addition to enjoying the costly designs again, it also allows her to enjoy more free time at home.
She explained that, "instead of fretting so much with fittings, I'd rather go to the park and throw a ball with (8-year-old Krishna) or tinker in the kitchen with her bonding over delicious food."
That may be the best reason of all to wear a gown again (and again).