Leslie Deets cares about fashion. She loves skirts and pretty heels. She adores Coach and Michael Kors handbags. And the gun she owns is pink.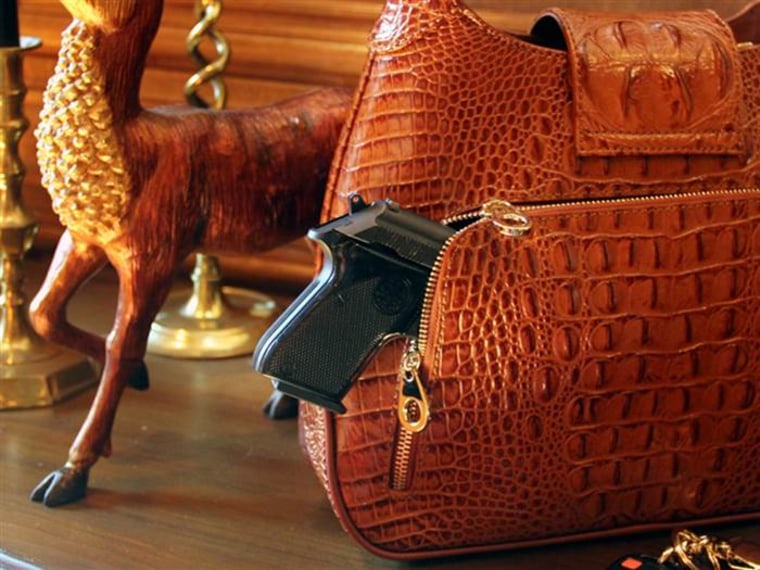 So, it came as no surprise when Deets blasted her way into a largely untapped market: the growing and wildly diverse demographic of U.S. women who carry handguns. Deets did so by founding Concealed Carrie, a business based in Roswell, Ga., that makes high-end leather handbags, totes and computer bags for women who want to be able to protect themselves and look great while doing so.
"If you looked at me, you wouldn't be expecting me to be packing anything — except maybe some Lancôme," said Deets, who is 5-foot-3 and weighs 100 pounds. "But I like feeling more alert and more empowered knowing that that firearm is right there next to me."
RELATED: 'Girl Hunter' shoots, eats squirrels — and makes it gourmet
She kept encountering a logistical problem, though: How exactly should she carry her pink Walther PK380?
"I don't want to carry a firearm in my bra, OK?" said Deets, 47, who has a background in architecture and design. "And this is such a male-dominated industry that the options out there for women were very limited. A lot of the handbags that existed were very tactical or very plain."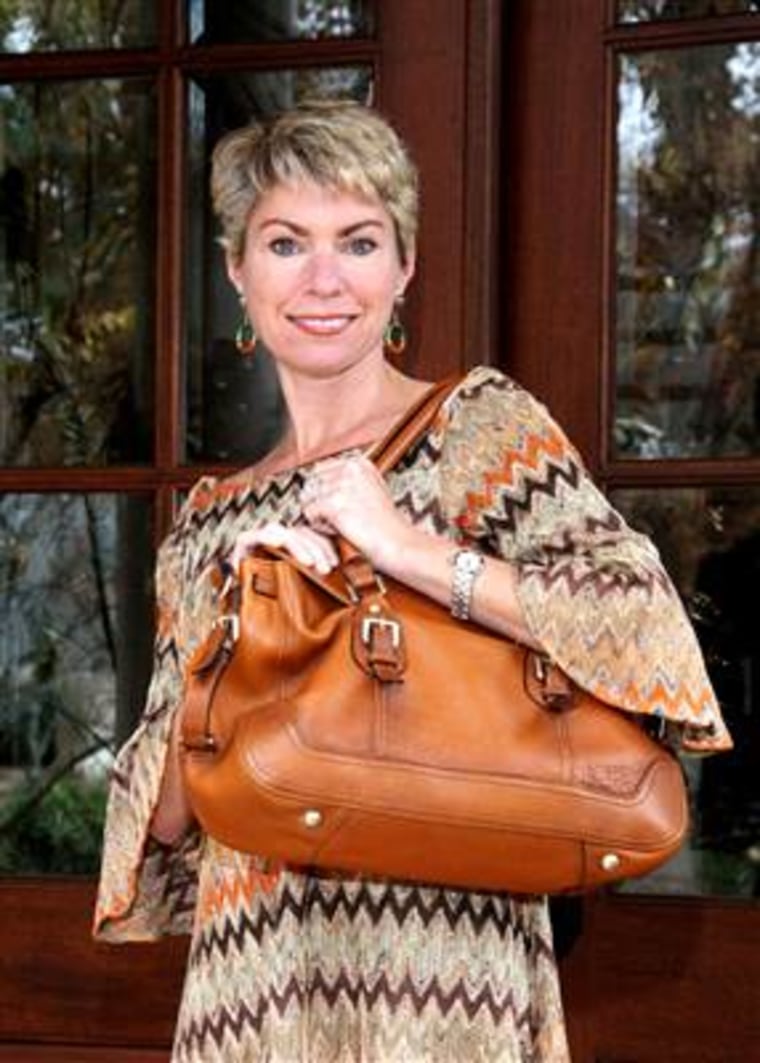 This got Deets thinking about the kind of purse she'd want to carry — and shortly before the 2012 holiday season, Concealed Carrie was born. Deets' inventory of leather satchels, totes and computer bags, which range in price from about $250 to $300, sold out almost completely in eight weeks. Cabela's, Overstock.com and other outlets quickly picked up the Concealed Carrie product line, and in the business' first six months of existence, sales topped $200,000.
Deets unwittingly triggered a firestorm of interest among women who want to be highly discreet about the weapons they carry. Polling research and gun-sale statistics reveal that an estimated 15 million to 20 million women in the United States own their own firearms, and more women are learning how to shoot all the time.
RELATED: 'I am a mom with a gun' Why I'll teach my girls to shoot
"I really didn't expect this, but (shooting) relieves more stress than an afternoon at the spa," said Beverlee Athens, 42, a certified public accountant who lives in Alpharetta, Ga.
Athens began taking an introductory course in gun safety and marksmanship after her husband bought a handgun. She became hooked almost instantly, and she now owns her own Walther PK380 — as well as a Concealed Carrie brown leather hobo purse, and an ostrich-print computer bag for her gun and her laptop.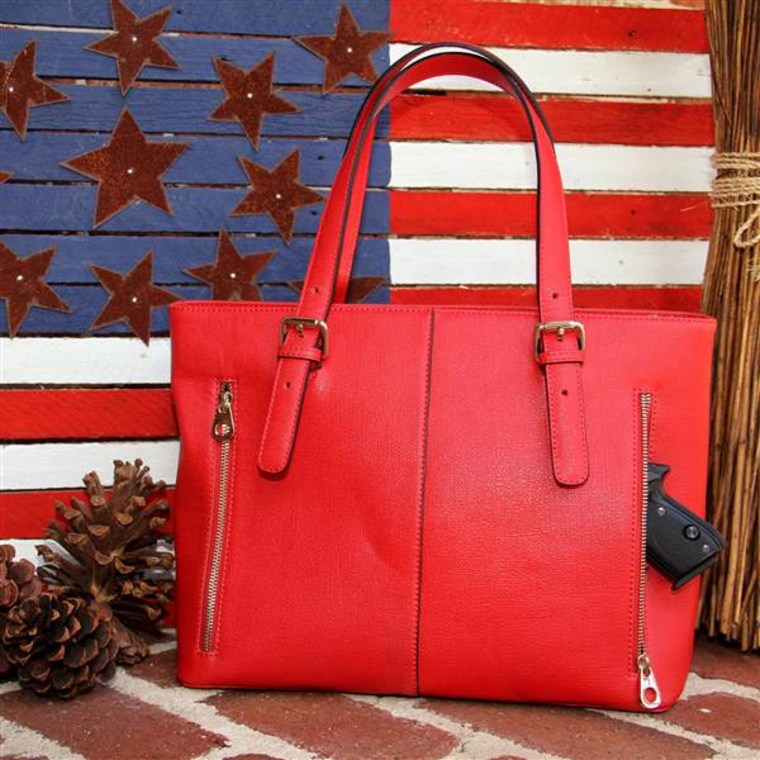 The bags appeal to female gun owners because they come with special, discreet compartments designed for handguns only. The "ambidextrous" compartments have two zippers so left-handed shooters can access their firearms just as quickly as right-handed shooters.
Each bag also is equipped with an adjustable Velcro holster, and Deets masterminded an added customer-service touch: "If you can produce the police report that shows you needed to use that firearm to protect yourself, and you had to shoot through the handbag, we'll replace that bag for you for free," she said.
Cindy Satterfield, 39, a language arts teacher from Waleska, Ga., immediately fell in love with the brown Concealed Carrie satchel her husband got her for Christmas.
"I'm always hearing, 'Oh my gosh, I love your purse!' and I say, 'Thank you!' and I can tell they have NO clue that I'm carrying," said Satterfield, who learned how to shoot as a child on her family's farm.
"I've always had a gun for personal security," Satterfield explained. "I'd carry it in my purse before, and where would it always go? Straight to the bottom of the purse, and that's extremely dangerous. This is just so much better."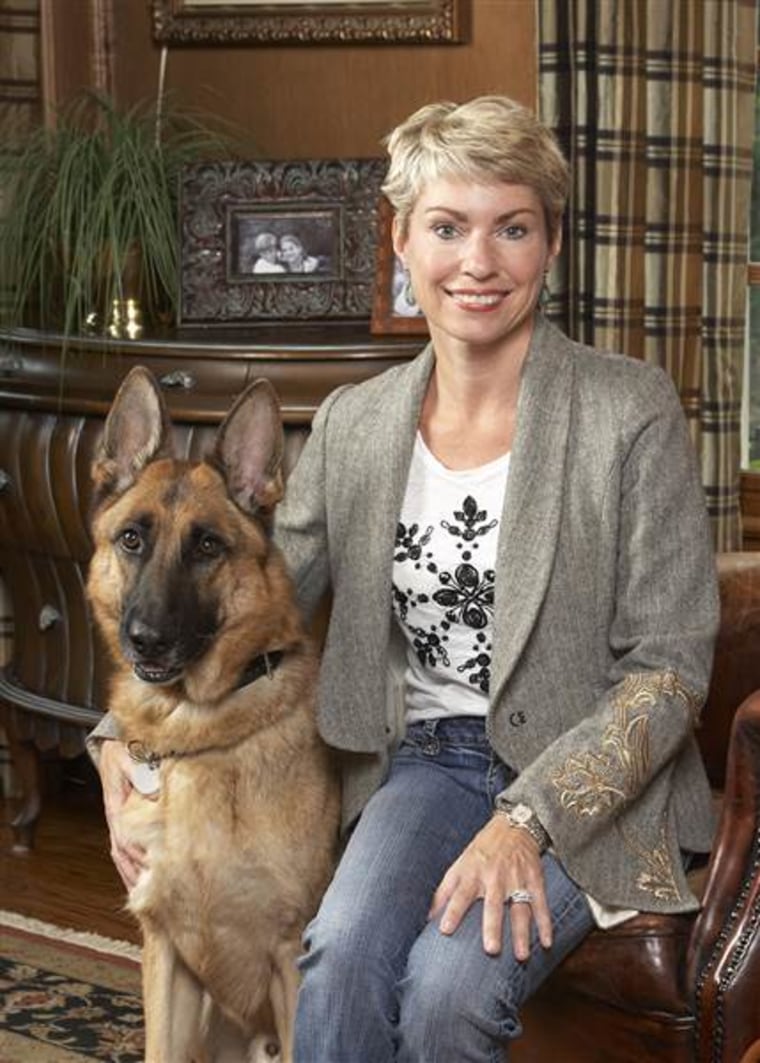 For her part, Deets is stepping up production of leather Concealed Carrie bags and launching a lighter-weight, lower-cost line of "Carrie's Closet" bags, which will be made of microfiber with leather trim and will cost $150 to $250.
She's also designing casual jackets and athletic wear for female dog-walkers, joggers, hikers, cyclists and others who want to feel safe wherever they are.
"We have a denim jacket that we hope to have available in the fall," Deets said. "If you're out walking your dog, you're not carrying a bag with you, that's silly. But this will still allow you to protect yourself discreetly."
Need a Coffey break? Connect with TODAY.com writer Laura T. Coffey on Facebook, follow her onTwitter or read more of her stories at LauraTCoffey.com.
This article was originally published Jul. 10, 2013 on TODAY.com.