The Kathie Lee Gifford and Hoda Kotb duo is officially a decade old! They've shared 10 years of laughs, celebrity fun and, of course, their favorite things.
Every Monday, Hoda and Kathie Lee each share one of their favorite products on the show. Their choices have ranged from Yves Saint Laurent makeup to thriller novels.
To celebrate this momentous anniversary, we dug through the archives — starting all the way back in 2011 — and found our favorite things from Kathie Lee and Hoda's favorite things.
These are the best of the best:
1. Soma Cami bras and an iBeanie hat
Hoda praises a winter hat with bluetooth capabilities in a segment from 2011 . It easily syncs to any smartphone, allowing the wearer to enjoy music while exercising outdoors in freezing cold weather, without tangled earbud wires. The old iBeanie may not be available anymore, but you can snag an updated version on Amazon.
Kathie Lee loves the Soma Cami bra because it provides enough coverage without an additional cami. The exact bra she mentioned on the show is sold out right now, but we found a similar (and cheaper) Amazon dupe to try!
2. "Sweet Child of Mine" by Deanna Adler and Lawrence J. Spagnola and the Polaroid Zip mobile printer
"Sweet Child of Mine: How I Lost My Son To Guns N' Roses" tells the heartbreaking true story of Deanna Adler's son Steven Adler, the original drummer of Guns N' Roses, as he struggled with addiction. Kathie Lee called it "the story of hope."
Hoda's favorite thing, the ZIP, prints photos straight from your smartphone, and is small enough to fit in a purse. For those who still prefer physical, printed photos even in the digital age, this printer is for you.
3. Spanx pocket leggings and the Hidrate smart water bottle
Still working on your New Year's resolution to work out more? Show up to your next sweat session looking like Kathie Lee in these cute and comfortable leggings. They feature handy pockets!
Hoda's choice of the week can help you stay on track by monitoring your water intake, syncing with an app and blinking to remind you to drink throughout the day. It looks cute, too.
4. Physicians Formula instant eyelash booster and "Four Things Women Want From A Man" by A. R. Bernard
Hoda swears by this instant eyelash booster for achieving long, full eyelashes without the hassle of applying extensions.
Kathie Lee recommends "Four Things Women Want From A Man" for ... well ... women who want to explore what they're really looking for in a man.
5. Instaflex Advanced and Fresh Patch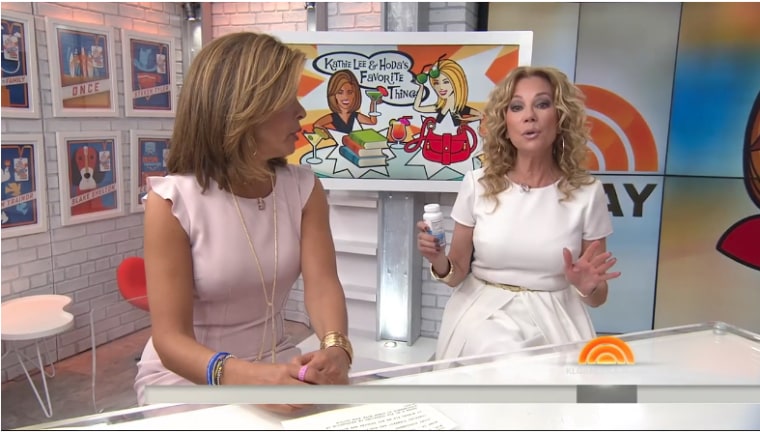 Kathie Lee loves the Instaflex joint supplement because it helped alleviate her neck pain. Please note, that when considering supplements for chronic pain, you should still consult with a doctor.
Hoda's pick, Fresh Patch, serves as an alternative to pee pads for furry friends without easy access to a backyard (like Hoda's dog, Blake). It's made with real grass to mimic the outdoors.
6. "Rock Solid Parenting with Raakhee" by Raakhee Mirchandani and Bio Ionic Brush
Kathie Lee celebrated her friend Raakhee's birthday by highlighting her book. The text lays out foundational principals to help parents create a solid parenting plan.
To anyone who buys her favorite round brush, which can actually add shine to your hair: Hoda says, "You're welcome."
7. Vinglacé chiller and Burt's Bees
Katie Lee calls this Vinglacé chiller the "chic way to keep wine and champagne chilled."
Hoda's favorite lip gloss comes in 12 shades and adds just a touch of color with natural ingredients like beeswax and sunflower oil. Plus, it's under $10.
8. MAC Lipstick and Rita Hazan Root Concealer
In a segment from 2012, Kathie Lee and Hoda couldn't get enough of two beauty items (unfortunately, the video is no longer available).
The MAC Sheen Supreme lipstick in Supremely Confident, a recommendation from Kathie Lee, has since been discontinued. Luckily, the cosmetics giant currently makes a very similar shade: the Cremesheen lipstick in Creme D'nude.
Hoda's favorite root touch-up spray comes in five shades to help hair look fuller and help outgrown roots look more natural.
9. Inov-8 hiking boots and Hollywood Fashion products
In a segment from 2012 (sadly the video is no longer available) Kathie Lee swears by these breathable hiking sneakers for outdoor fun. The outsole grips the ground for stability, while the flexible upper lets you comfortably wear these out for a jog through the woods.
Hoda hails two Hollywood Fashion Secrets products for helping women avoid wardrobe malfunctions and look their best.
10. "Angels in our Midst" by Anne Neilson and Vaseline Spray and Go
After artist Anne Neilson's opening at Art Essex Gallery in Essex, Connecticut in 2013, Kathie Lee named Neilson's book one of her favorite things in a segment from 2013 (sadly the video is no longer available). It clues readers into the painter's artistic journey while creating her famous "Angel Series."
Hoda's spray and go moisturizer can be applies in seconds, so it is perfect for busy mornings.
Look out for more of Kathie Lee and Hoda's favorite things every Monday morning!