It's the 2020 Academy Awards! While we loved to keep track of the winners, we were perhaps most excited to see all of our favorite stars dressed to the nines. From ruffles and long trains to capes and belts, there was a little bit of everything.
Wondering who wore what? See all the best-dressed stars on the Oscars red carpet.
Margot Robbie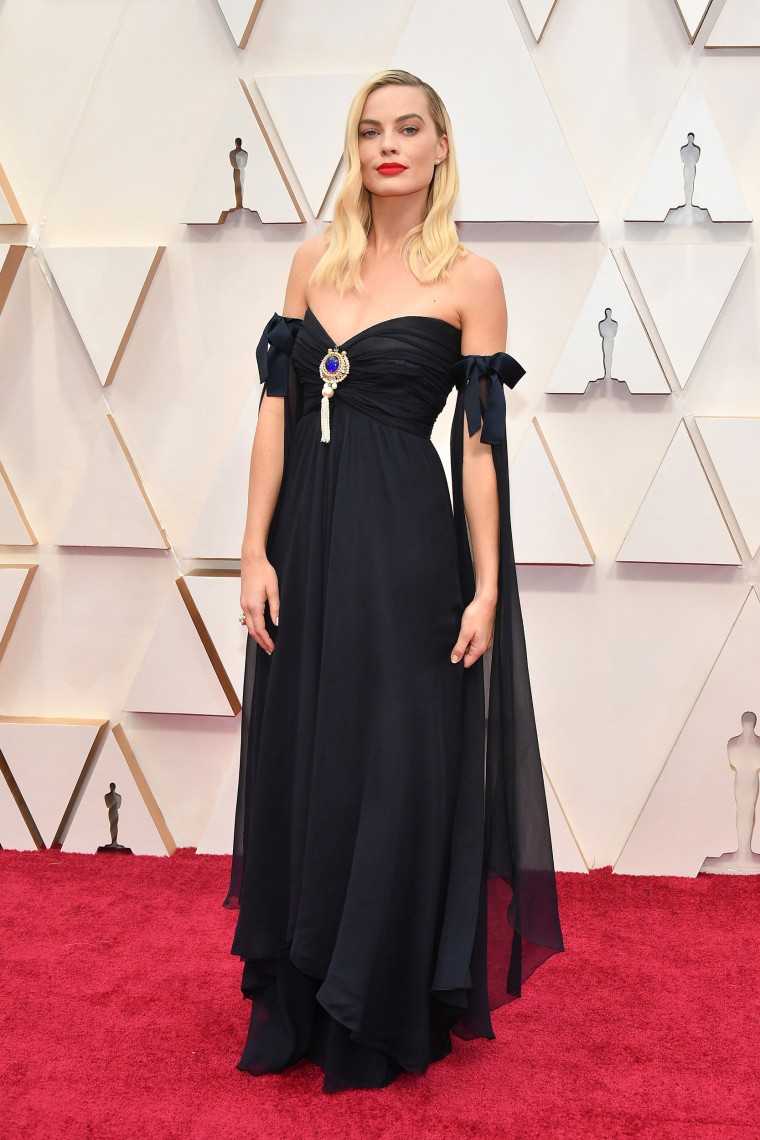 Margot Robbie chose a navy, off-the-shoulder gown completed with a blue statement brooch and bright red lipstick.
Saoirse Ronan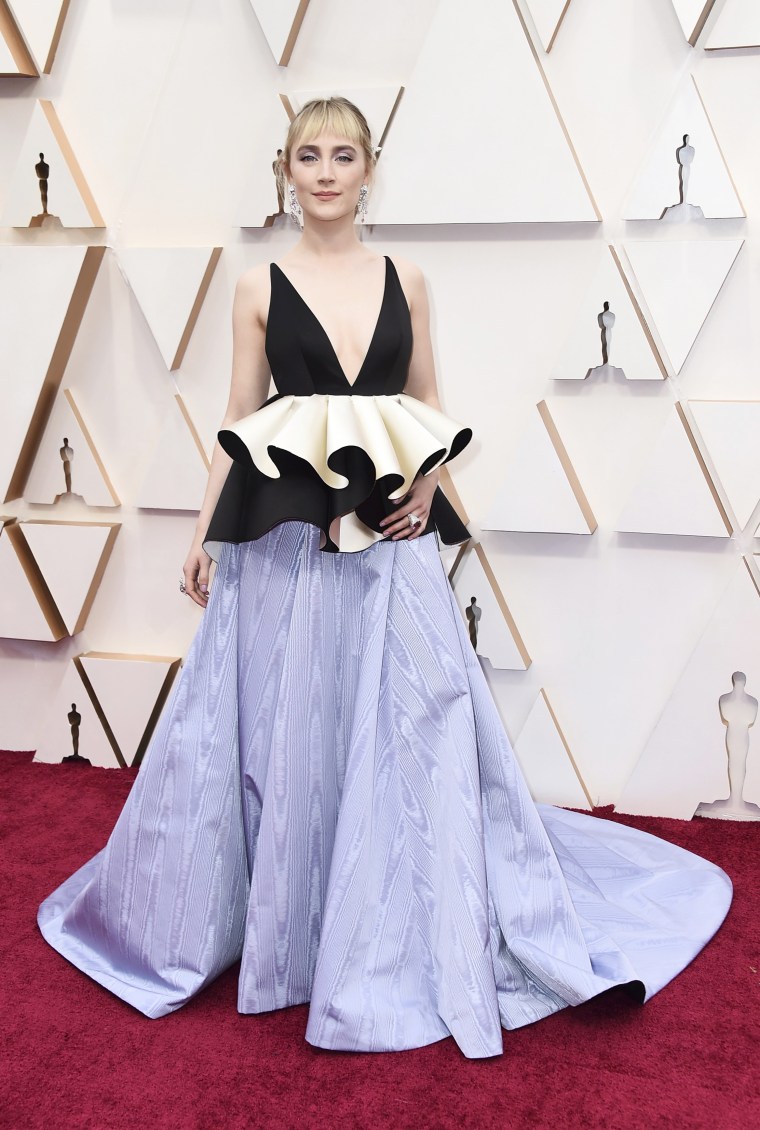 "Little Women" star Saoirse Ronan looked both elegant and trendy on the red carpet wearing this multitoned gown with major ruffles.
Brie Larson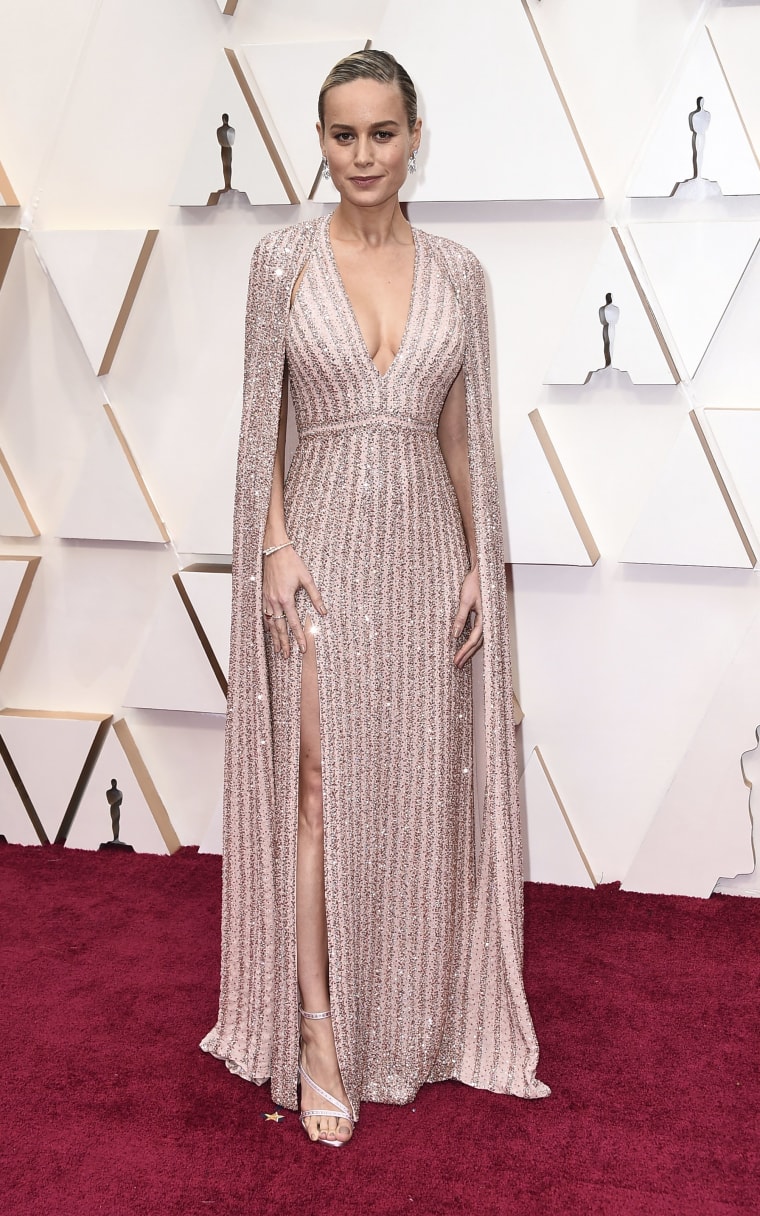 Otherwise known as Captain Marvel, Brie Larson wore a head-to-toe metallic gown with a matching cape. We think she could save the world looking this good.
Charlize Theron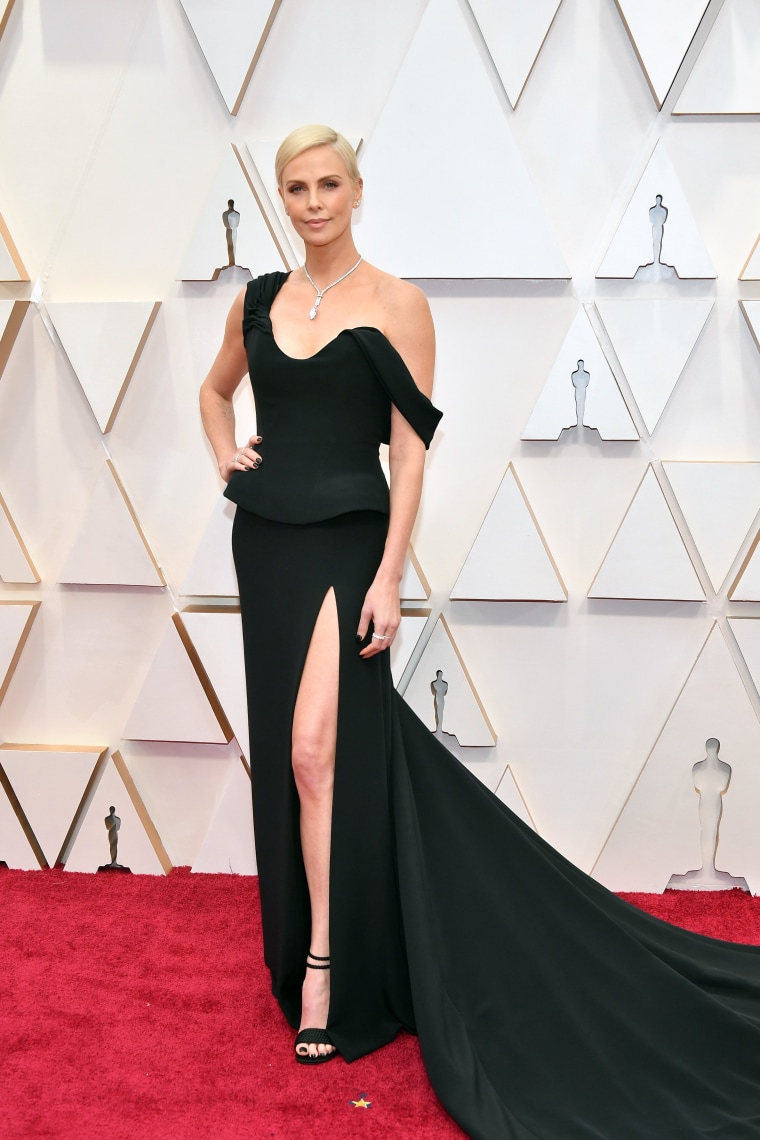 Charlize Theron looked gorgeous in an elegant blow gown with a major leg slit, but the star of the show was her one strap draped ever so gracefully off her shoulder.
Laura Dern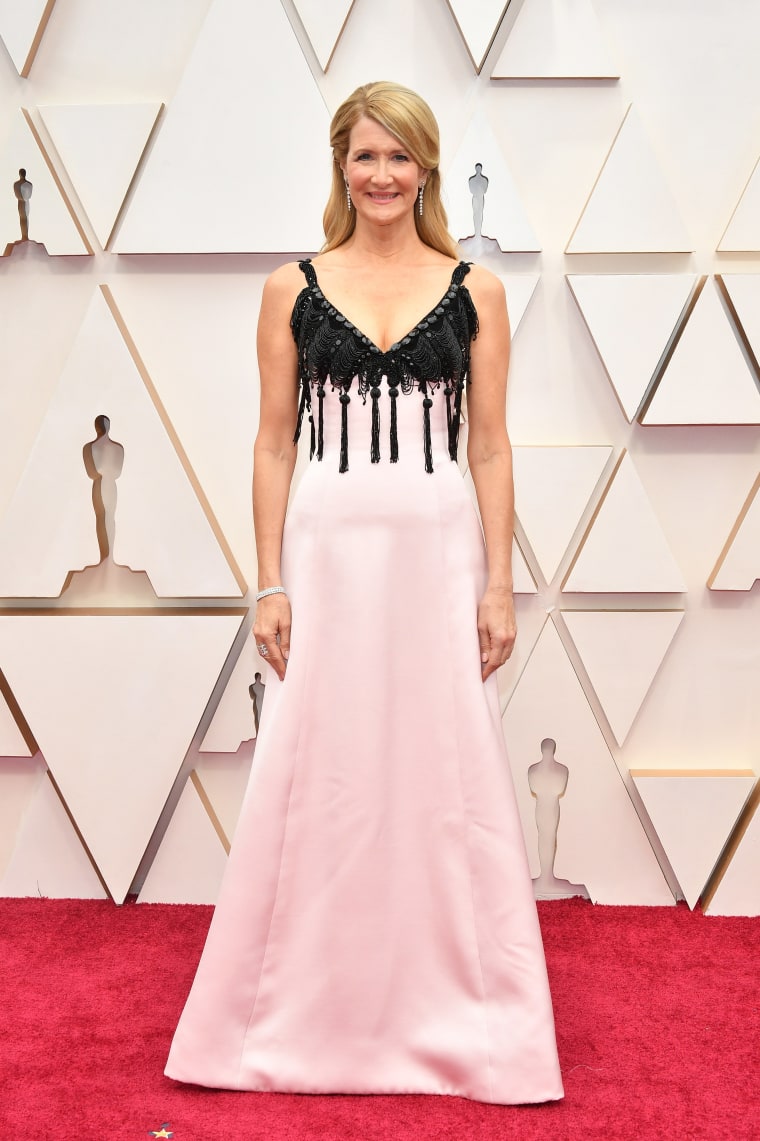 Laura Dern was having fun with fringe in this light pink, formfitting gown with a black bust and tassels.
Cynthia Erivo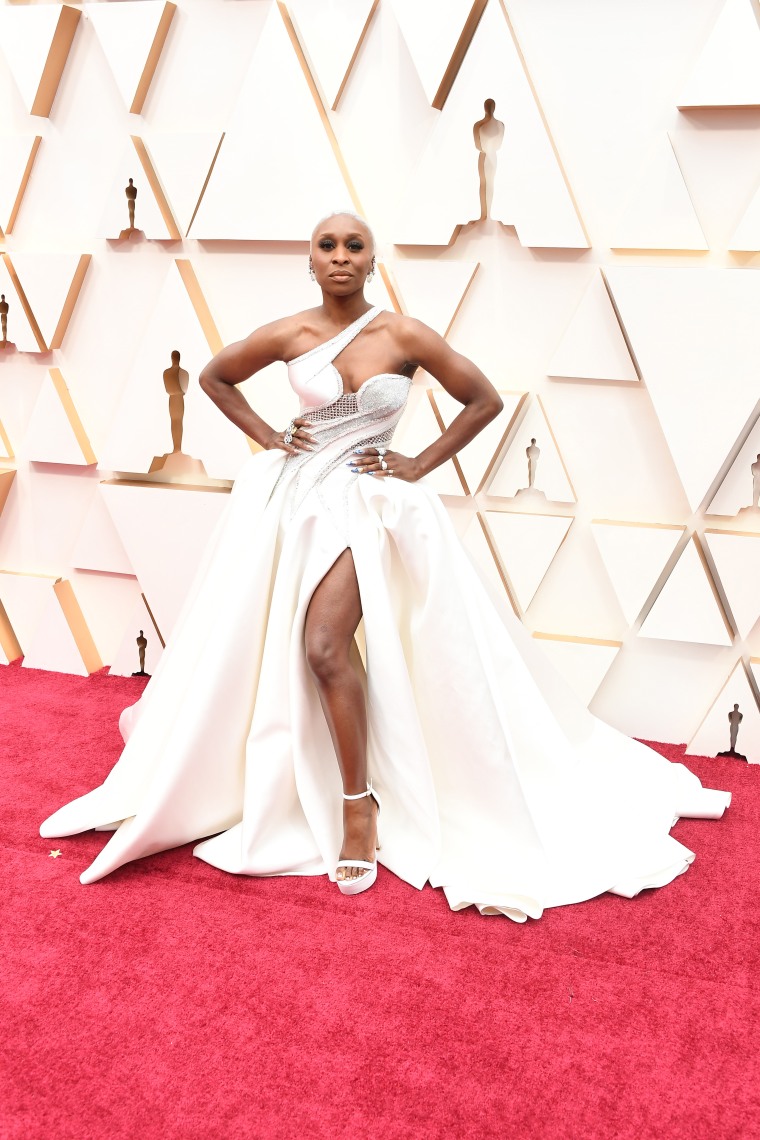 Before changing for her monumental performance during the awards show, Cynthia Erivo wore this showstopping white ballgown with an asymmetrical bodice. The high leg slit was the cherry on top!
Timothee Chalamet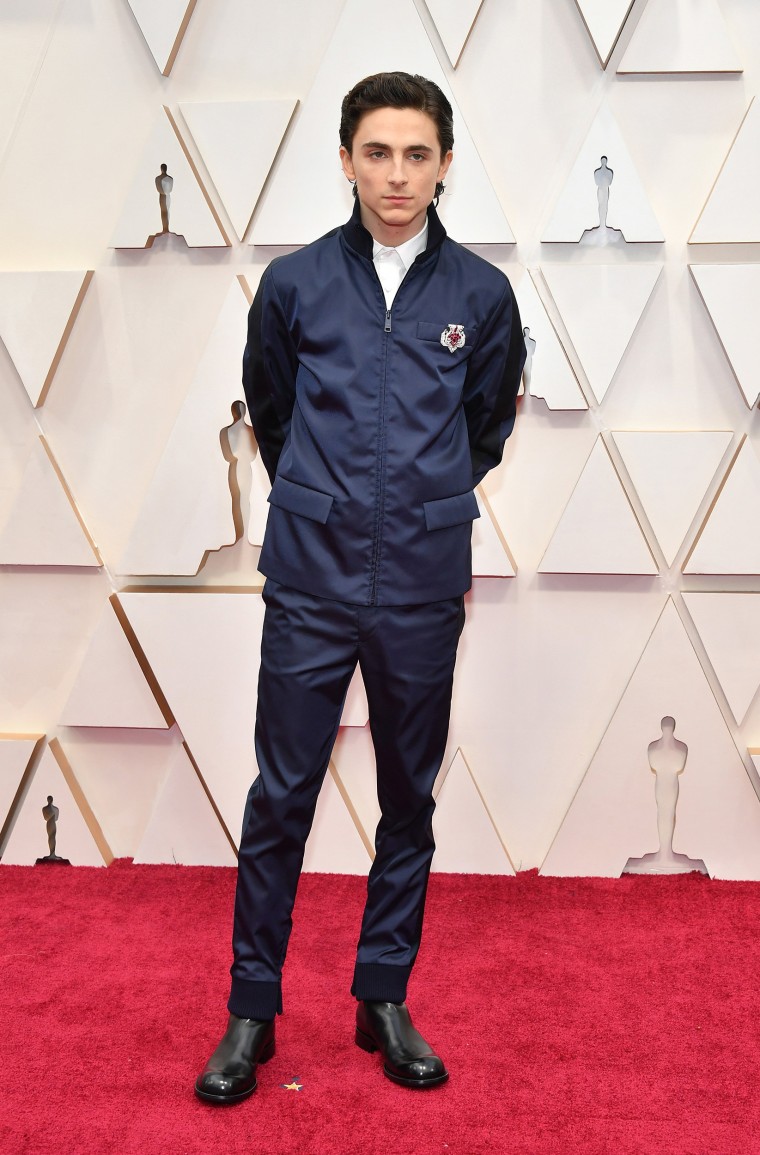 Talk about a red carpet moment! Timothee Chalamet turned heads in this minimalist Prada tracksuit-meets-eveningwear suit.
Brad Pitt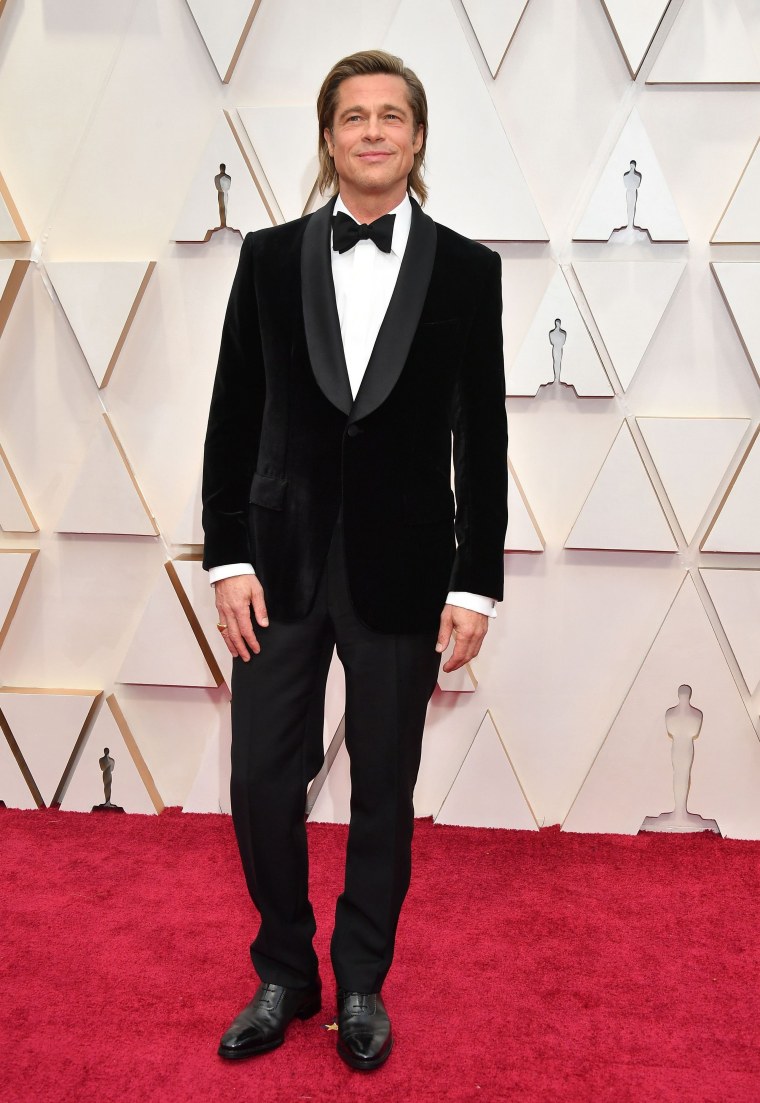 Brad Pitt graced the red carpet in this dashing black suit with a classic bow tie, melting hearts everywhere.
Rebel Wilson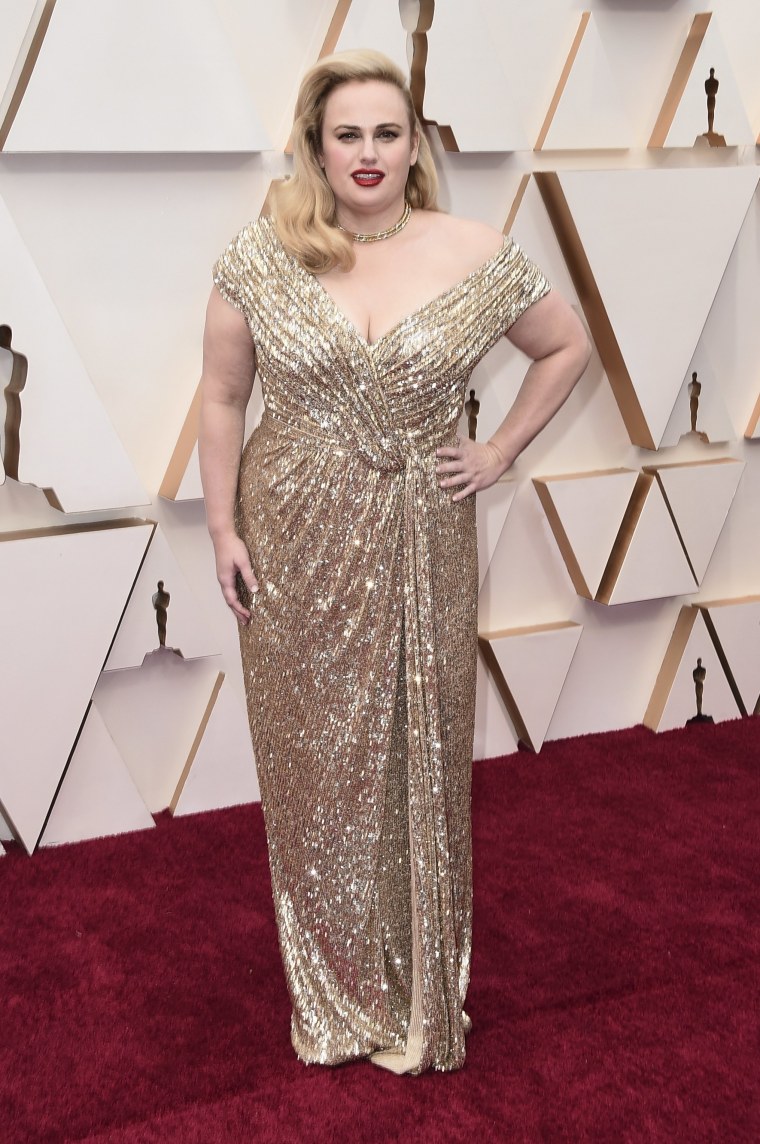 Rebel Wilson was the epitome of old Hollywood glamour in this metallic look featuring a golden gown, soft curls and red lip.
Florence Pugh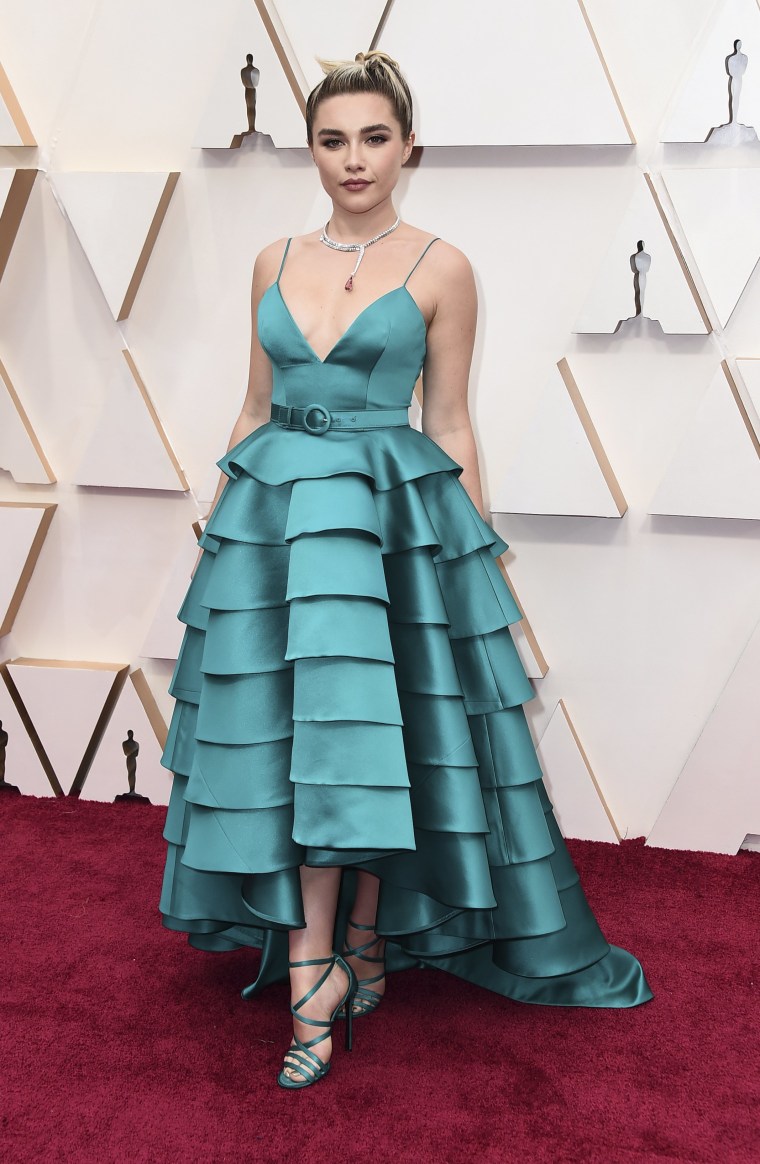 Looking elegant in her monochrome look, Florence Pugh stood out in turquoise with layered ruffles and matching strappy heels.
Janelle Monae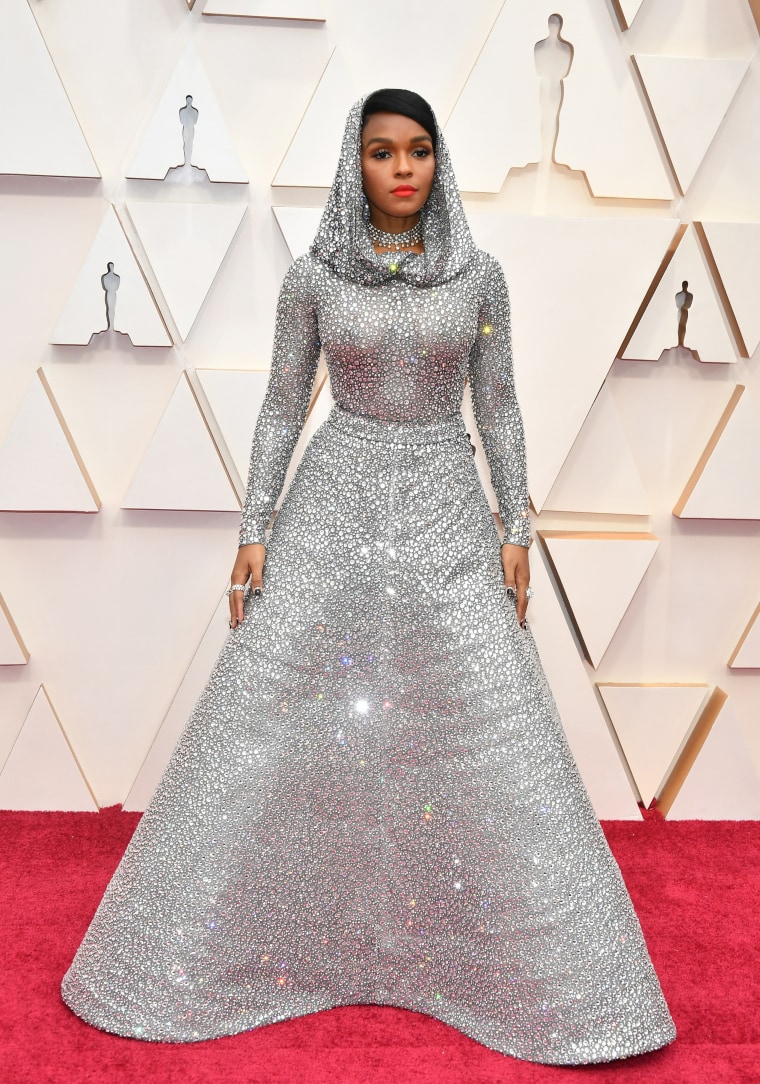 Janelle Monae looked like an actual a star on Sunday night with her silver hooded gown. It was paired with a silver necklace and rings, naturally.
Salma Hayek Pinault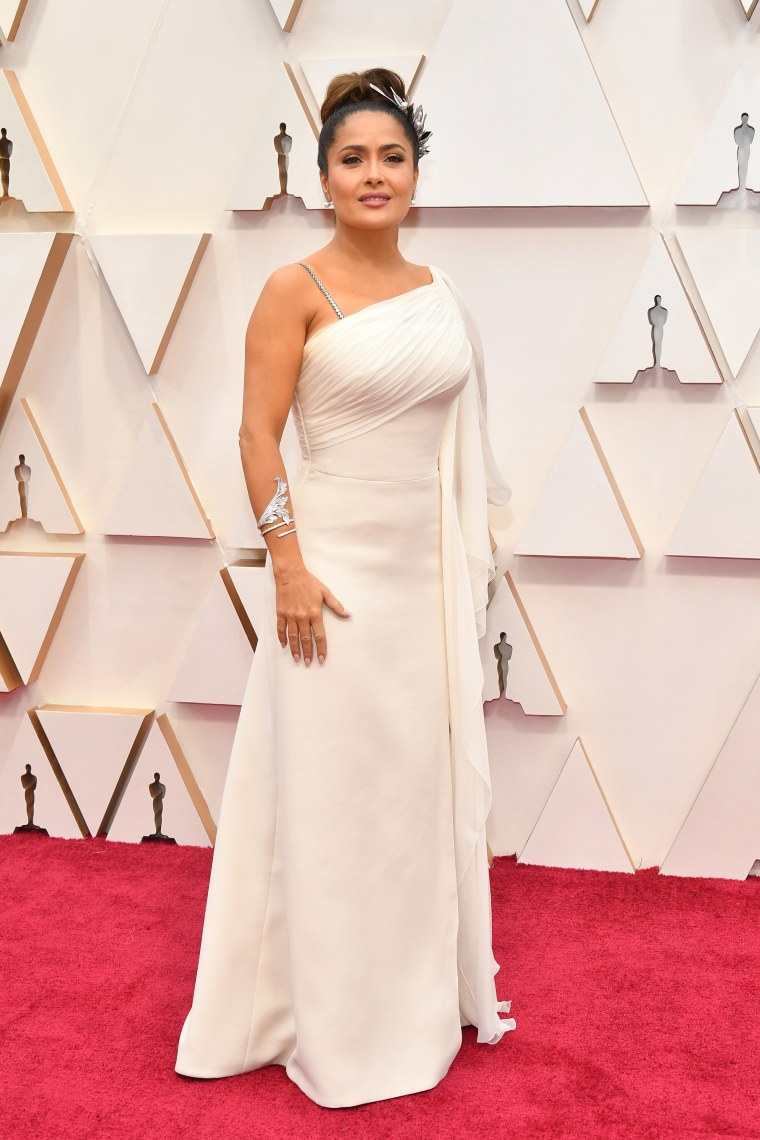 Salma Hayek arrived to the Academy Awards in minimalist and elegant one-shoulder gown accented with silver jewelry and a sleek updo.
Penelope Cruz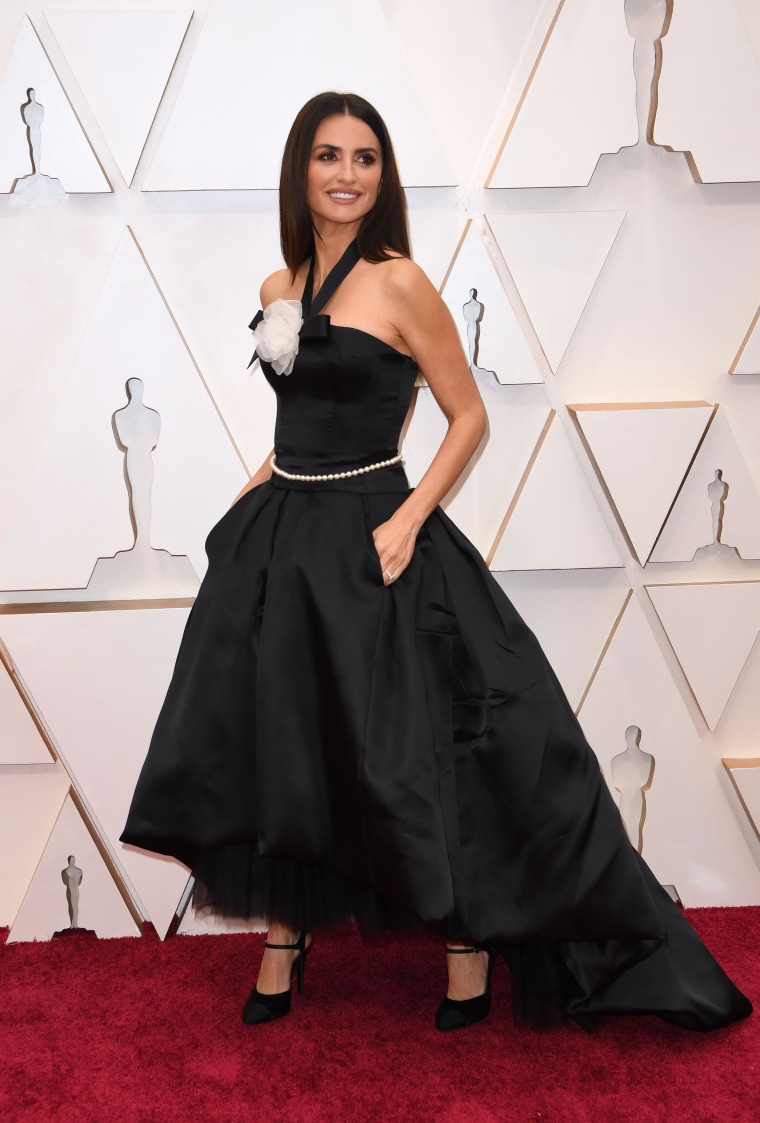 Penelope Cruz wore a sophisticated black dress inspired by Chanel's 1995 Haute Couture collection. Did you notice her belt made of pearls? Swoon!
Greta Gerwig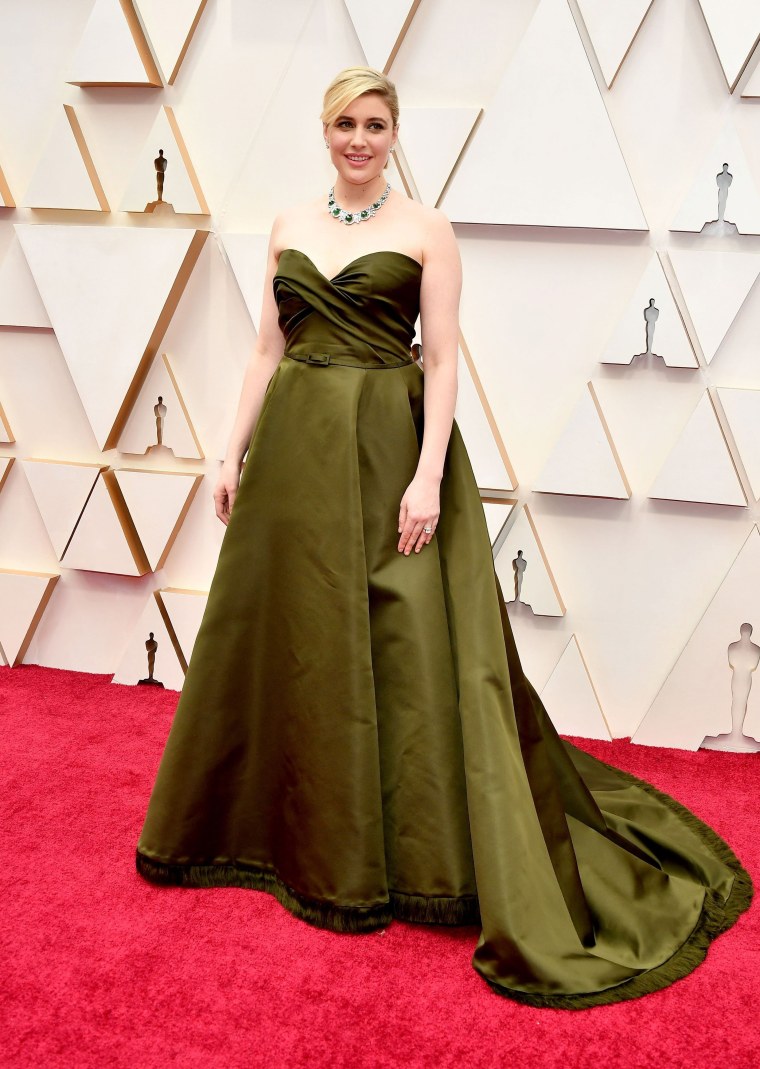 Director and actress Greta Gerwig opted for an A-line olive green gown with a classic sweetheart neckline.
Kaitlyn Dever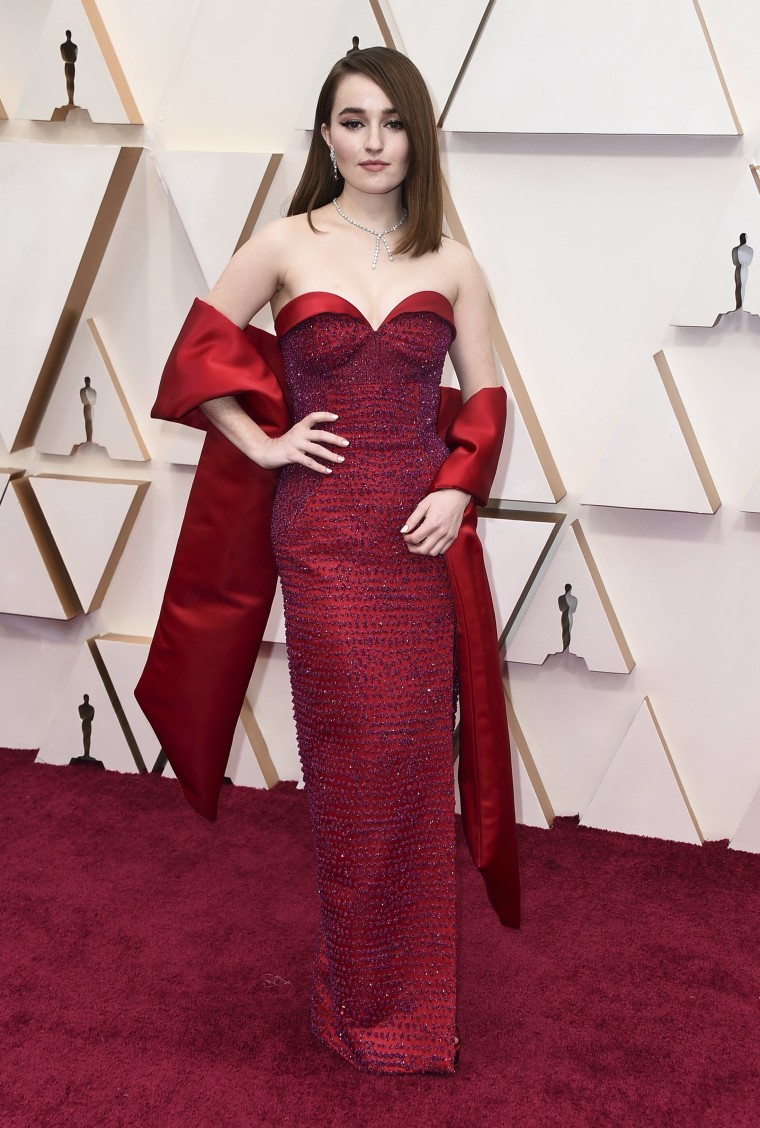 Rocking in red! "Unbelievable" star Kaitlyn Dever looked every bit the Hollywood starlet as she paired her formfitting gown with an elegant matching sash.
Billy Porter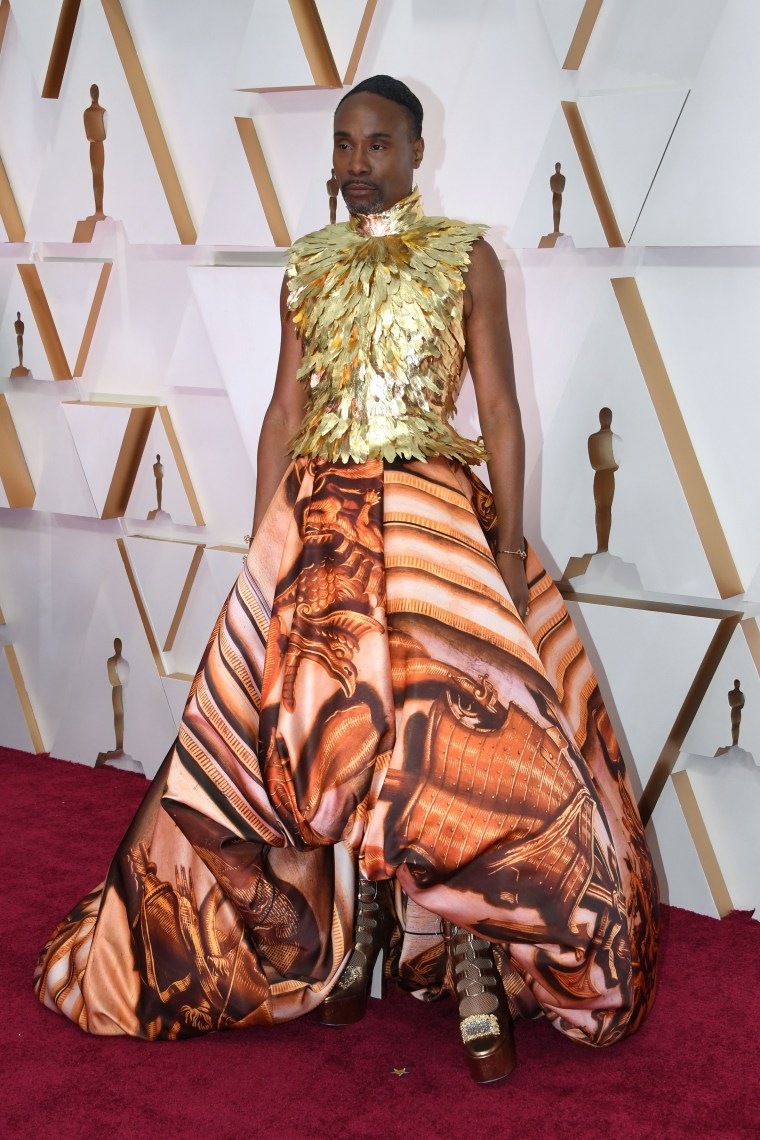 Going for gold! Billy Porter incorporated the metallic hue into every aspect of his outfit for the night.
Billie Eilish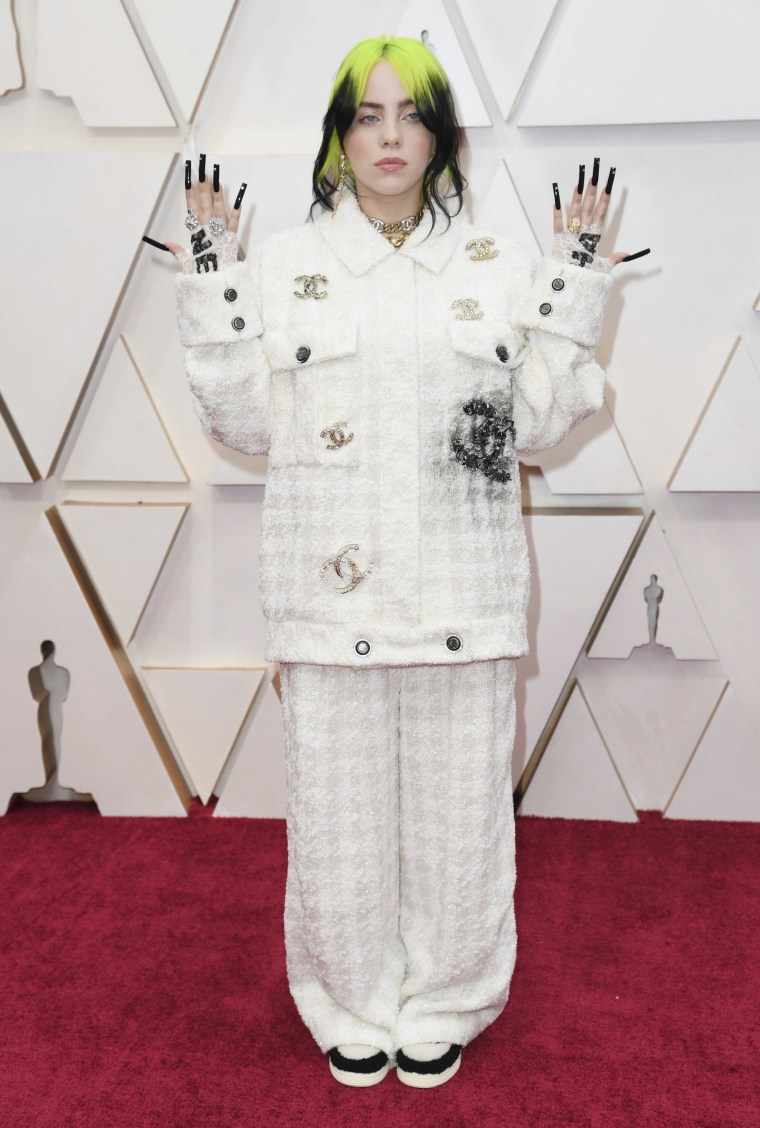 Billie Eilish is known for her out-of-the-box looks and she wowed us once again with this custom Chanel pantsuit paired with long black nails.
Chrissy Metz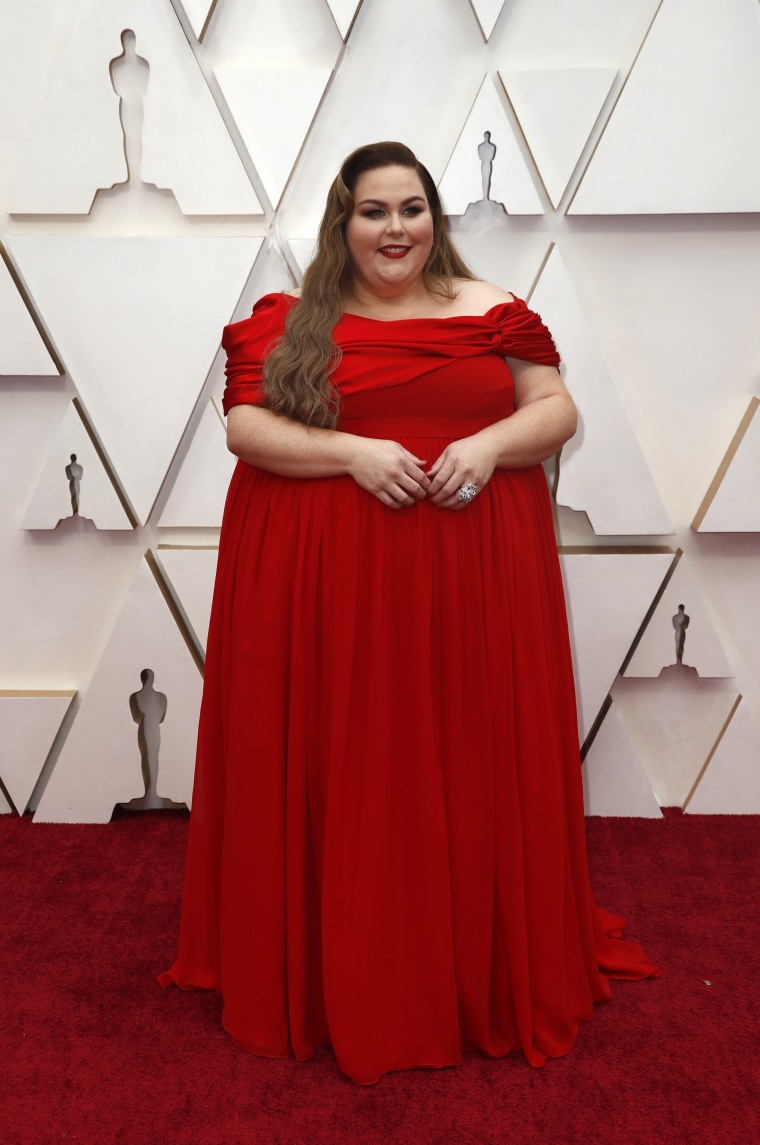 Chrissy Metz looked radiant in red wearing this sophisticated, vibrant gown paired with the perfect shade of red lipstick.
Scarlett Johansson and Colin Jost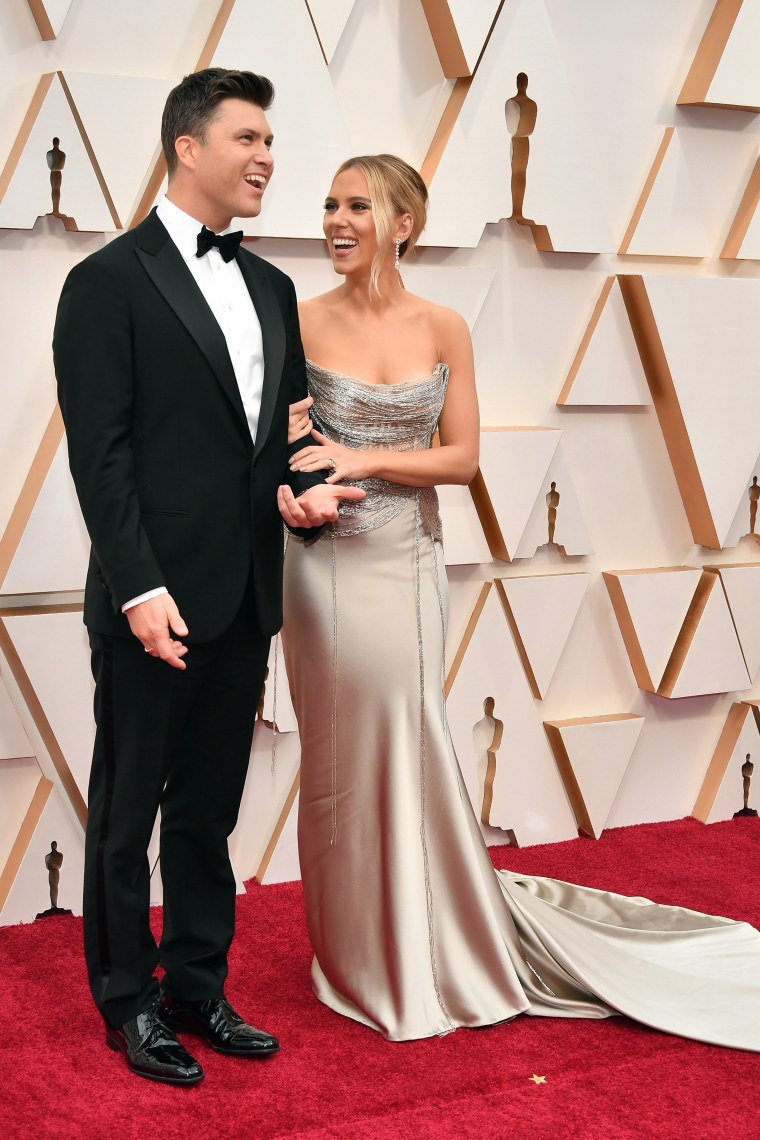 Scarlett Johansson, who was nominated for two Oscars this year, looked elegant and timeless in this slinky strapless gown.
Regina King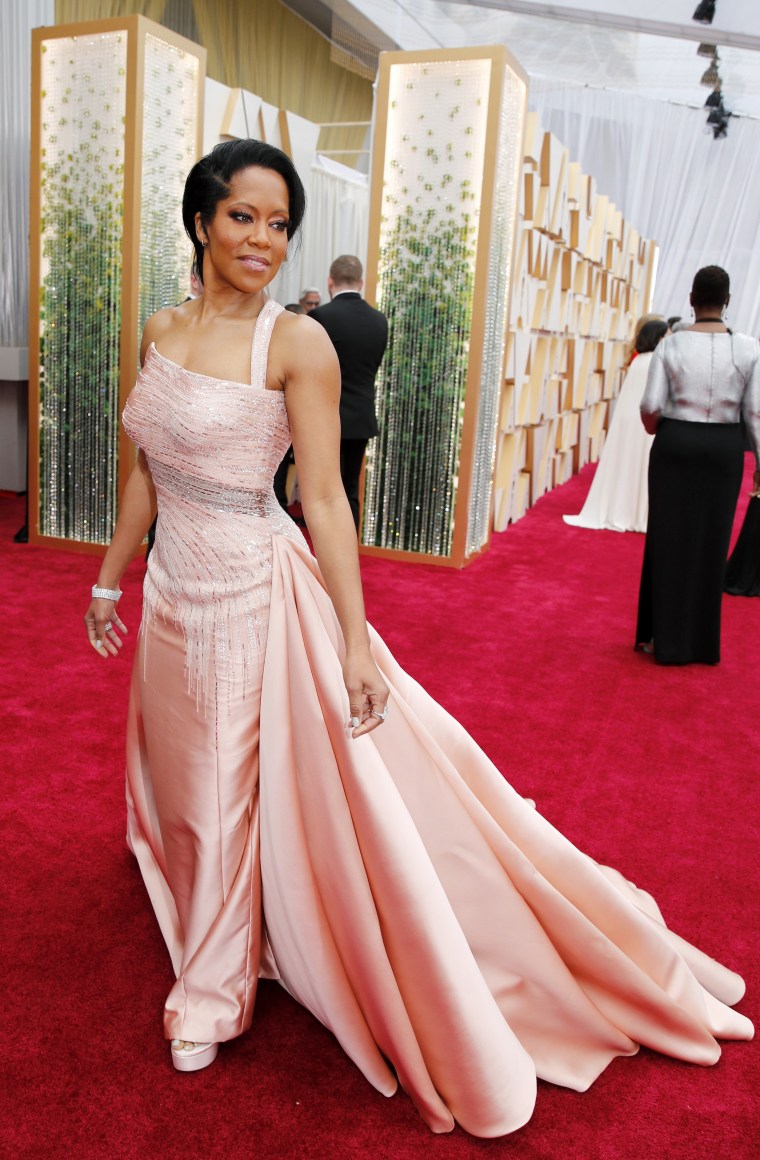 Red carpet royalty! Regina King looked regal in a soft pink gown with a single strap and long train.
Natalie Portman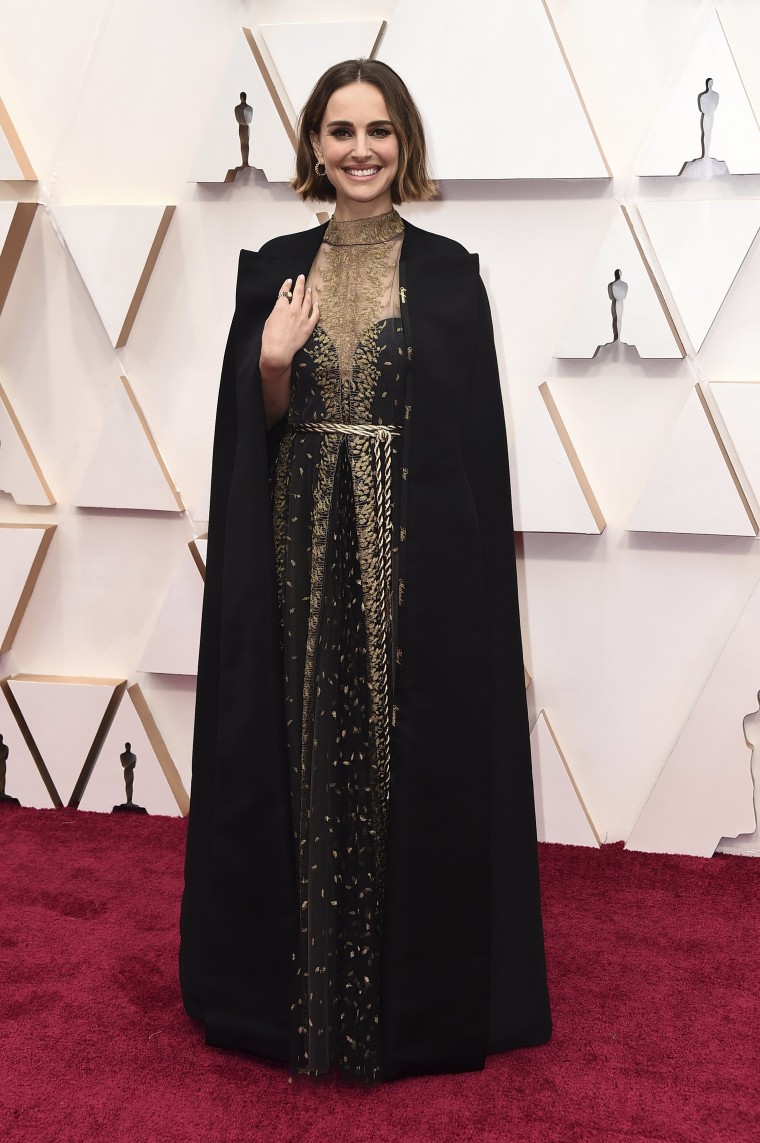 Natalie Portman's embroidered gown was stunning — but it was her cape that caught everyone's attention. She brought attention to all the women who were not nominated for best director by including their names stitched onto the trim.
Mindy Kaling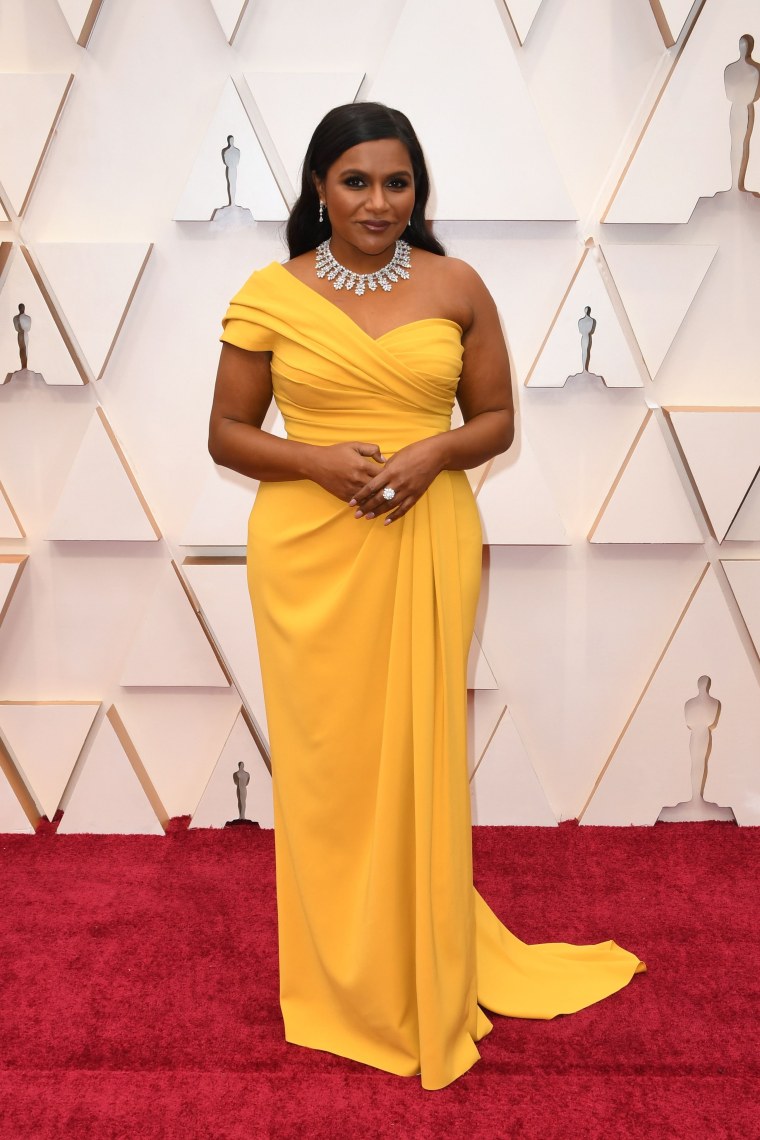 Mindy Kaling looked like a golden goddess in this sunny yellow gown with a one-shoulder neckline.
America Ferrera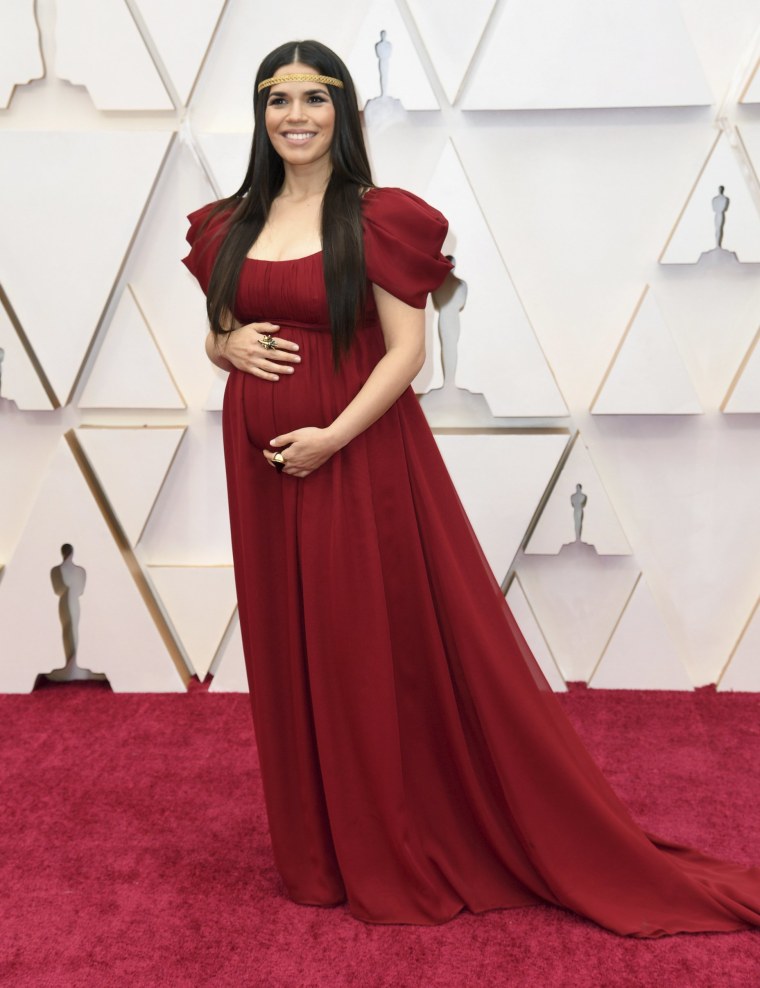 America Ferrera glowed at this year's Academy Awards. The mama-to-be, who is pregnant with her second child, paired her elegant red dress with a golden headband inspired by her heritage.
Renee Zellweger
The best actress winner, for her starring role in "Judy," kept it sleek and simple in this glittery one-shoulder white gown.
Sandra Oh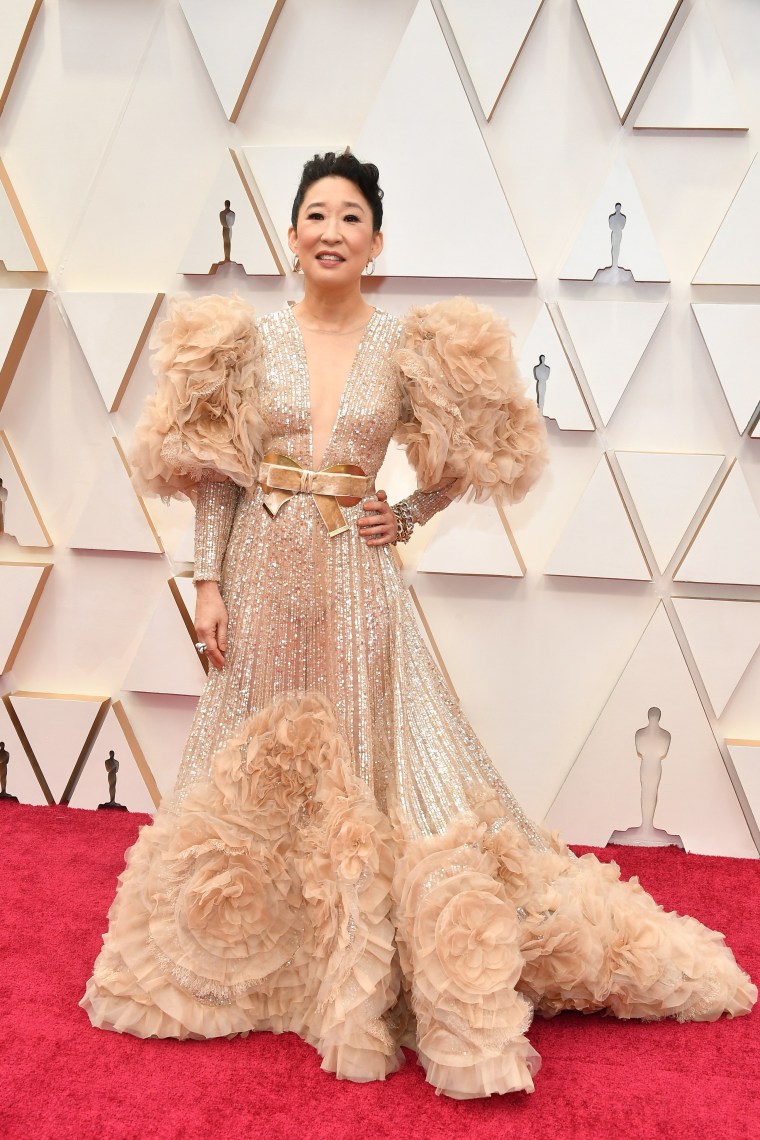 Oh, how we love these sleeves! Sandra Oh made jaws drop on the red carpet when she wore this nearly nude gown covered in ruffles.
Rooney Mara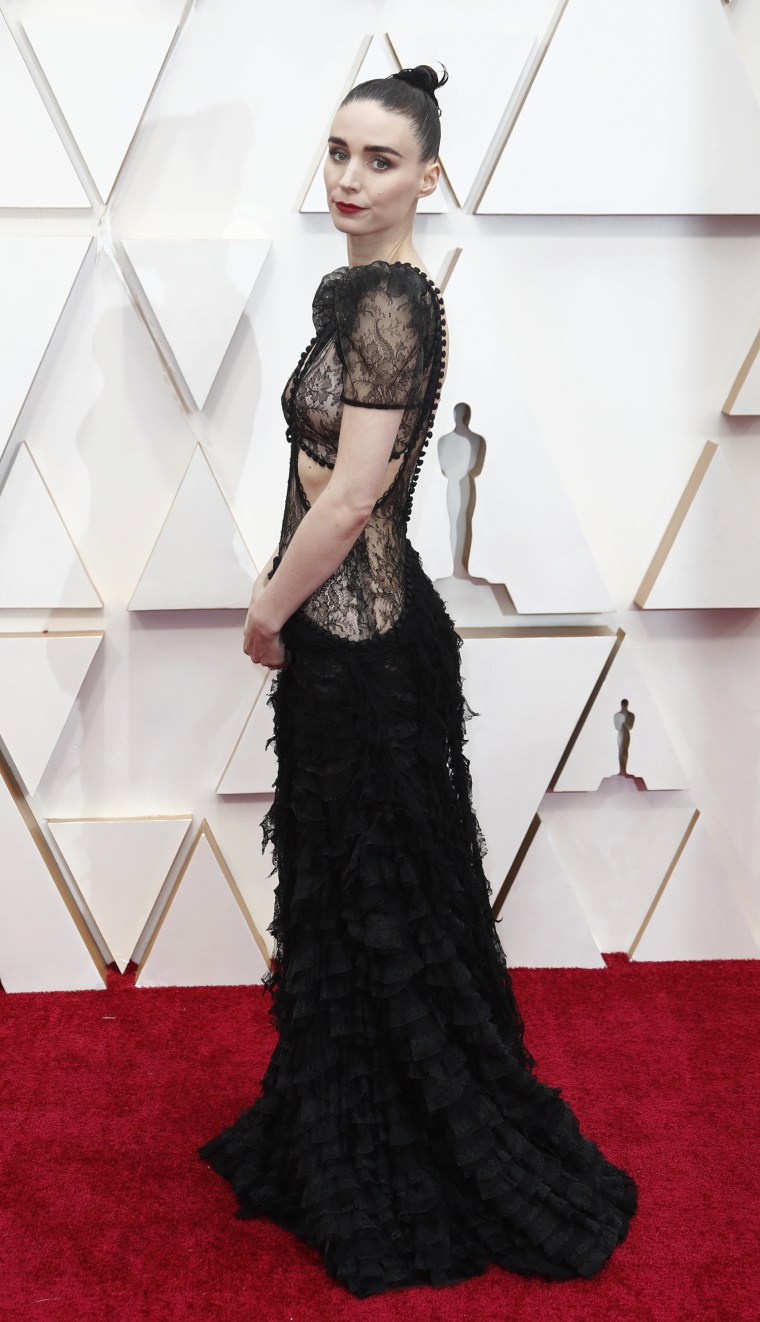 Looking lovely in lace, Rooney Mara was not afraid to show all in this sheer gown with a ruffled skirt.
Gal Gadot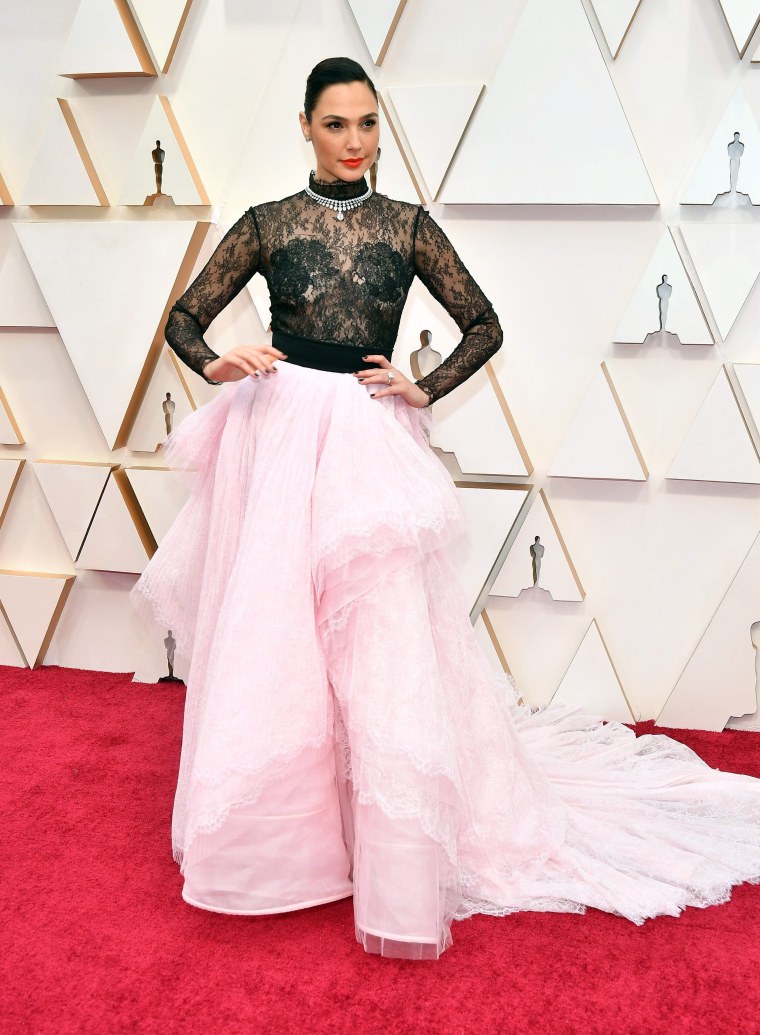 Gal Gadot's gown was a study in contrasts, proving that a black lace bodice deserves a ruffled pink skirt. Her sleek hairstyle and statement necklace made us love the ensemble even more.
Anthony Ramos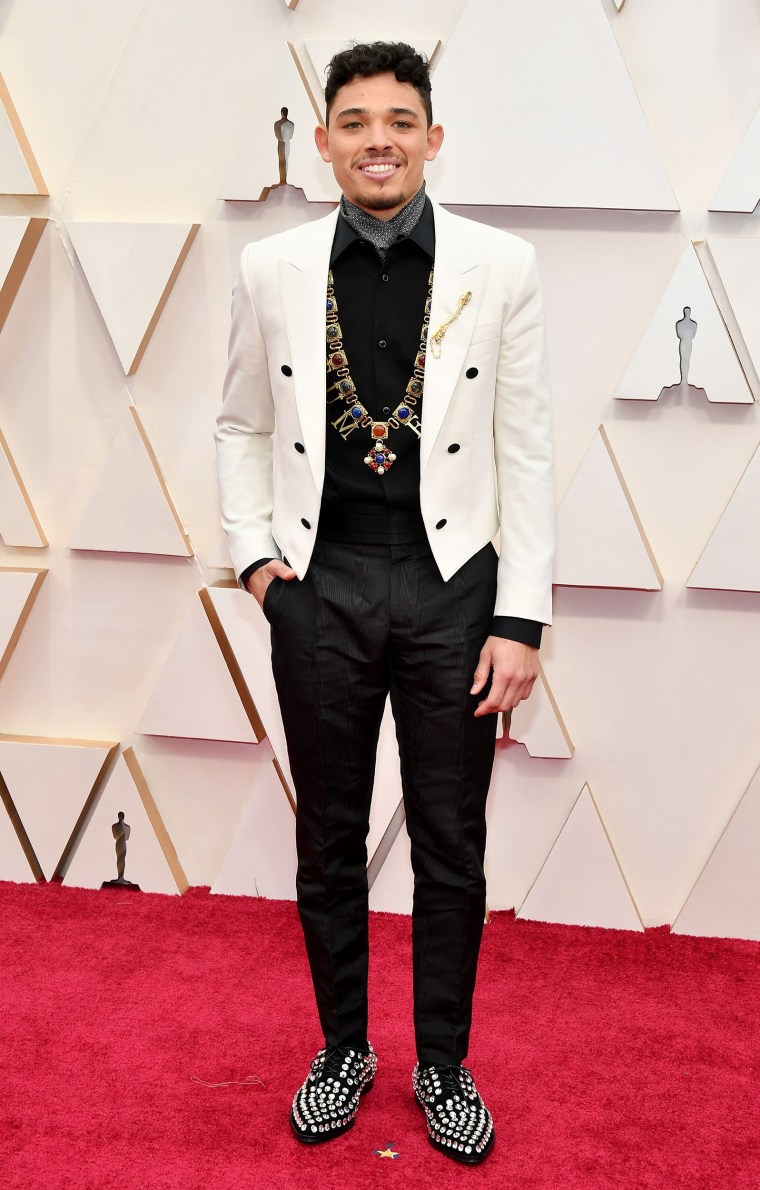 Attending his first Academy Awards, actor Anthony Ramos wore a black suit with a white jacket. But all eyes were on his stylish statement necklace.
Margaret Qualley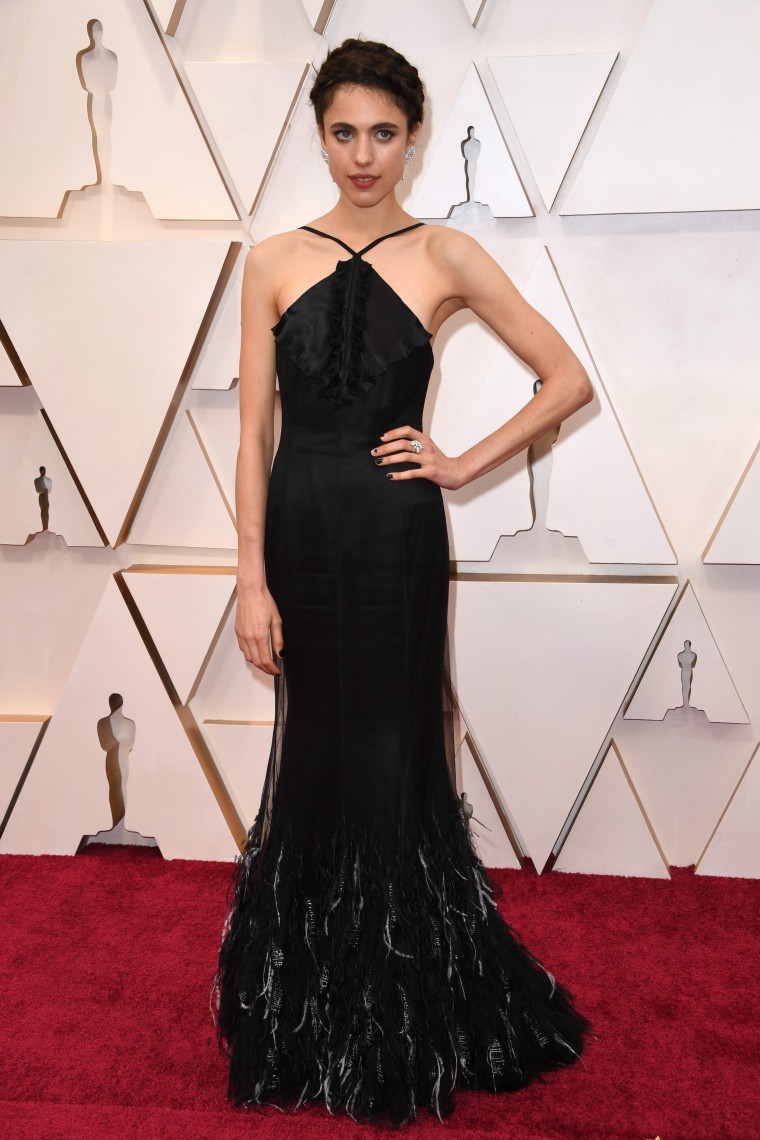 "Once Upon a Time ... in Hollywood" actress Margaret Qualley wore this classy black gown with a feathered bottom.
Julia Louis-Dreyfus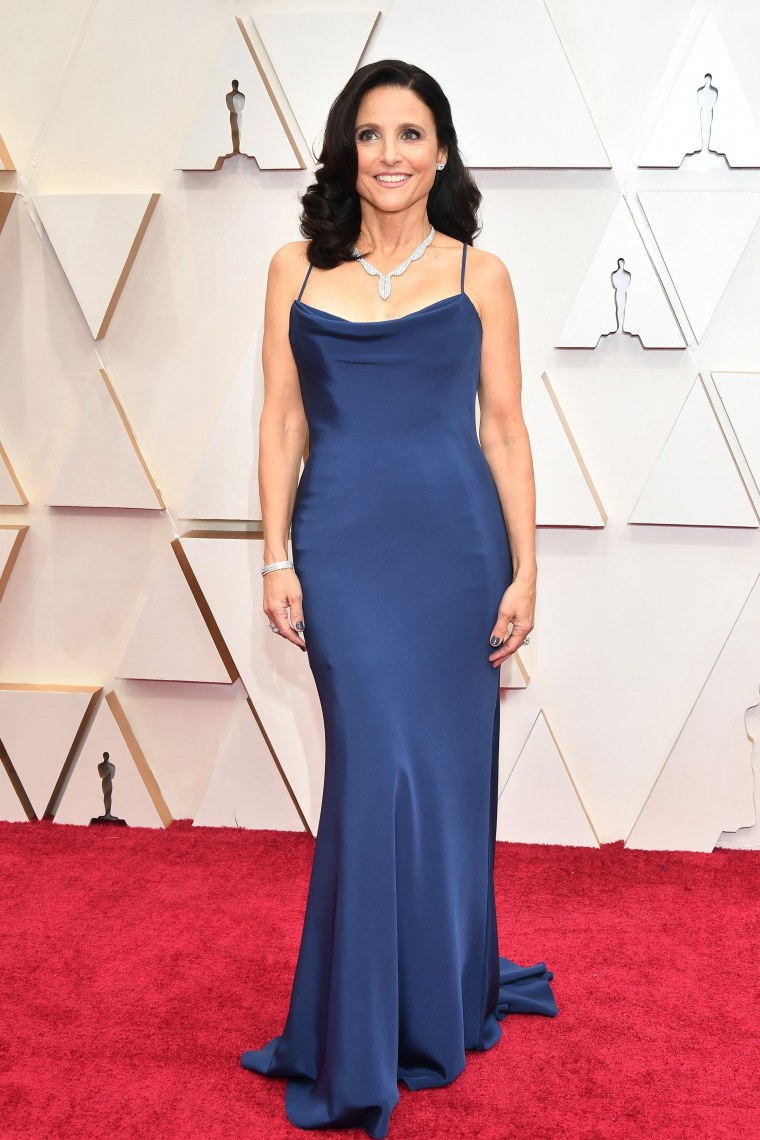 Sometimes, simple really is best as Julia Louis-Dreyfus proved in this minimalist and sleek gown.
Beanie Feldstein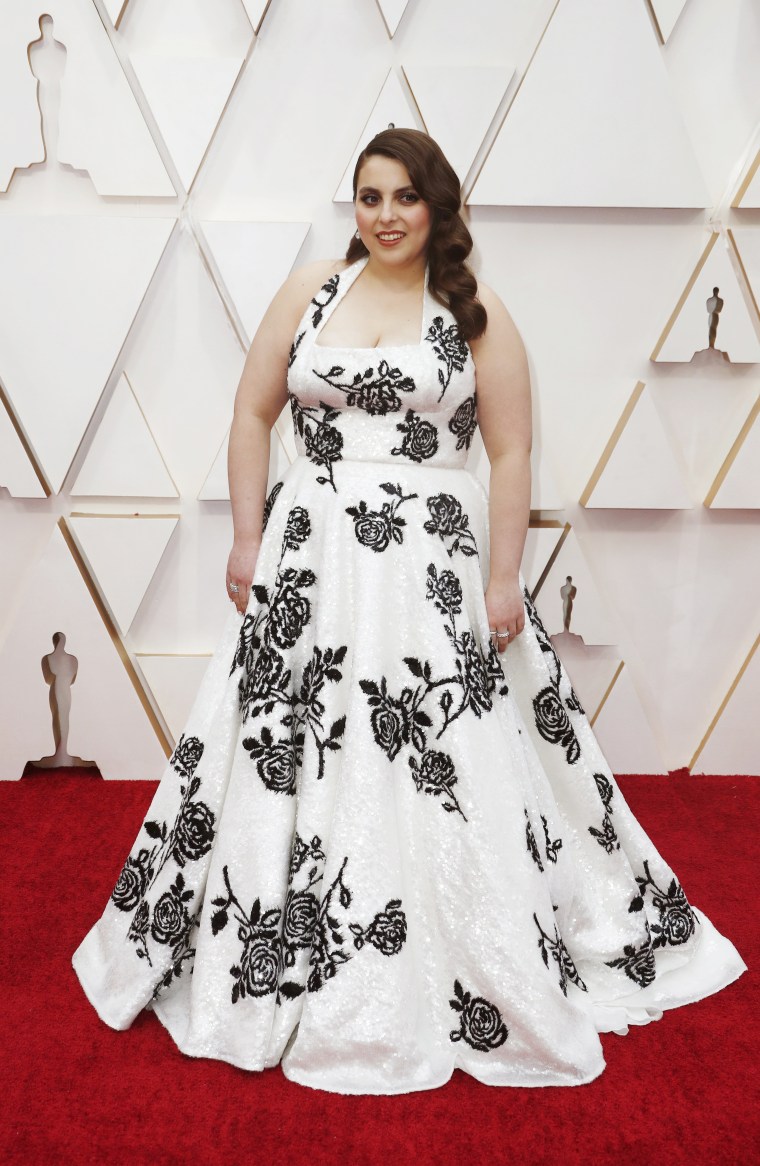 Beanie Feldstein graced the Oscars in this flower-covered gown that stood out from the pack at the Oscars.
Spike Lee, Tonya Lewis Lee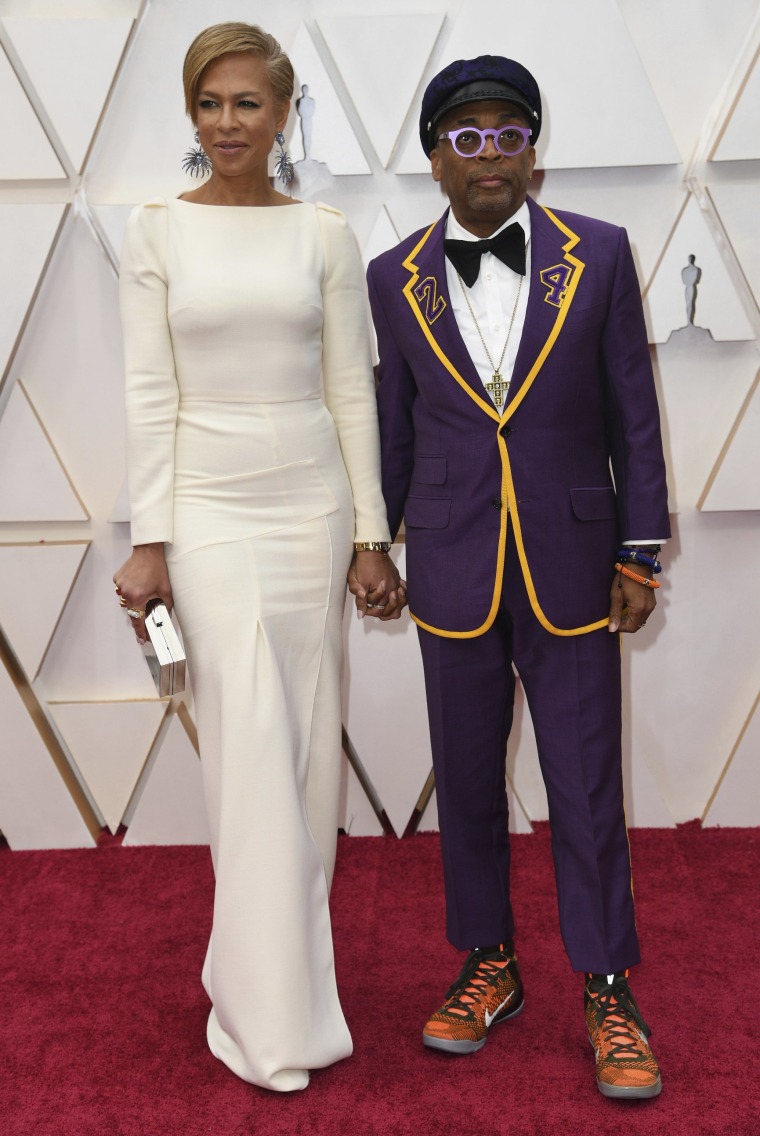 Spike Lee wore a custom purple suit featuring the number 24 as a touching tribute to Kobe Bryant, the legendary basketball player and Oscar winner.
Julia Butters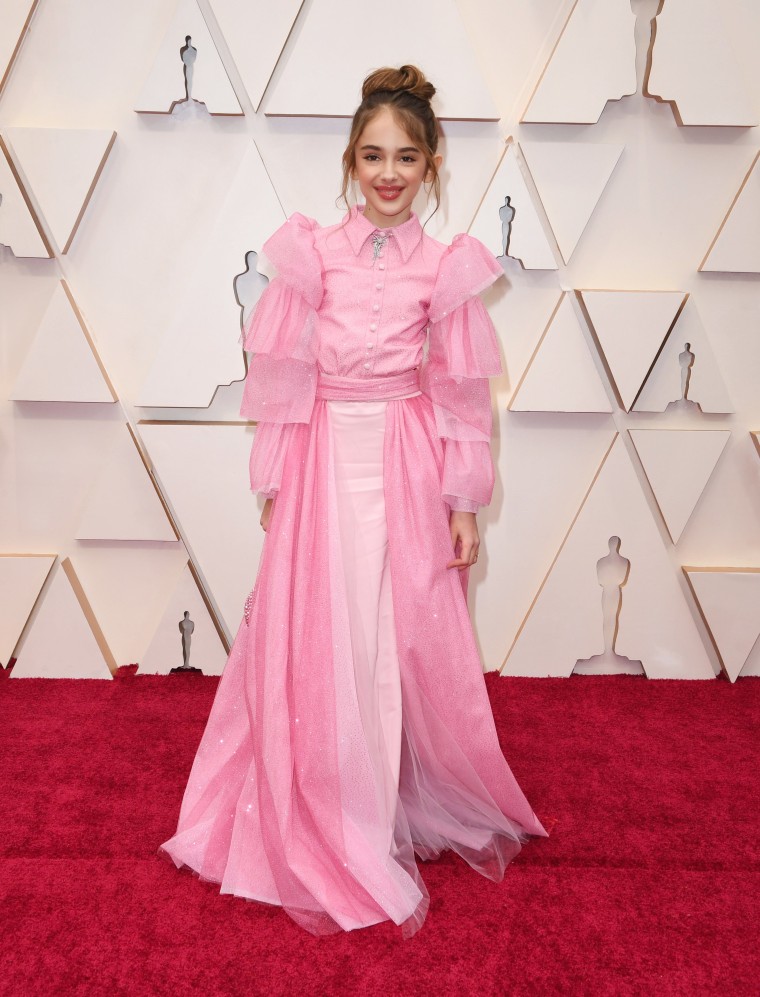 Julia Butters strutted the red carpet in this playful, pink Christian Siriano gown that was both adorable and appropriate!
Geena Davis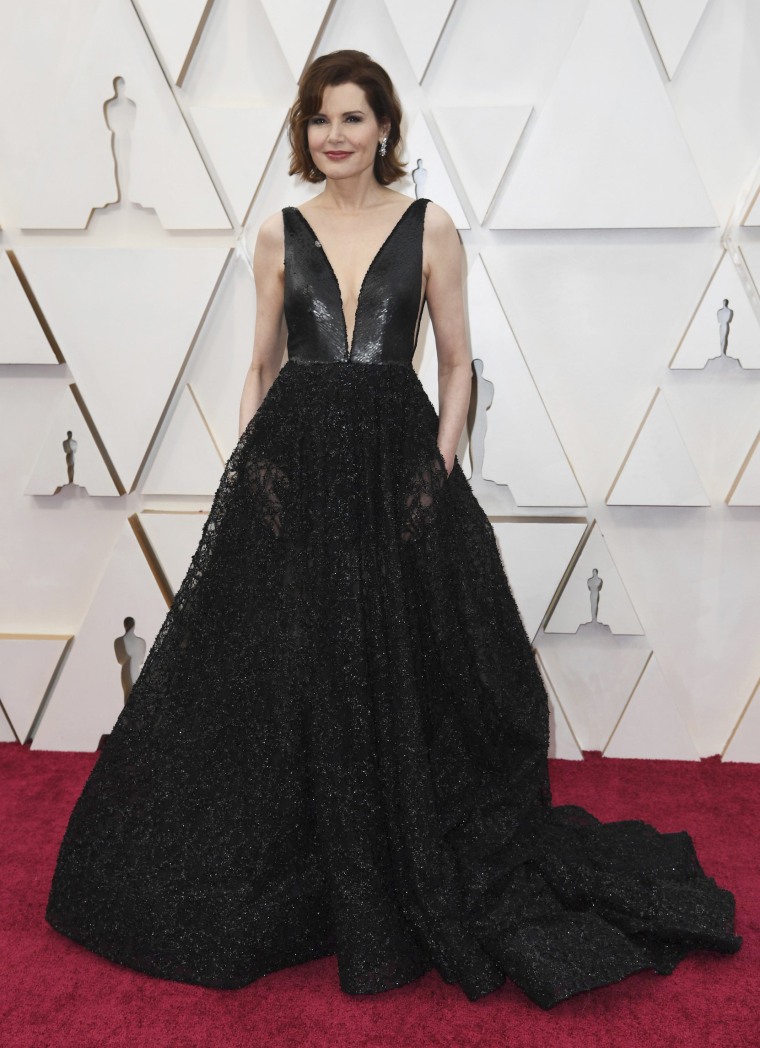 Honored with the 2020 Humanitarian Award, Geena Davis wore an elegant black gown with a plunging neckline. But the best part of her dress was that it had pockets.
Olivia Colman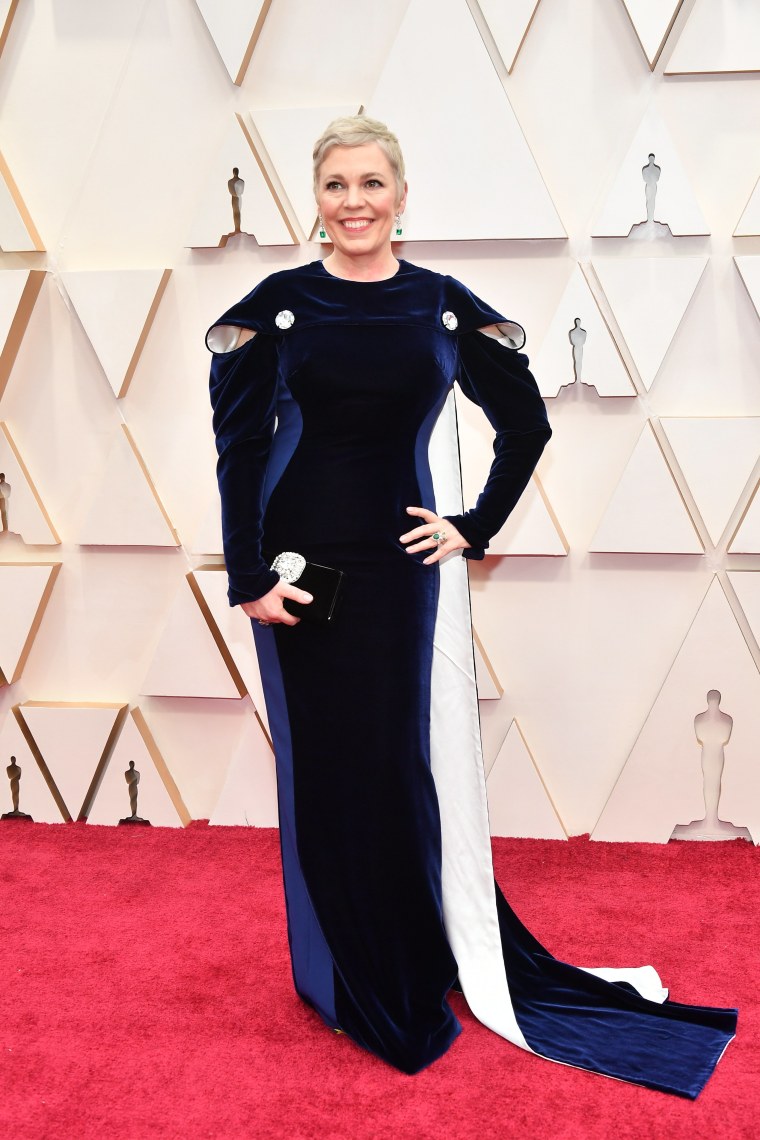 Olivia Colman plays Queen Elizabeth II in the hit Netflix show "The Crown" and looked like royalty herself in this rich, velvet gown.
Maya Rudolph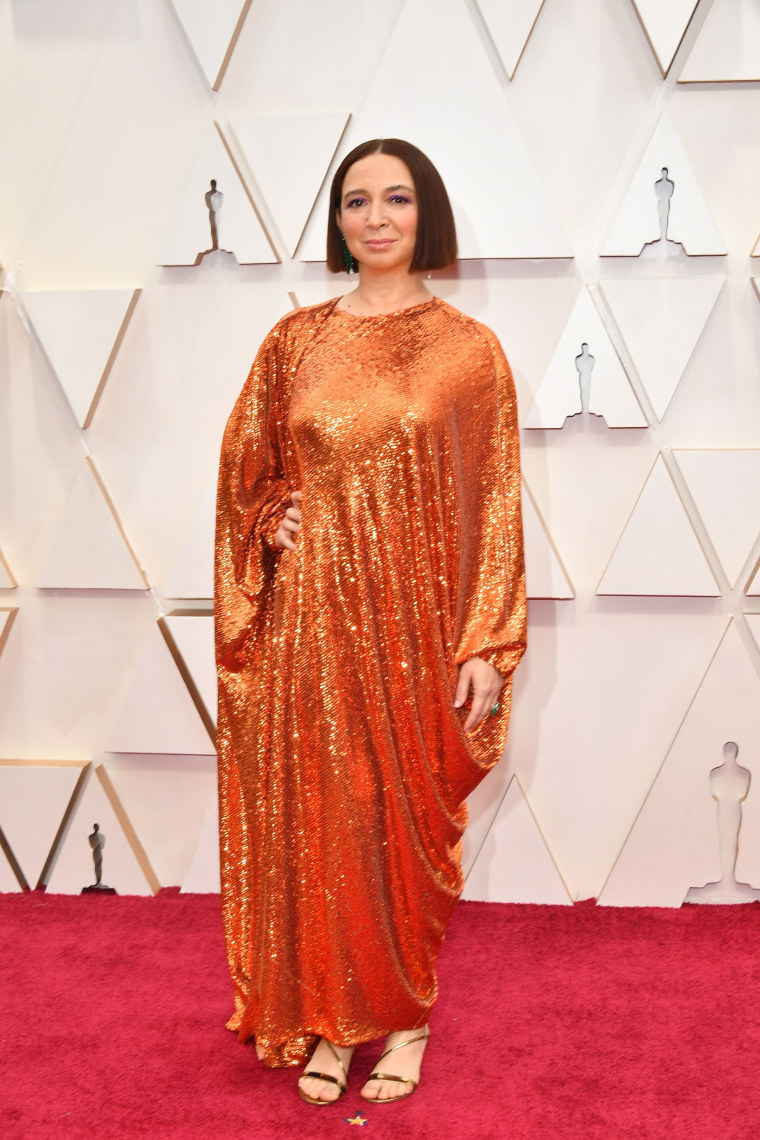 Maya Rudolph looked chic and cool in this glittery orange gown designed by Valentino.
Lea Seydoux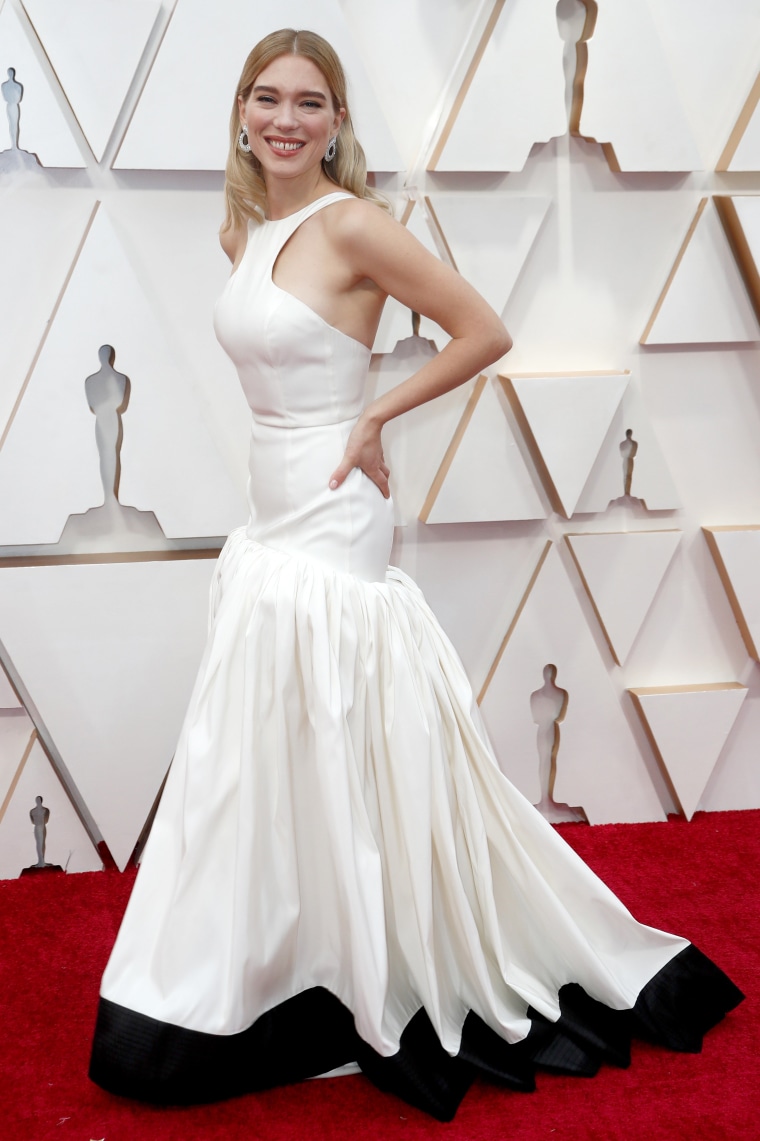 French actress Lea Seydoux looked classy and elegant in this gown featuring a trumpet skirt and solid black hem.
Idina Menzel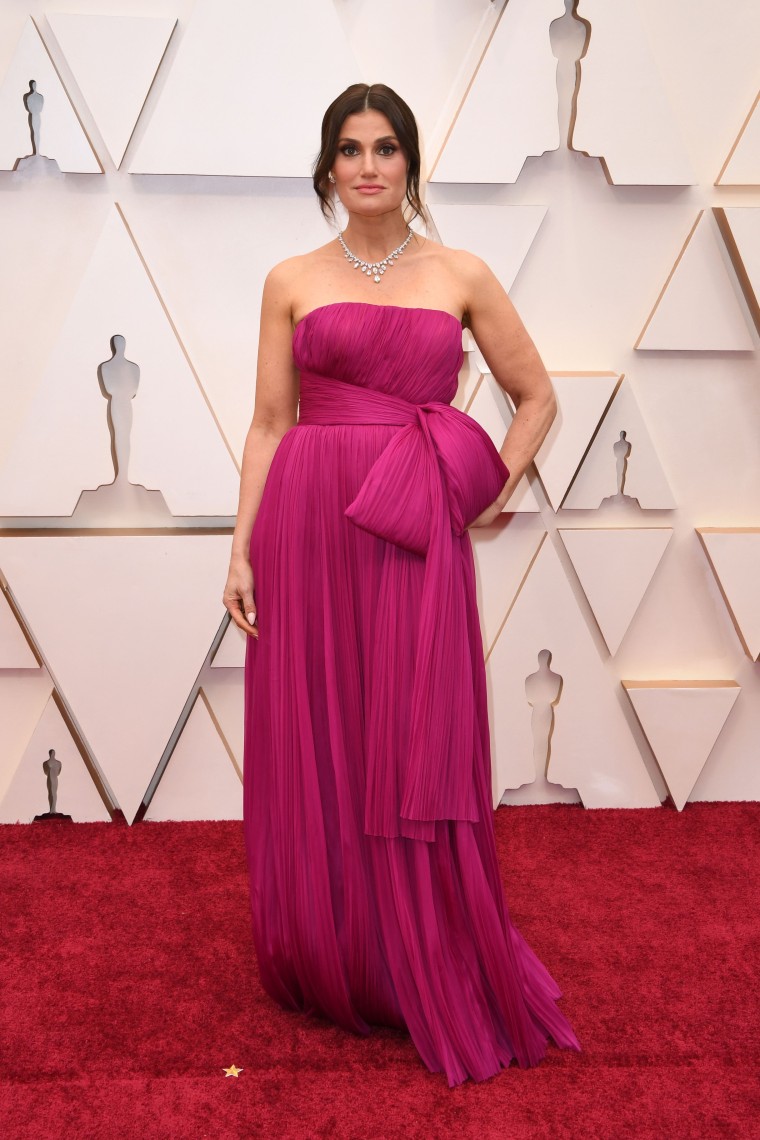 "Frozen" star Idina Menzel was a vision in jewel tones wearing this magenta gown with a large statement bow at her waist.
Keanu Reeves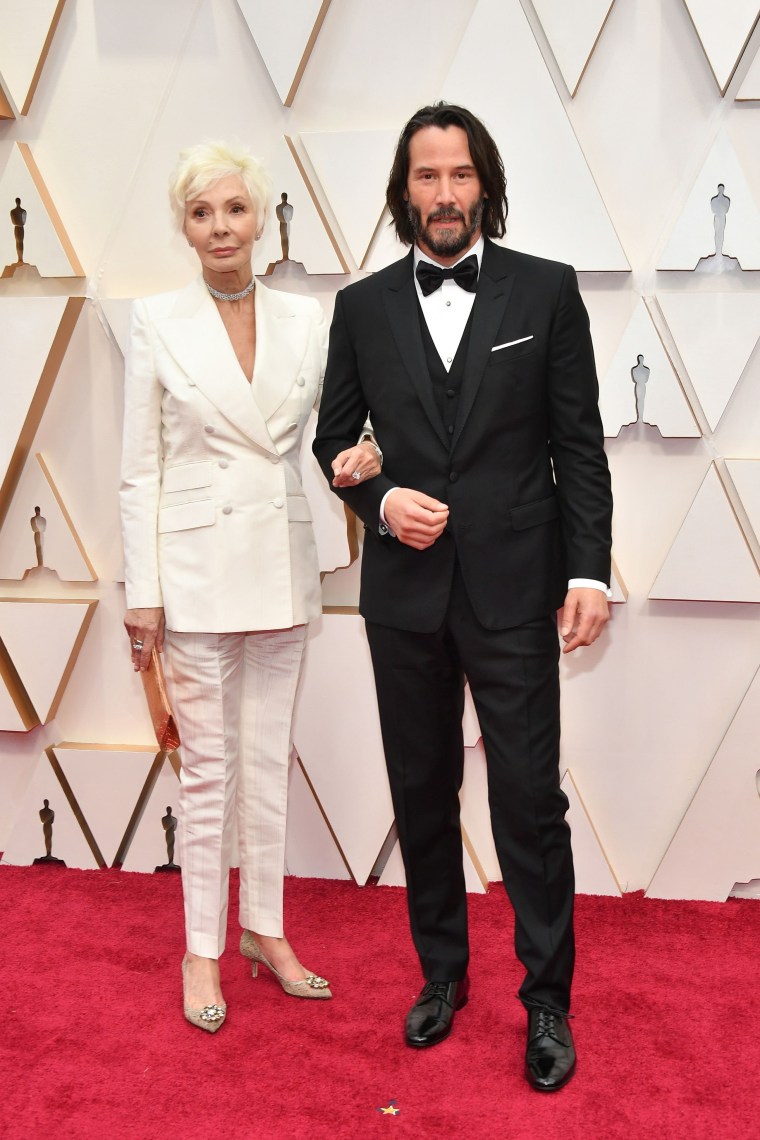 Keanu Reeves brought his mom, Patricia Taylor, and the duo became our favorite dates of the evening.
Roman Griffin Davis and Archie Yates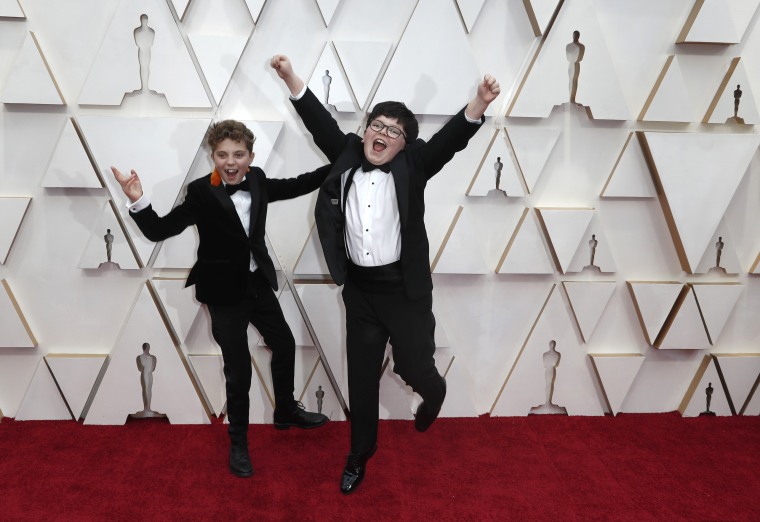 The "Jojo Rabbit" stars weren't afraid to have some fun at this year's Academy Awards.
Lily Aldridge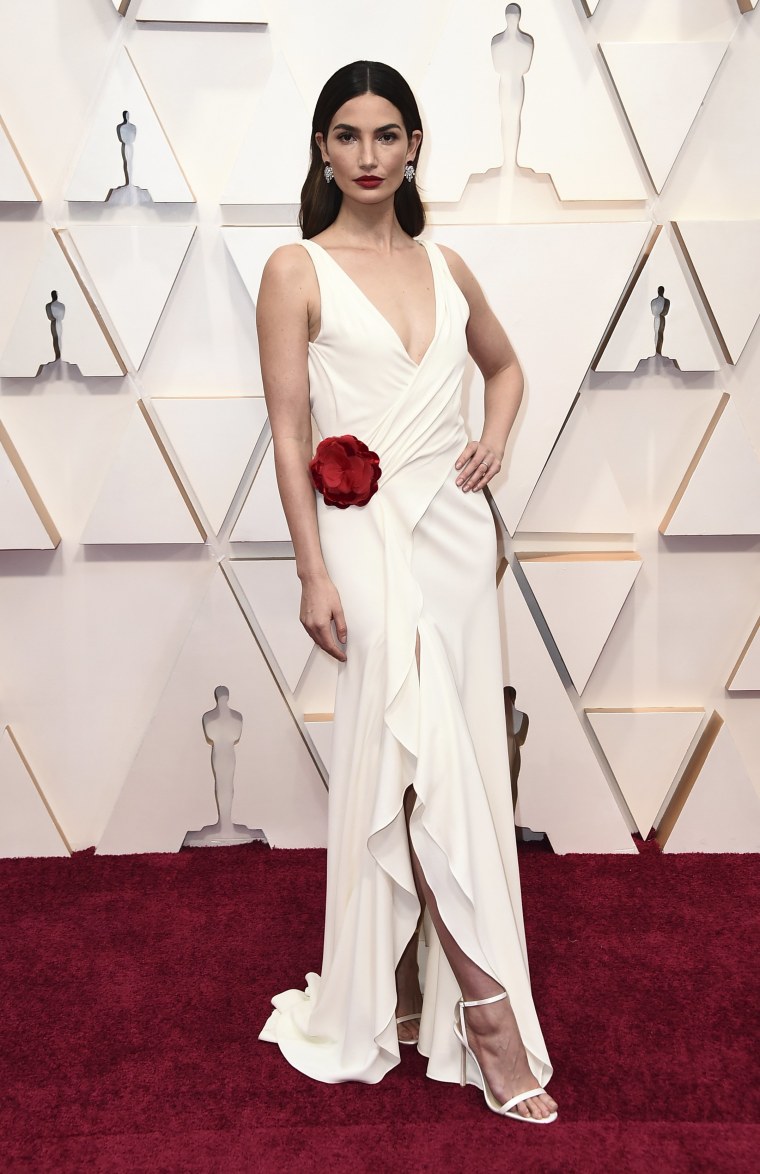 Simple and sophisticated, model Lily Aldridge wore this white gown with an asymmetrical leg slit. The simple look was complete thanks to a bright red flower on her hip.
Zazie Beetz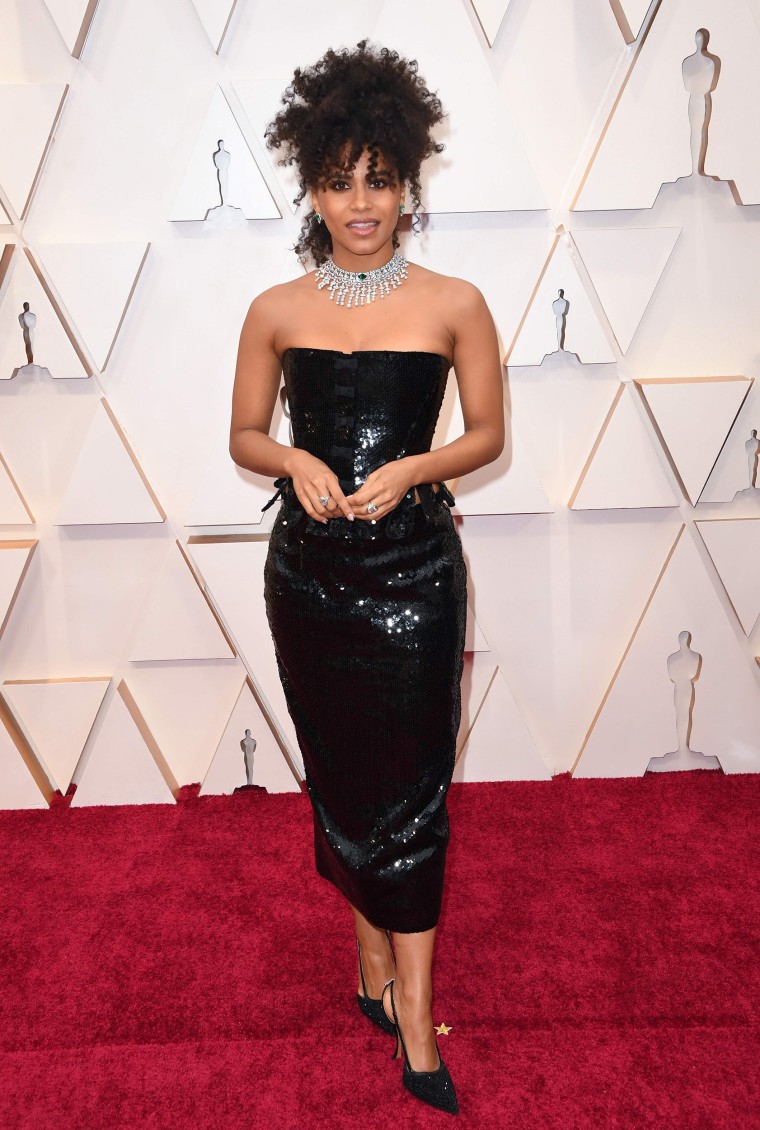 The "Joker" actress looked gorgeous in this shimmery, formfitting black ensemble. She paired the look with a bold diamond necklace.
Lucy Boynton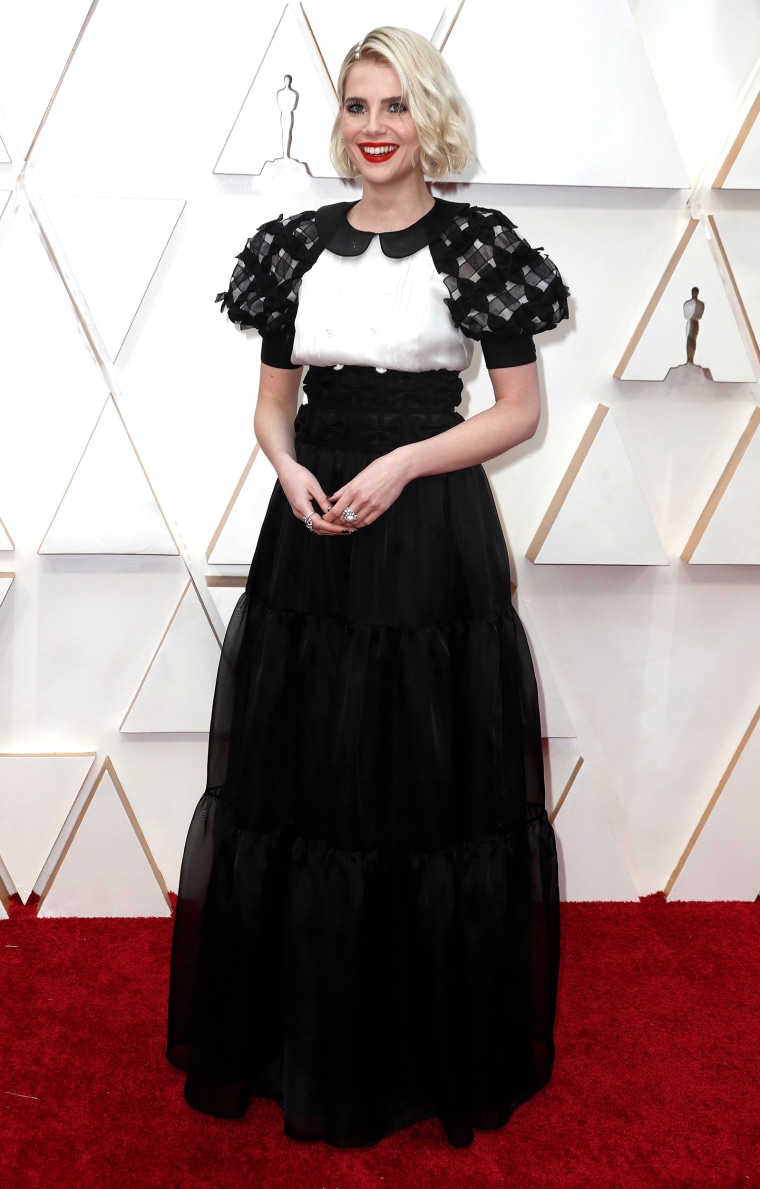 Lucy Boynton looked stunning in this black-and-white gown with an empire waist.
Sigourney Weaver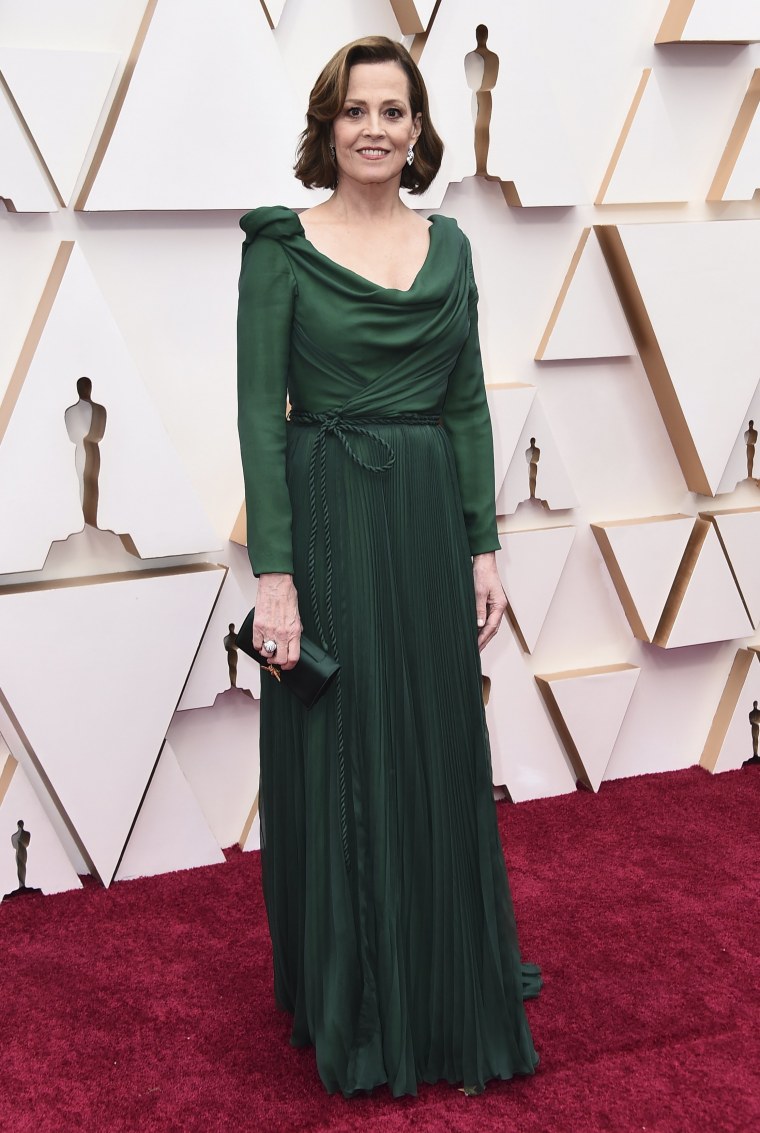 Sigourney Weaver went with a monochromatic look, wearing this deep green gown with a thin rope belt and clutch to match.
Giuliana Rancic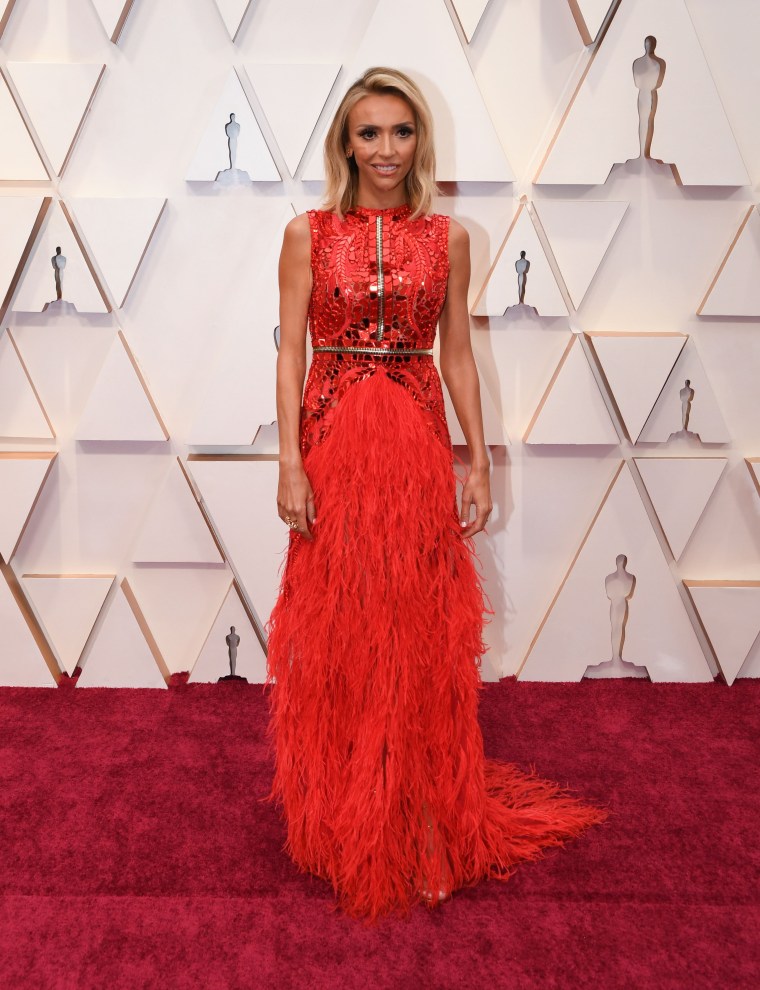 Fun in feathers! Giuliana Rancic rocked the red carpet with this bright red gown with feathers on the skirt and a contrasting metallic bodice.
Lilliana Vazquez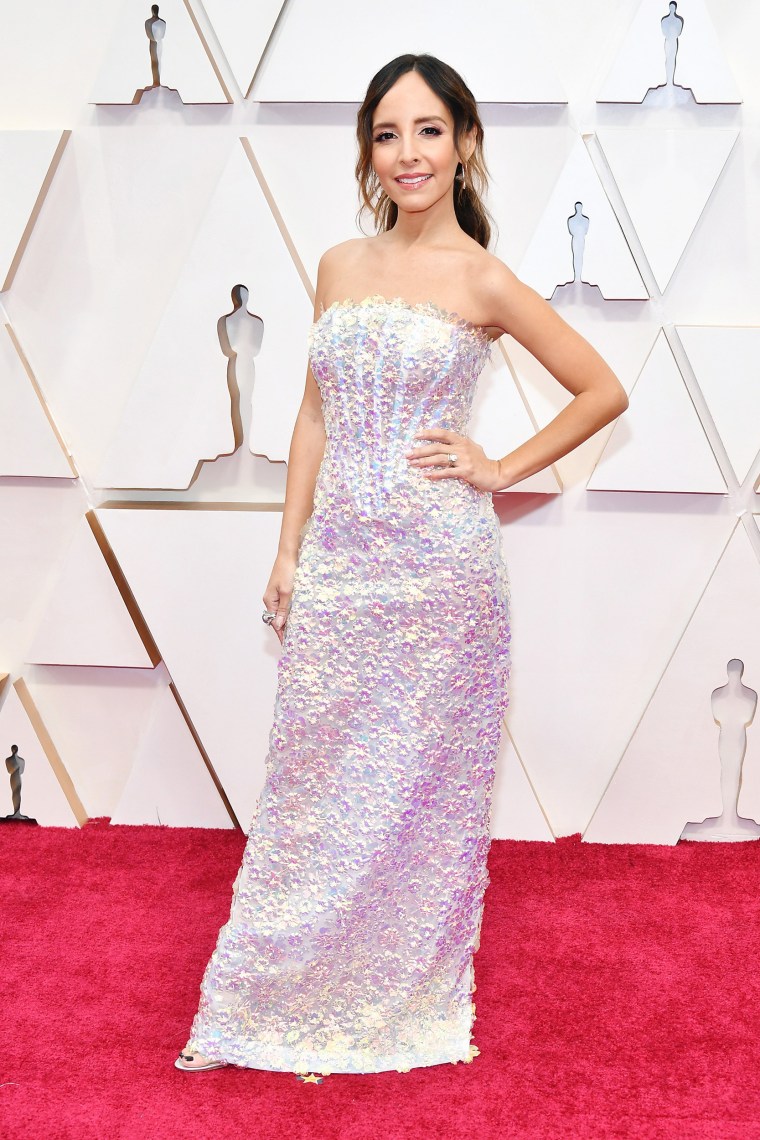 Lilliana Vazquez embodied the word shimmer with this gorgeous strapless dress. The white Rami Kadi gown had hints of purple and pink, making this dress shine all night.