The Oscars' red carpet was full of plunging necklines, flower appliques and all the glitz and glamour you've come to expect. Here are some of the top trends of the night.
Pastels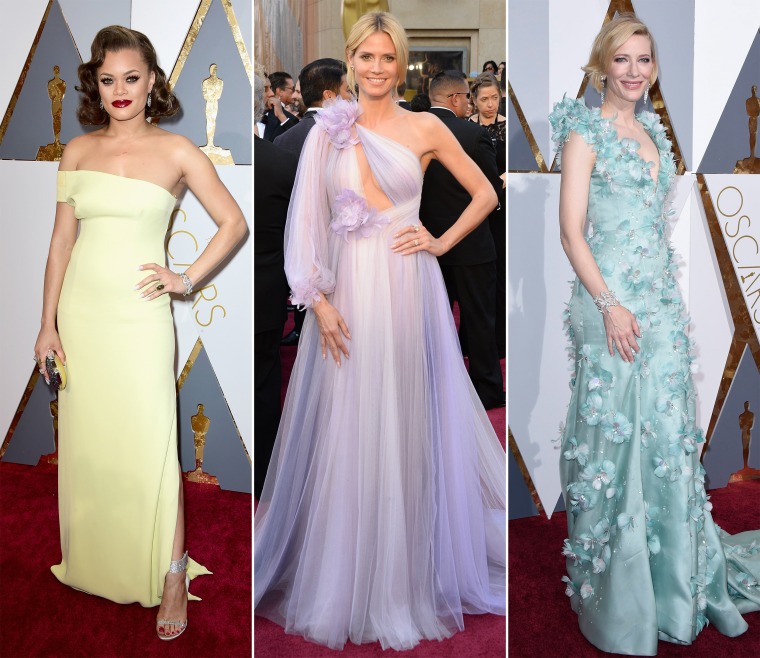 (From left: Andra Day, Heidi Klum, Cate Blanchett)
These Easter-egg colors look sleek and sophisticated when paired with interesting details and grown-up silhouettes.
Luxe black textures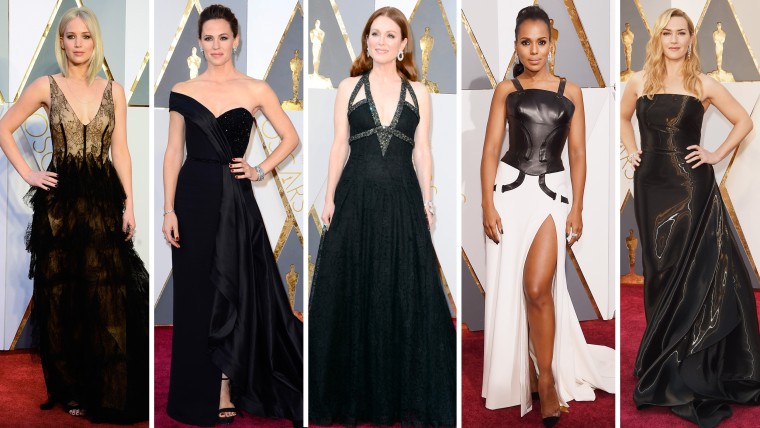 (From left: Jennifer Lawrence, Jennifer Garner, Julianne Moore, Kerry Washington, Kate Winslet)
Basic black is anything but boring when mixed with different textures, like a super-shiny fabric on Kate Winslet or tough leather on Kerry Washington.
Bringing strapless back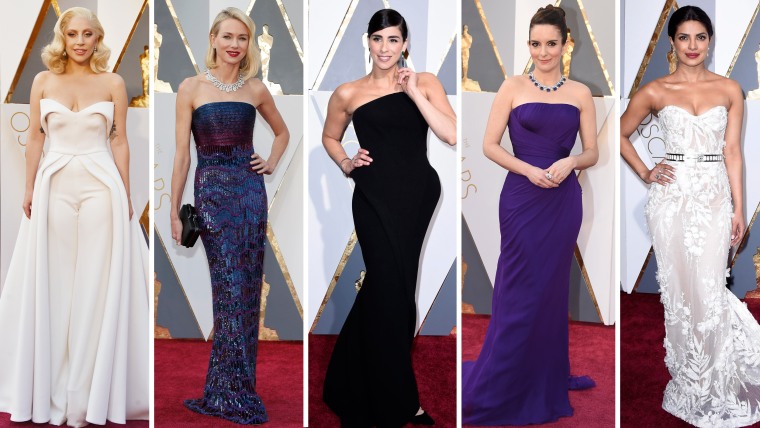 (From left: Lady Gaga, Naomi Watts, Sarah Silverman, Tina Fey, Priyanka Chopra)
A simple strapless dress may remind you of high school prom days ... at least before this year's Oscars. Stars like Naomi Watts and Lady Gaga proved that the classic neckline deserves a spot in your wardrobe.
Spaghetti straps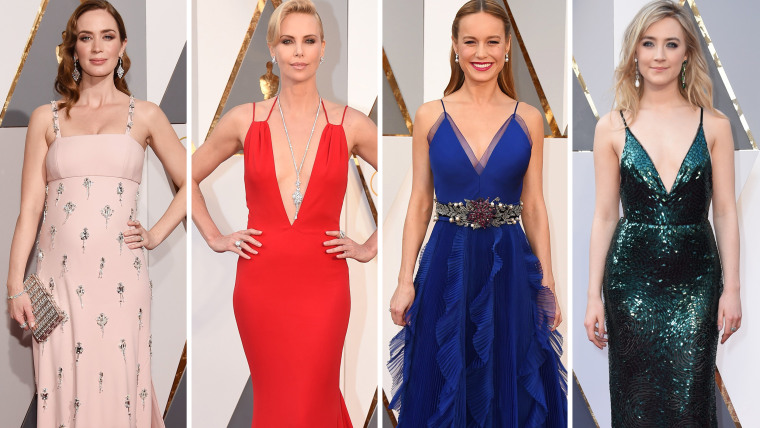 (From left: Emily Blunt, Charlize Theron, Brie Larson, Saorise Ronan)
This '90s throwback trend is back in a big way. Skinny straps, as seen on celebrities like Charlize Theron and Saorise Ronan, look effortless and chic.
Better bow ties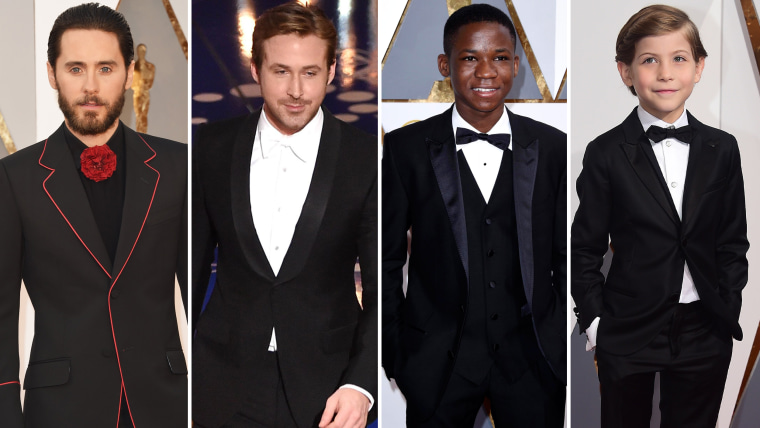 (From left: Jared Leto, Ryan Gosling, Abraham Attah, Jacob Tremblay)
Why stick to the same old bow ties when there are so many options? Style stars like Jared Leto and Ryan Gosling chose fashionable alternatives to the basics.
Green team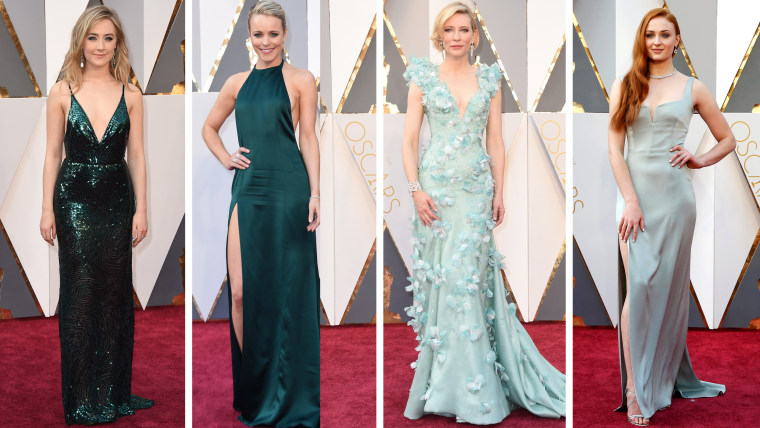 (From left: Saoirse Ronan, Rachel McAdams, Cate Blanchett, Sophie Turner)
From rich emeralds to crisp mints and seafoams, green ruled the red carpet.
Bearded men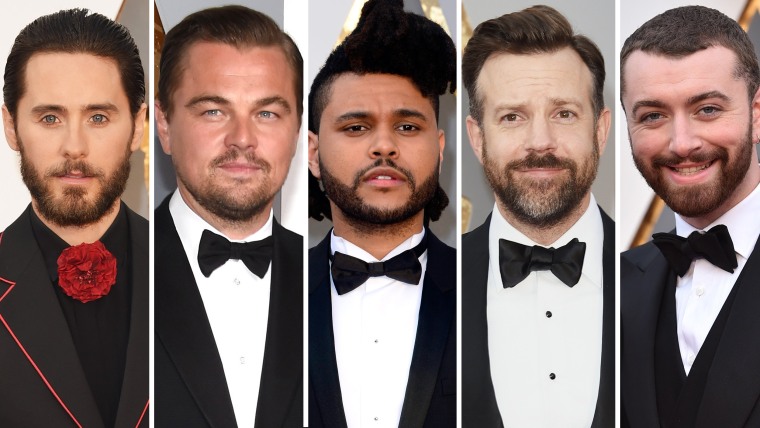 (From left: Jared Leto, Leonardo DiCaprio, Abęl Makkonen Tesfaye (aka The Weeknd), Jason Sudeikis, Sam Smith)
Gone are the days of clean-shaven leading men. Well-groomed scruff was clearly the look of the night.