Old Navy is defending its practice of charging higher prices for plus-size women's clothing, but not larger-size men's attire, saying "unique fabrics and design elements" are part of the reason for the difference.
The retailer recently came under fire after a Change.org petition noted Old Navy charged $12-$15 more for plus-sized women's jeans, but failed to do the same for bigger men sizes.
A look online Thursday found a larger difference: A size 8 pair of Old Navy's Rockstar super skinny jeans cost $27, but a size 28 rings in at $45. Meanwhile, in the men's section, all slim-fit jeans cost the same, regardless of size.
"If they are charging plus-sized women more to cover the cost of the fabric being used, then why aren't they doing the same for men?" wrote the petition's creator, Renee Posey. She said she understands the need to pay extra money for plus-sized clothing, but said the inconsistency in pricing "indicates that Old Navy is participating in both sexism and sizeism, directed only at women."
Posey told TODAY she found the discrepancy "straight up fat shaming" that addresses another issue.
"Plus size women like myself are kind of fed up with being treated like second-class citizens by retailers," she said. "I think it's reached critical mass and people are ready for a change."
A spokeswoman for Old Navy's parent company, Gap Inc., said larger-size women's clothing feature special details not found in bigger-size men's apparel.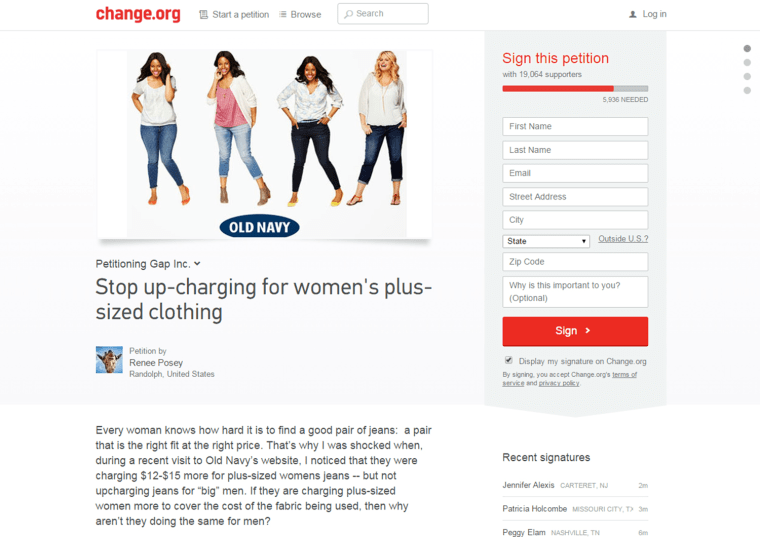 "For women, styles are not just larger sizes of other women's items, they are created by a team of designers who are experts in creating the most flattering and on-trend plus styles, which includes curve-enhancing and curve-flattering elements such as four-way stretch materials and contoured waistbands, which most men's garments do not include," said Gap Inc., spokeswoman Debbie Felix in a statement. "This higher price point reflects the selection of unique fabrics and design elements." 
Christine Hunsicker, chief executive of Gwynnie Bee, a monthly subscription service for plus-size clothing, says larger clothes generally cost more because 60 to 70 percent of a garment's price is determined by the fabric.
"So when you're talking about needing more yardage, it's going to be more expensive — but that's true for men as well," she told TODAY.com. "It doesn't actually make sense to me why men's is not priced differently."
Susan Gregg Koger, co-founder of online retailer ModCloth, said its plus-size clothing line doubled in sales volume from 2013 to 2014, making it the company's fastest growing segment.
"The majority of U.S. women are wearing at least some clothing in a size 16 and above today, so this is about the majority of fashion consumers, so it's a big issue," she said. 
According to market research conducted by ModCloth, most people who buy plus-size clothing will accept the higher price tag, but with conditions.
"They understand they'll pay a bit more, but don't do it in a way that feels inequitable, because they feel like, 'it's already unfair that I have so many less options than my friends when I'm shopping,'" she said. 
Hunsicker, who described her company as "Netflix for clothes," agreed with Old Navy that certain design elements get factored into plus-sized clothing. Sometimes, a different grade of fabric is used to make it more durable. Items also have to be scaled appropriately to make sure they fit in the most flattering way. 

"You can't just grade something up from a size 6 pattern," she said. It's possible that men don't have as many design details because their clothing is more uniform and less body conscious "but again, that's still not where the bulk of the cost is."
"If there was transparency in pricing, you would have an even slope, starting at a size zero and incrementally pricing up a little bit more, if they wanted to truly pass on fabric costs," Hunsicker said. "Obviously, they don't do that, which is a problem, because there's a giant step between straight size and plus, and it feels very discriminatory."
Follow TODAY.com writer Eun Kyung Kim on Twitter.