They say the surest way to a man's heart is through his stomach. The same, however, can be said of the path to a woman's heart, especially if that woman is newlywed Laura Arce.

Laura and her now-husband, Rick Ferri, had done nothing more than exchange pleasantries in the entryway of their shared apartment building in Washington, D.C. for almost two years when she invited him to a friendly cookout in the backyard.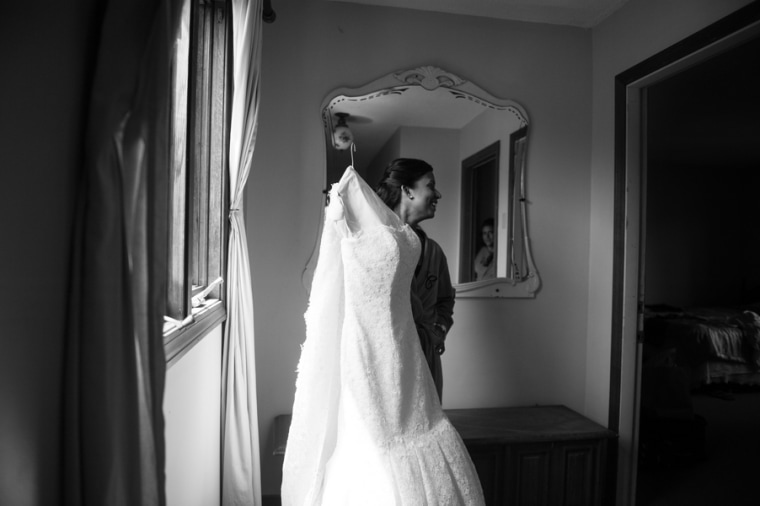 Rick was just months away from the end of his studies at the University of Maryland, where he'd been diligently at work earning his MBA, and was, by his own admission, in full-on party mode. He and his buddies showed up at Laura's barbecue without a care in the world, ready to cut loose. Little did he know that it wasn't so much the party he'd enjoy as meeting the Colombian hostess, and eating her delicious traditional Colombian fare.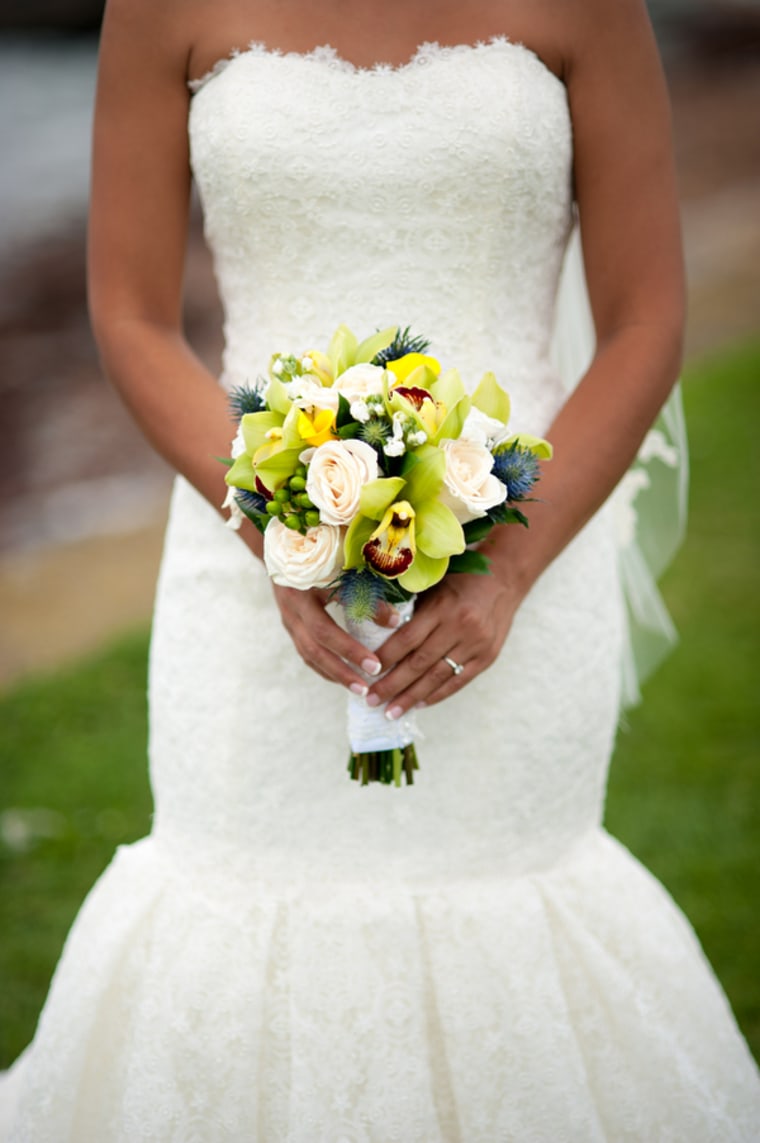 "Laura had cooked a bunch of food for the barbecue, Colombian food, and I told her I like to cook myself," he remembers, "except my family is Italian."
Rick spent the entire afternoon indulging in Laura's empanadas and guava. Laura, who originally hails from Colombia and was in D.C. as a member of Teach for America, was more than happy to discuss anything from cilantro to guava to traditional Colombian flavors. And Rick, for his part, offered to introduce her to his grandma's take on Italian cuisine.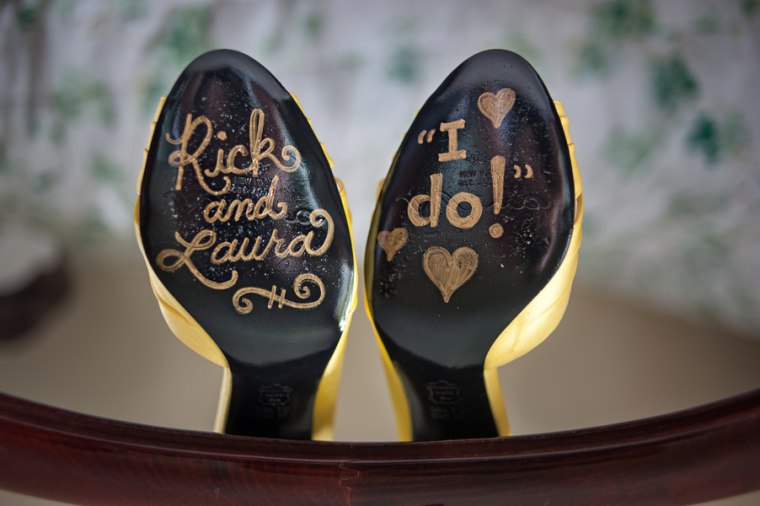 "We'd both learned to cook from our grandmas," Laura says. "And he talked about how important his family was to him."
"Growing up, my brother and I had to learn to cook, to learn the traditions passed down from Italy," Rick adds.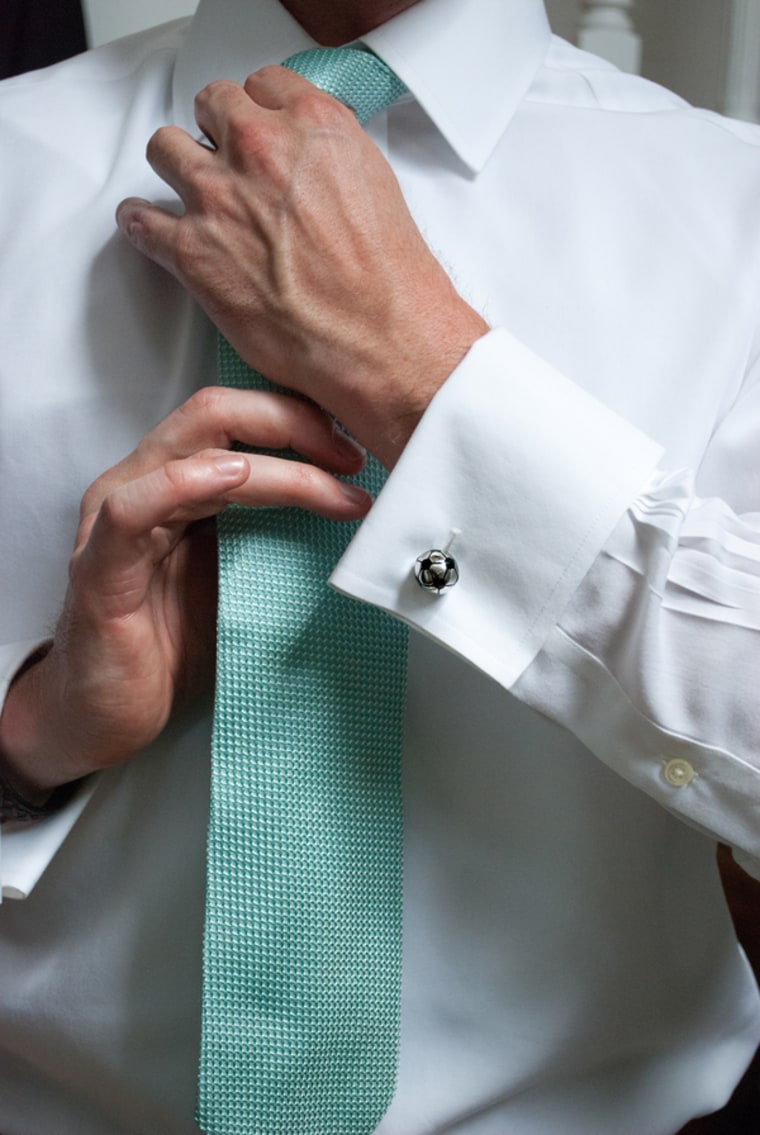 "He said he would teach me to cook Italian and we were going to exchange cooking tips," Laura says. "That's when I said I'd go out to coffee with him to talk about it."
Naturally, their second date involved Rick preparing a home cooked meal of pasta arrabiata and bruschetta with cherries, mint, and blended mascarpone and goat cheese.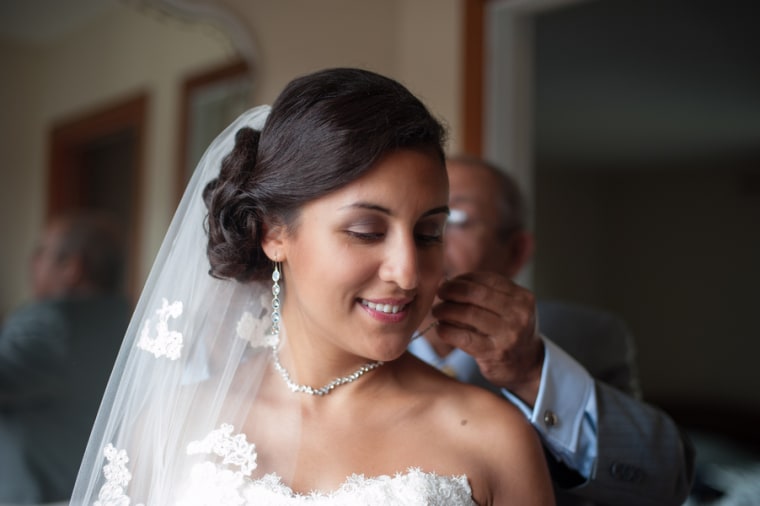 "It was pretty impressive," Laura admits. "And delicious." The couple still serves that bruschetta when hosting dinner parties to this day.
While Rick's talents in the kitchen impressed Laura, she was actually most charmed by his table manners: "I thought, wow, this guy really listens. And it was the best date, because he listens."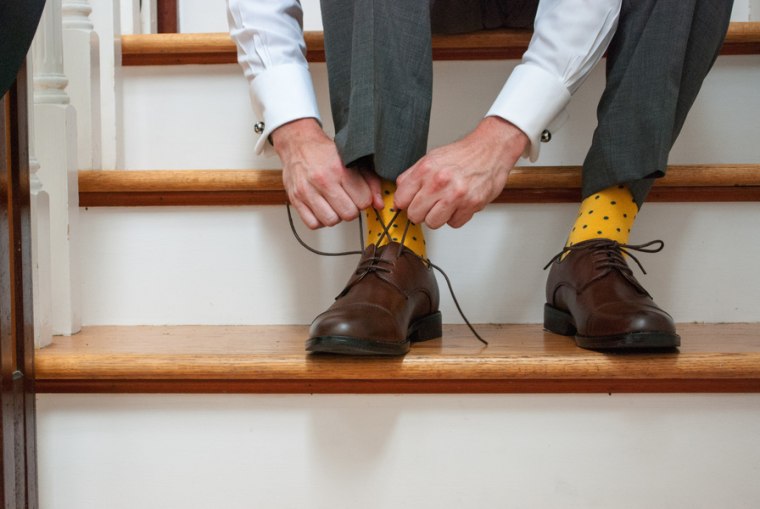 Rick's listening skills were strengthened by how delightfully interesting and opinionated he found Laura to be.
"I was really impressed with how smart and opinionated she was," he says. "I found that really attractive, besides the fact that she was really hot. And we started to talk about our families, which is important to her—that put me over the top."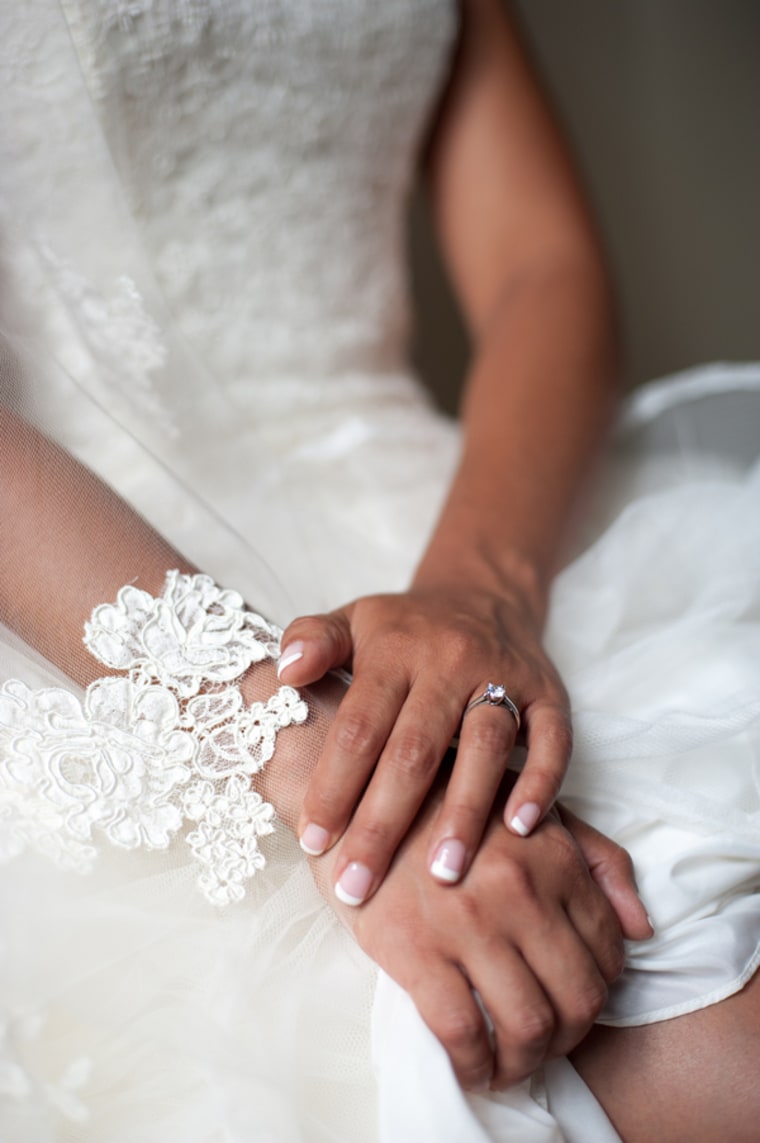 The meal ended with berries surrounded by homemade whipped cream.
Rick cooked his first meal for Laura in the summer of 2010. By the winter of 2010, they'd moved in together.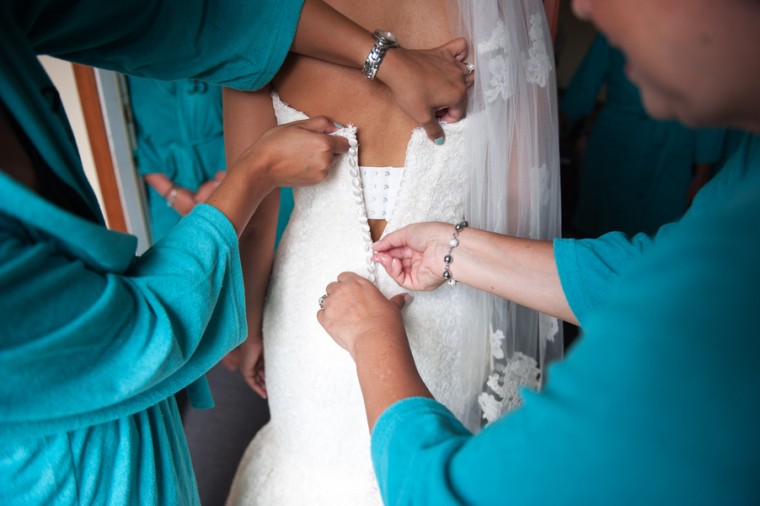 "We had a quick little romance," Rick admits. That's not to say it was all smooth sailing. Like a lot of couples, they suffered a few growing pains after moving in together, but it was those growing pains that really solidified the relationship.
"Then things got really good," Rick said. "And a year after we moved in, I just remember, I was so in love."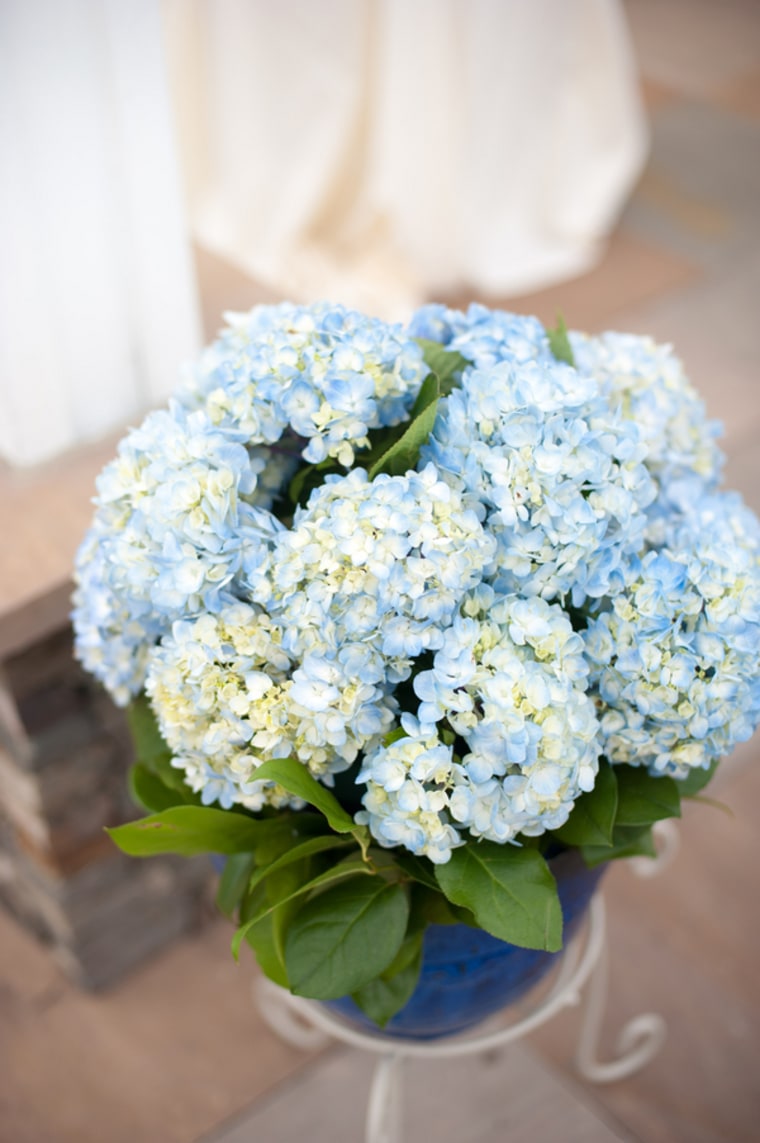 Rick spent Christmas with Laura's family in Colombia, and although he wasn't able to ask Laura's dad for her hand due to the language barrier — a barrier he's now well on his way to knocking down — he was able to convey how very seriously he took the relationship. After weeks of research, he found the right ring, and began to cook up a weekend trip to Annapolis, Maryland, where he intended to propose on the docks by the water.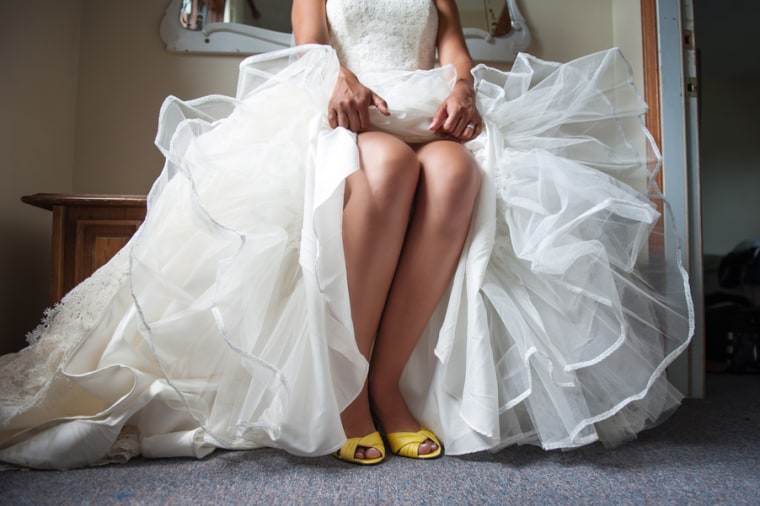 "I thought I was totally slick and she had no idea, but she must have known, because she got her nails done really fancy. She doesn't normally do her nails," he says, "so that's how I knew that she knew."
It was actually their strong communication skills that tipped Laura off: "We do everything together, we talk about everything, and with a trip like that — why did he plan it by himself? So I was like 'oh, this different,'" she recalls.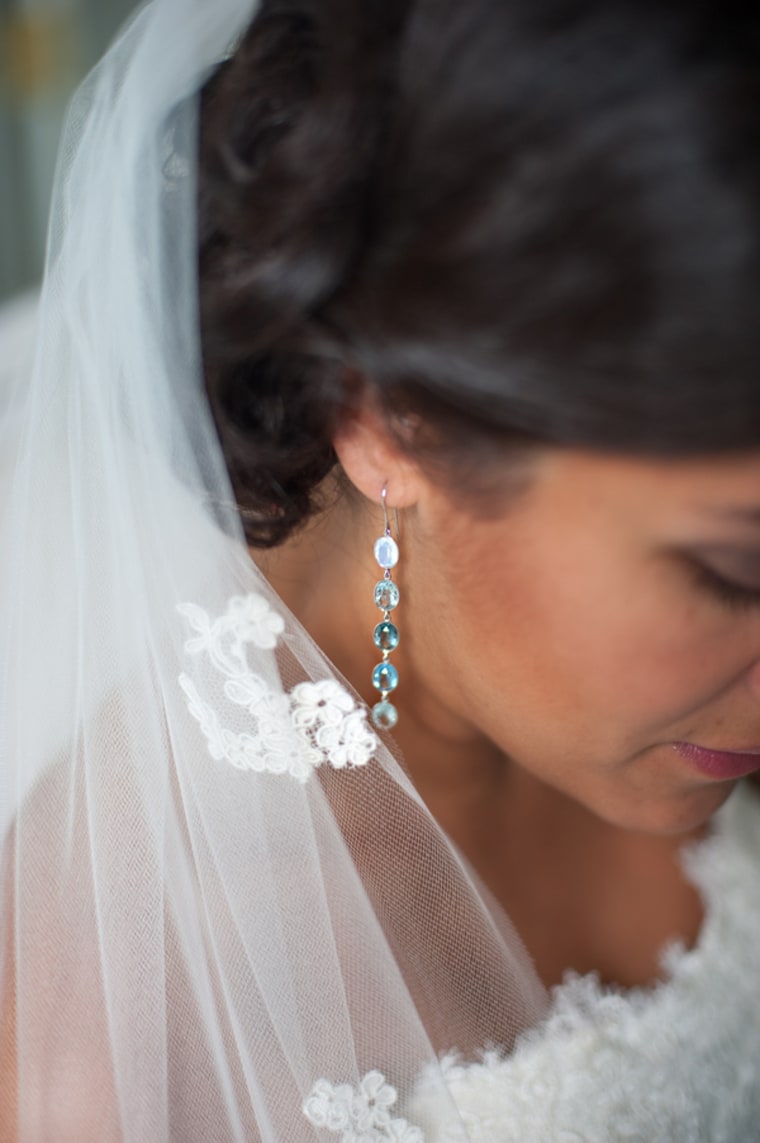 It rained that weekend in Annapolis, so a waterside proposal was out, and Rick was so thrown off by the inclement weather that he ended up inadvertently proposing in the hotel room instead.
"I do not get nervous, but I was totally sweating and stumbling over myself," Rick remembers.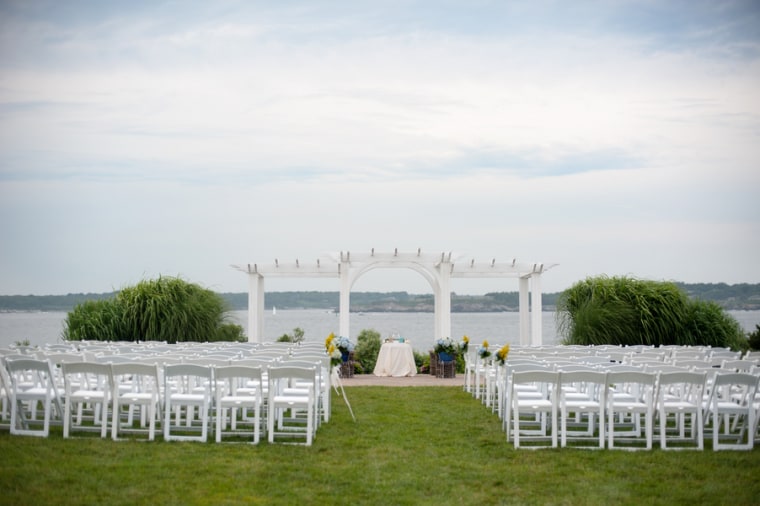 "He was shy and he's not a shy person," Laura confirms. "It was romantic because he was nervous and I was nervous. It was very intimate."
The two began planning their Rhode Island wedding right away, knowing the preparation required to throw the bilingual wedding of their dreams — infused with a generous helping of their Colombian and Italian-American heritage — was going to take at least a year. Fortunately, Laura really wanted to get married in July, leaving them with 14 months to get all the special details in order.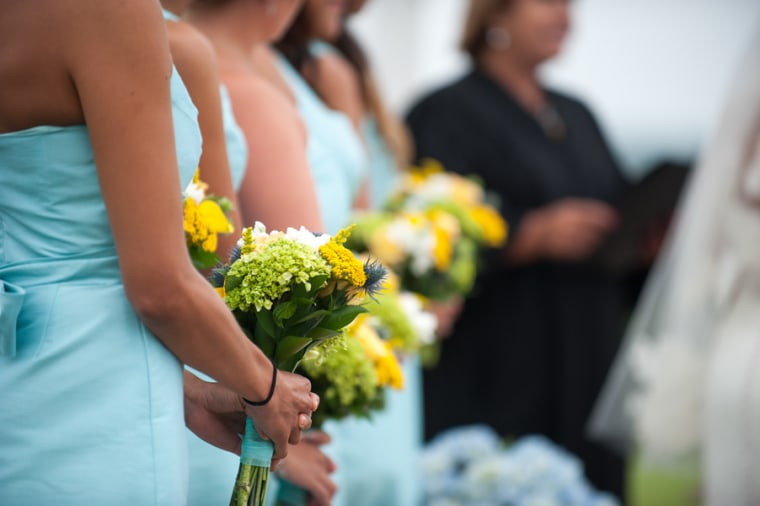 The first major hurdle: finding a venue on the ocean. "I grew up in Rhode Island," Rick says, "and I miss the smell of salt water when I'm not there."
The two headed up to Newport one weekend, drove along the coast, and by the fourth stop, had found the perfect venue in OceanCliff, which Rick said was "far and away the favorite."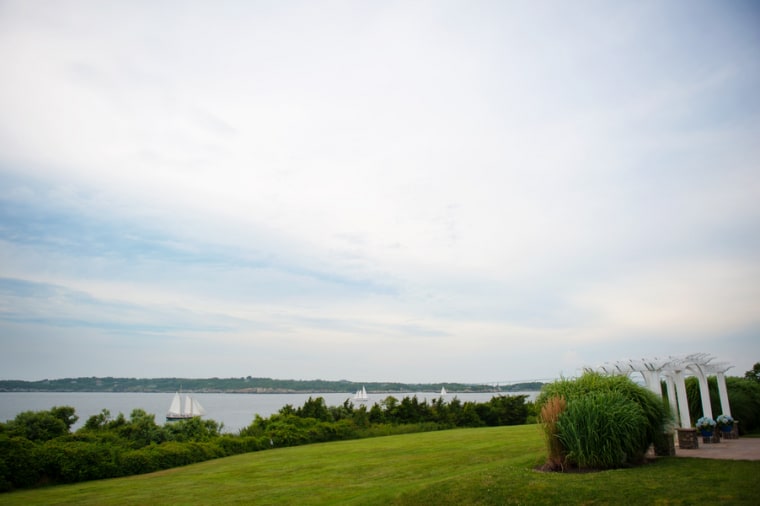 With the venue and July 28th date settled upon, the real work of planning a bilingual ceremony began. They had no choice but to go super DIY.
"Basically, we bought paper with a trim on it from Staples," Rick recalls, reflecting on all the hard work that went into mixing the two cultures. "We had to write it all — the programs and all the table cards — and do it all ourselves, because we needed it to be in English and Spanish."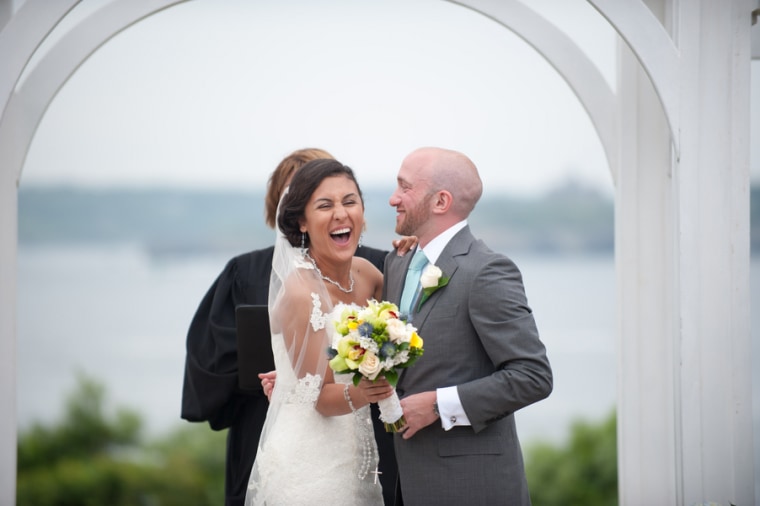 This was not simply a matter of wanting to incorporate both cultures, but needing to for the sake of some of their most beloved guests.
"Laura's grandma and great aunt came and they'd never been on a plane out of Colombia before," Rick explains. "We wanted to make sure they felt included. But the main reason we did so much ourselves was because we wanted it to be a representative of who we are as a couple."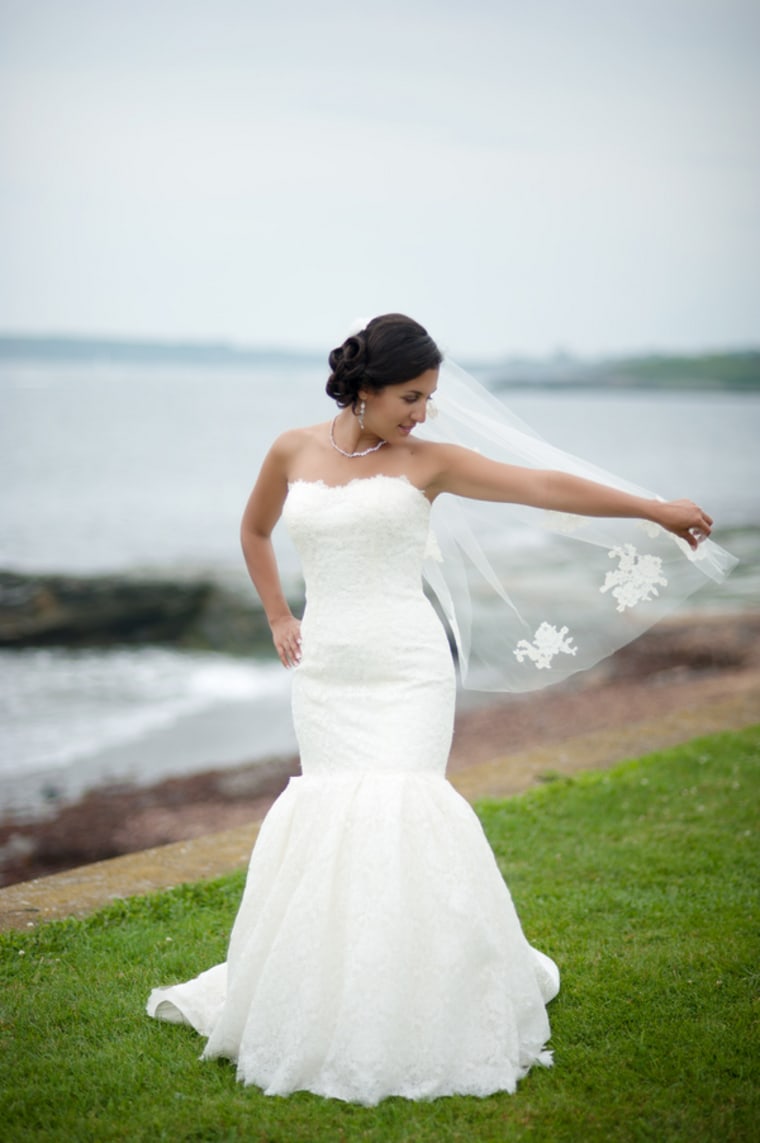 The couple's DIY spirit didn't stop there. They made fans using Popsicle sticks, bought and decorated celebratory blowing bubbles, and printed everything, down to the envelopes for the invitations, from their home computer.
"I wanted to do the flowers myself but was convinced otherwise," Laura admits.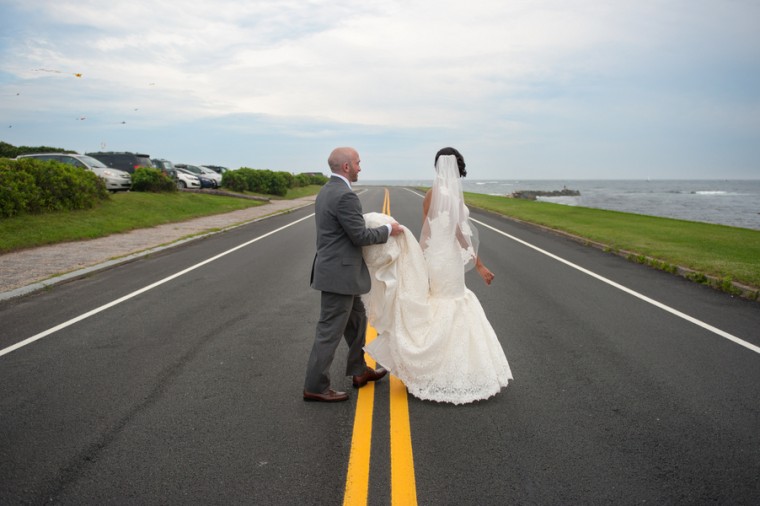 With the exception of two trips to Rhode Island, all of their planning and preparation took place remotely, from D.C. And that's where Rick's strong family ties really proved invaluable.
"My mom and my nana were a huge help," he says. "They'd go with Laura to look at flowers and drove around to help us with hotel recommendations."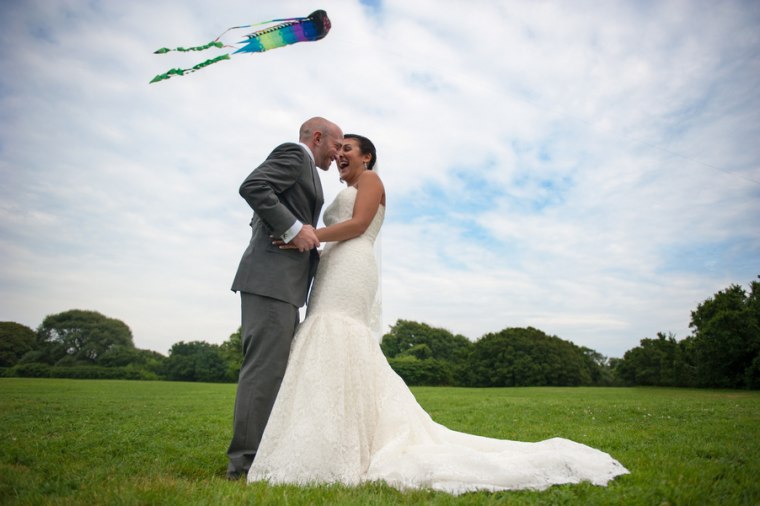 The couple embraced the venue's location and played off the summery, ocean feel, filling the room with blues and yellows.
"Yellow has been my favorite color since I was little," Laura says. "For my birthdays, I always wore a yellow dress. And then there was the happiness of summer — yellow — and the ocean, so the bridesmaids' dresses were the color of the ocean."
But Laura's work wasn't done after the physical details of the ceremony were taken care of. She even got hands-on with the evening's playlist, particularly with the Colombian music played during the father-daughter dance, assisting the DJ so he'd break off the song at the proper point. And then, of course, there was the music for the Crazy Hour.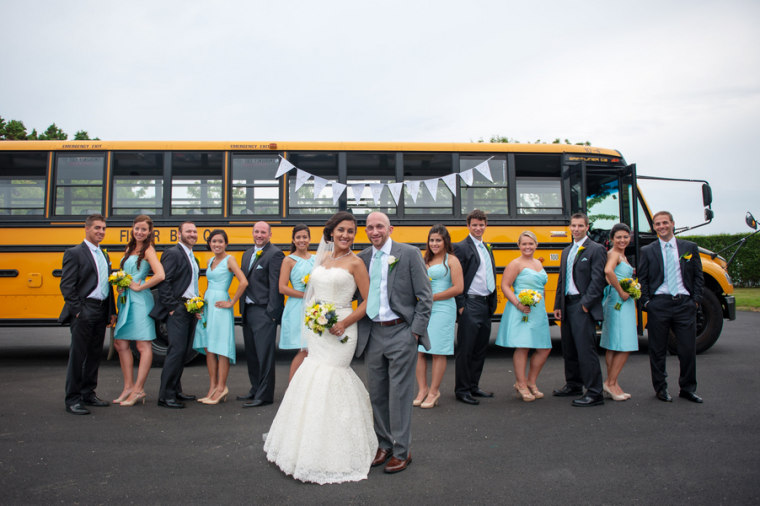 "In Colombia there's an hour of high energy music, the Crazy Hour, and you wear Colombian hats and feather boas," Laura says. "It's fun for a wedding because everyone just goes crazy, everyone. It was something new for his family!"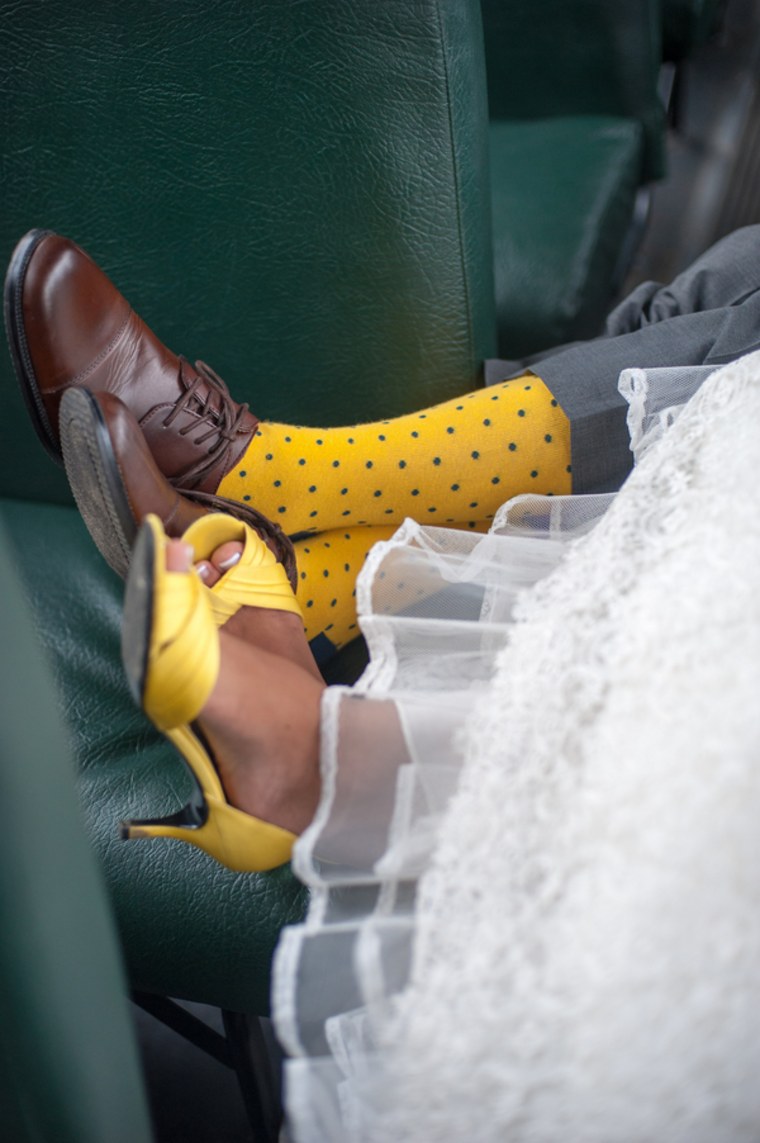 The husband and wife's first dance, in fact, had three songs spliced together, beginning with a Colombian song followed by Elvis's "I Can't Help Falling In Love With You" and concluding with UB40's version of the classic.
"I love dancing," Laura says. "And he did a good job at Latino dance."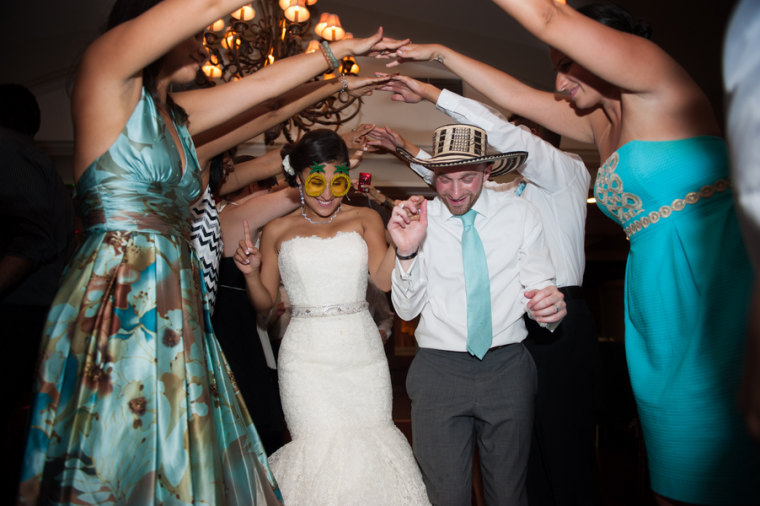 There is no language barrier when it comes to good music, and the dance floor was jam-packed with guests all night long. That was, as far as both Rick and Laura were concerned, the main goal.
"We knew that a lot of people were traveling from afar," Laura said. "So we really wanted to make sure that everyone had fun, that it was a great party with a good balance between the fun and the culture."
Mission accomplished. From the high energy entrance of the bridal party, to the Colombian coffee Laura tied up in burlap bags with the words "love is brewing," the mixture between fun and culture was spot on.
Still, for both the bride and groom, the real highlight of the day came early on, during the outdoor ceremony.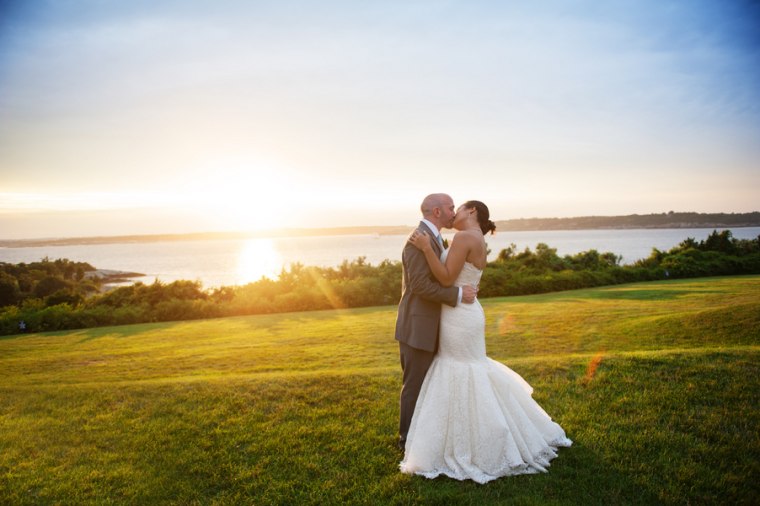 The bride walked down the aisle in a white lace mermaid gown, accessorized with blue earrings, a new Swarovski necklace from her husband-to-be, and Rick's grandmother's rosary beads, direct from the Basilica in Rome.
Neither bride nor groom, though, could say which moment made them happier: the sharing of their personal vows or the rose ceremony that began the wedding.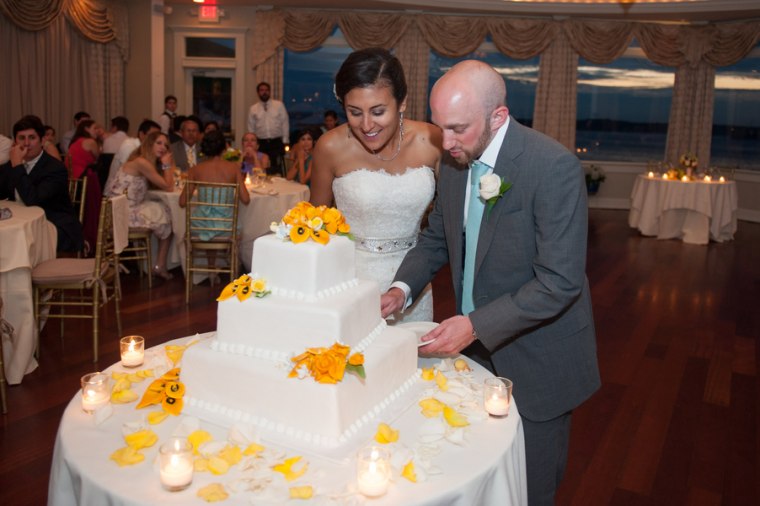 Rick happily reminisces about both: "As the ceremony started, we gave our moms and grandmas a rose, to thank them for everything they'd done for us. And then we wrote our own vows, so we got to say what we love about each other in front of the people we care about most."
The night ended with lemon cake topped with whipped cream and strawberries and a strong sense of just how lucky they were to get to share such a momentous day with family and friends.
When Laura Arce and Rick Ferri tied the knot, they brought together two very different families for a memorable night filled with dancing.
"I really didn't expect to feel as strongly as I did, so emotional," Rick recalls, "but I was so thankful that everyone had traveled so far. I was just so thankful."
All photos provided by Aubrey Greene Photography. Find more TODAY Real Weddings here.