Nura Afia's makeup tutorials on YouTube are so great, that they caught the eyes of the experts at CoverGirl and the company named her an official ambassador this year. The 2017 TODAY Style Hero is the first ambassador to appear in a hijab in an official ad campaign, and is proud to show her Muslim heritage.
One of CoverGirl's newest ambassadors isn't only a popular beauty expert — she's also the first woman to appear in a hijab in the brand's advertising.
If you've seen Nura Afia's gorgeous, thick lashes in any of her YouTube makeup tutorials, you'll know why the brand selected her to help promote its latest mascara. Afia, who lives in Denver, Colorado, stars in a new campaign for CoverGirl's So Lashy mascara alongside fellow ambassadors Katy Perry and Sofia Vergara.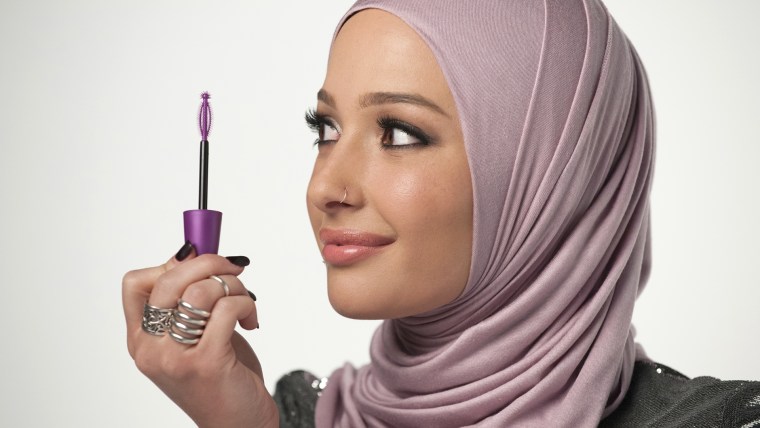 Afia said she's proud to be a Muslim woman breaking through to the mainstream beauty scene.
"It's so amazing, because I feel like it's never really been done before," she told TODAY Style. "I've never seen a hijabi or a Muslim woman on a billboard in Times Square. That's as big as it gets!"
"I think it's very important that Muslim women — and just average people — get represented," Afia, 24, continued. "I'm honestly an average person. I'm only five feet tall. I'm not the perfect beauty standard. I never had braces, so I have kind of crooked bottom teeth. This is unreal for me. I always thought I had to be taller and have perfect teeth to even think about being in something this big."
RELATED: H&M features hijab-wearing model Mariah Idrissi in new ad
The brand said it is thrilled to have Afia on board and stressed its commitment to equality.
Makeup artist James Charles, actress Amy Pham and singers Chloe and Halle Bailey are also ambassadors. They appeared in a commercial for the mascara that premiered in Times Square Nov. 1.
Afia, who works part-time at a Sephora store and has had her YouTube channel since 2012, is best known for makeup tutorials like this one, in which she shows fans how to achieve the perfect, soft smokey eye. It's been viewed more than 300,000 times.
It appears that Muslim women are finally getting their time to shine in the fashion spotlight. H&M elicited praise when it featured a model wearing a hijab in a campaign last year, and Dolce & Gabbana released a line of hijabs and abayas. At New York Fashion Week in September, one Muslim designer became the first to send every model down the runway in hijabs, and earned a standing ovation.
Congratulations to Nura Afia on the groundbreaking role!