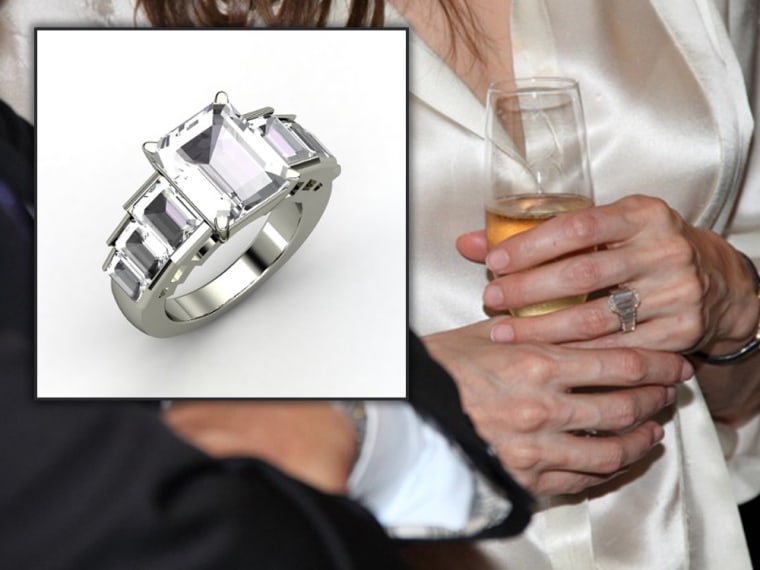 Celebrity bauble knockoffs are nothing new, but lately it seems like they're produced faster than ever. Just a week after Angelina Jolie unveiled her engagement bling from Brad Pitt, jewelry e-tailer Gemvara released a $1,195 emerald-cut stunner that's a nearly identical match.
The Evelyn ring, featuring a 5.45 carat rock crystal-center and side stones in a sterling silver setting, "possesses a coveted elegance" according to the company's website.
Brangelina announced their engagement on April 13, just days after Angelina, 36, was photographed at a Los Angeles museum wearing a large diamond ring on her engagement finger that Pitt, 48, helped to design. In a Reuters report, jewelry maker Robert Procop said he had fashioned the ring in collaboration with Pitt, specifically for the "Tomb Raider" star.
"The full creative journey – from conception to completion – took a year, with Brad Pitt waiting until the perfect moment to unveil this special jewel to Angelina Jolie," Procop's spokeswoman said.
While a man like Brad is rare find, her ring is now a bit less difficult to snag.
Rina Raphael is a TODAY.com editor who is still waiting for scientists to clone John Stamos.
More: It's official: Brad Pitt and Angelina Jolie are engaged
Affordable knockoffs: Get Liz Taylor's baubles ... for less! 
Calvin Klein releases $5,000 Katniss-inspired dress