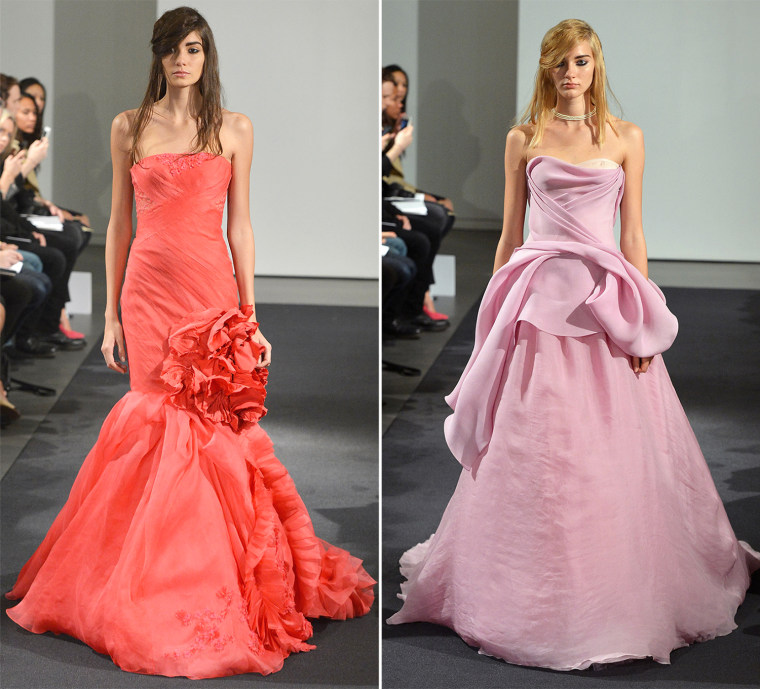 While wedding dresses haven't always been white — Queen Victoria has been credited with popularizing the style at her wedding to Prince Albert in 1840 — these days, white gowns dominate the bridal industry as we know it. Brides who don't want to wear a bright white shade can find dresses in pale, subtle tones like blush and champagne, but that's about as far as most wedding boutiques usually go.
Vera Wang may be changing all of that.
The designer debuted a recent collection of bridal gowns at Bridal Fashion Week in New York City in shades of pink, a color generally reserved for the bridesmaids or flower girls. And these weren't soft pinks, either — the elegant, ruffle-and-lace-adorned dresses appeared in dramatic hues like magenta and coral.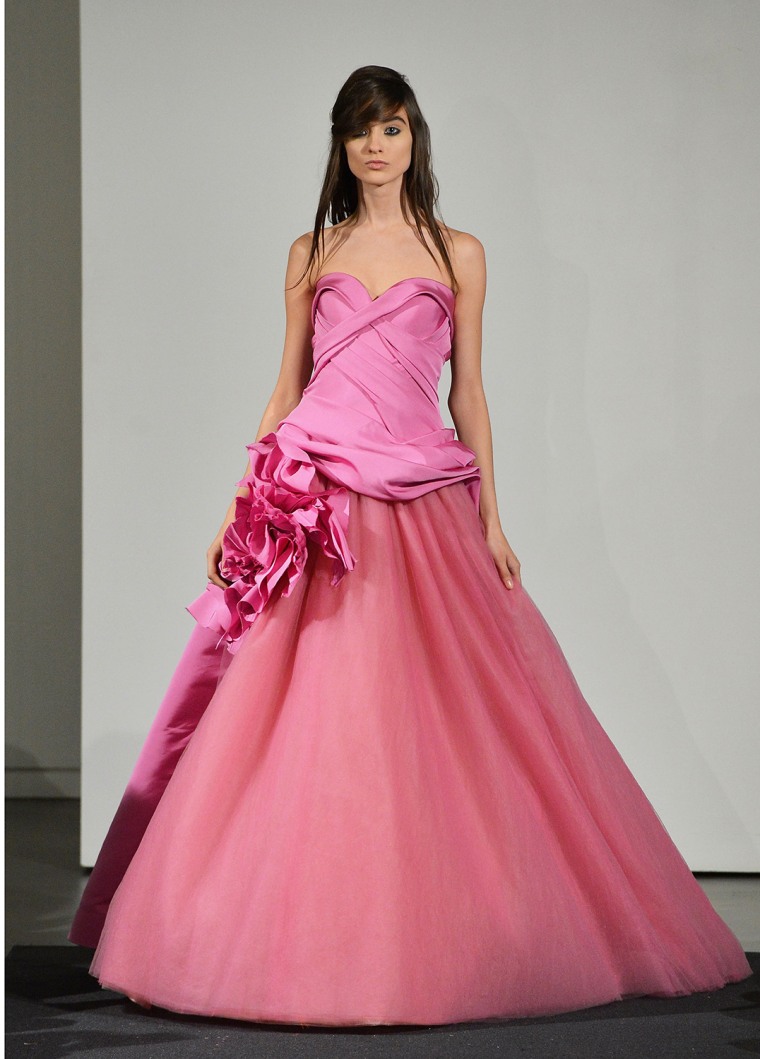 For Kellee Khalil, the founder and CEO of Lover.ly, a wedding inspiration and shopping website, the pink trend doesn't come as a surprise. Khalil reports that blush is one of the most popular colors for Lover.ly users, which she attributes to the pinkish gown Jessica Biel wore to marry Justin Timberlake last year.
"Fashion-forward brides are looking for a way to show their personal style," Khalil explains. She credits the DIY movement for helping brides and grooms find ways to express their personalities on their big day. "We're seeing a whole trend toward customization of the wedding — making the wedding a reflection of the couple."
Did you wear a brightly-colored wedding dress? Send us your photos and we may use them on air:
Stephanie Weers, the editor of wedding-style website StyleMePretty.com, was at the fashion show when Wang's pink gowns made their debut down the runway, and reports being "blown away" by the looks. "The collection featured quite a lot of classic silhouettes, full skirts, and that playfulness with texture and applique that's so true to her signature style, but with a punchy colorful twist," she says.

Weers believes the bottom line in wedding fashion is that it's not the color but the shape of the dress that makes it bridal. Wang's gowns may have been brightly hued, but they also had classic bridal notes, like voluminous ballgown-style skirts, sweetheart necklines, and dramatic applique detailing. "The modern bride wants to embrace tradition, but on her own terms," Weers said.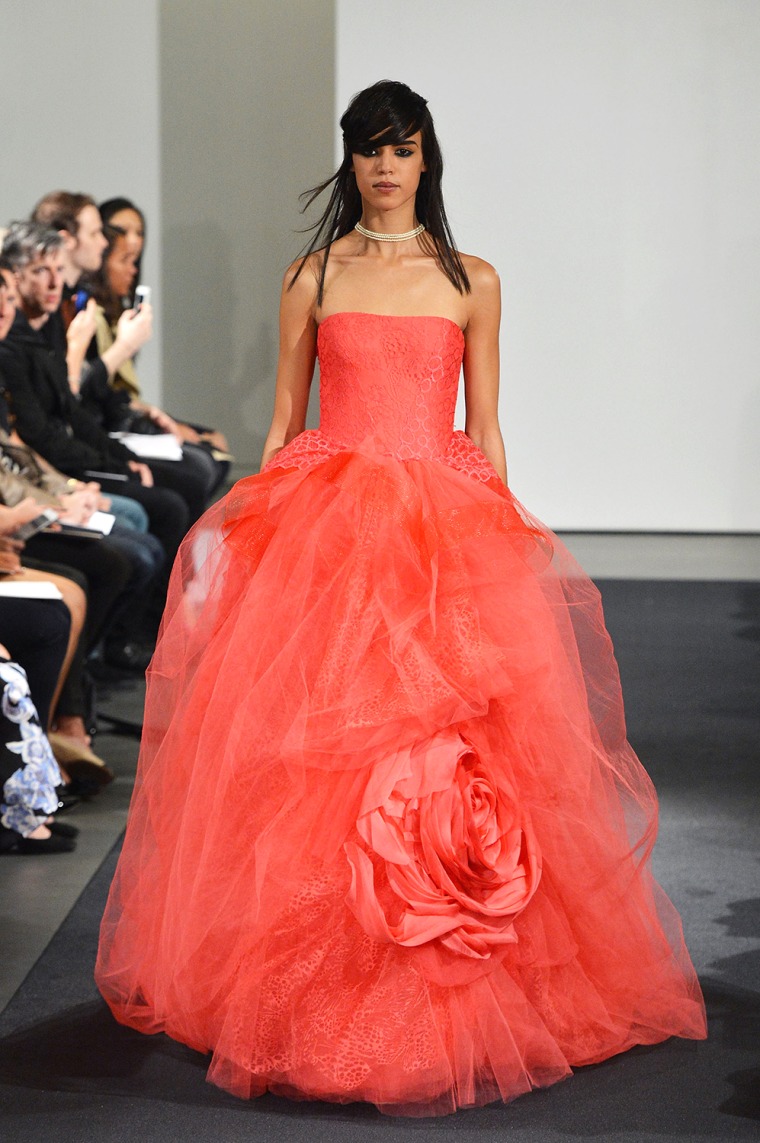 But not everyone thinks brides should be running out to buy pink gowns.
Darcy Miller, Editorial Director for Martha Stewart Weddings, cautions brides to think about their own personal style before embracing the latest trend.
"Color is more popular than it has ever been before," Miller says, "but the majority of brides are not wearing a bright color. I'm not going to tell you that the white dress is out."
Miller encourages all brides to think about how they want to look in their wedding photos — pics they'll look at for the rest of their lives — when picking out a dress.
"The important thing is to balance the trend with your personality and what reflects you," she said. "When you're trying on that [colorful] dress, if you question it, it's not the right dress for you."
As for Khalil, who calls pink "her" color, she'd try one of the edgy dresses on her big day: "I would definitely rock one!"
Check out the Fall 2014 collections from Vera Wang, Kenneth Pool, Jenny Packham and more.