Only months before California's Cassidy Wolf was crowned Miss Teen USA 2013, she was a victim of a serious cybercrime that has triggered a federal investigation. 

Wolf, 19, who was selected as this year's winner at Saturday night's pageant at the Atlantis hotel in the Bahamas, hopes to spread awareness of the dangers of online crime during her upcoming one-year reign.
"This all happened before I had a title,'' Cassidy told TODAY.com. "I was just a normal girl in high school. This next year I'm just so excited to be able to share my story and raise awareness in young teens about what can happen."
About four months ago, Wolf said she was notified through Facebook that someone had tried to log into her account from another state. She then received an anonymous e-mail from a stranger saying he was in possession of photos of her that were taken in her bedroom via the webcam on her computer after it was hacked. The person tried to extort her in return for ensuring the photos were not made public. She cannot divulge all the specific details because the incident is now under federal investigation.
"I wasn't aware that somebody was watching me (on my webcam),'' she said. "The light (on the camera) didn't even go on, so I had no idea."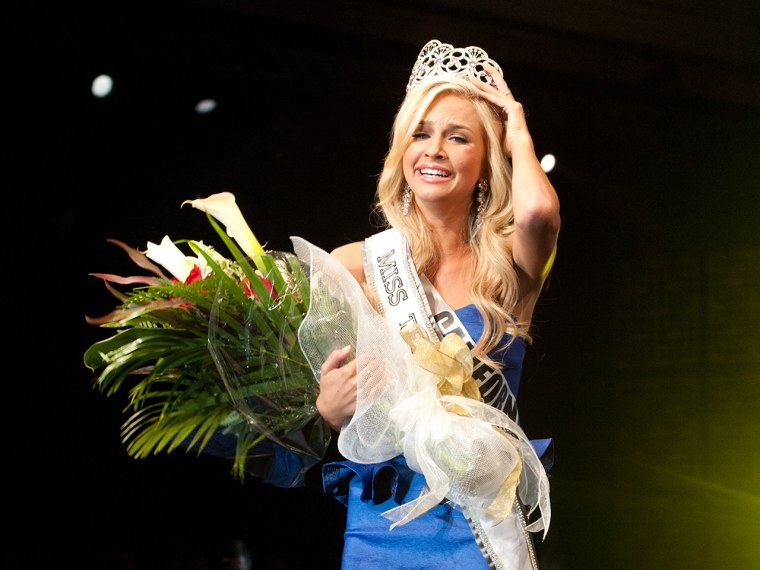 After being named Miss California, Wolf traveled to local schools near her home in Temecula to speak with students about protecting themselves from potential cybercrime. She hopes to continue that work during her time outside of school, as the college freshman will be attending New York Film Academy in New York City starting in the fall. Her tips for protection against hackers include changing passwords frequently and making them unique by using symbols and different characters, deleting cookies and browsing history regularly, and putting a sticker over the computer's webcam when you're not using it.
Her campaign against cybercrime is just one of many causes Wolf has been active in. She also works with Best Buddies, which helps people with intellectual and developmental disabilities, as well as Project Sunshine, which provides programs for children with medical challenges.
She had only been competing in pageants for two years before wearing the crown on Saturday night.
"I was shocked and overwhelmed,'' she said. "I don't remember how I was feeling. I was crying, I was so happy."
Wolf edged out 51 other women to take the title. South Carolina's Tori Sizemore was the first runner-up, followed by West Virginia's Haley Holloway in third place. 
They may be beautiful, but the competition can get ugly. From blackmail to sabotage, check out the underside of the pageant circuit.