A new wedding trend has couples ditching traditional party favors for donations to charity.
Fans of the trend say giving back has a bigger impact than yet another monogrammed mug or personalized tote bag, for example, and The New York Times recently published an article highlighting couples who go the philanthropic route. One wedding expert told TODAY.com it's all a reflection of a more mission-driven generation.
"We're not seeing cookie-cutter weddings anymore," said Kellee Khalil, founder and CEO of the wedding website Loverly. "Couples are trying to create an experience for their guests that is a reflection of their relationship. They're less concerned with owning things."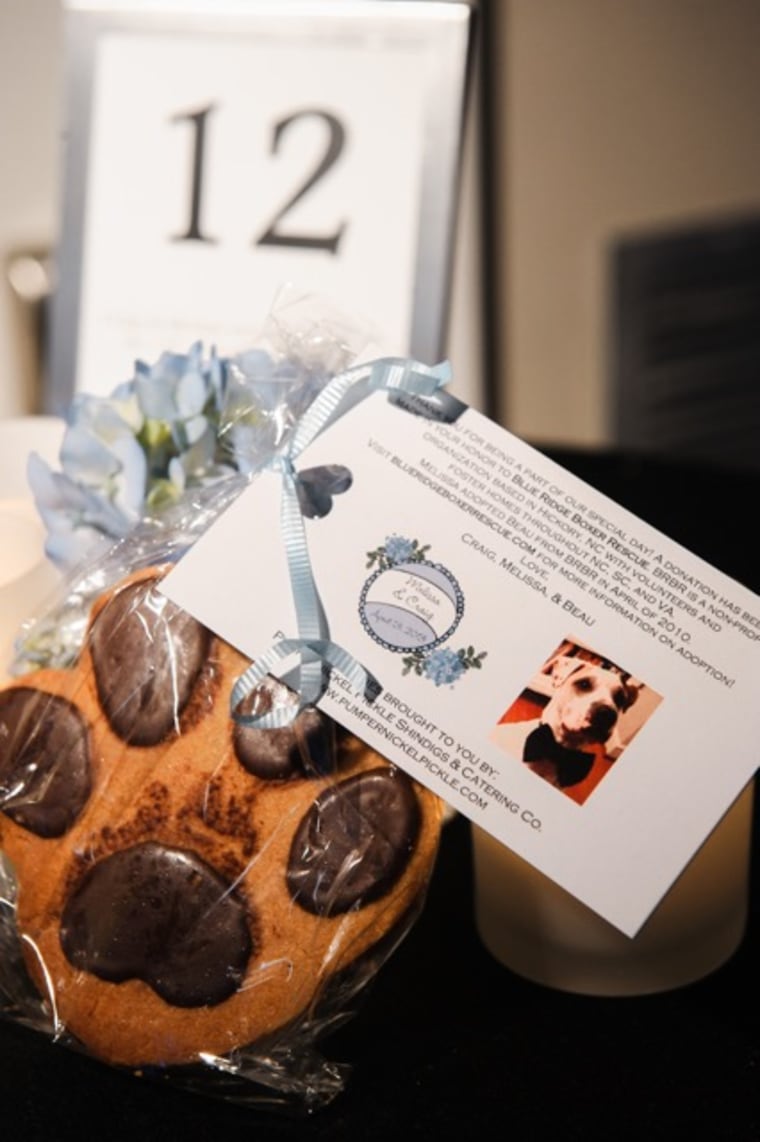 Melissa Newman said that's exactly why she and her husband, who married in 2013 in Virginia, skipped favors at their wedding. ­Instead, the couple made a $500 donation to the animal rescue organization from which they had adopted their dog. They also provided paw-shaped cookies to their guests and a note about the donation.
"I think people our age are tired of getting junk," Newman, 29, told TODAY.com. "I was thinking of all the random stuff I've gotten — I've gotten candlesticks, measuring spoons. I have a drawer full of koozies with everyone's name on them."
Plus, the couple had seen too many favors left behind at friends' weddings.
"We had both been to so many weddings where brides put a lot of time and effort into a mason jar with a monogram on it or something, and it ends up being left," Newman said. "No one takes it and then you're stuck with 100 mason jars with your name on it."
RELATED: The top 10 wedding trends of 2015
Becci Ford, 26, a teacher in the Philadelphia area, told TODAY.com she had similar concerns.
"My husband and I decided that favors normally just get left on tables or people throw them out," said Ford, who got married last month in New Jersey. The couple instead made donations to the Pennsylvania SPCA and Students Run Philly Style, an organization that aims to help young people through mentorship and running.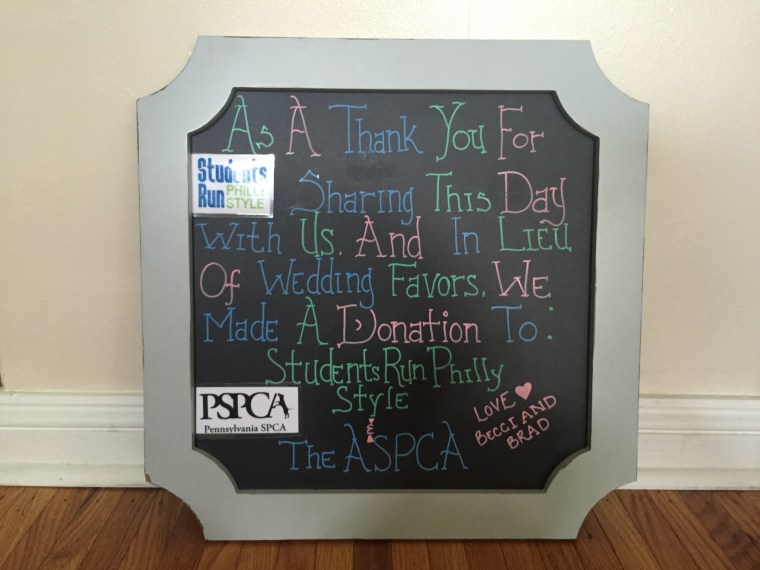 "We actually got the idea from a friend who did it at her wedding," Ford said of the donations. "We thought it was a such a special thing. Instead of a glass or candy, s donation goes a longer way."
But bringing charity into weddings can be tricky, especially if guests have different religious or political beliefs, Khalil said. It helps if the organization is a cause that's close to the couple.
"Choose a charity that makes sense to you as a pair," she said, whether it's a shelter where you got your first pet together or an organization that raises funds for a cause you care about.
Khalil added that she thinks bringing philanthropy into weddings is a trend that will stick. And couples aren't just swapping favors for donations, she said. They're also choosing more ethical vendors, picking venues based on how they think their fee will be spent, recycling flowers and, in a few cases, even getting rid of presents altogether and asking guests to donate to charity instead.
"I think with technology, we have a more globally-aware couple," she said. "With social media, it's hard to ignore things. So I think they're a more conscious, thoughtful generation."
"It's part of this millennial mentality," Khalil added. "They have an awareness that maybe 30 years ago, people didn't have."