Rainbow Loom bands, the latest craze to hit elementary schools, has reached new heights.
One eBay seller in the United Kingdom listed a homemade dress created out of the popular interwoven rubber bands, and on Tuesday afternoon, the piece sold for 170,100 pounds — approximately $291,608.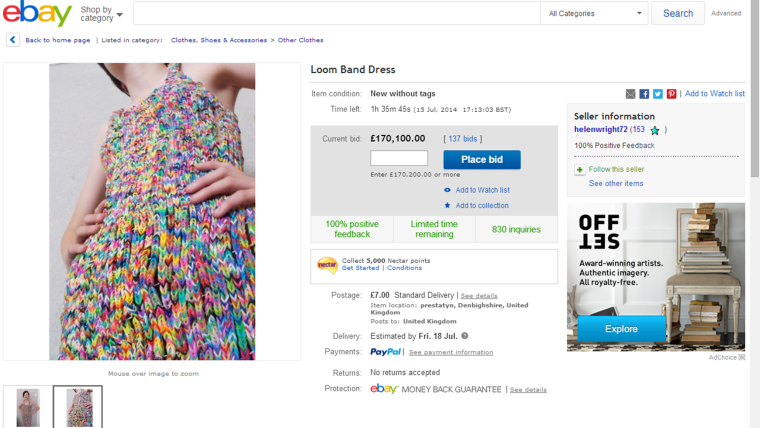 The dress, listed as a size 4/6 and modeled by the seller HelenWright72's daughter, received 137 bids. TODAY reached out for a comment from the seller but did not get a response. 
The bands took off after Michigan-based Cheong Choon Ng and his family created Rainbow Loom, a line of kits that allow users to create colorful items, from jewelry to accessories and beyond. Ng's creation now lines shelves of craft stores and has inspired YouTube how-to videos, while the creations adorn the wrists of children and adults worldwide. 
Even the royals have joined in on the Loom band trend. The Duchess of Cambridge was spotted wearing one of the popular bracelets while in New Zealand in April. Her husband, Prince William, and Duchess Camilla have also been photographed wearing the trendy bracelets.

Earlier this year, Jimmy Kimmel auctioned off a suit made out of the bands for $40,000, and now with this pricey dress going for more than a quarter of a million dollars, there may be a whole new world of Loom band attire on the horizon.