Just about no one we know looks forward to doing laundry, but it's one of those unavoidable chores (unless you are a nudist, of course!). Check out how far one company went to avoid the chore of folding all those freshly laundered clothes. It's pretty crazy!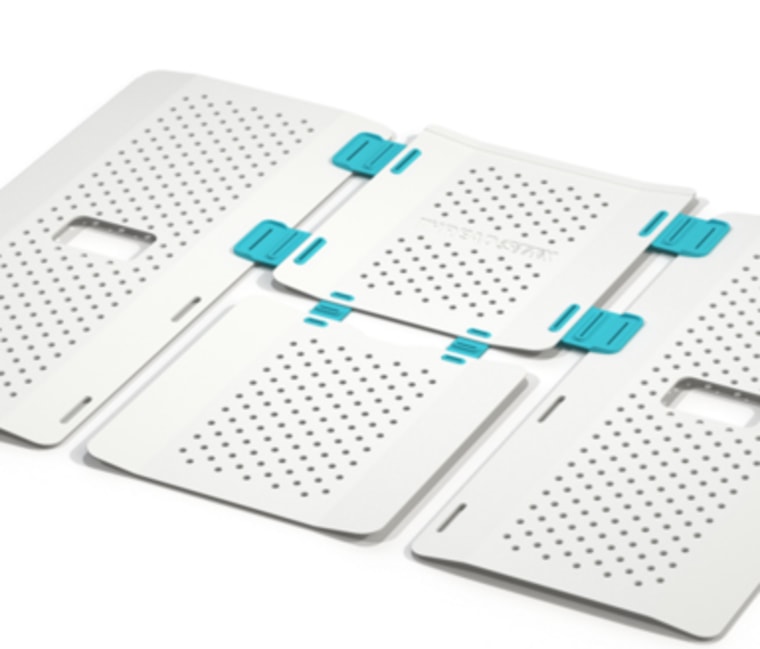 ThreadStax has launched a Kickstarter that is absolutely exploding. Its invention is a simple but smart pair of plastic slides and brackets that can do the chore of folding for you. It's all pretty techie, with folders and magnets involved to draw items in one by one and fold them. It's kind of like an ATM machine, except you feed in your clothes instead of your bank card.
People have been using folding boards for a long time; there are even folding robots out there. But congrats to Threadstax for yet another invention that will let us enjoy a life as lazy as possible.
ThreadStax is currently on pre-order, so if you want to find ways to make laundry folding less of a chore in the meantime, here are some ideas for you.
RELATED: The life-changing magic of tidying up: How this 1 tip changed everything
A family affair
To make laundry easier, give each family member their own laundry basket and have them pre-sort their clothes. "Children as young as 2 years old can help Mom and Dad fold washcloths. Older children can help sort, fold towels and pair socks. Laundry is one of the easiest areas to start incorporating chores that are age appropriate. It also makes the laundry a little more fun when you have a little helper!" said home and lifestyle expert Laura Dellutri on behalf of Samsung.
Bag up the socks
Nothing frustrates you more than folding clothes and finding you have lost socks! "The dryer surely eats socks and turns them into dryer link. Stop the lost sock madness! Put all socks in a mesh laundry bag before throwing in the washing machine! Zip up, and your lost-sock problem will cease to exist," said Dellutri.
Stand up tall
"Fold clothing upright in drawers so that the fold 'stands up' and you can see each and every shirt," said organization expert Aly Finkelstein. This is not only essential for being able to see everything; it's a major space saver too.
Do laundry as often as you can
Little loads are less overwhelming, take less time to do and fold, and make putting things away quick, said Finkelstein.
RELATED: 4 mistakes you're making with laundry — and how to fix them