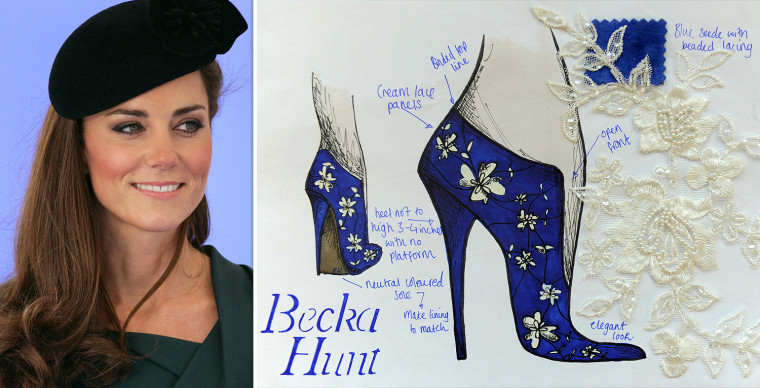 Duchess Kate's life must sometimes feel like a real life fairy tale, and on no day more than Thursday when she picked her very own "slippers" from a set of six that were designed just for her by a Leicester, England college student.
Although they weren't made of glass, the shoes this modern-day Cinderella chose were nonetheless fit for royalty. Made out of royal blue suede covered in cream lace panels, they will be made into a wearable pair of heels for the duchess in the coming months.
They were designed by De Montfort University student Becka Hunt who was inspired by "the things Kate wears, her engagement ring and her style." (Kate obviously did not heed The Look's poll of the 6 designs. While Hunt's design garnered 19% of the vote, our readers' clear favorite, with 2,631 votes or 46.5%, was a tartan-inspired design.)
"I am absolutely overwhelmed, excited and amazed," the winning student said in a press release about the event. "The attention I have had since I was announced as the winner is all a little scary to be honest, but I have to say it has been great fun and hopefully this will be good for a future career."
Despite her royal status, Kate is no clothes hound and gets a lot of wear out of her shoes. This winter, her footwear of choice has been a pair of black suede heels by Episode, while last spring and summer she often stepped out in nude patent pumps by L.K. Bennett. (Now available to the masses at Nordstrom and nordstrom.com, if you can afford the $325 price tag.)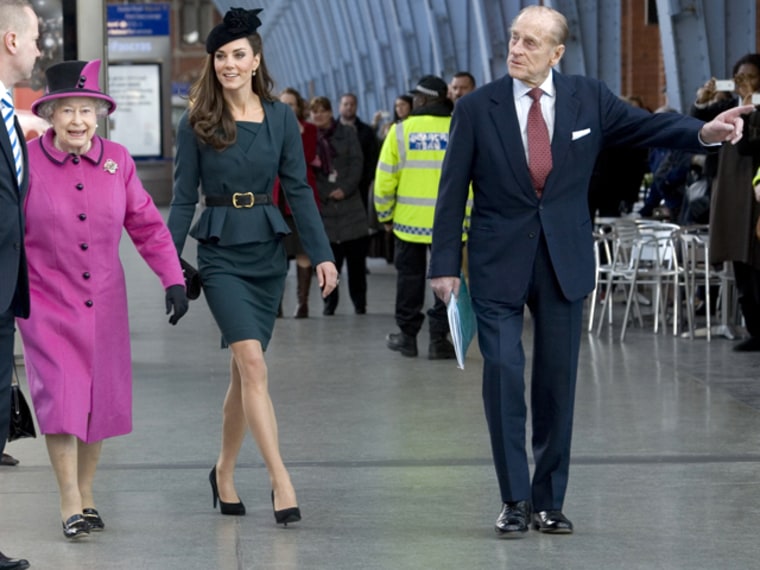 Looking like a '40's movie star in a teal belted outfit and jaunty black hat and those favorite Episode pumps, Kate made the trip to Leicester with her mother-in-law Queen Elizabeth II to kick off her Diamond Jubilee tour of the U.K., celebrating 60 years on the throne. Together with the Duke of Edinburgh, they left London on a 10:15 a.m. train.
The duchess's ride on public transportion wasn't the only way she showed her common touch: her L.K. Bennett ensemble was reportedly bought at a second-hand store. What's more, it wouldn't be Kate's first public appearance in something pre-owned: the grey coat-dress she wore at her February National Gallery appearance was from a second-hand shop near her parents' home called "The Stock Exchange," according to Grazia.
This was Kate's second outing with the queen in the past week. Last Thursday, they visited the "royal grocer" Fortnum and Mason in London with Camilla, Duchess of Cornwall and wife of Prince Charles.
Are we imagining things, or is spending so much time with her fashion-forward daughter-in-law rubbing off on the queen? Check out her hot pink coat and duo-tone hat!
More:
Slideshow: Duchess Kate's royal style
What's in a name? U.K. clothiers misspell Shakespeare
Camilla pulls a Kate, dons an affordable (mail-order) dress
Kate, Camilla and the queen take a ladies' day out
Rachel Elbaum is a London-based writer who would happily wear Kate's new shoes.