These might be the most epic wedding photos we've ever seen.
A California couple decided to get hitched in one of the most stunning venues available: Mount Everest.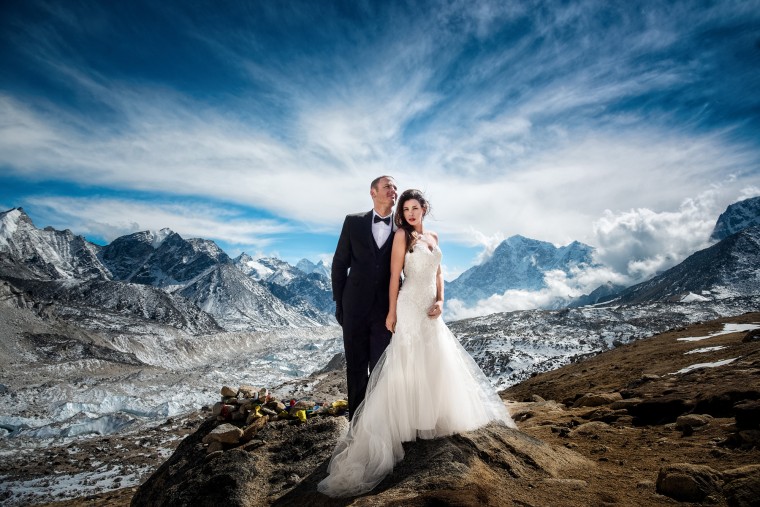 Photographer Charleton Churchill, who specializes in adventure wedding photography, said he had been wanting to capture a wedding on the site of the world's tallest mountain, at 29,029 feet, since 2011. He had originally planned to do this with another couple in 2015, but while they were on the mountain, the 7.8 magnitude Nepal earthquake struck and halted the nuptials.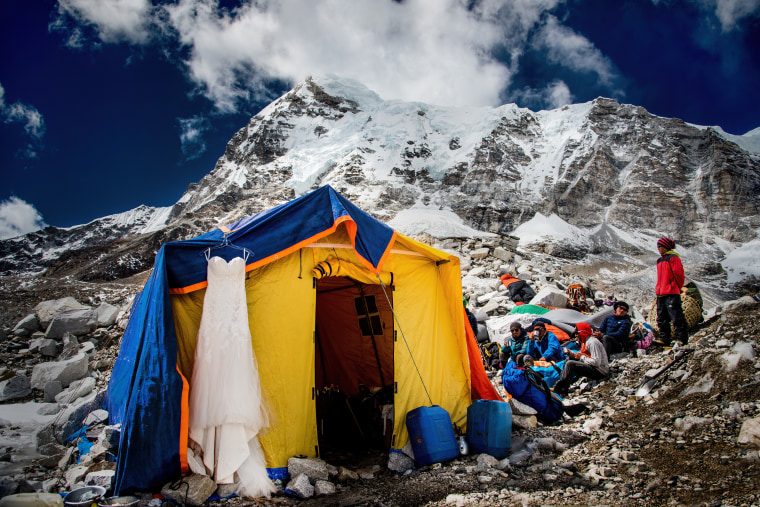 "This 2017 wedding was my second chance to get a couple on the mountain and be the first wedding photographer to shoot a wedding at base camp with the first couple to wear a wedding dress and tux," he told TODAY Style. (Reaching the Nepal base camp, at 17,600 feet, is nothing to sneeze at; by comparison, North America's tallest mountain, Alaska's Denali, is 20,310 feet tall.)
In March, he headed to Mount Everest with the bride and groom, Ashley Schmieder and James Sissom. The conditions behind the scenes were a little less than desirable, but that didn't stop the pictures from coming out beautifully.
RELATED: Behold the 'This Is Us'-inspired wedding shoot of our dreams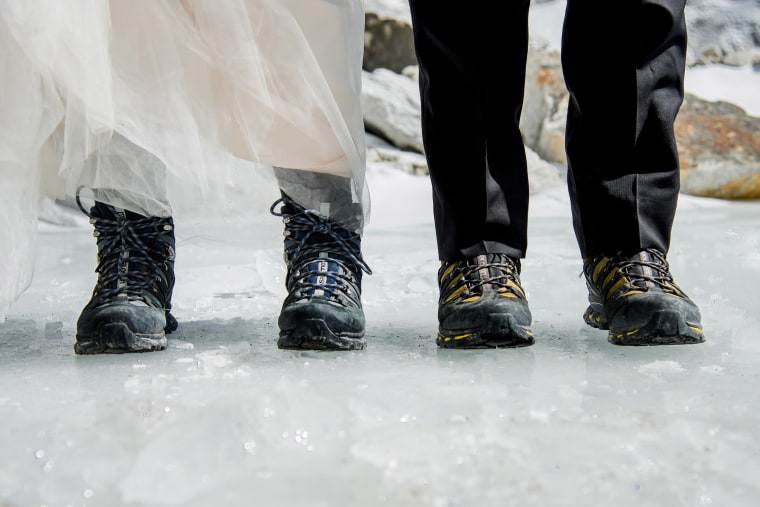 "There's no glory without suffering," Churchill wrote on his blog. "We worked hard for these images with much less time to photograph a short wedding than we planned."
A few days into the journey, it began snowing hard, and because of the frigid temps, Churchill said it was hard to take photos. "Your hands would quickly freeze if left out of the gloves," he said. And at one point, some of his camera equipment wasn't functioning because it was too cold.
RELATED: Bride dresses as T. rex, surprises husband-to-be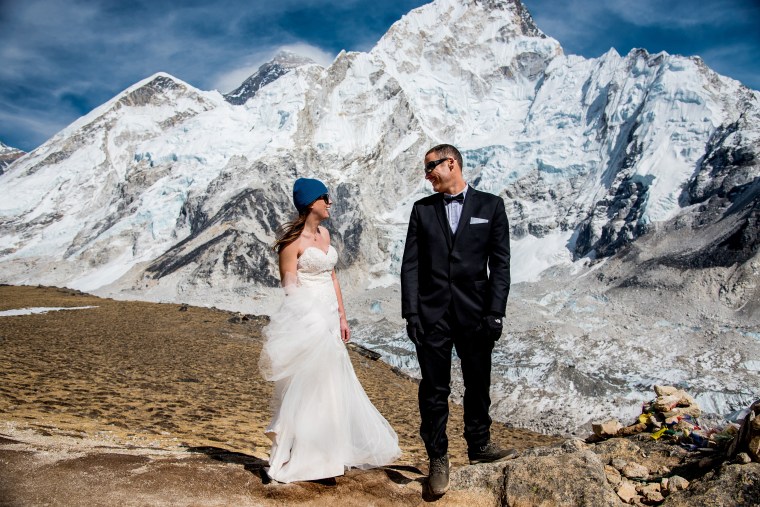 On the wedding day, the temperature ranged from minus 5 degrees to 5 degrees. Schmieder, in particular, had to focus on keeping warm in her strapless wedding dress. The couple wore boots, beanies and sunglasses with their black-tie attire, and Schmieder ultimately covered her arms with a wrap.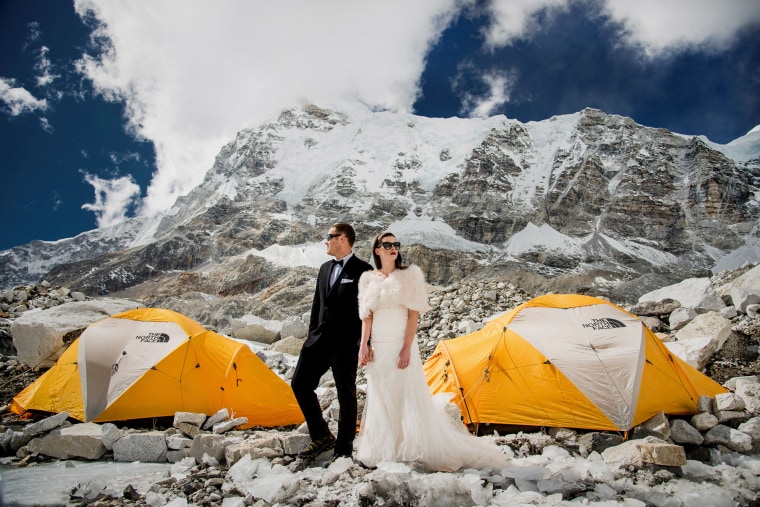 RELATED: 'Harry Potter'-themed wedding charms fans and skeptics with magical setting
Because it was so far away from home, the couple had no minister but exchanged vows and rings, said Churchill. "It was truly a moment of awesomeness, knowing where we were at that time, and how hard we worked to get there."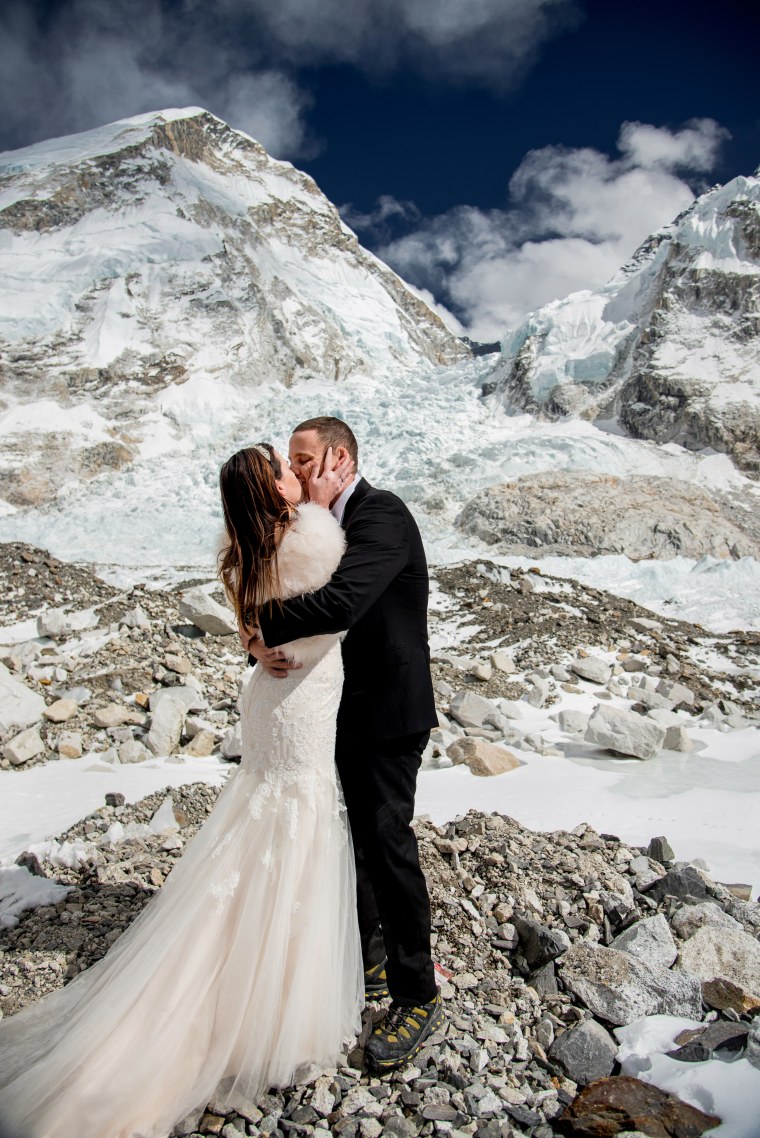 See more pictures of the gorgeous adventure wedding on Churchill's blog.