Two lucky ladies were plucked from the TODAY plaza for head-to-toe makeovers this morning, and as always, celebrity hairstylist Louis Licari and TODAY's fashion guru Jill Martin worked their magic... just in time for Mother's Day!
Kathy Ednie from Maryland is a full-time mother and grandmother, who's celebrating her 35th wedding anniversary with her husband this summer.
She turns 55 today and has been planning her New York City celebration for three years — adding that meeting Kathie Lee Gifford and Hoda Kotb (and getting Ambushed!) has been a long-time item on her bucket list.
Ednie gasped upon seeing her beautiful transformation in the full-length mirror on set.
"You look beautiful," Hoda said, admiring the Ednie's wispy bangs and richer, deeper hair color.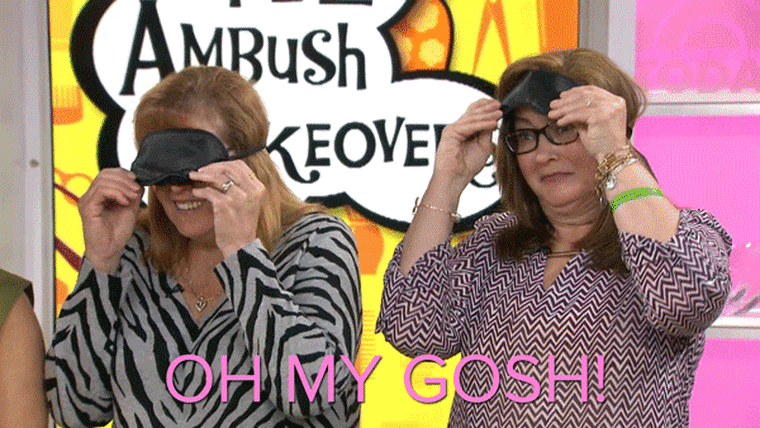 The lucky lady, who also stunned her sister and best friend, donned a lacy green dress perfect for spring and fun-filled birthday festivities in the city.
RELATED: Ambush Makeover turns Michigan mom into glamorous gal
Maggie Silvey, a 41-year-old preschool teacher from Ohio, was next up to receive her makeover.
She made the trip to New York City with her husband and two boys, one of which told TODAY that his mother "deserves this more than anyone in the world!"
"Awesome!" the fabulous-looking Silvey exclaimed.
She loved her playful, choppy haircut — wonderfully complemented by the addition of beautiful, bright makeup.
RELATED: Glamorous Ambush Makeover wows KLG: 'You look sensational!'
And the color-blocked dress Jill selected was the perfect style for Silvey's slender, tall frame.
Two amazing transformations for two very deserving mothers!