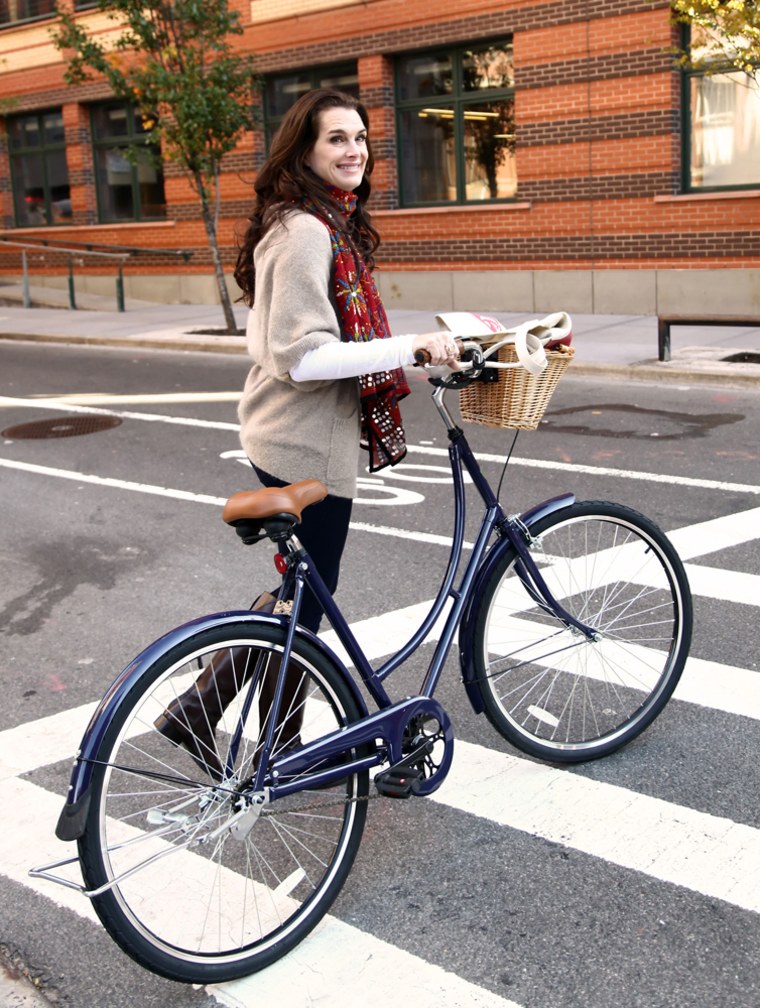 By Lisa A. Flam
In the era of the Prius, biking has become increasingly cool and trendy, as enthusiasts look to stay fit, help the environment and save money on transportation costs. And the fact that celebrities and trendsetting hipsters alike have hopped on board doesn't hurt either.
"We, as a culture, are just really coming full circle," says TODAY style editor Bobbie Thomas. "We went through the consumption era, when it was the bigger the bling and better."
Today, though, Thomas says, people "value authenticity more than ever," and want to have a low-maintenance lifestyle, like fashion's effortless chic look. And with bike ownership, Thomas notes, "there's no pomp or circumstance."
Of course, luxury labels have also been adding their stamp to bikes for the past few years — but don't let don't let sticker shock hold you back. You can get a cute bike today for a few hundreds dollars, and there are many ways to personalize your ride by adding a basket, bag or bell.
"There's something for everyone," Thomas says "From high-end designer bikes for people who are fans of design and fashion, to mainstream brands giving you different colors, to flea market finds that can be just as fabulous with a little DIY."
To make a statement with your bike, pick a loud or bright color, Thomas recommends. Or for a more sleek look, go for a metallic. Put on a fashionable outfit (no need for athletic wear), top it off with a helmet and hit the petals. 
We rounded up a few designer styles (just to fawn over!) and fun, affordable buys that won't break the bank:
High end: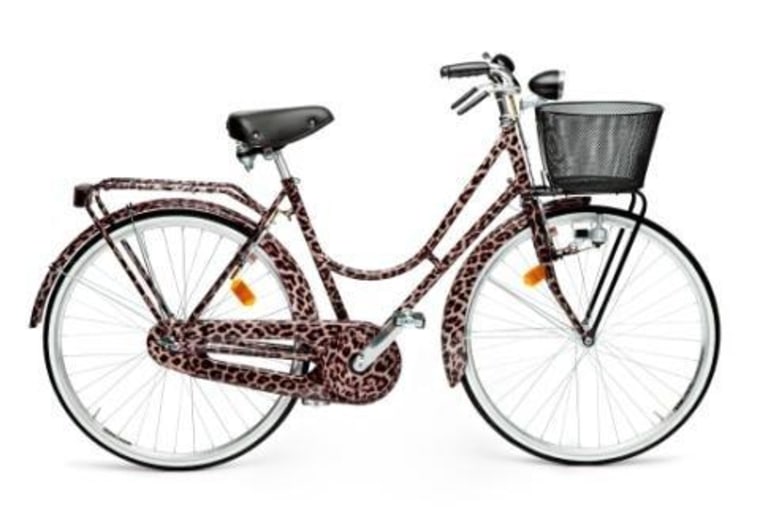 Looking to take a ride on the wild side? You'll make a two-wheeled statement with Dolce & Gabbana's bike, The Animalier. The limited-edition leopard-print bike is made of steel, has no gears and the brake mechanics are hidden inside. True to luxury form, the bike has 24-karat gilding and is protected by an all-weather varnish. The Animalier has a leather seat, a black bell and a plastic-coated aluminum basket. Americans on the prowl for the Amimalier won't find one here. It's available in Dolce & Gabbana boutiques in several European and Asian cities, for about $2,048.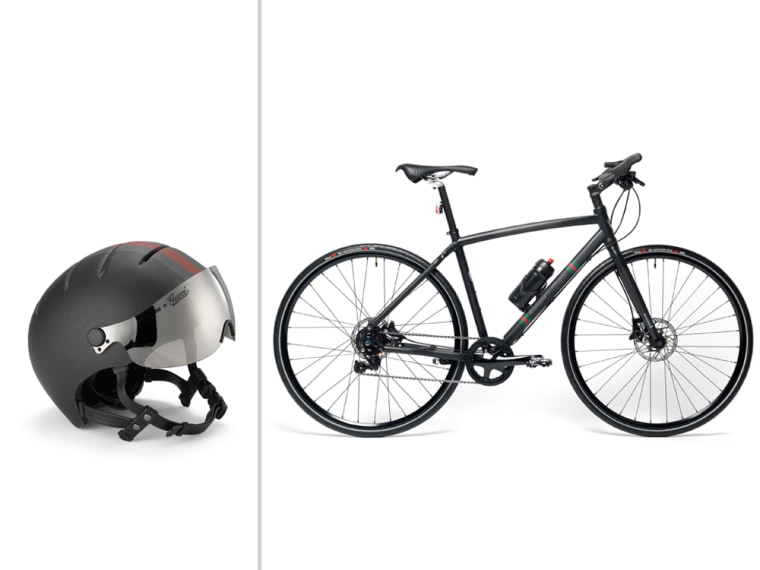 At a jaw-dropping $14,000, this bike is a collaboration between Gucci and Bianchi, the Italian manufacturer known for high-performance racing bicycles. The Bianchi by Gucci black 11-speed carbon bike is suitable for both city and country biking, Gucci says, and it features the familiar red and green Gucci stripes on the frame and diamante pattern on the black seat and handlebars. Of course, no ensemble is complete without accessories and with this bike, they'll cost extra. The helmet will set you back $890, biking gloves are $305, and the water bottle is (gulp!) $105.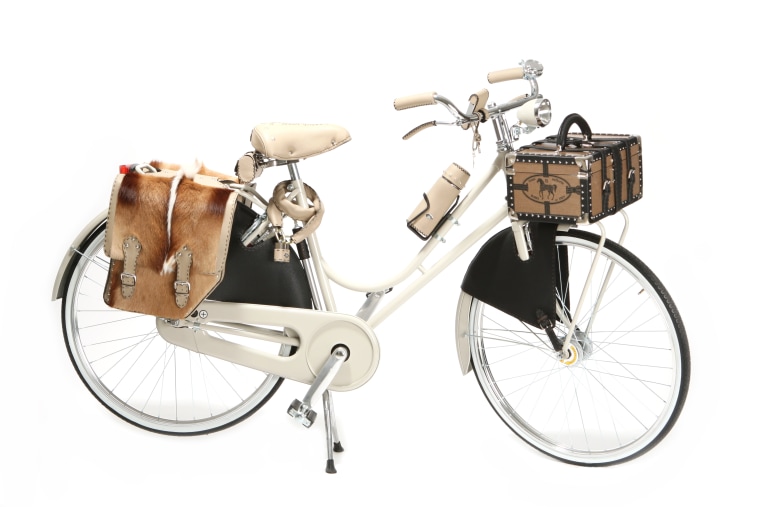 Fendi
Fendi teamed up with Italian bike maker Abici to create the Selleria bike. The bike has a leather seat that's stitched with the Fendi name, leather handle covers, a chain and padlock, a pump and a nylon cover to protect it from the elements. To give your bike the total look, you can trick it out with a leather-covered "thermos bottle," a GPS with hand-stitched leather cover, rear packs fashioned from gazelle fur, and the most gorgeous accessory of all, the front leather mini-trunk. The basic bike goes for $6,000, and when all of the extras are added, the price reaches around $10,000.    
Affordable faves: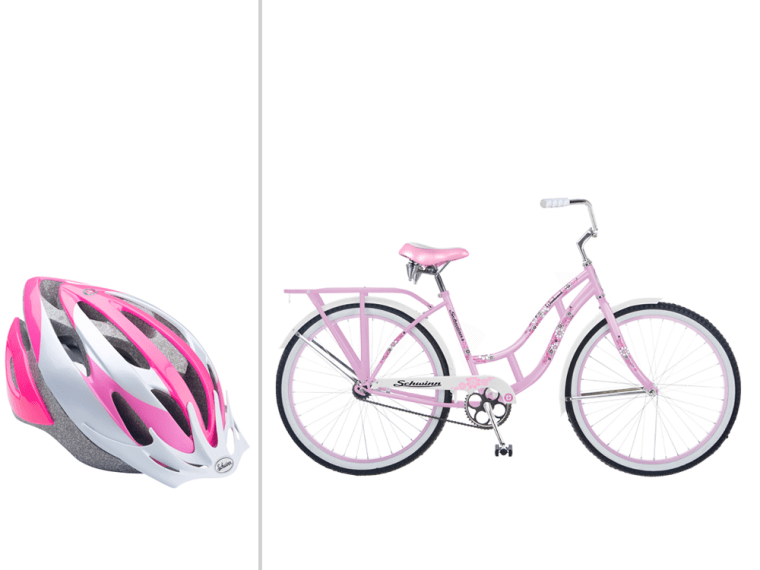 In a nod to the heyday of the classic cruiser, Schwinn's Windwood model, with its swept-back handlebars, is based on the company's 1955 design. The bike, with a steel frame and feminine floral detail, has a single speed and coaster brakes. Pretty in pink, there are matching fenders and a rear rack for storage. The bike is a cool $180. Schwinn's Thrasher microshell helmet, at $21.99, offers a removable visor and 20 vents to keep the air moving.
Huffy's not all about the banana seat any more. The cream Panama Jack traditional one-speed cruiser, which goes for $149.99, has a subtle floral design on the frame and a vintage look. The bike has a rear rack, a front leather handlebar bag and bottle holder, and a decorative simulated wood insert sporting the Panama Jack logo.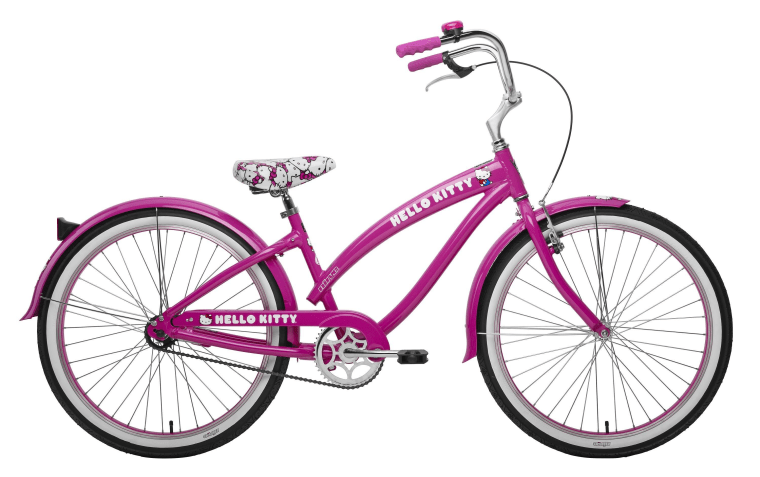 Of course Hello Kitty loves bike riding. Take her with you on this bubble-gum pink cruiser from Nirve Sports, which costs $439.99. The one-speed alloy frame bike has a seat covered with the likeness of Miss Kitty, a Hello Kitty bell and a hand brake and rear coaster brakes.  
Lisa A. Flam is a news and lifestyles reporter in New York who ran over the tail of the neighbor's cat while learning to ride a two-wheeler.
More: Get the look: 'Great Gatsby' glamour
 H&M's newest collaboration? The kooky Maison Martin Margiela