Carson Daly is such a proud lover of flip-flops that he even wears them at work. And sometimes, that includes when the cameras are rolling.
The California native looked like he just got done catching some Memorial Day rays as he guest-hosted TODAY with Hoda & Jenna on Tuesday with Jenna Bush Hager.
However, Carson admitted he didn't think his feet were going to be out there for all to see.
"That's a real thing right there, folks,'' Carson said. "That's happening. I thought the last time I filled in for Hoda, this desk had a cover down there, but somehow you guys went bottomless.
"I always say, my feet are on vacation. They're always in Jamaica."
We envy that mindset. You do you, Carson.
But the laid-back style is part of a polarizing trend, as more men everywhere appear to be stepping out in sandals and flip-flops during the warm weather.
A recent article in The Boston Globe analyzed the fashion choice and found many women are just not into it.
One woman told the Globe men's sandals are "a fashion war crime that should be tried at The Hague."
However, flip-flops aren't just summer accessories for Carson. He has been known to wear them outside in January in frigid temperatures.
"You know me, you know that I wear flip-flops every day,'' he said. "People on the streets of New York are like, 'What are you doing? That is just stupid.'
"It's my thing. Just I feel better about life. I just like sliding in and going. I'm in and I'm out. Plop 'em out, sit on the couch and there you go."
The two exceptions Carson makes for ditching the flip-flops are on the golf course and in church.
"For God and golf, I will go the extra mile, but that's it,'' he said. "That's where I draw the line. God and golf will get me into loafers, but otherwise it's flip-flops."
Carson's colleagues debated the topic of men in sandals earlier this month on the 3rd hour of TODAY. Sheinelle Jones said she was a fan.
"I don't mind it,'' she said. "(My husband) wears flip-flops, and unapologetically so."
Craig Melvin copped to wearing them, but only in certain settings, like the beach. But you won't see him slapping around 30 Rock in a pair.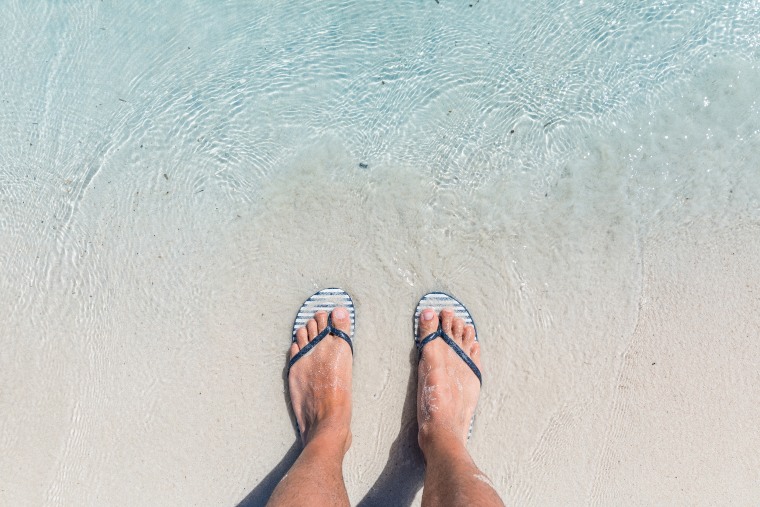 "I've never been to work in flip-flops," Craig said.
For those like Carson who are proud wearers of flip-flops, TODAY has you covered with the 10 best styles for this summer, as well as some tips to take care of your feet when you're out in the heat.