Trying on clothes in the comfort of your own home is one of the benefits of shopping online. But as Alicia Balster recently discovered, online returns can be even more mortifying than fitting room mirrors.
The stay-at-home mom from rural Montana learned this lesson when she tried returning a T-shirt she'd bought on Amazon.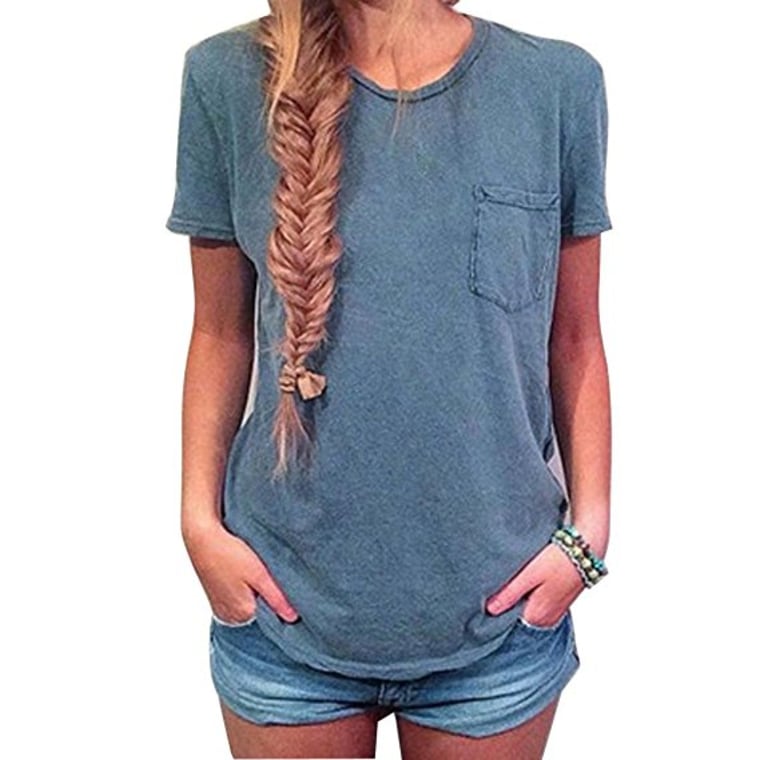 "It was a little small on me. It's a sore subject," Balster told TODAY Style about the crewneck T-shirt which sells for $4 - $8. The mom of two kids under the age of 4 wasn't entirely surprised that she had underestimated her size; She gave birth to her son in late January. What did surprise her was the response from the third-party seller, Meyerllbama, after sending her return form.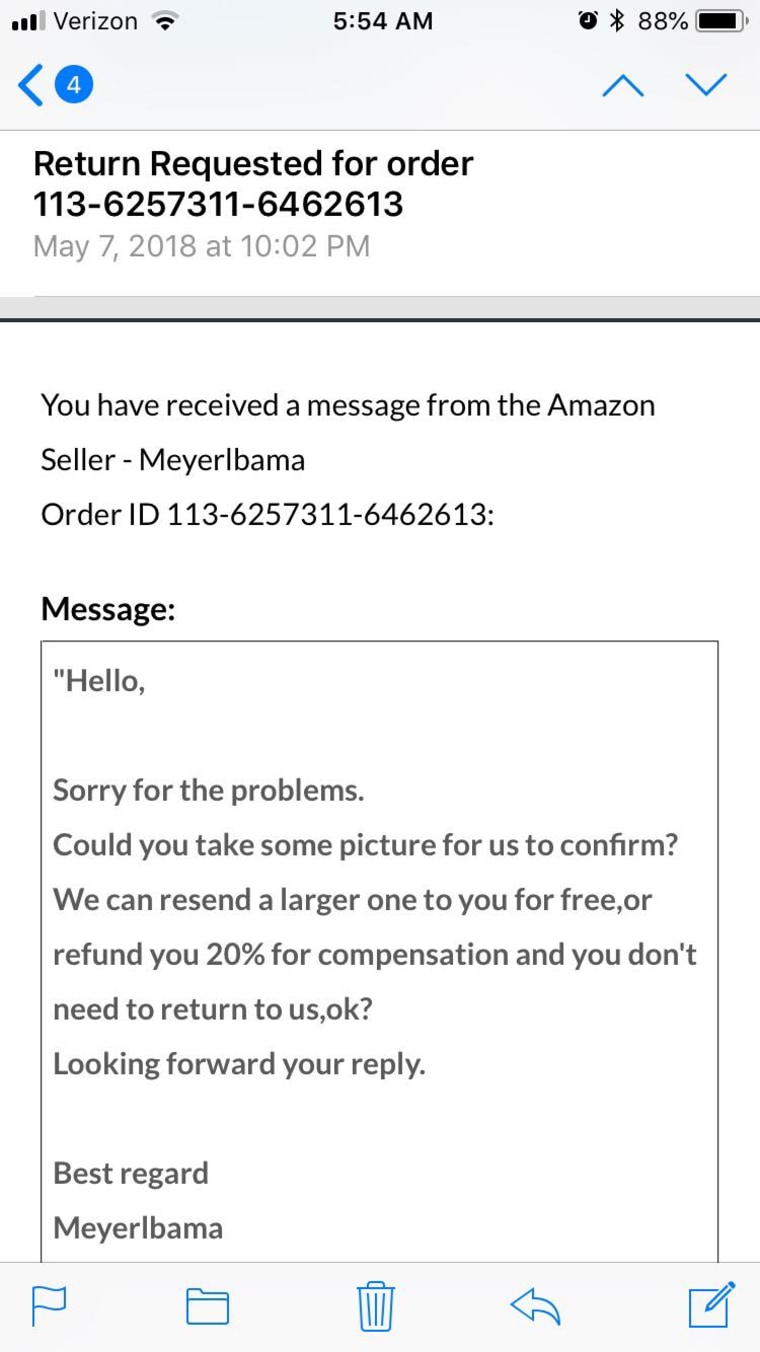 Balster stated her reason for wanting a return was because the shirt was too small. The seller responded to her request with a request of their own.
"They wanted me to send them a picture," recalled Balster who took it to mean the seller wanted proof that the shirt was too small.
While she's an Amazon Prime member and frequently shops on Amazon — buying 16 items of clothing for herself and her kids in the last six months — she's never encountered this type of response when attempting to return an item. "I'm not sending a perfect stranger a picture of me in a shirt that's too small," insisted Balster. "No, thank you!"
She immediately contacted Amazon's customer service department. In addition to the photo option, Meyerlbama, who is currently selling more than 600 items including maternity and plus-size apparel on Amazon, also offered to send her a larger size for free or to refund her 20 percent of her purchase price (and she'd get to keep the too-small shirt). But for Balster, those options weren't acceptable.
Amazon, who released a report on May 3 stating it has more than 1 million small-business and medium-business sellers based in the U.S. alone, guarantees free returns within 30 days of delivery for eligible orders fulfilled by Amazon. But Balster's purchase was fulfilled by the seller.
Still, as of last August all sellers are now required to have a return policy equivalent or better than Amazon's own return policies. They may require stating a reason for returning, but never require sending photos.
To protect buyers, Amazon's A-to-Z Guarantee states sellers have to accept returns in almost every situation. An Amazon spokesperson told TODAY that this even includes reasons such as "You changed your mind."
In this case, Balster didn't change her mind. The shirt was simply too small. Fortunately, Amazon's customer service department quickly contacted the seller and the shirt is being returned for a full refund, sans humiliating photo.
Amazon wouldn't specify how often photo requests like these are made. But, it does provide sellers guidelines they can reference when dealing with claims regarding broken or damaged items. In these scenarios, it's not unusual for sellers to request photos for proof that items arrived not as advertised.
But for sellers whose first language isn't English, it can be easy to copy, paste and send a buyer a response that might not be appropriate for apparel, according to Amazon. In other words, sellers who do this are probably not intentionally trying to body-shame their buyers.
"Amazon is wonderful," Balster told TODAY before adding she'll keep shopping online despite this experience. "I'll just be more vigilant about who I'm ordering from."