One Georgia mom came up with a clever plan when she noticed her 13-year-old son was acting "entitled" and making fun of his peers at school who shop for clothes at places like Goodwill.
Her solution to teach him a lesson? Make him shop at the very place he criticized.
In a viral Facebook post, Cierra Brittany Forney explained that her son was "acting like he's too good to shop at Walmart or making snarky comments about kids at school who shop at the goodwill."
"I don't tolerate that," Forney wrote. "Today, he took his own ($20) to the goodwill to buy clothes to wear the entire week to school. Whatever he found is what he would have to wear. He isn't happy and shed a few tears but I firmly believe in 15 years he will look back and laugh at the day his Mom made him shop at goodwill."
Her post has since been shared more than 276,000 times. Forney told TODAY Style that she wasn't trying to humiliate her son, but to prove to him that money isn't everything — and that bullying is never OK.
"If I didn't nip it in the bud now ... he's 13, imagine the things he would be saying or doing at 16," she said.
"I sat with him and tried to explain that I wasn't punishing him, but that he can get nice clothes from anywhere," added Forney, who lives with her family in Braselton, Georgia, about 50 miles northwest of Atlanta.
But her message goes beyond clothes. Forney, who also has two younger children, recently noticed that her son was embarrassed to ride around in his father's car, which is part of the reason she decided to do something.
"It really all started because my husband drives an older car to work," she said. "It's a 20-year-old Honda and he wanted (my son) Anthony to go with him somewhere. And Anthony didn't want to be seen driving around in the car. That was sort of the last straw."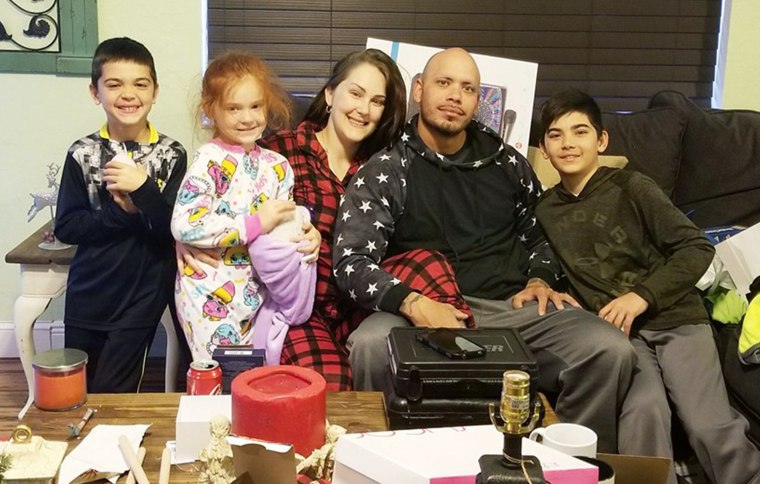 Forney and her family are shocked by the response her message has gotten. Most of the feedback is positive — "I've gotten messages from people that have brought me to tears," she said — but not all of them.
"A lot of the backlash I got was, children only know what they're taught," Forney said, adding that she's the first to admit that some of her son's attitude about money might be her own fault. "I had my son when I was 15 and my husband was 17 and because we had our kids so young, we were adamant that they weren't going to go without because of our decision. So we spoiled them."
Now she's trying to correct that, and most parents are giving her props for doing so.
"Thank you for teaching your son compassion and empathy," one woman wrote on Facebook.
As for Anthony, he even managed to find some things he liked at the Goodwill store.
"He got a really nice plaid button-down shirt, some Old Navy shorts, another Old Navy shirt," Forney said. "I mean, everything he got was all name-brand. One of the shirts even had a tag on it! It was like a $30 shirt."
Her son was initially annoyed, but Forney thinks her message is sinking in.
"He's getting what I'm saying," she said. "He's been a good sport."