One Kansas mom is taking her daughter's middle school to task after she says school officials "embarrassed and harassed" her 11-year-old for wearing leggings.
Kimberly Jones, whose daughter Bella just started the sixth grade at Lansing Middle School, said a school employee sent her daughter to the nurse's office before class last Wednesday, saying she had broken the dress code.
The nurse measured Bella's tunic and said it was too short, and then gave her a pair of gray sweatpants to wear over her leggings. Even though Bella had been told she couldn't call home for a change of clothes, she texted her mom in a panic, explaining what had happened.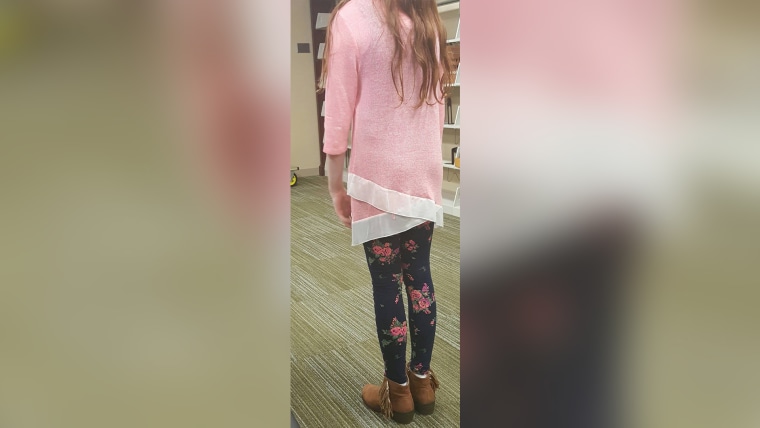 "I left work and I ran right over there and asked them to pull her," Jones said. "She was sobbing. We're a military family and we just moved here. One of the big heartbreakers for me was that literally all day and the day before she was so excited about school. And then to hear your daughter say, 'Can I please move?' It was hard."
She said her daughter was mortified, and regardless of whether she had unknowingly broken the dress code, the sweatpants felt like a punishment.
RELATED: Dad blasts school for 'dress code shaming' his 5-year-old daughter over this dress
"What other reason would there be to have an 11-year-old who's new to the school, new to the district, new to the state, wear these pants all day?" Jones said.
The school admits the dress code regarding leggings wasn't clear. A policy posted on its website now states that leggings are "not considered suitable school wear," but the site hadn't been updated at the time of Bella's infraction and leggings weren't mentioned.
"I apologize and have taken steps to ensure our website remains updated," Lansing Schools superintendent Darrel Stufflebeam wrote in an email sent to parents last week about the dress code.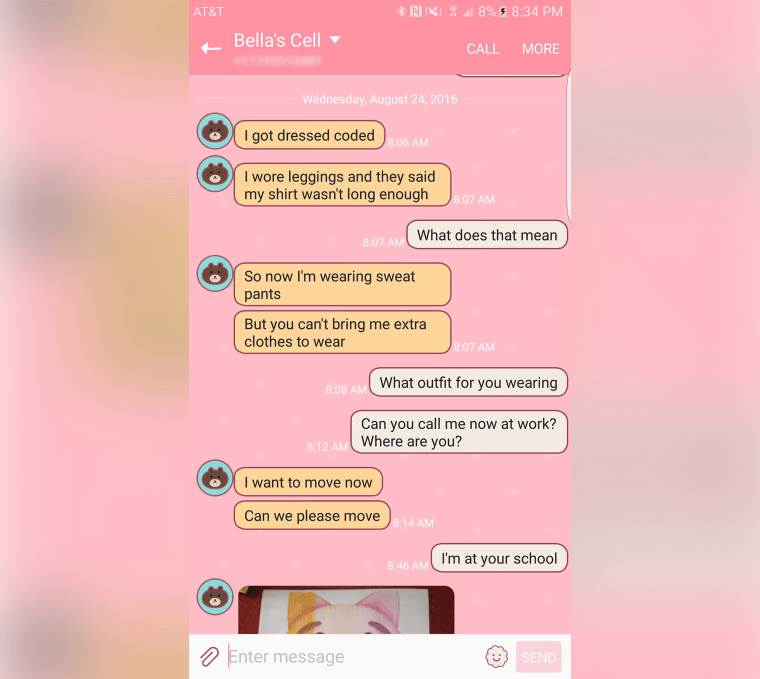 But Jones also takes issue with how leggings are defined, and why they're banned in the first place.
"Her pants aren't tight, see-through ones," she said. "I think these are knit pants and not really leggings."
RELATED: 'This isn't the 1950s': See the school dress code that's stirring controversy
Nineveh Carvan, the district's community relations coordinator, sent the following statement to TODAY:
"We will continue to examine our policies, how they are enforced, and how to maintain an effective learning environment while continuing to make sure all students and parents are treated with dignity and respect," the statement said. "Our focus is now on fulfilling our responsibility to educate the students of our school district."
Meanwhile, a Facebook post Jones wrote about the incident (which has since been taken down) went viral, mentioning that her daughter didn't deserve to feel "embarrassed and harassed" by the school. Her battle against the dress code is gaining supporters across the country.
RELATED: North Carolina school proposes ban on skinny jeans to combat 'bullying'
"People are outraged that schools are sexualizing our children," Jones said. "I was told that the reason behind this is that 13-year-old boys can't control themselves around this type of dress — two different [school] staff members told me that!"
Even Bella is getting involved — she and a friend created a petition at school to get the dress code changed to allow leggings, her mom said.
"People are saying that I wasn't telling the truth and that I knew this was a rule — well, it was also once a rule in this country that women couldn't vote!" Bella said. "That doesn't mean we give up on a good fight."