An Iowa woman with Down syndrome is out to show the world that having a disability doesn't mean she can't be beautiful.
And she's doing it in a big way: Katie Meade, 32, was recently revealed as the face of a hair-care brand, Beauty & Pin-Ups. Meade, who was also born with a heart defect, was styled as a pin-up model for the retro photo shoot and appears on the packaging for the company's new product, a hair mask.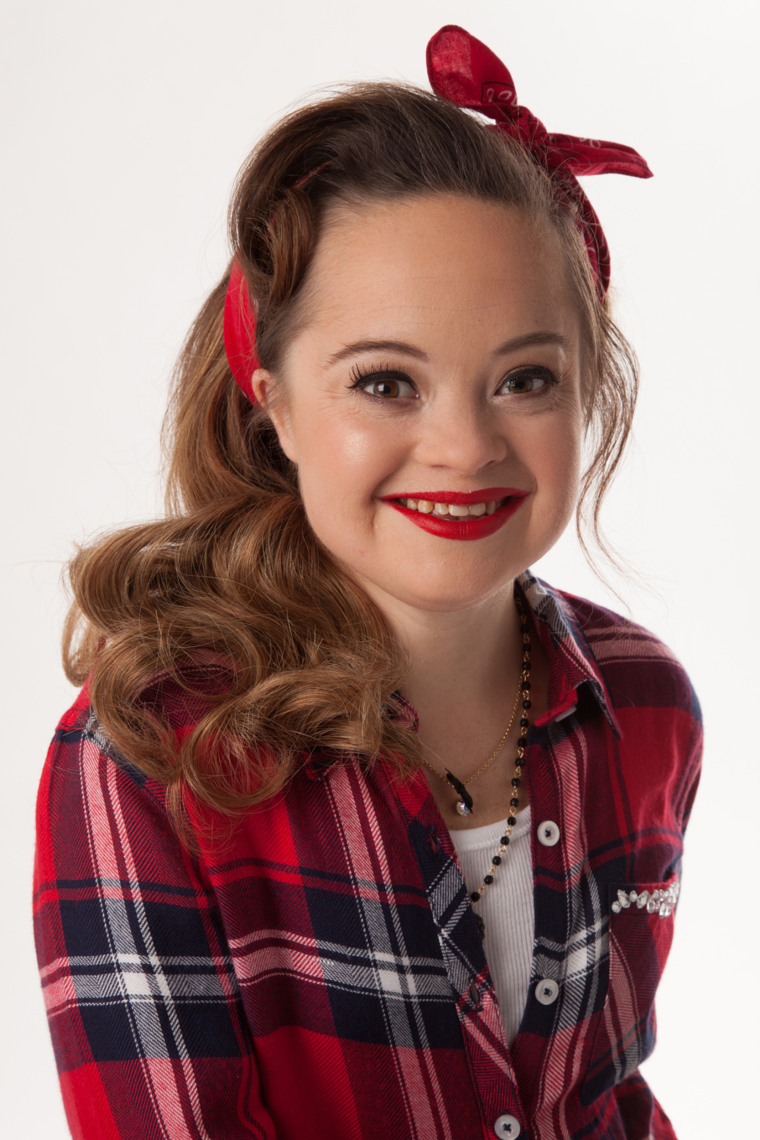 Meade, who lives in Des Moines, told TODAY the experience was something she'll never forget.
"It was amazing," she said in an email. "It was fun trying on clothes and getting ready for the photos. I felt so special! It was really cool to feel like a true model."
And she loves how the images turned out: "I am very proud of myself," Meade added.
RELATED: Madeline Stuart, model with Down syndrome, stuns in wedding photo-shoot
While the campaign is her latest triumph, it's hardly her first — Meade, who works as an office generalist in her county treasury office, is also a Special Olympics gold medalist.
"She is just an incredible person," said Kenny Kahn, CEO of Beauty & Pin-Ups, which he described as a line of hair products that's all about "paying homage to the pin-up, with a retro twist."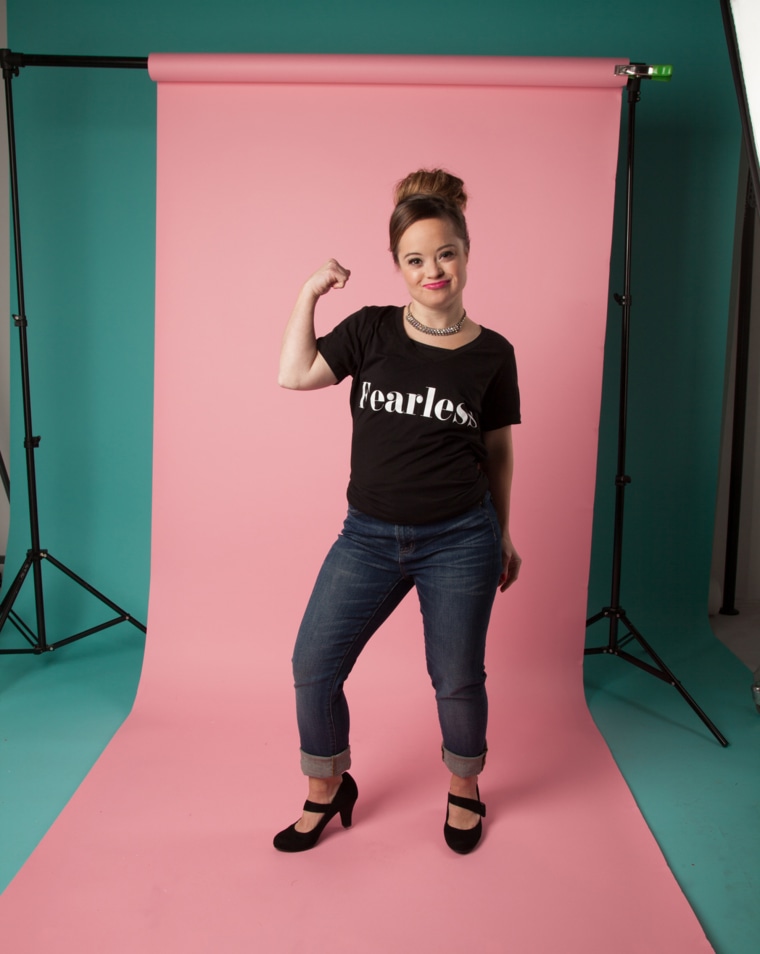 Kahn told TODAY the decision to hire Meade was an easy one. The brand had already been working with Best Buddies International, an organization that helps people with intellectual and developmental disabilities meet friends and find employment opportunities. Meade is an ambassador for the group.
"It was important to us to build a brand that mattered, that stood for something," Kahn said.
RELATED: Model with one arm fights for diversity in the fashion world
The brand donates part of its proceeds to the organization, and also brings a Buddy to every event it attends, like trade shows and conferences. That's how Kahn met Meade. When the brand decided to name their new product "Fearless," they immediately thought of Katie.
"We kind of looked at each other and all said, Katie is the most fearless person we know," Kahn said. "So we took the style team to Des Moines and in December did a photo shoot. It was the most fun day I can remember having."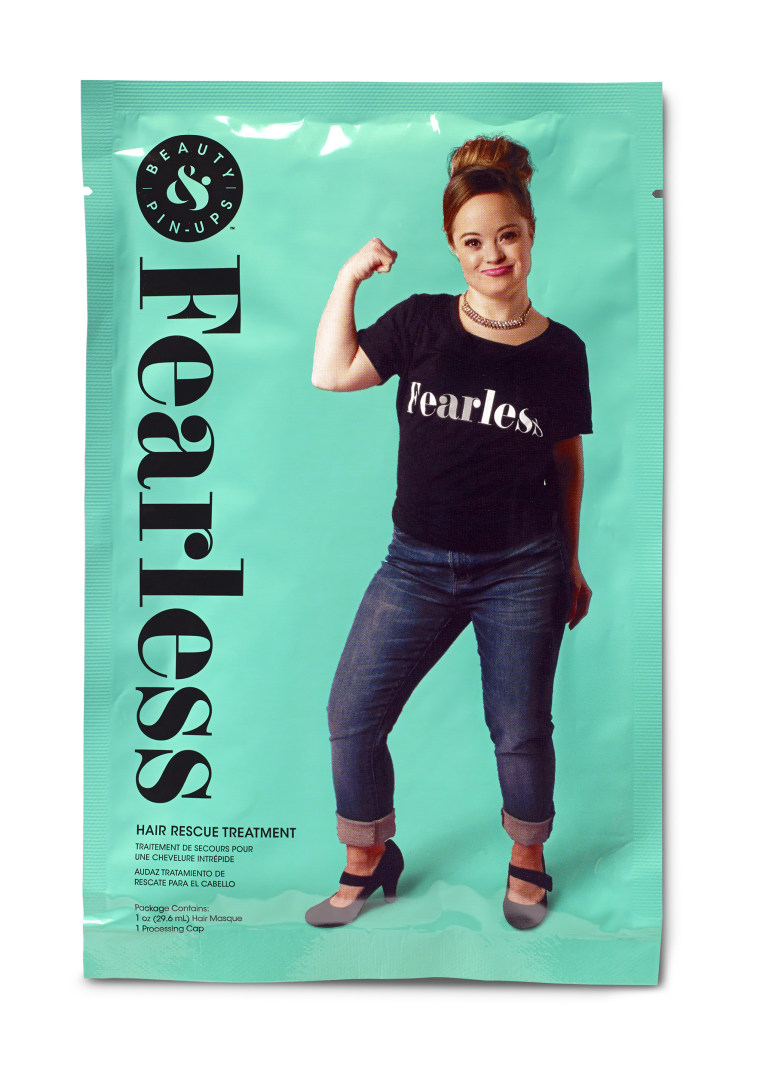 Meade wears a black T-shirt that says "Fearless" on the product packaging.
"She is a very special person and it comes across in her photos," Kahn said. "She represents not just hope; she represents reality."
RELATED: Model with muscular dystrophy is new face of Beyonce's fashion campaign
Meade said the brand is "like family to me."
"They make me feel welcome and loved," she said. "They have given me opportunities to show the world that people with disabilities like beauty and fashion, and like to look good like everyone else."