Ashley Graham is continuing to use her platform as a plus-size model to do some good.
The stunning supermodel, who previously flaunted her curves in a tiny bikini for a viral beach body campaign, recently gave a TED talk titled "Plus Size? More Like My Size" in Valencia, Spain, where she shared a number of inspiring words and flaunted her curves in a sexy skin-tight dress in front of a sold out audience of 450 people.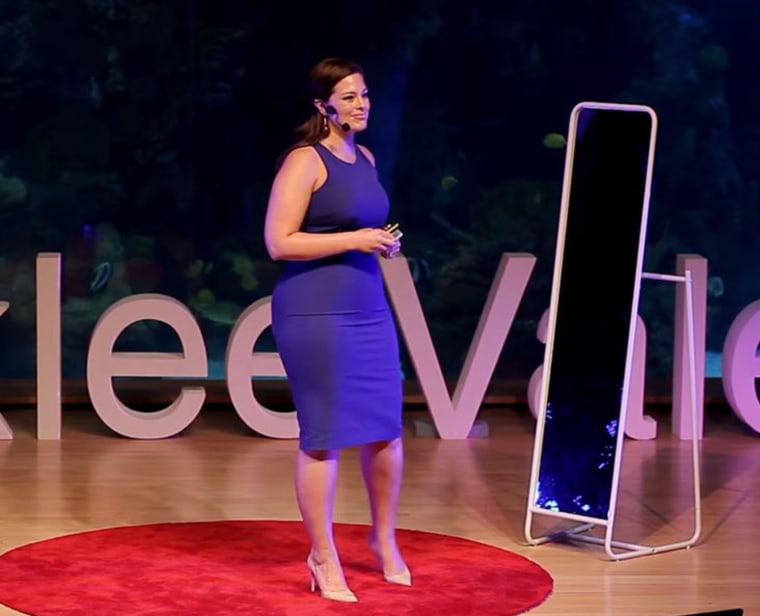 Graham began her speech not by addressing the crowd—but by speaking to herself in front of a full-length mirror that was placed on stage. "You are bold, you are brilliant and you are beautiful," she told herself. "There is no other woman like you. You are capable. Back fat? I see you popping over my bra today, but that's alright I'm going to choose to love you. And think thighs? You are just so sexy you can't stop rubbing each other. That's alright. I'm going to keep you."
"And cellulite," she continued, "I have not forgotten about you. I'm going to choose to love you even though you want to take over my whole bottom half. You're a part of me and I love you."
Graham, who has previously encouraged fans to speak positively about their figures, then turned to the audience and shared how learning to love and accept herself has led her to lead a happy, healthy life.
"It's true honestly," she insisted. "I felt free once I realized I was never going to fit in the mold that society wanted me to fit in. I'm never going to be perfect enough for an industry that defines perfection from the outside in ... rolls, curves, cellulite — all of it. I love every part of me."
WATCH: 5 things to know about Ashley Graham
The 27-year-old stunner shared a number of inspiring anecdotes during her speech as she opened up about her upbringing in Nebraska, where she battled incessant bullying due to her curvy figure. "Back in Nebraska, I was known as the 'fat model.' The girl who was pretty for a big girl. I hated answering that question, 'what do you do for a living?' I would see that person's eyebrow raise when I say 'I'm a model.' I would have to quickly qualify with, 'Well, I'm a plus size model.'"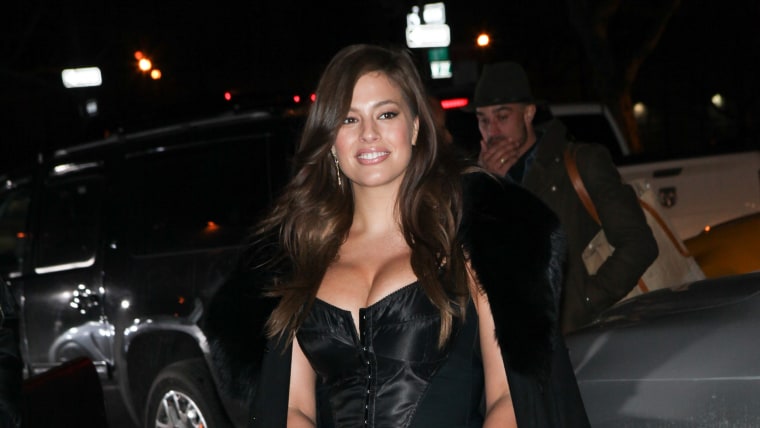 While Graham's entire speech is worth a watch, the model repeatedly stressed the importance of loving yourself and being your own biggest cheerleader. "We need to work together to define the global image of beauty and it starts with becoming your own role model."
"My body, like my confidence, has been picked apart, manipulated, and controlled by others who didn't necessarily understand it," she later added. "Once I reclaimed ownership over my body, I discovered a greater purpose as a woman who was defying preconceived standards of feminine beauty."
WATCH: Ashley Graham goes topless!
Graham concluded by pointing out how she's proven everyone who ever said she couldn't be on the cover of a magazine wrong (she's had five covers in the past year) in addition to sharing her mission to "give young women a voice."
"Never let anyone tell you you can't..." she said. "It is critical that both men and women create a body positive environment. Uplift the important women in your lives, create a safe space for them to express their beauty and feel comfortable embracing their bodies and who they are, not hiding them because of what they're not."
Consider this sentence our standing ovation.