Rhode Island native Olivia Culpo took the crown Wednesday night at the 61st annual Miss Universe Pageant in Las Vegas, becoming the 8th American to hold the coveted title. Last year's winner, Leila Lopes of Angola, crowned the cello-playing 20-year-old, the first American to nab the top prize since Brook Lee in 1997.
"I'm so excited," Culpo said on TODAY Thursday. "I couldn't be happier… It's an honor."
 When asked about her brief, minor stumble during the competition, Culpo told TODAY's Savannah Guthrie it was "terrifying" but that she knew it was going to happen. "That dress, and that floor with those shoes – it was inevitable. It was so slippery. I'm so happy I didn't fall on my face."
Apart from a little slip, Culpo had a good night. During the opening number, Culpo wore a tight navy blue mini-dress with a sequined bodice. The breast cancer awareness advocate took a few cues from her self-confessed role model Audrey Hepburn for the evening gown competition, donning a smooth bun high atop her head and a fuschia dress with long velvet sleeves and a plunging V-neckline. Her slight trip didn't deter judges from awarding her the title.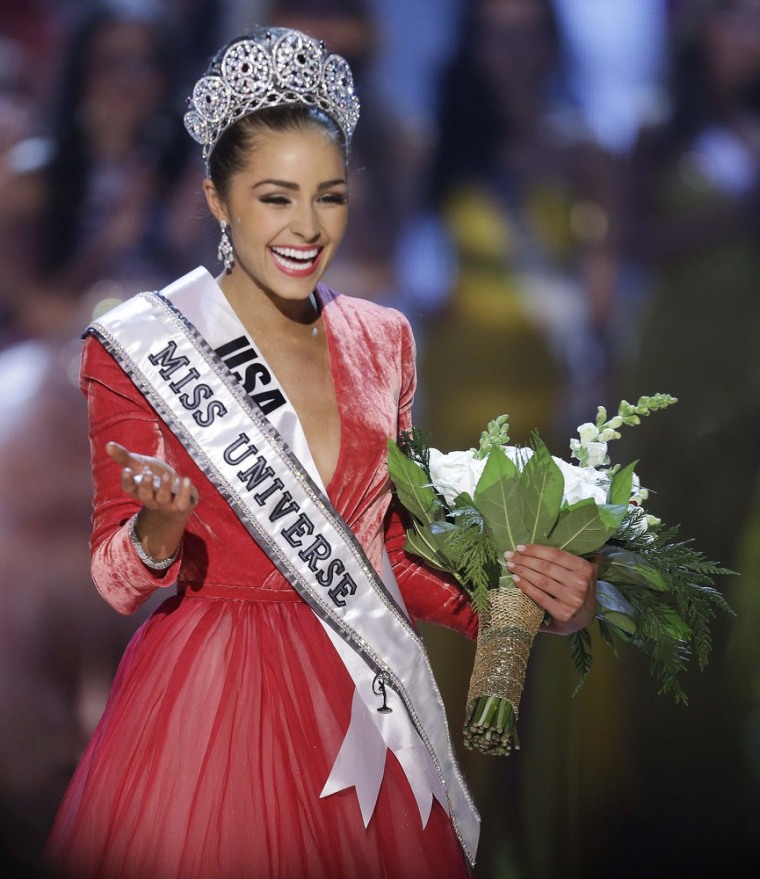 When asked during the interview portion if she had ever done something she regretted, the Boston University student went with a relatable answer. 
"I'd like to start off by saying that every experience no matter what it is, good or bad, you'll learn from it. That's just life," she said. "But something I've done I've regretted is probably picking on my siblings growing up, because you appreciate them so much more as you grow older." 
The pageant queen knows a thing or two about siblings — she has four. Encouraged by their musician parents, each studied different instruments growing up. Culpo took to the cello, and has even played alongside Yo-Yo-Ma, according to her page on the Miss Universe website. 
"I'm dreaming … it's a dream," Culpo told fellow contestants with a shocked smile as they gathered around her after the announcement she had won the competition.
Culpo said she intends to put her reign to good use by raising international awareness for HIV and AIDS prevention. "Now I'm going to have the chance to travel a lot more and help," she told TODAY.
First runner-up at the pageant was Miss Philippines, Janine Tugonon, while Miss Venezuela, Irene Sofia Esser Quintero, placed third.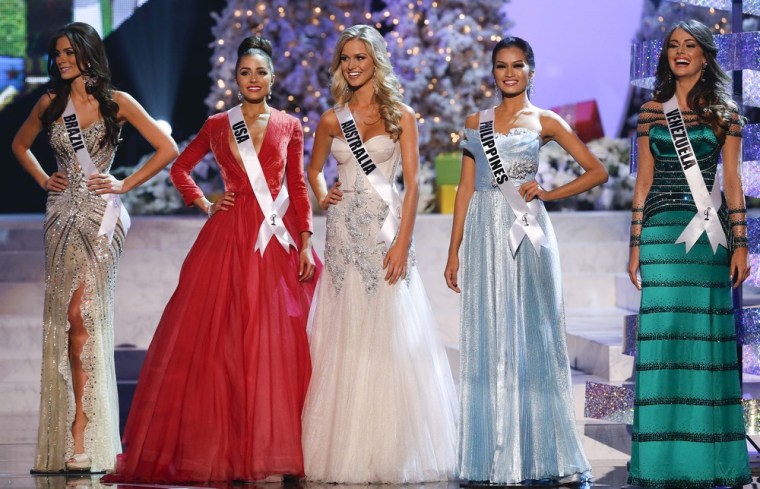 The Christmas-themed pageant was hosted by Bravo's Andy Cohen and E! News' Giuliana Rancic at the Planet Hollywood casino on the Las Vegas Strip and included 89 contestants from six continents. Sharply dressed women and men, including a large contingent from South America, held banners and cheered on their favorite contestants. 
A bevy of celebrities judged the lovely ladies, including "The Face" host Nigel Barker, Olympic gold medalist Kerri Walsh, Iron Chef Morimoto and reality TV star Scott Disick.
Viewers even had a chance to chime in and vote for their favorite contestant during the semi-final round (though fan voting did not count in the nine judge's final tallies). Twitter users were also invited to tweet suggestions for the contestants' final questions to the hashtag #AskMissUniverse. 
The beauty queens arrived in Las Vegas two weeks ago and battled for the top beauty prize in preliminary competitions based on three categories: bathing suits, evening gowns, and an interview. Contenders also participated in a National Costume Show, showing off elaborate outfits designed to represent their home countries. It was announced during the broadcast that Miss China, in a gown with embroidered lotus flowers and dragons, took the top prize in the costume contest.  
The beautiful ladies even managed to make room for some fun in Las Vegas, posing in hardhats at a hotel ground-breaking, taking a painting lesson and pranking hotel guests, according to The Associated Press. The 16 finalists who made it through the preliminary round were announced at the beginning of the Miss Universe broadcast.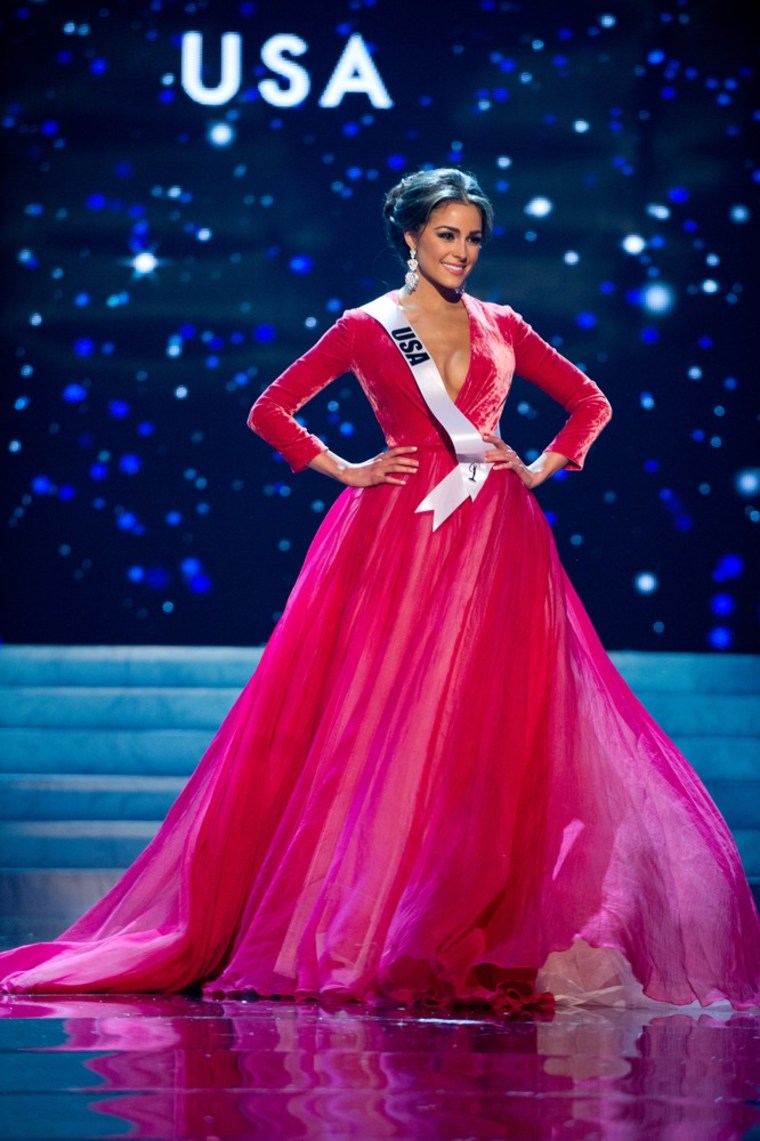 On the eve of the pageant, Donald Trump's Miss Universe Organization was awarded $5 million in damages against former Miss Pennsylvania Sheena Monnin. The brunette beauty made allegations over the summer that the Miss USA pageant was rigged, which District Court judge Theodore H. Katz ruled to be "false."
PhotoBlog: Newly-crowned Miss Universe gets a kiss from Donald Trump
The Miss Universe Organization is co-owned by Trump and NBC. Contestants must be at least 18 years of age and under 27, having never been married or had children.
More:
Nearly a nun: Beauty queen picks Miss Universe pageant over convent