/ Source: TODAY contributor
Crystle Stewart has some advice for her successor as Miss USA: Ditch the evening gown.
"I would tell her to put grips on the bottom of her shoes and wear a short dress, not a long gown," the reigning Miss USA told TODAY's Matt Lauer and Ann Curry Monday via telephone from the Vietnamese resort of Nha Trang. During the Miss Universe competition on Saturday night, she became the second consecutive Miss USA to do a butt-plant on live television during the evening gown competition.
Stewart, a 26-year-old Texan, handled the tumble with a trouper's aplomb: She put on a radiant smile as she picked herself up and clapped her hands over her head, as if to say, "I meant to do that."
She dismissed any idea that there might be a cosmic conspiracy to upend Miss USA candidates. "Maybe somebody dropped marbles or something," she laughed. "It's just such a coincidence that two years back-to-back Miss USA falls."
Curry asked her to replay the embarrassing tumble.
'I walked out and tripped'
"Oh, man, you know, I walked out and tripped on the step and my dress got caught under my shoe," she related. "It was almost like I was on roller skates, and I just fell."
Stewart said she hadn't been thinking about Miss USA 2007 Rachel Smith's tumble in last year's pageant, which was held in Mexico.
"When I was walking out, the last thing on my mind was falling," Stewart said. "One thing you don't want to do in an evening gown is trip … and fall on your bottom. The thing is how you handle it. You just pick yourself up — in life in general."
Lauer commented on how well she recovered from what had to be an embarrassing mishap.
"I'm only human," Stewart said. "I already fell; there's nothing I could do about it. The first thing I thought was 'Let's have a round of applause.' "
Sandwiched between Smith's slip last year and Stewart's on Sunday was a controversy that erupted at the Miss Puerto Rico USA pageant last November. The winner of that pageant, Ingrid Marie Rivera, told officials that her evening gown and swimsuit both had been sprayed with a substance that made her body burn. She had to apply ice packs between segments of the competition, which she won anyway. In December, Puerto Rican police confirmed that there was pepper spray on her evening gown.
Made it to finalsStewart was one of the 10 finalists in the competition, which was won by 22-year-old Miss Venezuela Dayana Mendoza. Miss Universe 2007 Riyo Mori of Japan crowned her successor at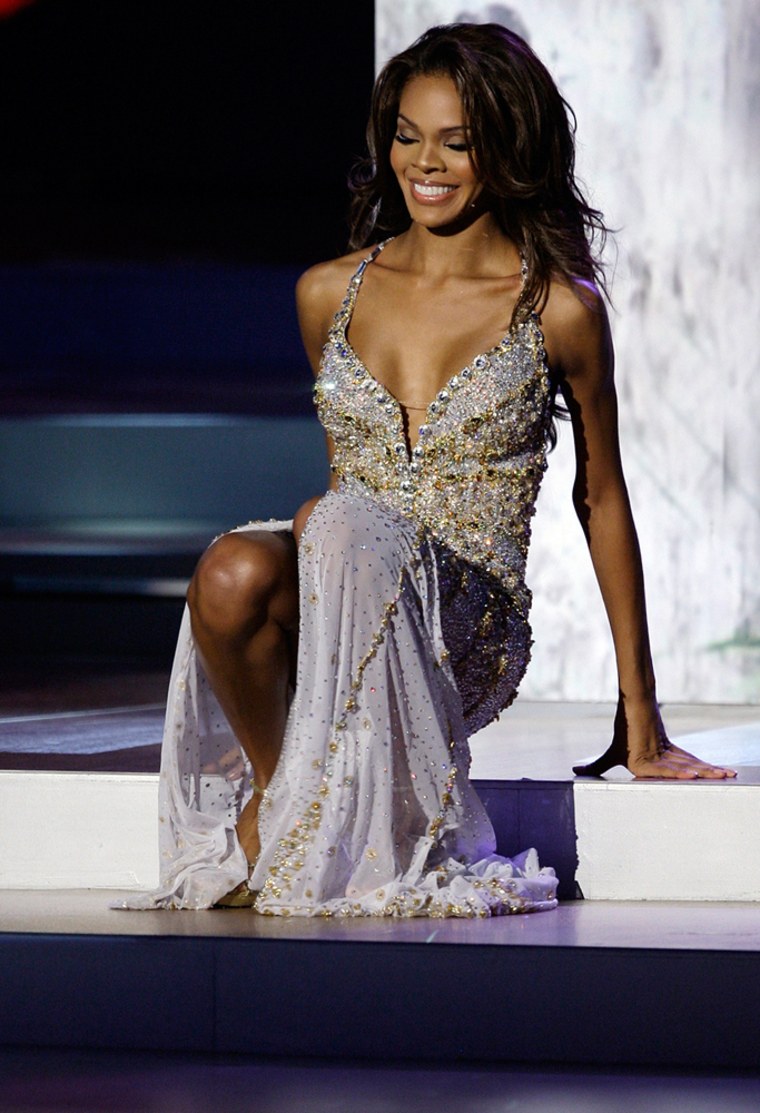 the climax of the pageant, which was hosted on NBC by Jerry Springer and Spice Girl Mel B.
The Miss Universe, Miss USA and Miss Teen USA pageants are co-owned by Donald Trump and NBC Universal. Donald Trump Jr. was one of the judges in Vietnam, along with fashion designer Robert Cavalli, model Nadine Velazquez, Miss Universe 2004 Jennifer Hawkins, makeover expert Louis Licari, businessman John Nguyen and actress Eesha Koppikhar.
Representatives of 80 countries competed in bikinis, evening gowns and an interview during the pageant. There were two rounds of eliminations, with the field being whittled first to 15 and then to 10.
The runners-up were Miss Colombia, Taliana Vargas; Miss Dominican Republic, Marianne Cruz Gonzalez; Miss Russia, Vera Krasova; and Miss Mexico, Elisa Najera.